Looking for Black Friday deals?  Yeah, me too. 
I figured if I was going to look over ad scans and start making my shopping list, it wouldn't hurt to help you out and share some of the deals I found that are perfect for the baker, cook or blogger on your holiday shopping list.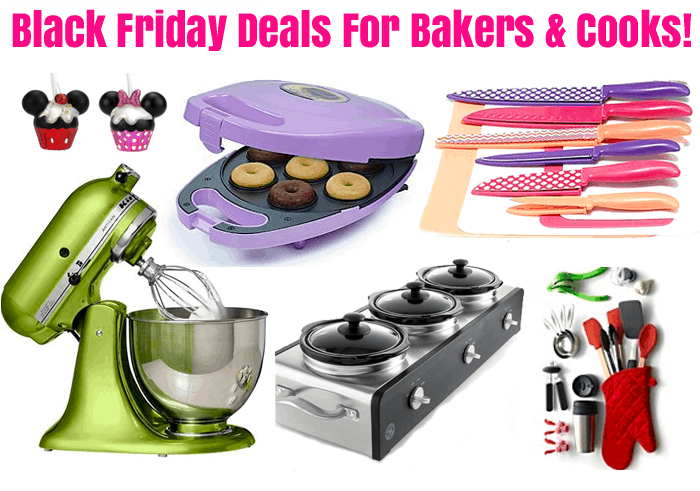 Disclaimer: I'm not a deals blogger.  This is just me sharing some deals I found while looking for my own.  Use these to check out the actual store ads and websites to verify for your area, get hours and any restrictions.  Many stores are limited to stock on hand and deals may not be available online.  Think of this as a guide to helping you save some time while researching the holiday shopping deals, but please make sure to do your own research as well!
Let's get started with some Black Friday Sales for Bakers…
1. KOHLS - $199-399 (after mail in rebate) KitchenAid Stand Mixers
2. MACYS – 20% Off Kitchen Essentials Doorbuster
3. KMART – $9.99 Cake Pop or Donut Maker
4. KOHLS – $29.99 iLive Bluetooth Under Cabinet Speaker – listen to your mobile device, connect an MP3 player or listen to the built in radio.  Love this idea in the kitchen!
5. KOHLS – $24.99 Farberware 16 Piece Color Cutlery Set
6. LOWES – $49.99 Waring 6-Slice Convection Toaster Oven
7. TARGET – $10 2 Pack Hallmark Mickey & Minnie Mouse Cupcake Ornaments
8. KMART – $9.99 Cake Pop or Donut Maker
9. SHOPKO – $29.99 Rachael Ray 2 Piece Bubble & Brown Set or 4.25 Qt Casserole
10. KMART – $14.99 Oster Belgian Waffle Maker
Black Friday Sales And Deals For Cooks…
1. WALMART - $39 Ninja Single Serve Blender
2. KOHLS – $39.99 (after mail in rebate) Food Network 5.5 Quart Enamel Cast Iron Dutch Ovens
3. COSTCO – $99 Cuisinart Prep 11 Plus Food Processor
4. LOWES - $169 Fresco Stainless Steel Pull Down Kitchen Faucet
5. JCPENNEY - $299 (after $50 mail in rebate) KitchenAid Artisan 5 Quart Stand Mixer
6. SHOPKO - $29.99 Rachael Ray 2 Piece Bubble & Brown Set or 4.25 Qt Casserole
7. MACYS – $19.99 (After $10 Rebate) Bella Triple Slow Cooker
8. SHOPKO – $7.99 1.5 Qt Slow Cooker
9. JCPENNEY – $19.99 Cuisinart 12 Piece Knife Set
Black Friday Deals For Bloggers…
1. WALMART - $299 (get a free $100 Walmart Gift Card) iPad Mini Wi-Fi 16GB

2. AMAZON – $100 Canon EF 50mm 1.8 Camera Lens (not so much a Black Friday deal, just a great deal on a great lens)

3. BEST BUY – $1099 13.3″ MacBook Pro With Retina Display (or save $150 on 15.4″ MacBook Pro)

4. OFFICE DEPOT – 50% Off All Speck Casese For iPhone, iPad, iPade mini & Samsung Galaxy

5. TARGET - $440 ($714.99 Value) Canon T3 DSLR Bundle With Camera Body, 18-55mm lens, 75-300mm lens, 8GB SD Card and Canon Camera Bag – (spend $75 or more in a single purchase in stores on 11/29/13 & get 20% off one shopping trip between Dec 1-7th)

6. TARGET - $99 (get a free $20 Target Gift Card) Keurig K40 Elite Single Cup Brewing System- (spend $75 or more in a single purchase in stores on 11/29/13 & get 20% off one shopping trip between Dec 1-7th)

7. MICHAELS – $159.99 (save $140 – with coupon in ad) Teal Cricut Expression 2

8. OFFICE MAX – Up To 40% off iLuv Cables

9. TARGET - $499 ($799 Value) Nikon D3200 Digital SLR Camera with 18-55mm & 55-200mm Lenses – (spend $75 or more in a single purchase in stores on 11/29/13 & get 20% off one shopping trip between Dec 1-7th)

10. WALMART - $278 HP Pavillion TouchSmart 14-B109WM Laptop

REMINDER – CHECK YOUR LOCAL ADS AND STORES FOR VERIFICATION
AS DEALS CAN SOMETIMES CHANGE OR VARY ON A REGIONAL BASIS.

I find most of my Black Friday Sales And Deals at the following websites…

Happy shopping!

>