Do you like cookies?   Wait, everyone likes cookies.  Or at least most people.  Well, most people who read baking blogs.   Since you are here and probably like cookies then I should tell you that I have a GREAT giveaway for you today – it's all about making and sharing cookies (like my yummy Snickerdoodles with Cinnamon Brown Sugar Buttercream)!    McCormick is giving one lucky Love From The Oven reader an awesome baking set that will help you create cookies to share with you friends.
McCormick is sharing the spirit of the season with Holiday Cookies in "The Big Cookie Share".  McCormick knows that the holidays are a season for sharing – sharing memories, sharing recipes and sharing cookies!   To capture the magic of holiday cookie baking virtually, McCormick is helping holiday bakers share their own delicious gifts through "The Big Cookie Share".   Visitors start with a cookie recipe and then customize it with flavor twists to suit their tastes, and then send the virtual cookie, and recipe, to their friends.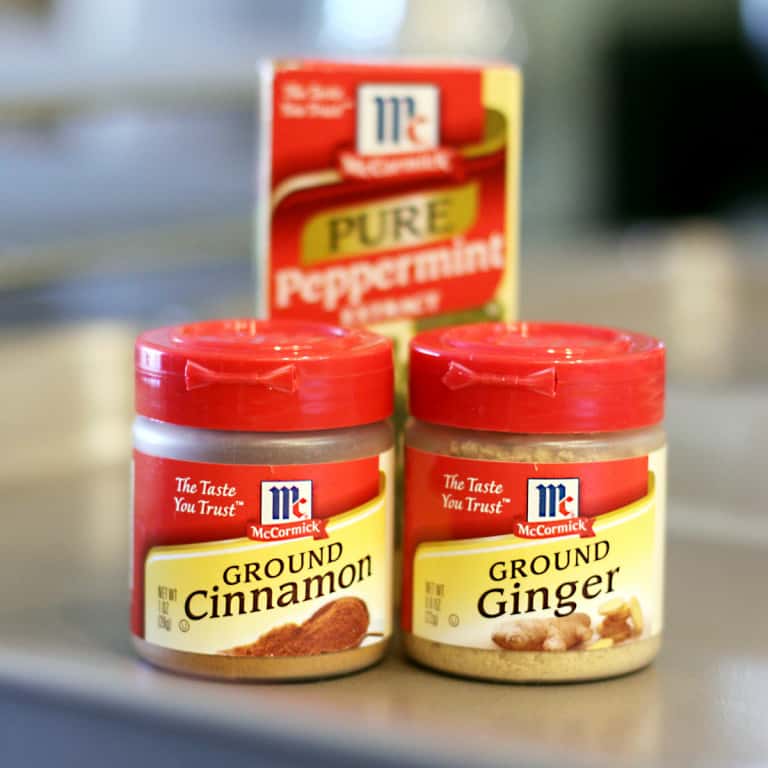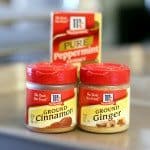 McCormick is also sharing a really great cooking baking giveaway!   One reader will win two wonderful Crate & Barrel Cookie Sheets and two Cooling Racks, Cookie Cutters, Cookie Dough Scoop, boxes to package up your cookies and some essential holiday cooking baking spices – cinnamon, ginger and peppermint.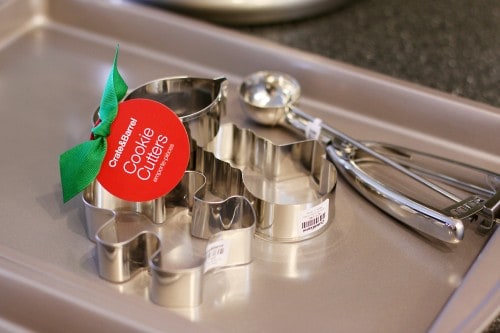 The lovely folks at McCormick sent me one of these sets and I have to tell you the cookie sheets are AMAZING.   As in so amazing that my husband actually commented while doing the dishes "wow these are nice".   A pretty big deal in that he noticed the great quality and that he said something while doing the dishes that wasn't a complaint about the doing the dishes thing.   I'll admit, I've been baking on 10+ year old cheap-o cookie sheets, but there's no going back after trying these cookie sheets.  I now know what "even browning" means.
Would you like to be the lucky winner of this McCormick cookie baking package?   The winner will be selected via a random drawing using Random.org on Wednesday, December 14th.  No purchase necessary.  Void where prohibited.  Open to US Residents Only.

Here is how to enter to win…  

1.  Leave a comment on this post and you are entered to win!

Would you like to have additional chances to win?   We can do that!   Here are ways that you can get additional entries to win…
2.  Send a virtual cookie & recipe in McCormick's The Big Cookie Share and leave a comment on this post telling me that you did.
3.  Share this contest with your friends via your social media outlets of choice (Facebook, Twitter, StumbleUpon, Tumblr, your blog and so on) and leave a comment here that you do.
4.  Follow Love From The Oven on Facebook & leave a comment here that you do.
5.  Follow McCormick Spice on Facebook & leave a comment here that you do.
6.  Follow Love From The Oven on Twitter & leave a comment here that you do.
7.  Follow McCormick Spices on Twitter & leave a comment here that you do.
FOR EACH EXTRA ENTRY, YOU WILL LEAVE AN EXTRA COMMENT ON THIS BLOG POST.  DO NOT PUT ALL OF YOUR ENTRIES INTO ONE COMMENT, AS IT WILL ONLY COUNT AS ONE ENTRY.  Comments left on Facebook or Twitter about the giveaway are great and much loved, but do not count as entries.    Please note that all comments are held for moderation to prevent spam, which means your comment will not appear immediately, so don't worry if you don't see it right after you submit it.   Official giveaway rules and information can be found here.
Thank you so much for entering and good luck!   Check out all of the great giveaways in the 12 Days Of Holiday Baking and stay tuned for MORE great giveaways!