Can you hear that?  That's me squealing with delight because we are kicking off the 12 Days Of Holiday Baking with a giveaway for a KitchenAid 7 Quart Bowl-Lift Residential Stand Mixer!    One of you is going to win an amazing KitchenAid Mixer!!!   I can not think of a better gift this holiday season!!!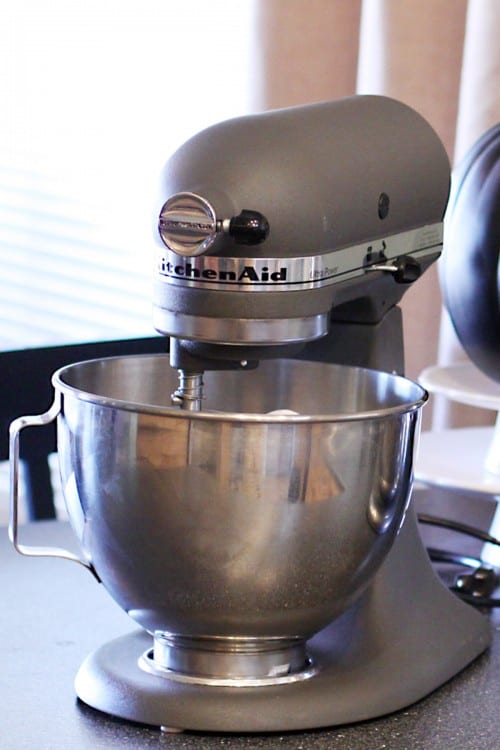 I have been using KitchenAid Stand Mixers for over a decade, and they have always played a major role in my baking.   I received my first mixer, a KitchenAid Ultra Power 4.5 Quart Stand Mixer, as a Christmas gift from my husband 14 years ago, and probably the best Christmas gift ever!  In those past 14 years my kitchen has been gutted and remolded, all of the cabinets, flooring and appliances have been replaced (some twice!).  The AC on our home was replaced.  Our cars, computers and electronics were all replaced, multiple times.   But my trusty KitchenAid Stand Mixer stood through it all, mixing up countless cakes, muffins, cookies and my always popular holiday mashed potatoes.   It's been a loyal and hardworking friend who has never let me down.  That's true quality if you ask me.  
KitchenAid's new 7 Quart Bowl-Lift Residential Stand Mixer is the most powerful and quiet mixer available.  With a 1.3 HP high efficiency motor, it is designed to run longer with less heat build up.   It easily handles recipes that require longer mixing, kneading and whipping times.  This mixer is phenomenal.  I am fortunate enough to have one in my own kitchen, and the power and the capacity are out of this world.  The KitchenAid 7 Quart Bowl-Lift Residential Stand Mixer comes in four colors – Candy Apple Red, Black Storm, White and Medallion Silver, which is the one I have.  You can read my detailed review of the 7 Quart here.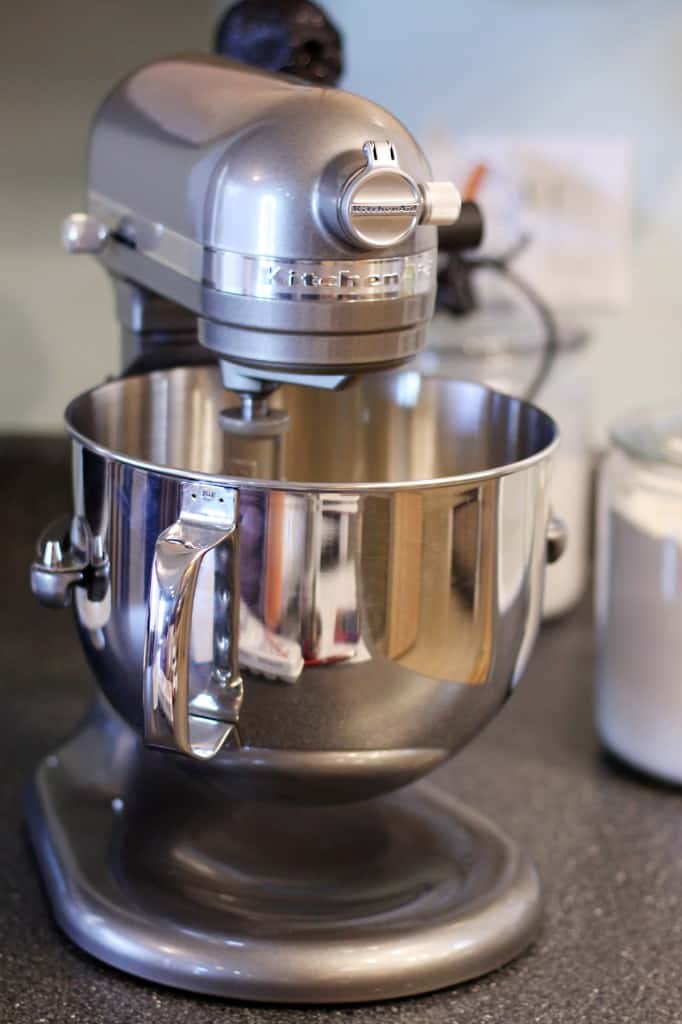 The capacity of the 7 Quart is truly amazing.  It can handle 8 1/2 pounds of mashed potatoes (I made a cafeteria sized batch in mine this Thanksgiving!), 8 1/2 loaves of bread and up to 14 dozen cookies.  I've made double batches of my muffin and cake recipes, and could probably make quadruple batches!  Even with that large capacity, it still fits neatly under my cabinets…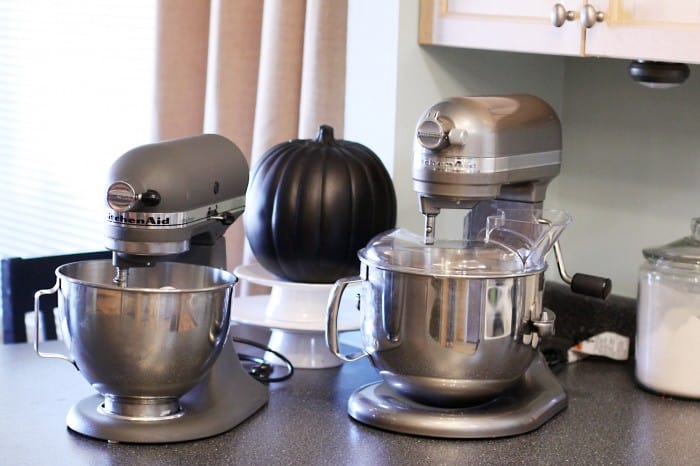 You can see it side by side with my 4.5 Quart.   You can see more comparisons of the two in this post.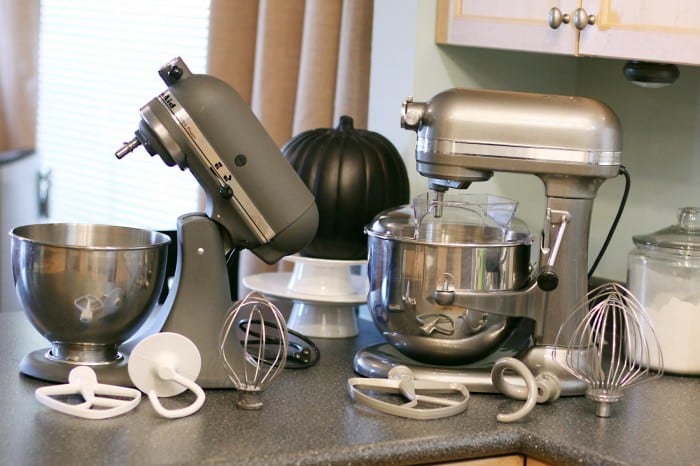 The mixer includes a stainless steel 11-wire Elliptical Whip, coated metal Flat Beater and Power Knead Dough Hook.    All of these accessories are dishwasher safe.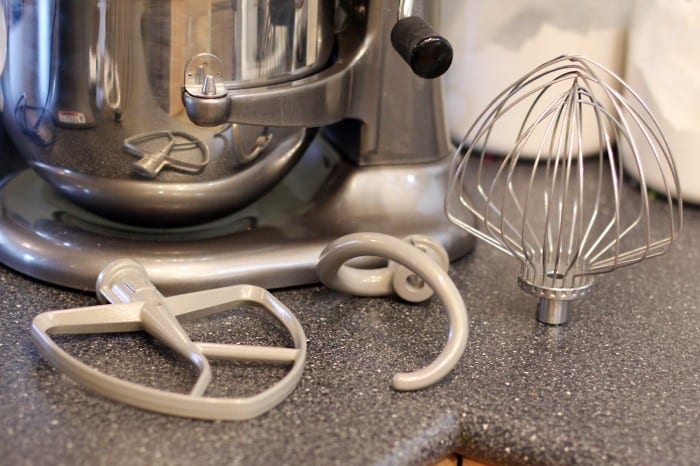 The Attachment Power Hub is designed to fit all current KitchenAid attachments and future larger capacity commercial style attachments.   Here is a comparison of the two bowls.   The new polished stainless steel bowl does have a more comfortable handle than my older one does.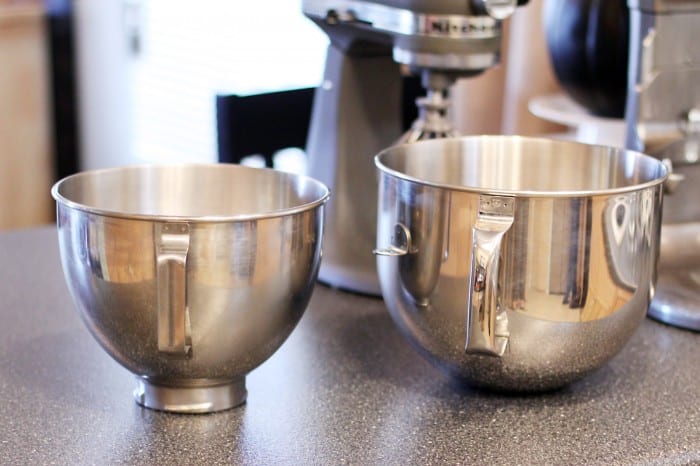 Want to see it in action?  Here is a short video…
This truly is an amazing mixer.   I can't say enough for the 7 Quart capacity, I love knowing that all of my recipes will easily fit in the bowl, with ample power to mix them.   If you are considering upgrading your mixer, or getting your first KitchenAid, you can not go wrong with the 7 Quart Bowl-Lift Residential Stand Mixer.
Would you like to WIN this incredible mixer in your choice of red, white, black or silver??? 
KitchenAid is giving one lucky Love From The Oven reader their very own KitchenAid 7 Quart Bowl-Lift Residential Stand Mixer.   AMAZING!!!    The winner will be selected via a random drawing using Random.org on Tuesday, December 13th.  No purchase necessary.  Void where prohibited.  Open to U.S. Residents Only.   
Here is how to enter…  To enter, leave a comment on this blog post.  That's it.  You are entered!  
Would you like to have additional chances to win?   We can do that!   Here are FIVE ways you can get additional entries to win, giving you up to six entries…
Share this contest with your friends via your social media outlets of choice (Facebook, Twitter, StumbleUpon, Tumblr, your blog and so on) and leave a comment here that you do.
Follow Love From The Oven on Facebook and leave a comment here (not on FB) that you do.
Follow KitchenAid on Facebook and leave a comment here that you do.
Follow Love From The Oven on Twitter and leave a comment here that you do.
Follow KitchenAid on Twitter and leave a comment here that you do.
FOR EACH EXTRA ENTRY, YOU WILL LEAVE AN EXTRA COMMENT ON THIS BLOG POST.  DO NOT PUT ALL OF YOUR ENTRIES INTO ONE COMMENT, AS IT WILL ONLY COUNT AS ONE ENTRY.  Comments left on Facebook or Twitter about the giveaway are great and much loved, but do not count as entries.    Please note that all comments are held for moderation to prevent spam, which means your comment will not appear immediately, so don't worry if you don't see it right after you submit it.   Official giveaway rules and information can be found here.
Good luck and a big Thank You to KitchenAid for sponsoring such a truly amazing giveaway!!!