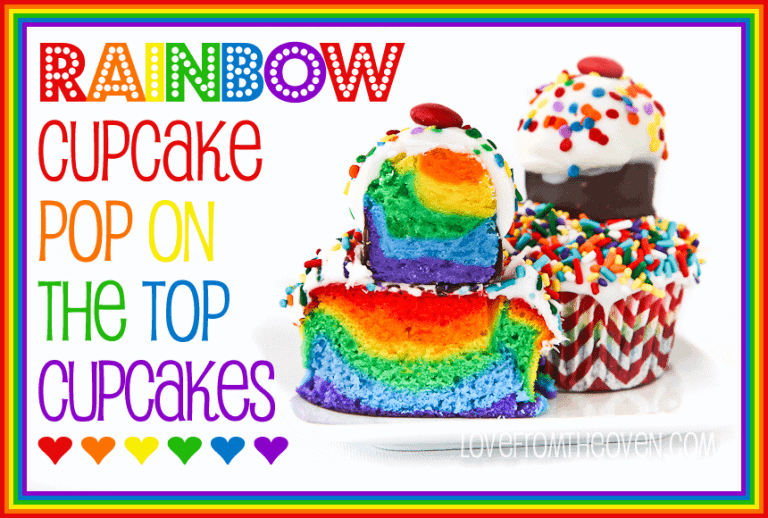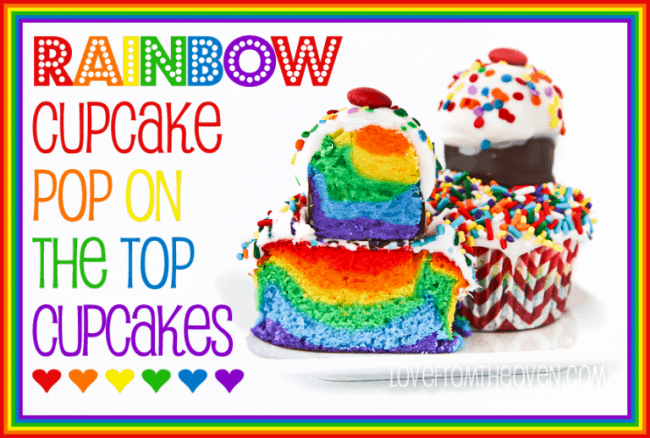 Someone just had a baby! And that someone would be the amazingly talented & endlessly creative Meaghan Mountford, author of "Sugarlicious" and the blogger behind The Decorated Cookie and Edible Crafts at Craft Gossip.    It's mind boggling how much Meaghan does, and how she does it all so very well. I am so excited to be sharing a treat today in the virtual baby shower for Meaghan and the arrival of her second daughter, Violet Lake, who was born earlier this week. Since Meaghan loves rainbows, rainbows it is! And besides, every little girl (and her mama) deserves a warm welcome full of rainbows and sweet treats.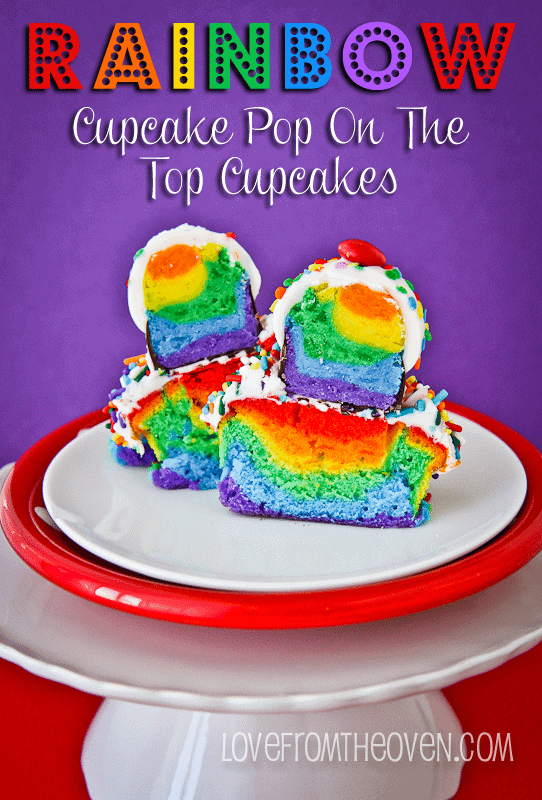 While I usually try to stick to simple and quick recipes with only a few steps, this is the author of Sugarlicious we are celebrating here, so I had to step it up and get out of my comfort zone a bit. I couldn't decide if I wanted to make cake pops or cupcakes, so I said why not make both? I think yes! I've made cake pop stuffed and topped cupcakes before, so this was a very fun and colorful variation of that idea.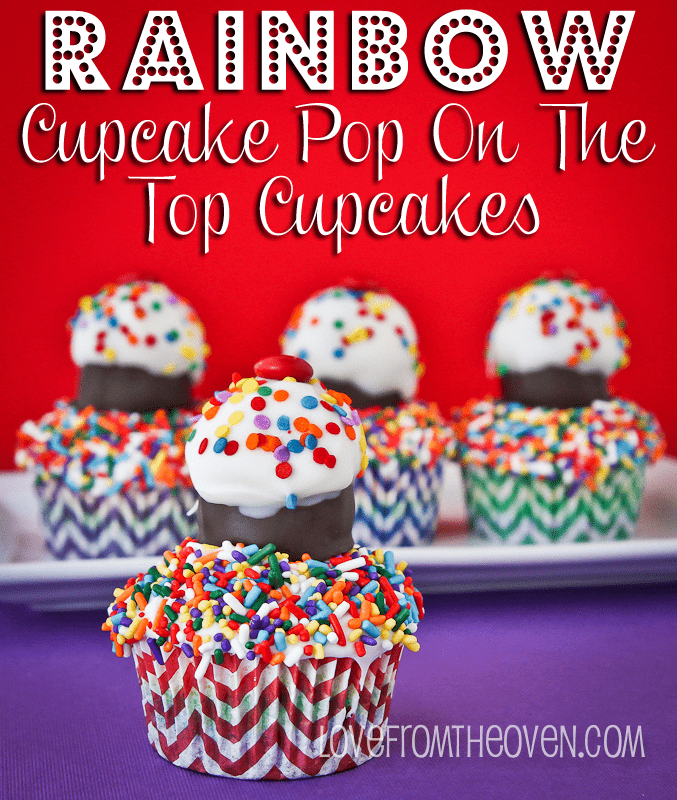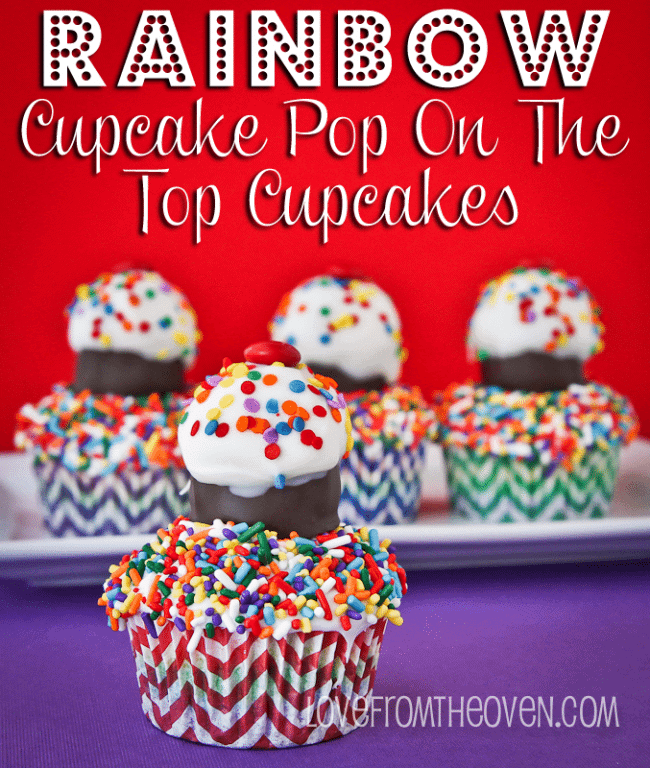 To make these, I started with a box white cake mix and a lot of food coloring. I separated the cake batter into seven bowls, and each bowl held approx a very full half cup of cake batter. To that batter I added my food coloring. Because I wanted to make both cupcakes and cake pops, I decided to make six rainbow cupcakes, and use the rest of the batter to make solid color cupcakes that I would use for the cake pops. Taste the rainbow!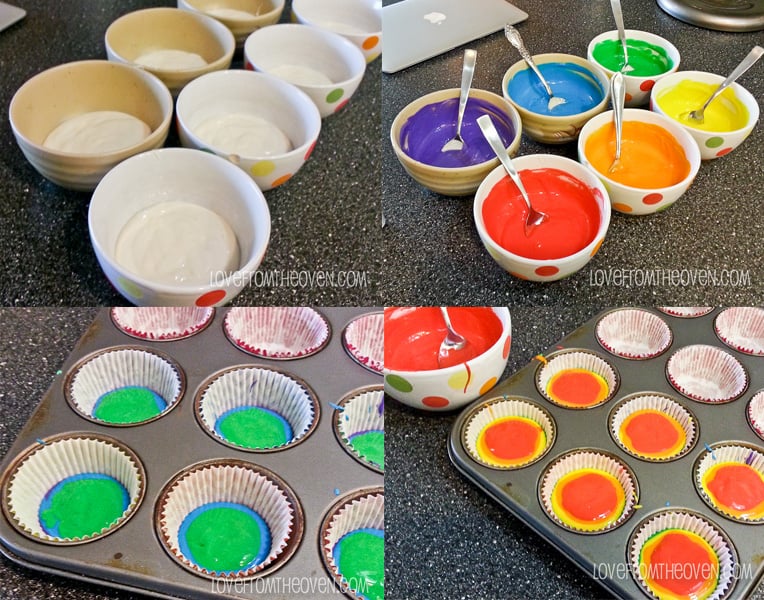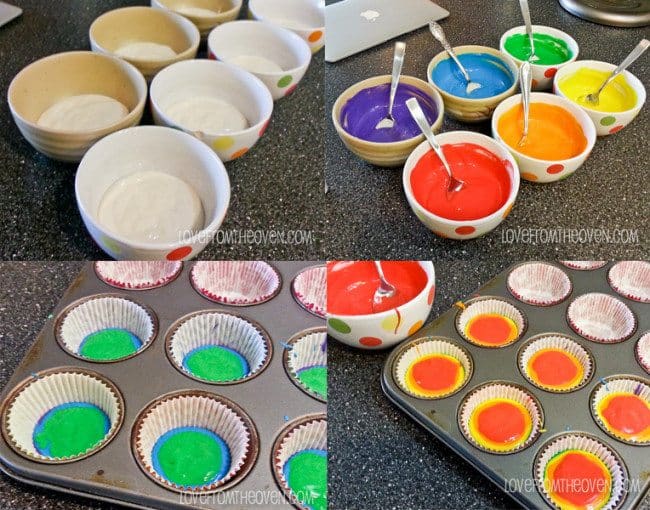 The rainbow cupcakes were created by simply spooning a bit of the different color batter into the liners, one on top of the next. I started with the purple at the bottom and ended with the red at the top. I had enough batter to also make two solid cupcakes of each color.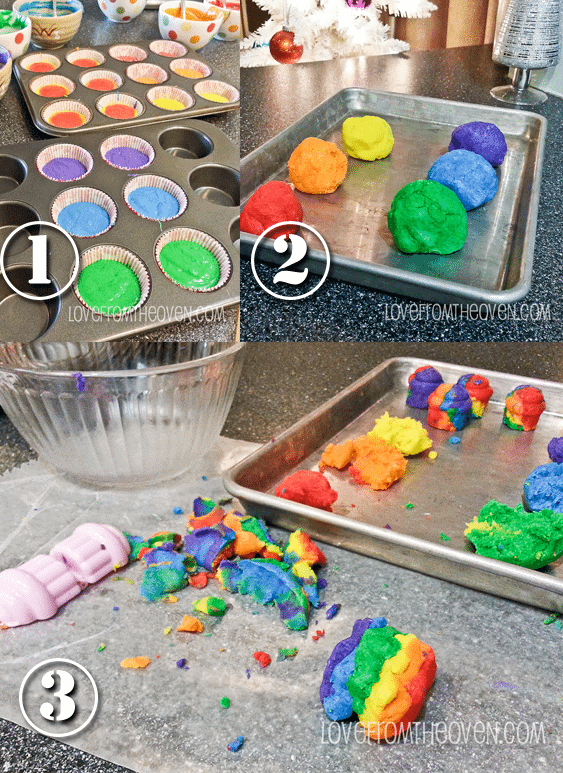 Once my cupcakes were baked and co0led, it was time to create the cake pops. Each color cupcake was mixed in a bowl with a spoonful of frosting, creating seven balls of cake pop dough. I love using the cupcake mold from My Little Cupcake, so I decided to go with cupcake shaped cake pops instead of round. I took a pinch of each color of the cake pop mixture, put them together and then squeezed them into the mold to create the cupcake pops (check out this post for more on how I make cupcake pops).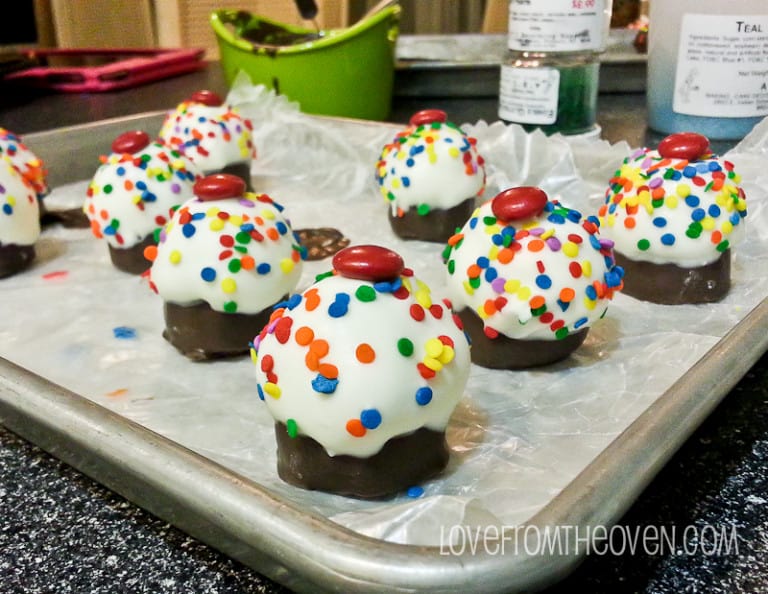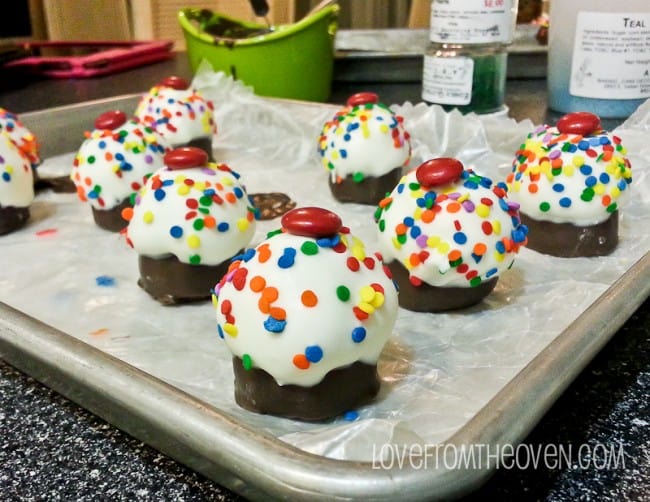 After my cupcake pops were done, I simply frosted my cupcakes with vanilla frosting, added some sprinkles and topped each with a cupcake pop. Rainbows, cupcakes & cakepops.. sugar and spice and everything nice. 🙂   And to add to the fun, I even used a rainbow colored variety of chevron print cupcake liners from Sweets & Treats Boutique. I really love all the rainbows. I may have had a slight obsession with rainbows growing up. Rainbows on my walls, rainbows on my knee socks, rainbow patches on my jeans, rainbow ribbons in my permed hair and rainbow stickers on my roller skates (these were the days of Xanadu!). Even now my daughter goes to sleep under a rainbow every single night.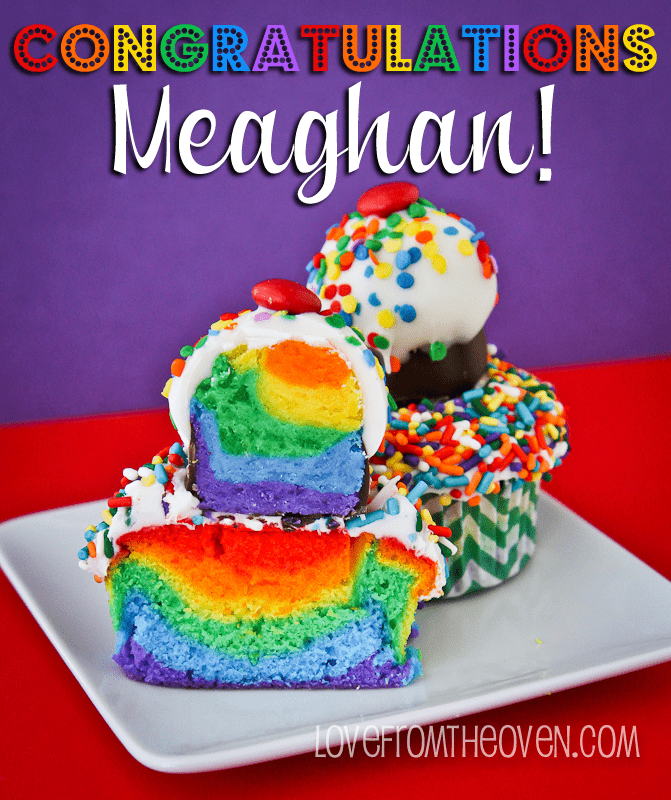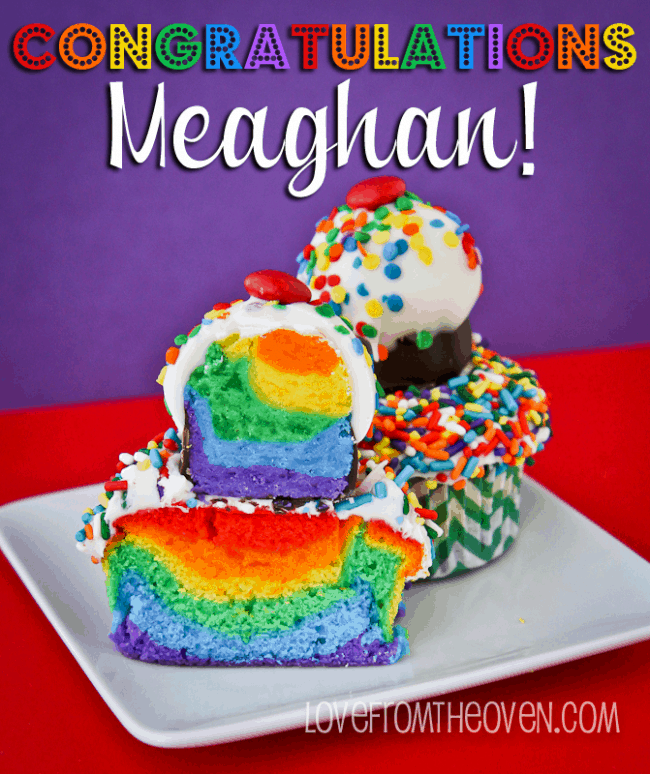 I am so happy for Meaghan and her family that Violet has arrived. I hope she will be enjoying the holidays snuggling with little Violet, and a very proud big sister Maeve as well!. A big thank you to Michelle of Sugar Swings and Kathia of Pink Little Cake for working hard to put this virtual shower together and inviting me to join in. Make sure to check out all of the other colorful treats created for Meaghan's baby shower at the following websites. There is a virtual rainbow of new baby joy out there for baby Violet!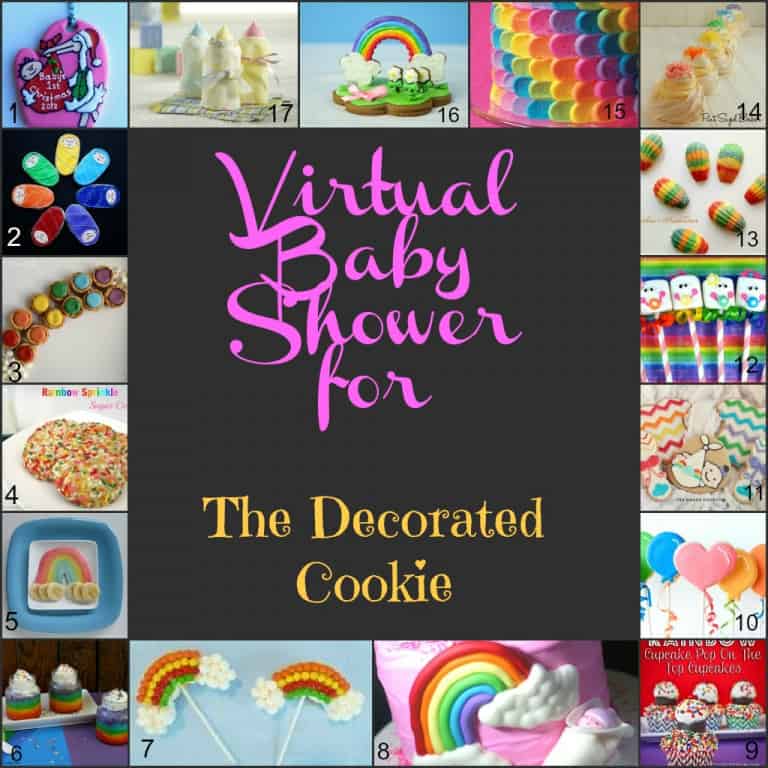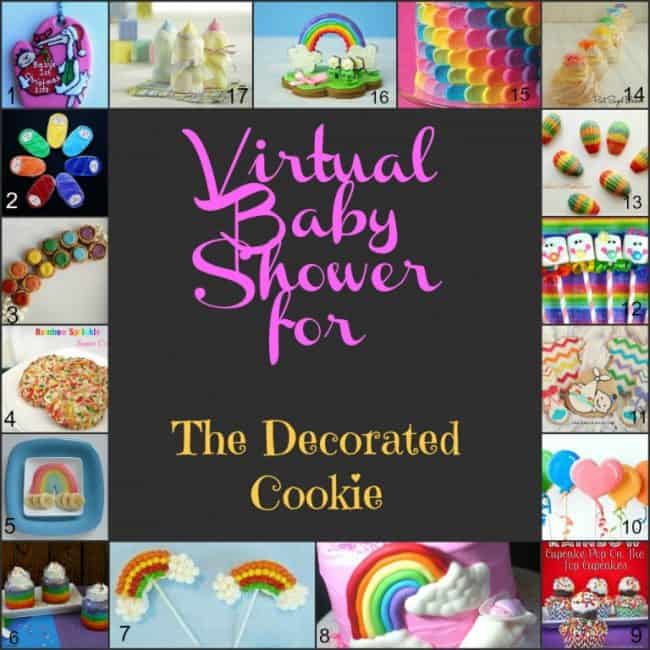 All of these other awesome bloggers are also participating in the rainbow shower too!
1. Vanilla Bean Baker – Baby's First Christmas
2. Not Your Momma's Cookie – Rainbow Swaddled Baby Cookies
3. Crazy for Crust – Rainbow Peanut Butter Cookie Cups
4. Dollhouse Bake Shoppe – Rainbow Sprinkle Sugar Cookies
5. Creative Food – Rainbow Pancakes
6. Hoosier Homemade – Rainbow Jar Cupcakes
7. Kitchen Fun with My 3 Sons – Rainbow Smores Pops
8. Pink Little Cake – Baby at the End of the Rainbow Cake
9. Love From the Oven – Rainbow Cake Pop Cupcakes
10. Munchkin Munchies – Rainbow Balloon Cookies
11. The Baked Equation – Rainbow Baby Shower Cookies
12. Sweetology – Marshmallow Baby Pops
13. Sugar Swings – Rainbow Madeleines
14. Pint Sized Baker – Rainbow Meringue Tarts
15. Bird on a Cake – Rainbow Petal Cake
16. Haniela's – Rainbow Centerpiece