Let's talk sandwiches. Peanut butter and jelly sandwiches.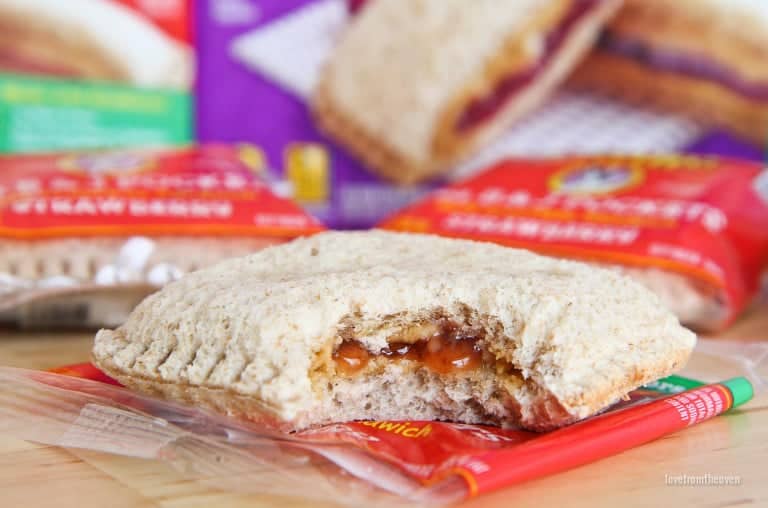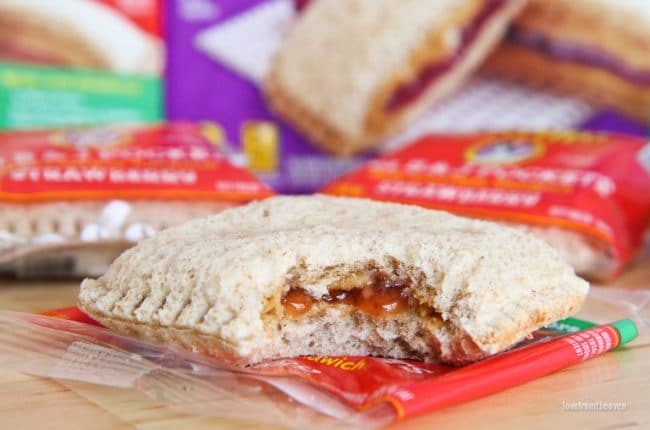 Peanut butter and jelly sandwiches are a classic, a staple of lunch boxes everywhere. Or they have been, at least until food allergies, especially nut allergies, started to become a major issue. As the rate of nut allergies continue to rise, more and more families are left looking for nut free options for their kids, and more and more classrooms and schools are becoming nut free zones. The classic peanut butter and jelly sandwich has felt the pinch. Until now. Let me introduce you to Pea B&J Pockets – a safe and DELICIOUS alternative from one of my all time favorite brands, Annie's! Thank you to my friends at Anne's for sponsoring this post.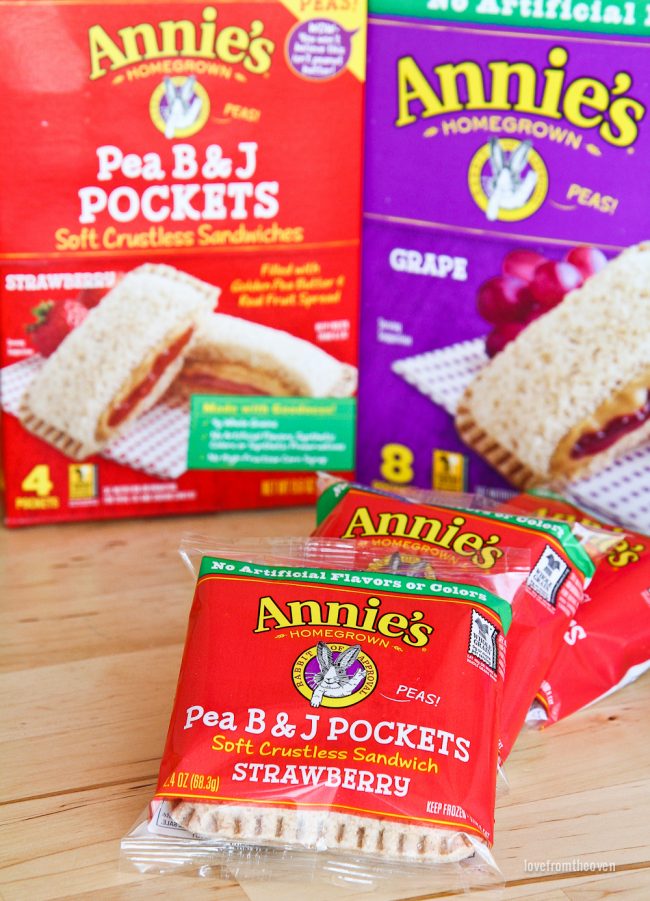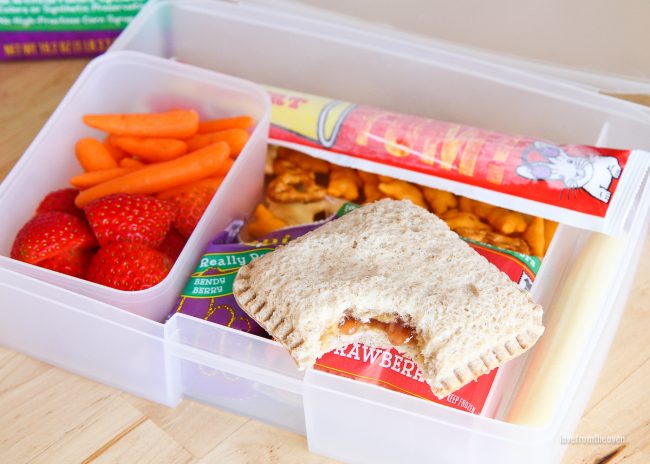 I'm so excited to share these new Annie's Pea B&J Pockets with you. Annie's Pea B&J Pockets are frozen, crustless whole wheat sandwiches layered with real fruit spread and golden pea butter, a delicious and creamy alternative to peanut butter. I've used golden pea butter as my peanut butter substitute for years in baking. It tastes incredibly similar to peanut butter, with just a hint more sweetness. My (very) picky daughter has never taken to sunflower seed butters or other peanut butter substitutes, but golden pea butter has always been a hit with her, as well as with the rest of the family.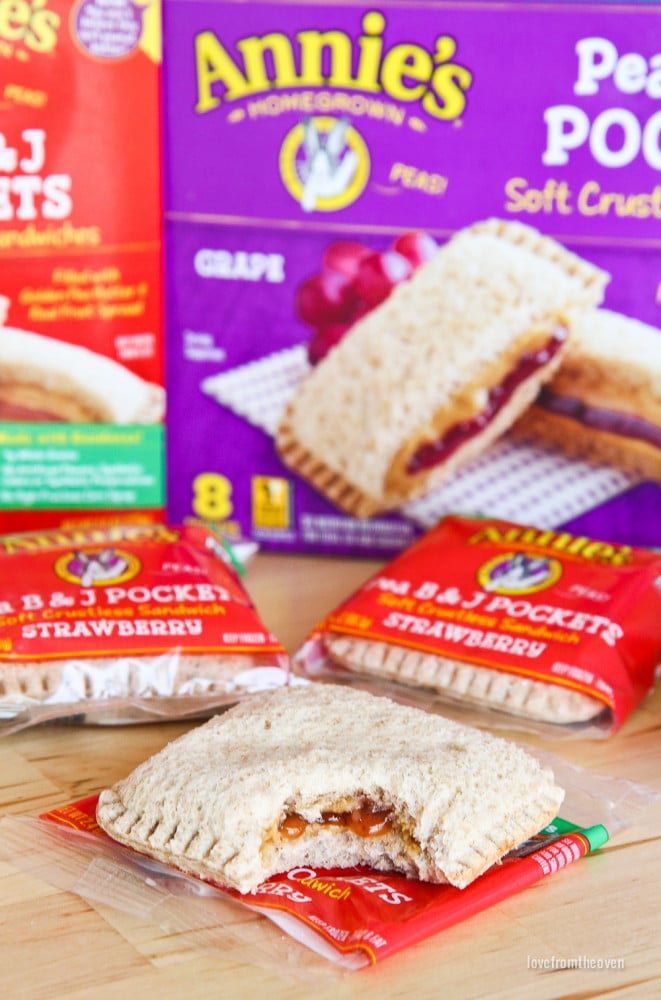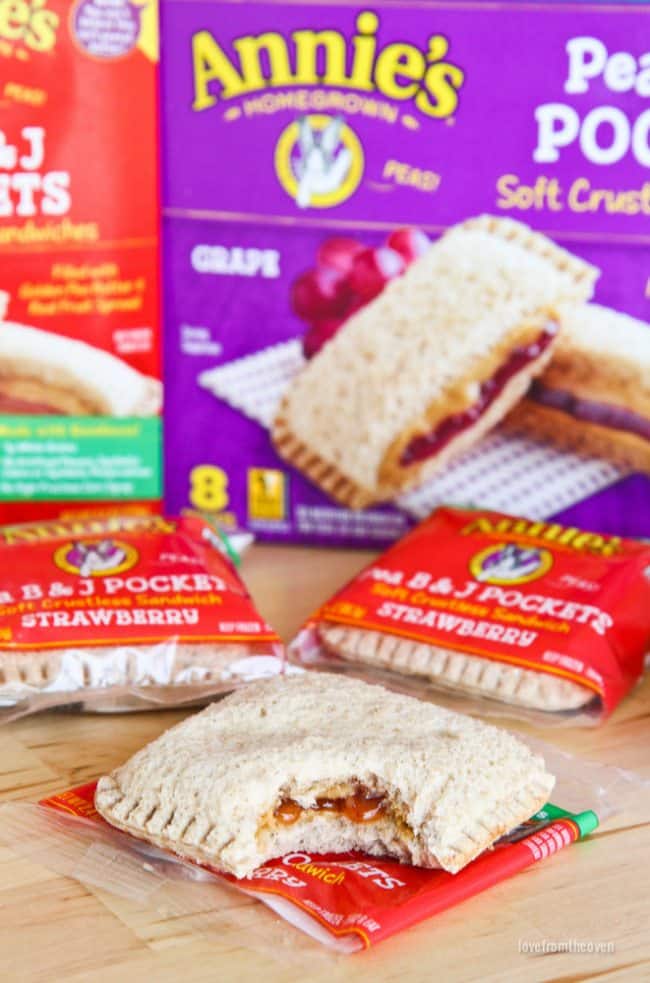 Not only are these a fabulous option for families like mine who have a food allergy, these are also a great option for families without nut allergies. Yes, families without nut allergies, and here's why… more and more schools, classrooms, camps and child care facilities are becoming "nut free zones". With the rate of food allergies, especially nut allergies, on the rise, it's really becoming an issue that in some way impacts almost every family who has children.
Even if your son or daughter doesn't have a nut allergy, there is a very good chance that at least one child they spend time with does have a nut allergy, and that you might need to pack a nut free lunch or snack. Or your child might have a friend with a nut allergy that they want to invite over, and you want to have a safe meal or snack for them. These Pea B&J Pockets help you do that quickly and easily. As a parent of a child with a food allergy, I never expect others to go out of their way to provide my daughter with safe foods. I am always happy to pack and send food with her, but let me tell you how incredible it is when another family has safe foods available.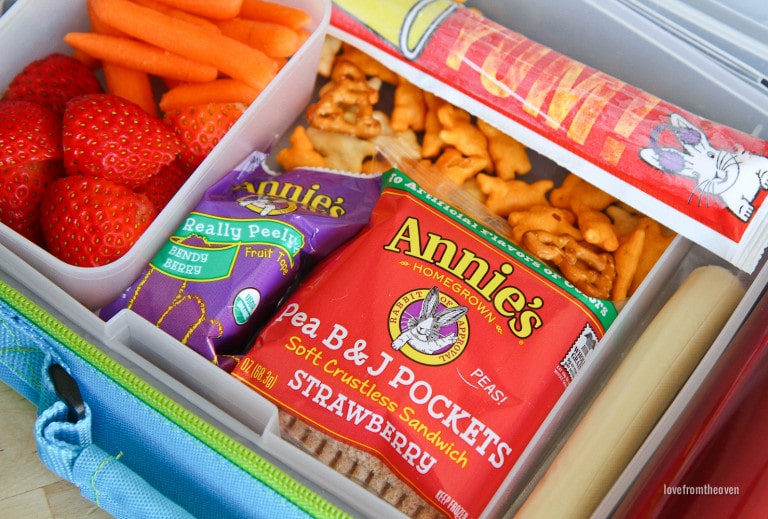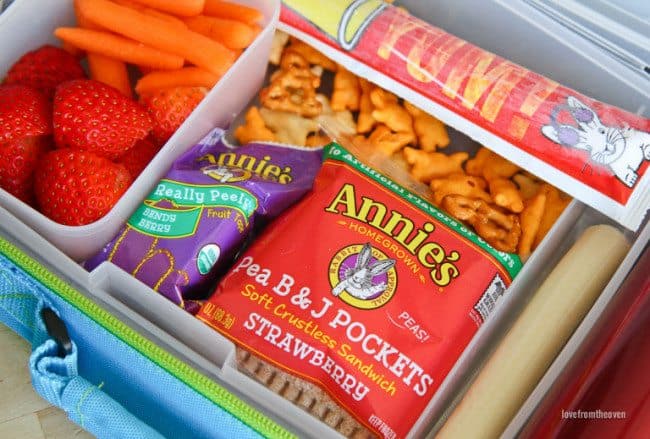 If you haven't already figured it out, I'm really excited about these. When you live with a food allergy, convenience is not a word you get to use often when it comes to foods. You get used to it and you adapt, but you do miss the ease of foods that you enjoyed before dealing with food allergies.
It's pretty awesome that with Annie's Pea B&J Pockets, I can now at a moments notice throw together a lunch, hearty afternoon snack, on the go dinner or easy bento for my daughter. With 9 grams of protein, and no artificial flavors, synthetic colors, synthetic preservatives or high-fructose corn syrup, not only are these easy, I can feel good about giving them to my kids.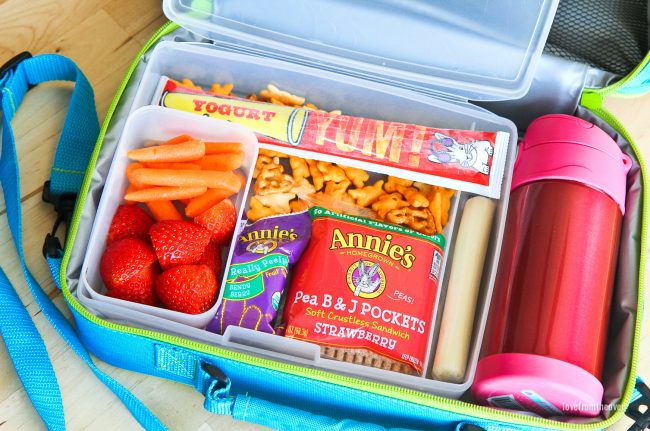 I've been pairing our Pea B&J Pockets with some yogurt, cheese and fruit for a delicious and balanced meal for the kids, and one that is so easy they can even pack it themselves! My daughter often has 3-4 hours of dance after school, in addition to homework, so it's incredibly important that I get her the fuel she needs to get through her day. While we hate to eat on the run, as with many other busy families, that is sometimes our reality. The Pea B&J Pockets are perfect to grab and go, or for her to quickly eat between dance classes.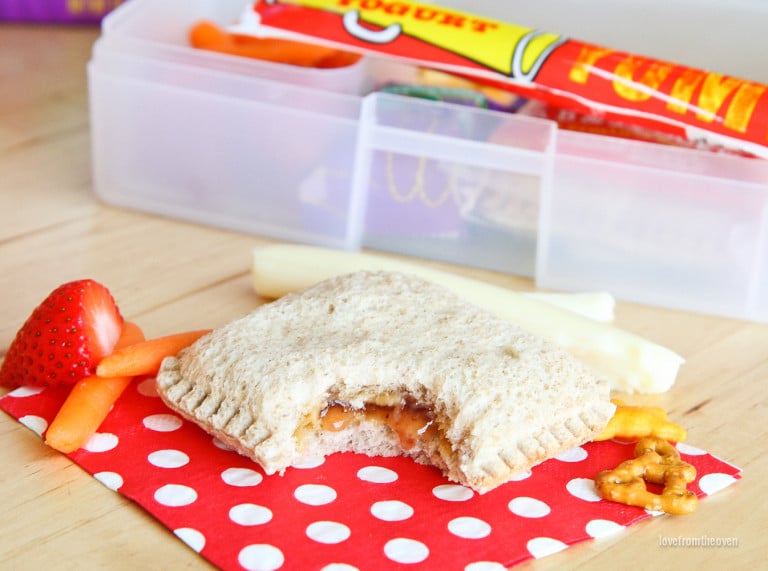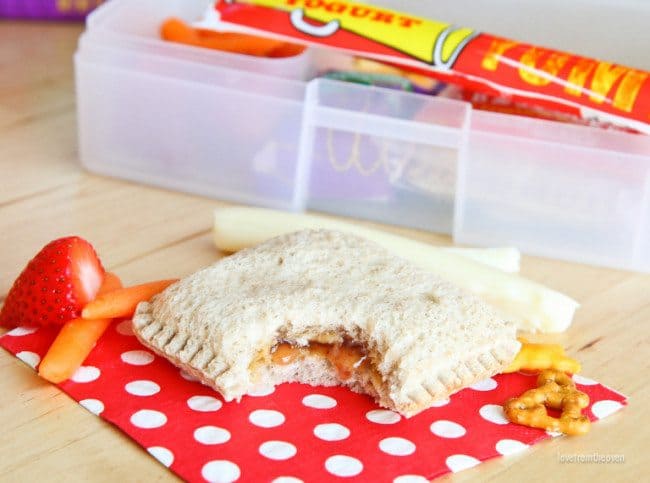 Anne's Pea B&J Pockets are kept in the freezer, which is perfect for stocking up, and they thaw in about an hour. In keeping with the convenient theme, they are available at Target, in both strawberry and grape, in 4 and 8 count boxes.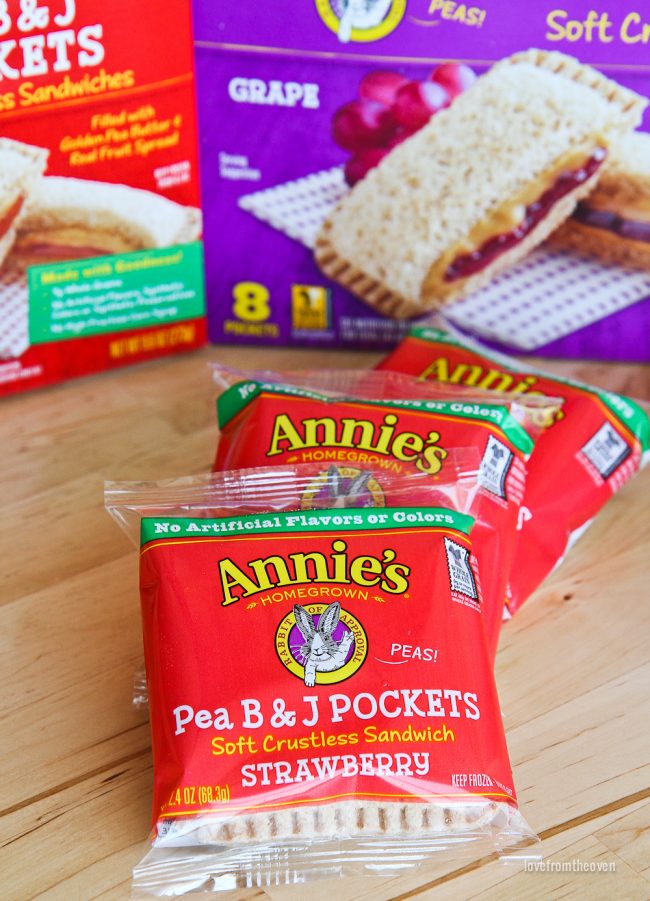 You can find Annie's Pea B&J Pockets at your local Target. I can't wait for you to try them and see how delicious they are, and what great peas of mind they provide!. Golden peas, who knew? Let me just say that the kids aren't the only ones enjoying these in my home. Even mom can use a quick and delicious lunch or snack! I'm sure your family will enjoy them as well.
Thanks for reading and learning more about Annie's Pea B&J Pockets. As the mom of a child with a life threatening nut-allergy, this product really is one that is close to my heart.
PIN TO SAVE AND SHARE!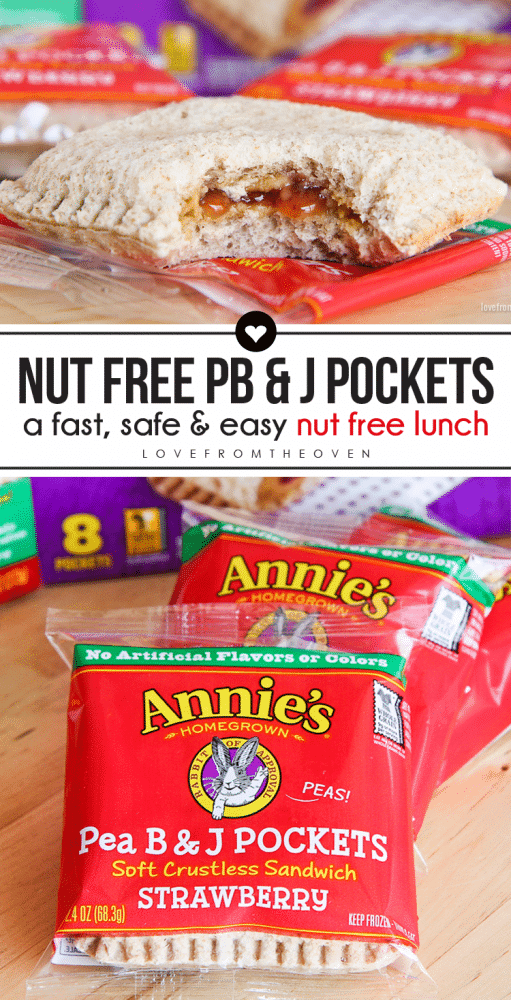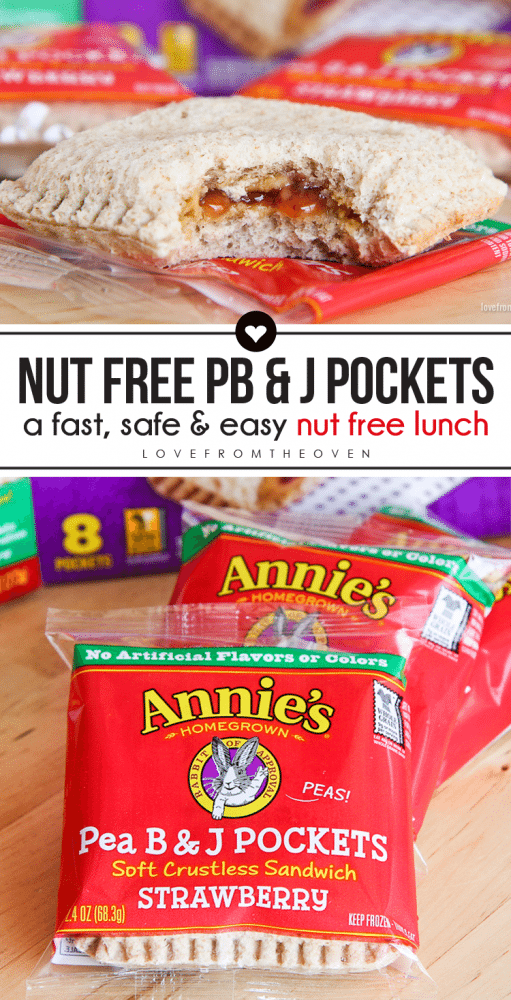 Disclosure: This post was sponsored by Annie's. All opinions however are mine and mine alone.