You know what today is? It's Wednesday! Or hump day (which you may or may not have just read using that camel voice from that Geico commercial). Which means it's time for another Waffle Wednesday post. Today's waffles… Apple Pie Waffles. Oh yeah, that's right APPLE PIE WAFFLES.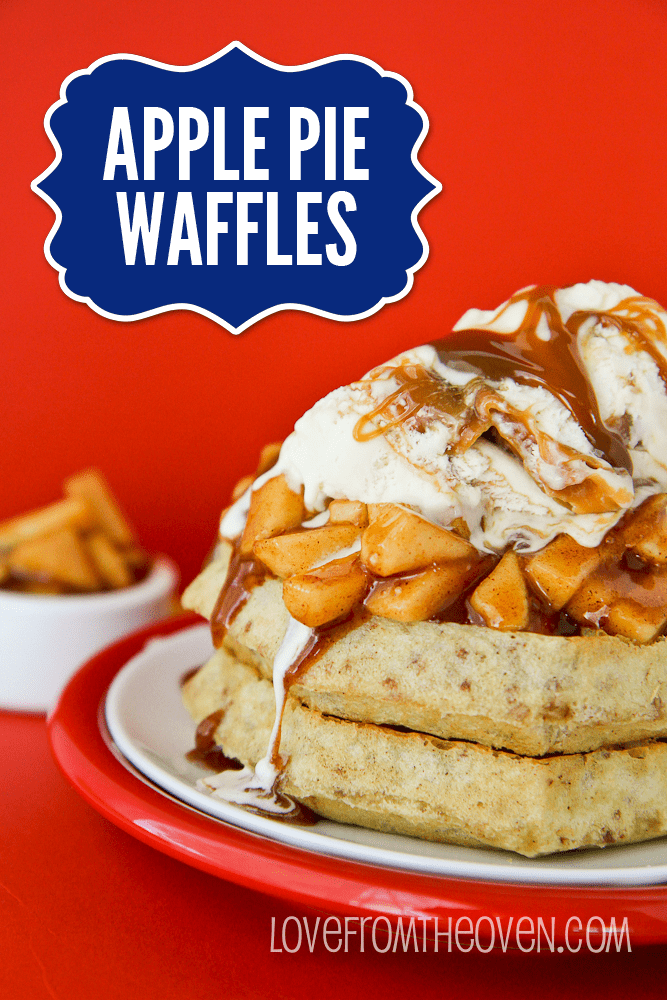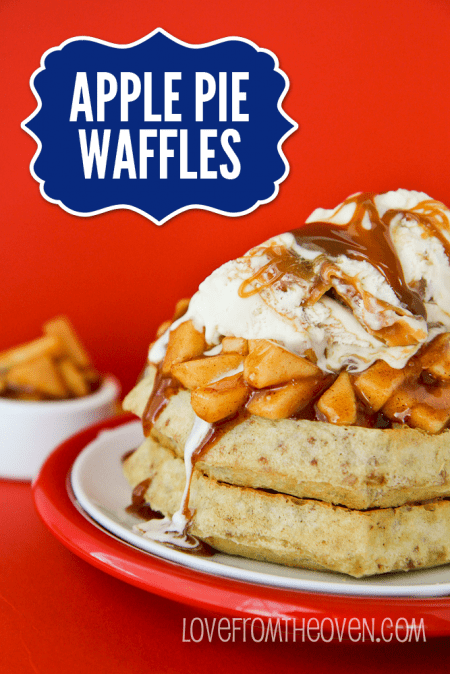 This week Eggo Chief Waffle Officers (CWOs) like myself are sharing ways to turn your Eggo Waffles into delicious fall desserts as part of The Great Waffle Off. In theory these are dessert waffles, but I have no problem if you want to start your day with them. We all need a little something to help us get moving in the morning. 🙂  No judgement here people. Heck, if you top them with ice cream, I'll support you by saying it counts as a serving of dairy. Just sayin…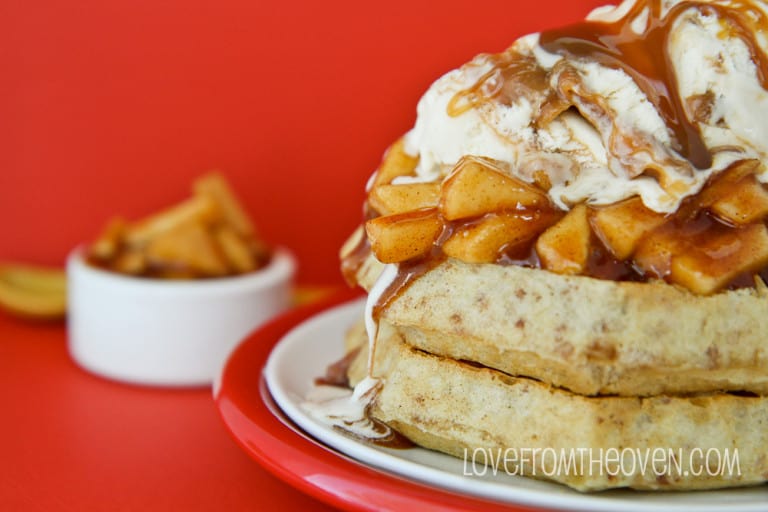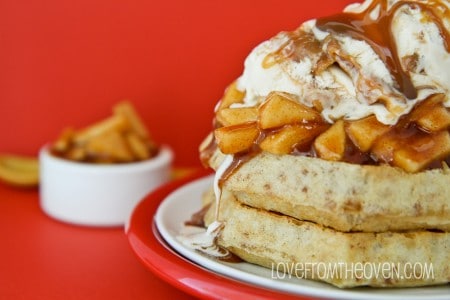 Making these is super simple, even if it's at 6am. I started with Eggo's Thick & Fluffy Cinnamon Brown Sugar Waffles. You could use any variety that you like, but this seemed like a perfect pairing with apple pie filling.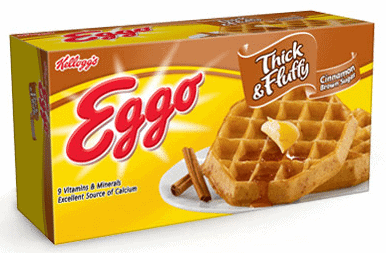 I topped my toasted waffles with a simple but completely delicious homemade apple pie filing that you can whip up on your stove in just minutes. Eggo Waffles make it so easy to work on other parts of the meal while your waffles are in the toaster.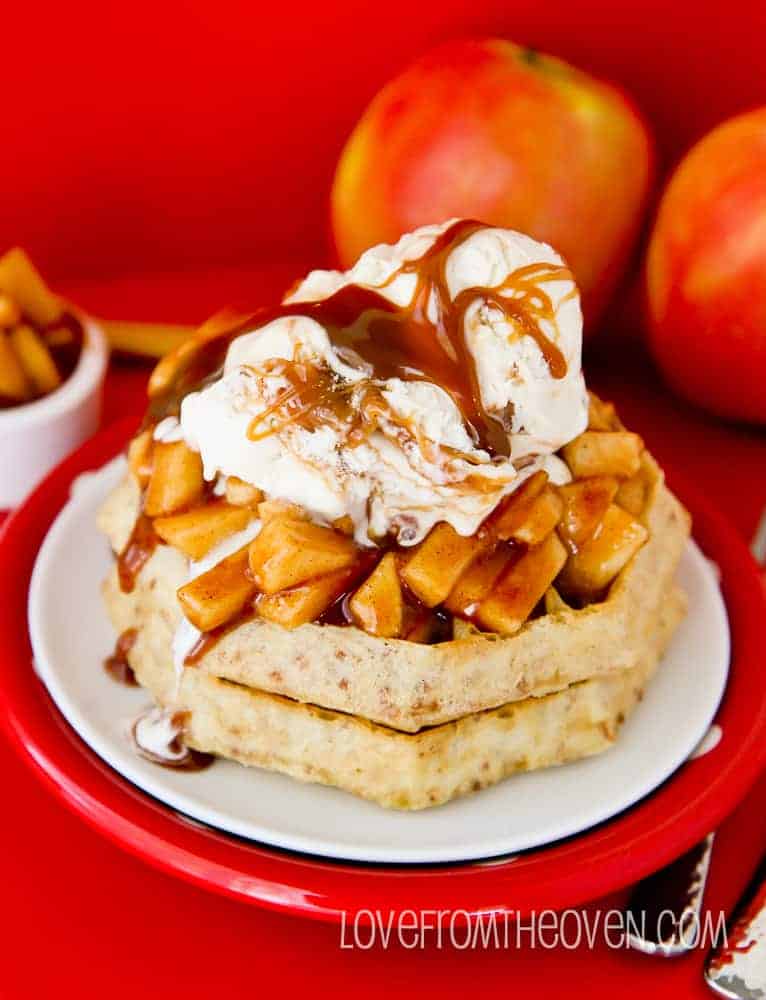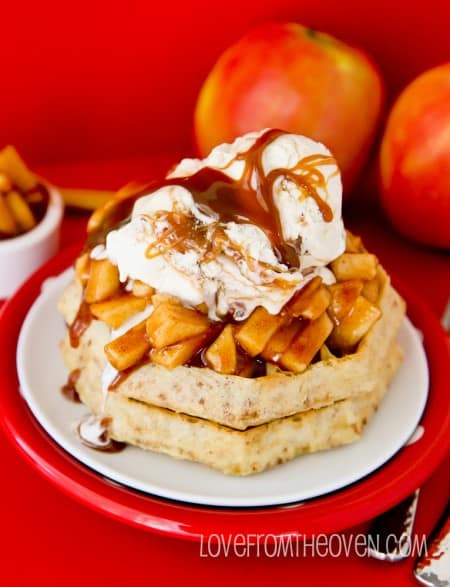 And I topped the apple pie filing with some ice cream. And caramel sauce. Sometimes I get carried away like that when things pair so perfectly. And apple pie a la mode is the best way to go when it comes to apple pie, at least in my opinion.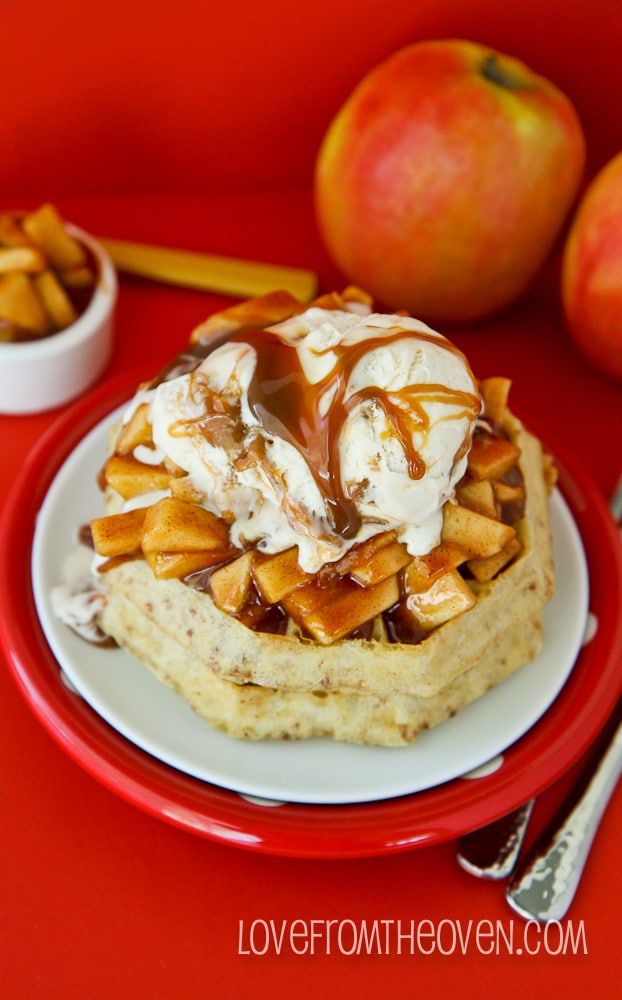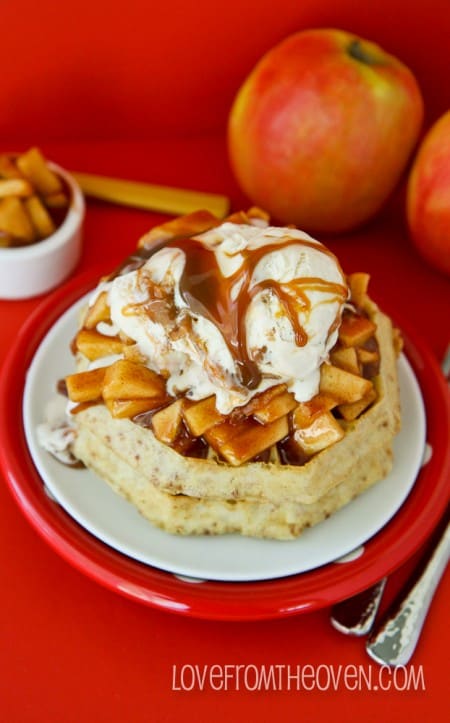 Cinnamon, apples, brown sugar, caramel – so fabulous for fall! Talk about a way to start the day. I mean end a day, dessert, or something like that. Heck, have them for lunch, it's all good.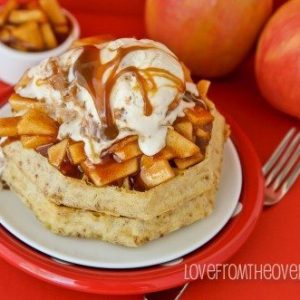 Apple Pie Waffle Topping
A delicious apple pie filling that's made on your stove top in minutes. Enough topping for 4-6 waffles.
Ingredients
1

cup

water

3/4

cup

sugar

1/4

cup

brown sugar

1

tsp

ground cinnamon

1

tablespoon

lemon juice

1/4

cup

cornstarch

1

tsp

vanilla

4

cups

chopped apples
Instructions
In a large sauce pan over medium heat, combine water, sugars, cinnamon, lemon juice and cornstarch. Cook until thick and bubbly, stirring constantly. Remove from heat. Stir in apples and vanilla. Use filling to top waffles. If desired add a scoop of ice cream after topping waffle. Careful, filling can be very hot!
Do you have some great ideas for fabulous fall waffle recipe? Then you have to check out the Eggo Waffles Facebook page and enter it in The Great Eggo Waffle Off. You would win $5,000 with your recipe. Yes $5,000! So head on over, that's a contest not to be missed out on. While you are there check out all of the delicious recipes that are already entered.
Waffle lovers, I will see you back here next week for another #WaffleWednesday.
Disclosure: Kellogg's sponsored this post and I am compensated for being a Chief Waffle Officer. That said, all opinions are, as always, mine and mine alone.
Looking for some other yummy ways to serve up your Eggos? Check out these ideas…