I've had so many requests for apple recipes, but truth be told I have a pretty limited collection of apple recipes. I figured it was time to find myself some great apple recipes to try – and I might as well create a Bites From Other Blogs collection out of it and share it.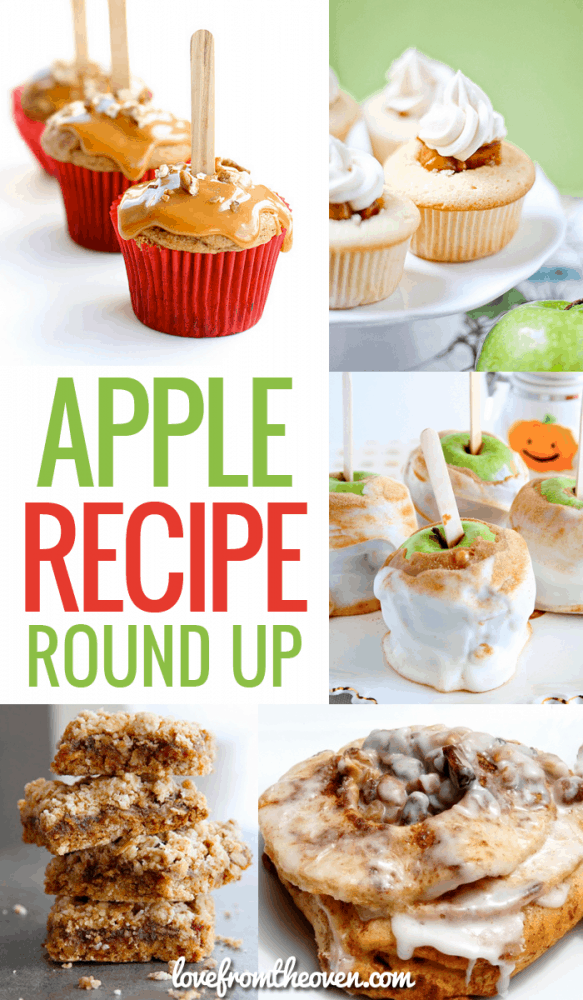 Here is what I have to share from my kitchen – a delicious Caramel Apple Nut Pie Recipe from the cookbook "Apple Pie".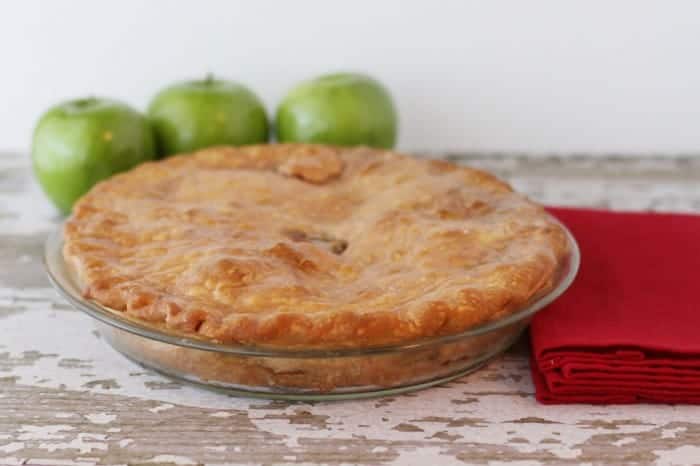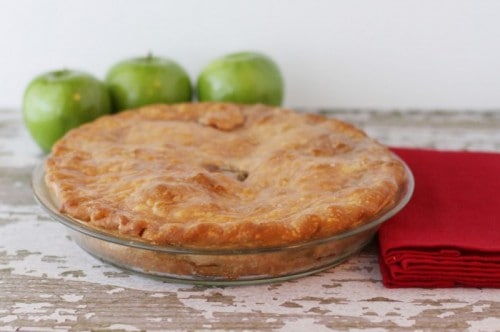 And here are some of the amazing pie recipes that other bakers and bloggers have created. I have to give a special mention to Sweet Pea's Kitchen, who has so many amazing apple recipes that I had a hard time selecting just a few! Make sure you check her recipes out. Here we go…
Semi-Homemade Caramel Apple Cookies From Bakingdom (can you say cuteness overload????)
Cinnamon Apple Macaroons With Apple Butter Buttercream And Tart Green Apples From Desserts For Breakfast
Peanut Butter Stuffed Gourmet Caramel Apples From Mississippi Kitchen
Apple Butter Bars From She Simmers  
Warm Apple Cinnamon Crumb Cakes With Calavados From La Mia Vita Dolce
Caramelized Apple Walnut Cinnamon Rolls From eCurry
Apple Cake With Crumb Topping From Pham Fatale
Apple Cinnamon Muffins From The Comfort Of Cooking
Homemade Cinnamon Applesauce From The Comfort Of Cooking
Apple Toffee Blondies With Brown Sugar Frosting From Sweet Pea's Kitchen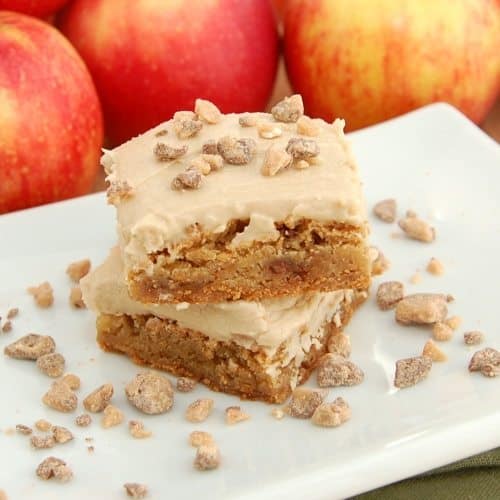 Caramel Apple Ice Cream From Boulder Locavore
Apple Fried Pies Made With Puff Pastry From Evil Shenanigans
Zucchini Apple Muffins From The Hazel Bloom
Caramel Apple Dumplings With Ice Cream From Jenny Steffens Hobick
Apple Cider Doughnuts From Sweet Pea's Kitchen
Cinnamon Apple Pancakes With Apple Cider Syrup From Real Mom Kitchen
Apple Cinnamon Oatmeal Cookies With Apple Cider Glaze From Sweet Pea's Kitchen
Apple Cake With Salted Caramel Glaze From Lipstick Blogger
Apple Toffee Dip From This Week For Dinner
Easy Caramel Apples With A Gourmet Flair From The Yummy Life
Apple Pie Bars From Joylicious
Appledoodles (Apple Snickerdoodles) from Gimmie Some Oven!
Maple Apple Upside Down Cake From Family Fresh Cooking
Green Apple Sorbet From Kitsch In The Kitchen
Apple Pie Grilled Cheese From Family Fresh Cooking
Toffee Apple Trifle From Spicy Ice Cream
Apple Pie Smoothie From Once Upon A Cutting Board
Inside-Out Caramel Apples From Easy Baked
Apple Fritter Muffins From Chasing Some Blue Sky
Apple Cinnamon Cake From The Pastry Affair
Apple Pie Caramel Apples From Mama Grubbs Grub
Glazed Apple Cinnamon Ring From Sweet Pea's Kitchen
Apple Spice Layer Cake With Caramel Swirl Icing From Pink Parsley
Maple Apple Pecan Bread From Cooking For Seven
Graham Cracker Caramel Apple Cookies From Baking Junkie
Amazing Apple Challah Yeast Bread From A Spicy Perspective
Apple Pie In The Apple From Testado, Provado & Aprovado
Apple Cider Cups From Oh Party
Apple Cream Cheese Bundt Cake With Praline Frosting From Baking Junkie
Apple Cinnamon Raisin Bars From Gimmie Some Oven!
Apple Cheddar Tarts With Cinnamon Ice Cream From The Italian Dish Blog
Caramel Stuffed Apple Cider Cookies From Scrambled Henfruit
Caramel Apple Pie Cupcakes From Just Putzing Around The Kitchen
Apple Pecan Cheesecake From Baked By Rachel
Apple Pie Cupcakes From Dainty Chef
Apple Dapple Cake From Bella Eats
Caramel Apple Cupcakes From The Girl Who Ate Everything
Caramel Glazed Apple Bread From Becky Bakes
Muffin Cup Mini Baked Apple Pies From Food Family Finds