For Valentine's Day this year, my husband hit it out of the ballpark.  An iPad.  I have had an iPhone for years, and if it's not in my hand, it's close by.   I've been longing for the iPad since Apple first announced it, but just couldn't justify the price.  My husband had the bright idea of getting me one big gift to cover all the upcoming holidays.  So my Happy Valen-Anniver-Mother's-Birth-Christmas gift was an iPad.   Fabulous.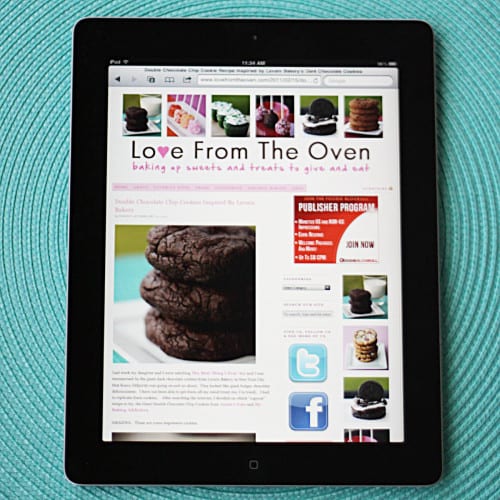 The only down side was that the new one was about to be announced in a matter of days.   A great big WAY TO GO to Target for allowing us to return our iPad 1.  Unfortunately finding an iPad 2 was not as easy.  Much line standing, driving around, calling… all left us empty handed.   Finally one morning I caught a post online that B&H Photo had a few of the new iPads in stock.  Within about ten minutes they were sold out, but I was able to score one before they were all gone.   And two days later my new baby showed up…  I was one happy girl.
Some of the first apps I went hunting for were cooking apps, recipe apps, food apps and baking apps.   I'm usually a free app kind of girl, so here are a few of the apps that I have come up with that are either free or fairly inexpensive.
All Recipes – All Recipes has been one of my favorite cooking websites for as long as I can remember.   I love the variety in recipes and getting such detailed reviews from others.    They have a great free iPad app that was one of the first I loaded on to my iPad.
There are also a number of magazines that have apps available for the iPad and other devices.   Certainly a nice way to get to browse and keep magazines without having to find a place to store them.
The list could go on and on.
What are some of your favorite iPhone or iPad apps?   Cooking and otherwise?   I have to say my favorite non cooking related app is Springpad.  It rocks for collecting all the cool things you find online (like recipes), organizing them and making them easy to find when you are ready to use them.