THIS CONTEST IS NOW CLOSED ~ THANK YOU!
After falling in love with the Babycakes Cake Pop Maker, I was anxious to try the Babycakes Cupcake Maker.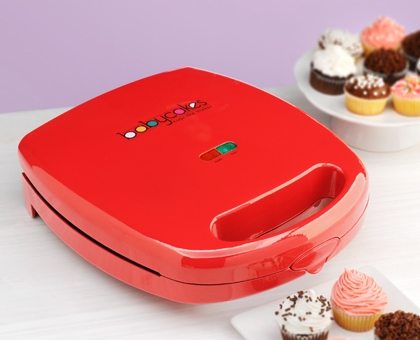 Sure enough, it works just as well as the Cake Pop Maker and is a fun and quick way to make cupcakes (as well as quite a few other things!). I love it so much that I want to share it with my readers, and will be giving away TWO of these great little machines! One cupcake maker is a gift from me to one of my readers and one is from the wonderful people at Select Brands, creators of the amazing line of Babycakes products.
As if that's not enough, Select Brands will also be giving away an autographed copy of their new cookbook to go along with each of the cupcake makers.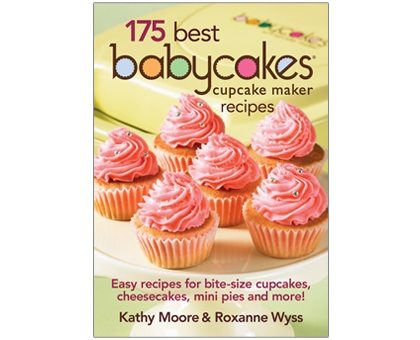 Cupcakes, cookbooks and giveaways – what's not to LOVE???? Let me show you what I've been doing with my cupcake maker, and then tell you about how you can win one!
After the Butterfinger recipe round up last week, I was REALLY craving Butterfinger, and decided that making Butterfinger Cupcakes would be a great way to show how the Babycakes Cupcake Maker works.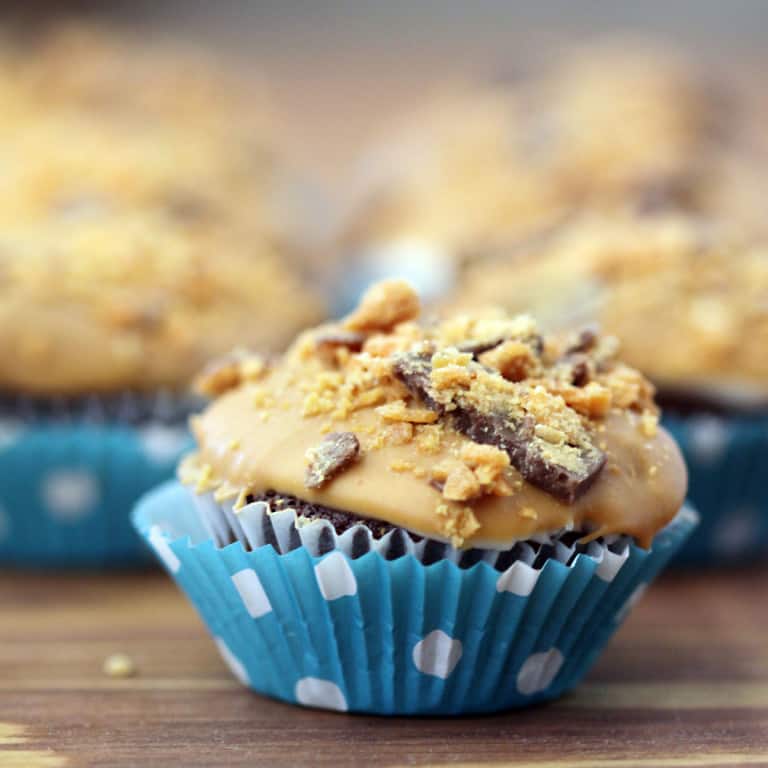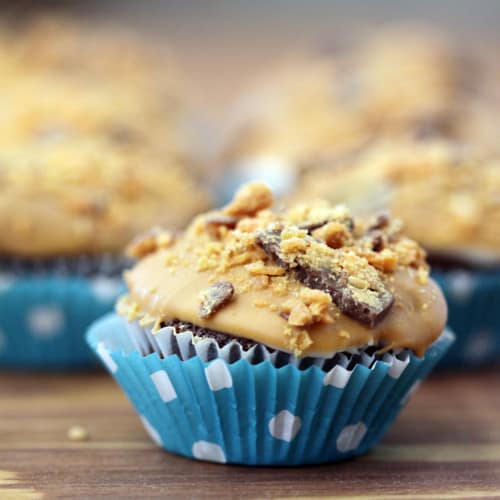 I decided to use a cake mix, and modify it according to the directions in the cookbook. Since one of my kiddos can't have nuts, I picked Nestle Crunch to be our nut free cupcake choice.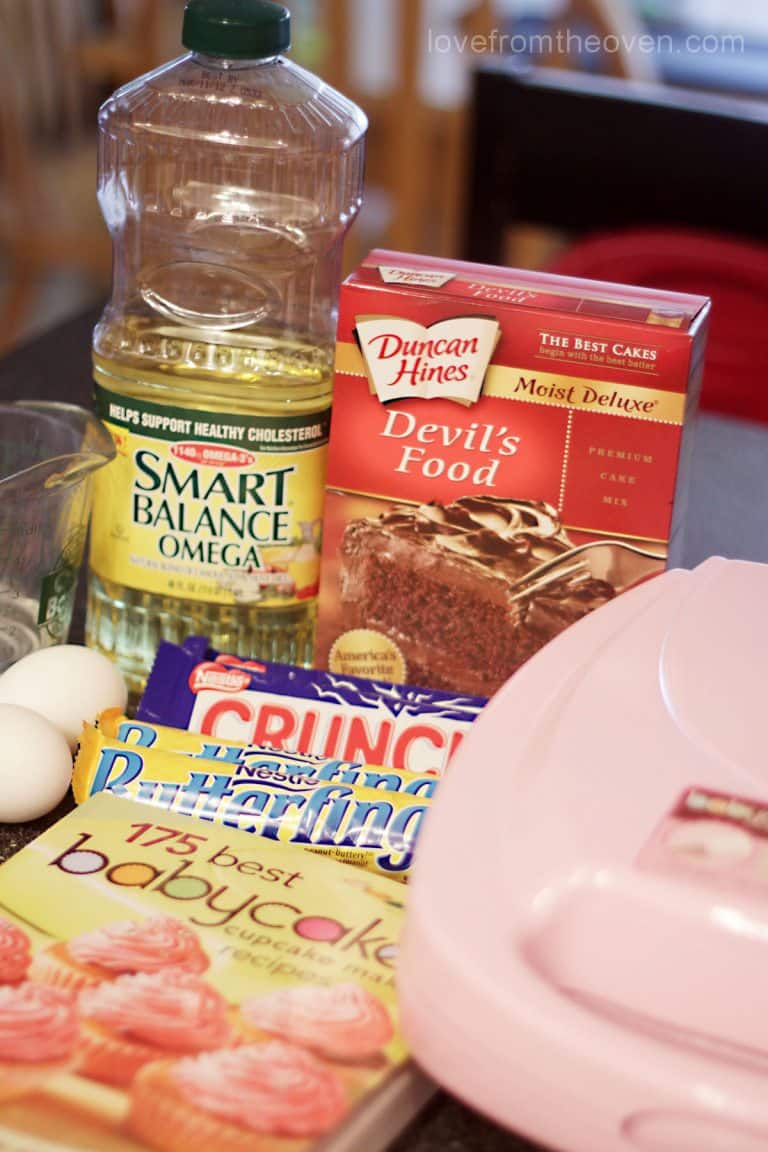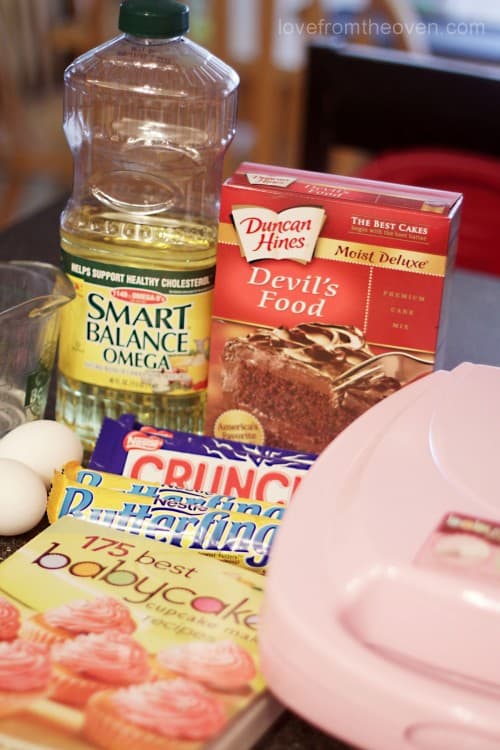 After mixing up the batter, I divided it into two, adding crushed up Nestle Crunch to one and crushed up Butterfingers to the other.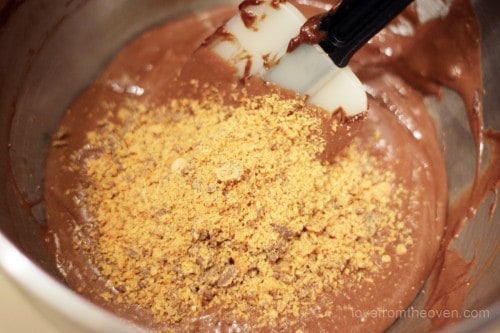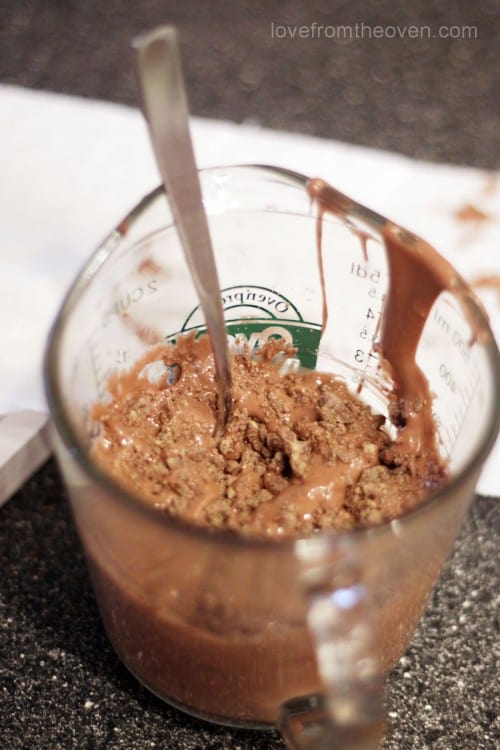 After letting the Cupcake Maker heat up, I put cupcake liners in each well. I used the cupcake liners I had on hand, which are a bit smaller than the size that Babycakes offers. I wasn't sure if they would work, given their smaller size, but they worked perfectly.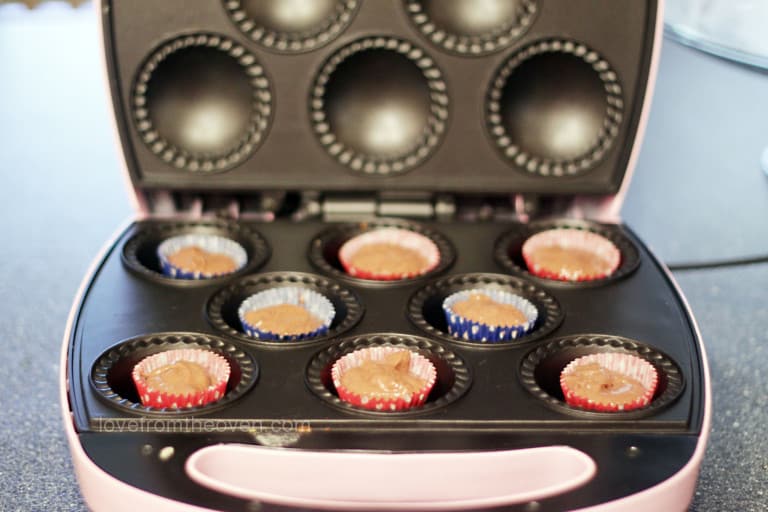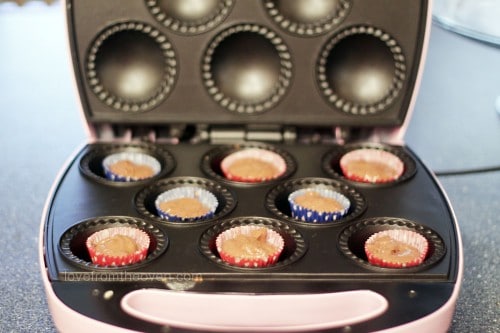 Close the lid, bake for approximately six minutes and voila – cupcakes!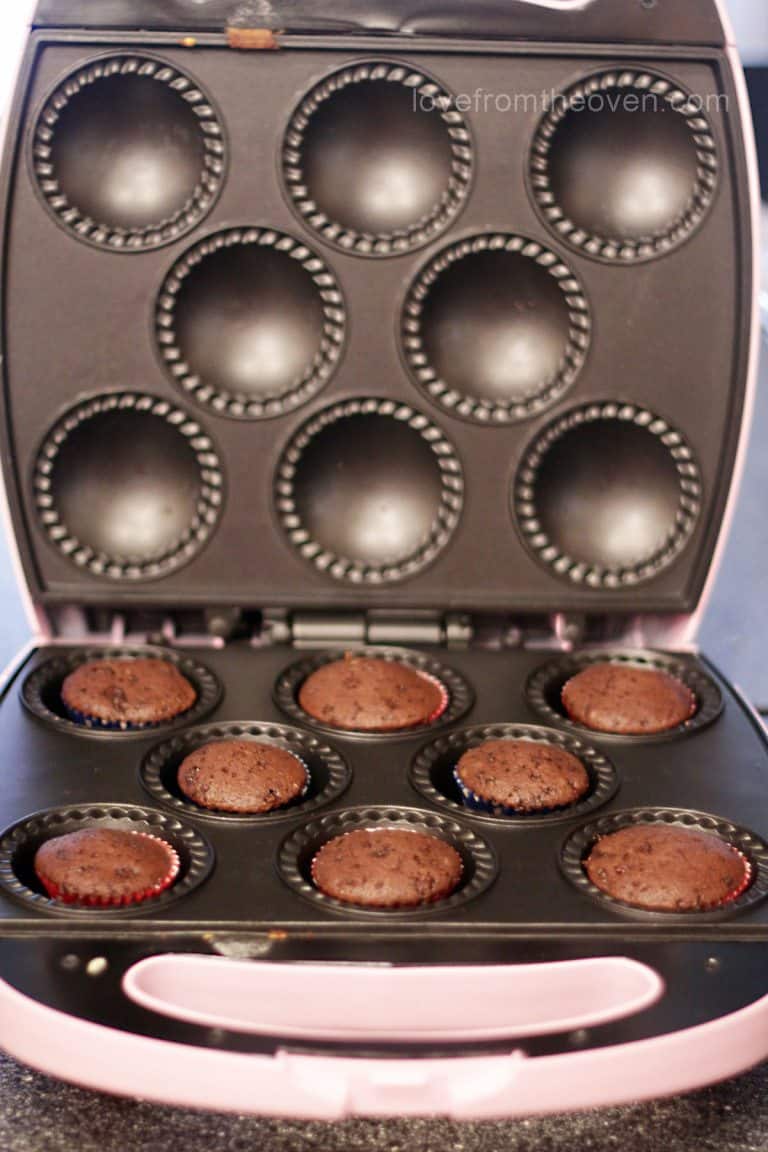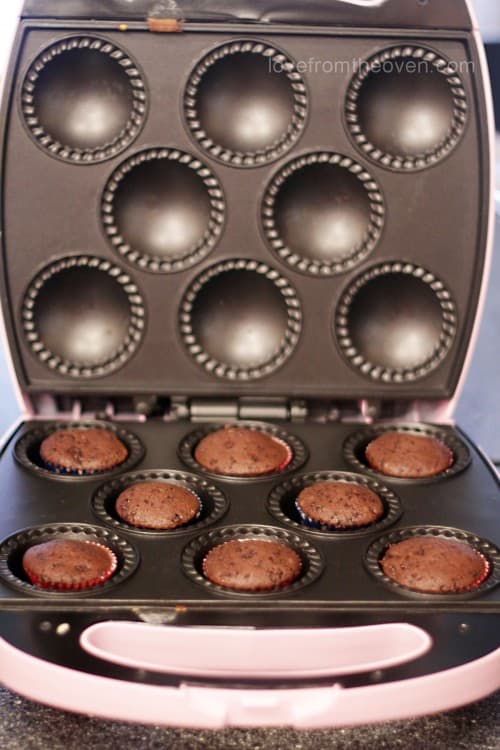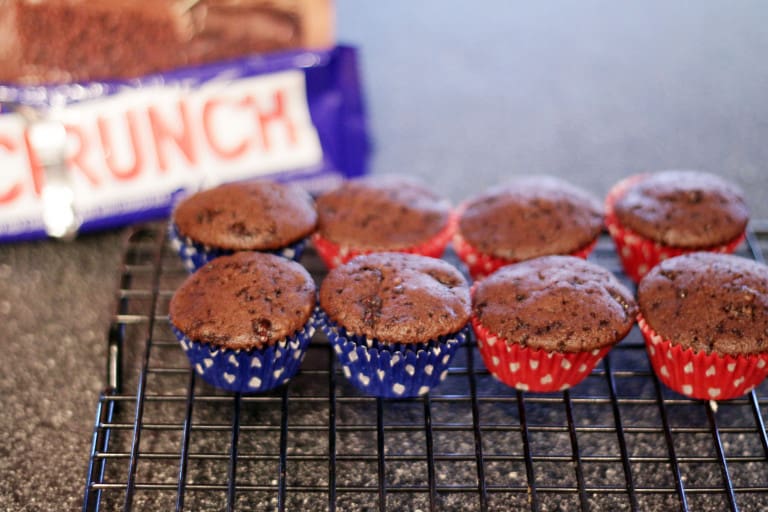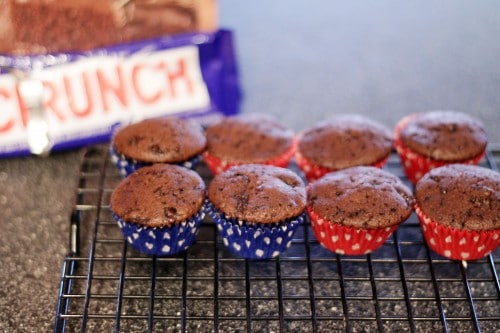 I frosted the Nestle Crunch cupcakes with a simple vanilla buttercream frosting, and added some crushed Nestle Crunch bar on top. So easy to make and delish!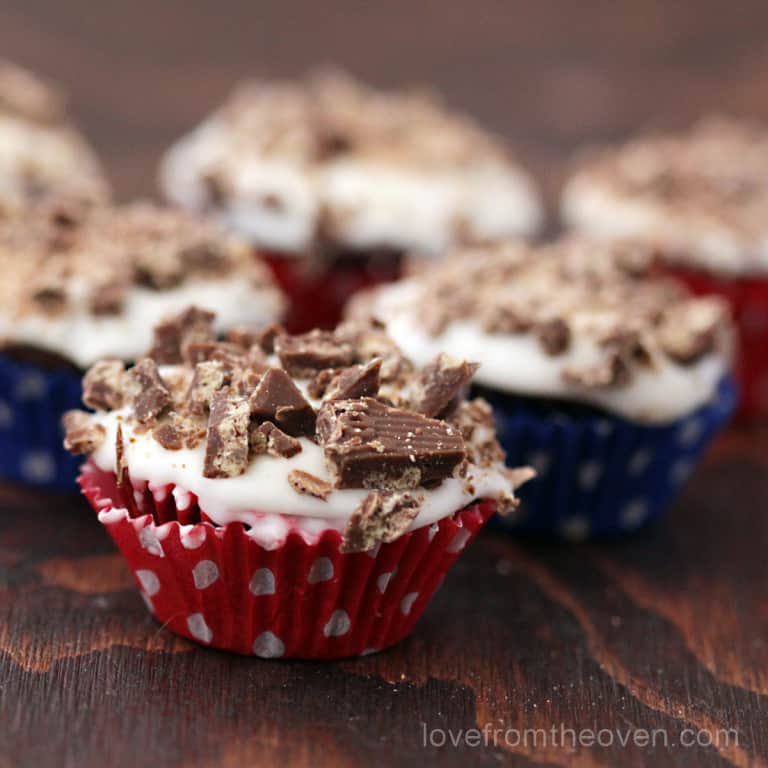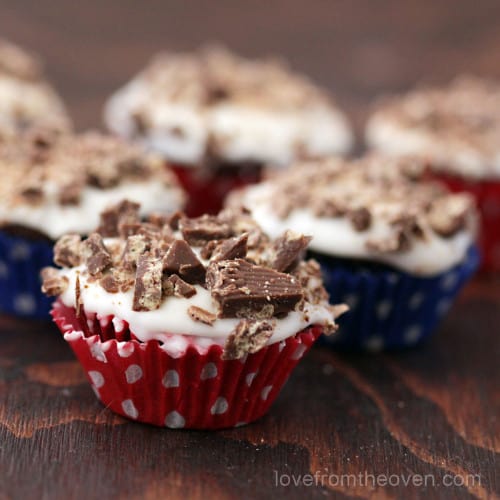 For the Butterfinger cupcakes I decided to try something a bit different. I frosted them with buttercream, and then stuck them in the fridge to chill. While they were chilling, I melted some Nestle Butterscotch Chips in the microwave and added a small amount of shortening. I dipped the top of each cupcake into the butterscotch and topped with crushed Butterfinger. SO GOOD.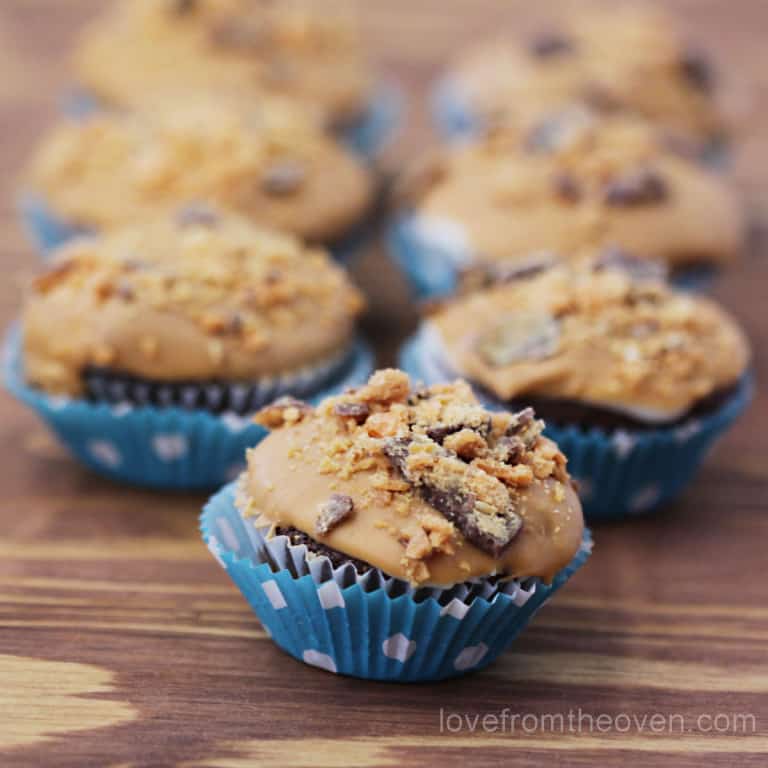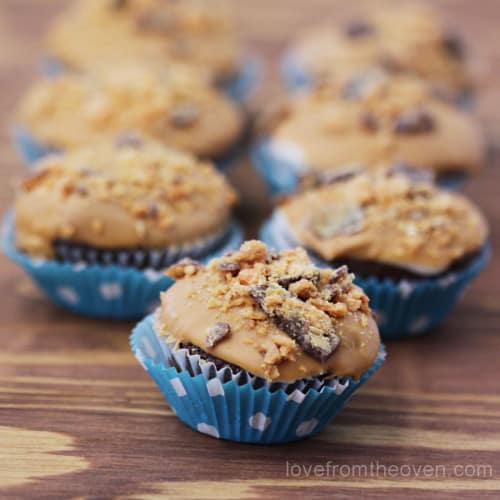 Mmmm…. Butterfinger Cupcakes With Buttercream Frosting And Butterscotch Topping. Butter butter butter!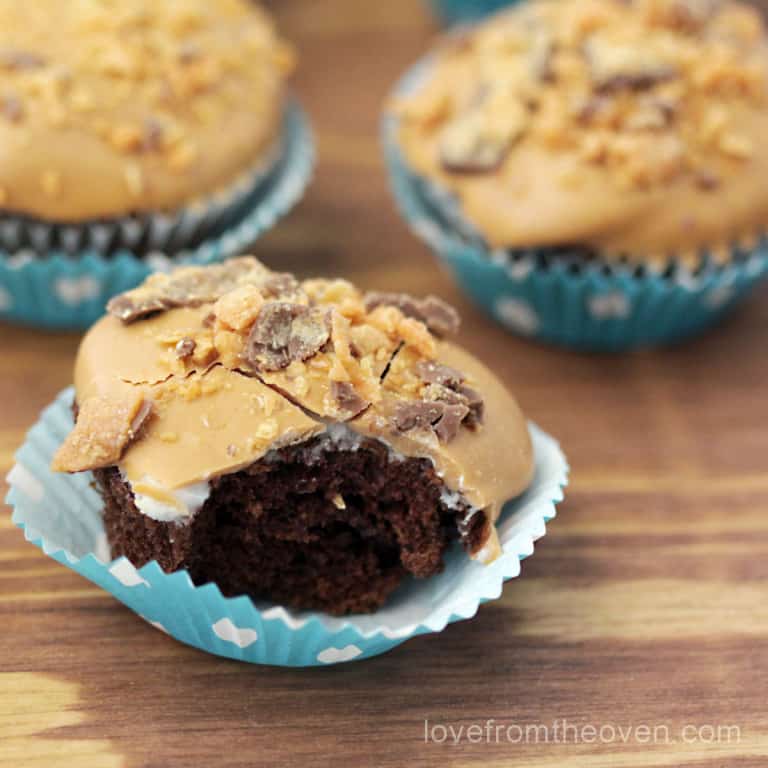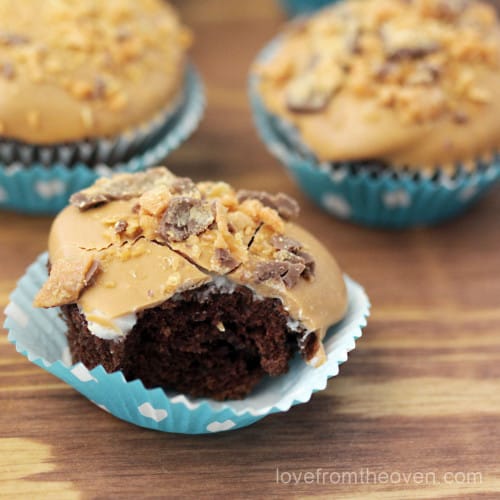 If you are looking for more great Butterfinger recipes, make sure to check out my Butterfinger Bites From Other Blogs collection – SO many GREAT recipes!
So would you like to WIN your very own Babycakes Cupcake Maker & Cookbook???? The winner of the first giveaway will be drawn on Monday, and you can start entering to win today! The second giveaway will run next week, and I will be sharing a few more Cupcake Maker creations with you these next two weeks. You can enter each giveaway five times. Here is how…
For your first entry, leave a comment to this post – simple as that! For additional entries you can do the following…
Follow Love From The Oven On Facebook – and leave a comment here that you do.
Follow Love From The Oven on Twitter – and leave a comment here that you do.
Follow Select Brands / Babycakes on Facebook – and leave a comment here that you do.
Follow Select Brands / Babycakes on Twitter – and leave a comment here that you do.
Please note that if you do each of the above items, you will leave five SEPARATE comments on this blog post. If you put all five into one comment, you will only receive one entry, so please leave a comment for each – they can be short "Follow on FB!" "Follow on Twitter"  "Follow Select Brands on FB!" "Follow Select Brands on Twitter!".
Thanks so much, and good luck! The winner will be selected by a random drawing on Monday, August 15th, and if you don't win, the second entry period will begin that day. This week's contest is open to residents of US and Canada. Thanks for entering!