Happy Friday!   I had planned to make my favorite pumpkin muffins today for the blog, but after three stores and not a single can of pumpkin to be found, that off until next week.  Note to stores, if you are only going to carry one pumpkin product, please make it actual PUMPKIN, not pumpkin pie mix.   I know, it's a wild idea, carrying the more versatile product, but I'm crazy like that.
Anyways!  So many yummy things on other food blogs this week that I thought I would share some of my favorite finds.
Chocolate Chip Cookie Pie from Our Best Bites.    Wow.   This may be the first time I ever wanted to lick my screen.   That may be the most amazing piece of food porn I have ever seen.  I could take the bowl, hide in a closet with a spoon, and be the happiest girl in town.   Well, to be honest, I really don't NEED the spoon.  Just give me the bowl.  And get out.
White Chocolate Macadamia Nut Magic Bars from Baking Bites.   Wow.   This idea blows my mind, it's pure brilliance.   I love, I mean LOVE magic cookie bars.   I make them every Christmas and they are the one treat, of the many I make, that I could eat every last bite of.   The salty buttery slightly dry graham cracker crumbs, the creamy decadent sweetened condensed milk and than the magical mix of chocolate chips, nuts and coconut.     But replacing the chocolate chips for white and the nuts for macadamia?   It's like a baking dream come true.   Now, part of what I think makes these magic, is that so many people are turned off by coconut that they will not try them.   While this pains me because they are missing out, it's also fabulous because it leaves more for me.  This is a blessing.  And a curse.
Double White Chocolate and Pretzel Peanut Butter Cookies at Picky Palate.   Jenny's blog is one of my all time favorite ones, and I have to give the girl credit for cramming more into a cookie that anyone I know.  And she fully embraces the salty sweet combo, which I love, because I think a bit of salt can make every baked good better.   Granted this doesn't pan out so well with the advice that we all eat less salt.  This is why I try not to watch the news, ignorance is bliss!   Anyways, how delicious do these cookies look?
Peanut Butter Mini Dessert Shooters from In Katrina's Kitchen.   What a great idea!    You really can't go wrong with the list of ingredients – peanut butter, mini pb cups, graham cracker crumbs, butter, cream cheese…   The only problem is that I'd probably want more than one (or two).
Sour Cream Scones with Chocolate Chips from Rootie Tootie Fresh & Foodie.   These look delicious.  For some reason making scones has intimidated me, and I've yet to try.  I've decided this will be the first recipe I use.   Scones remind me of when my daughter was born last April.    She is adopted, and we stayed at the hospital for three days, from the time she was born until discharge.   I was a nervous wreck, with so many emotions, and for some reasons the scones in the cafeteria were all I could stomach.   They were comforting without being too sweet.    I swear I ate 18 scones at least.   I think scones will always remind me of her amazing arrival into our world.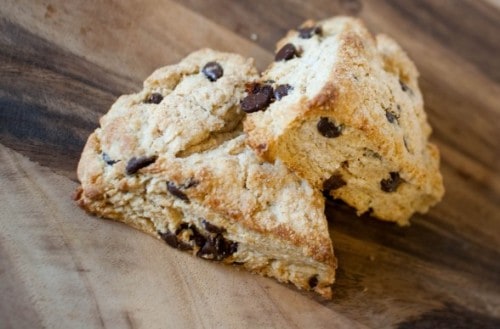 Have a delicious weekend!