Berry lovers, get ready! Today I'm sharing some easy and delicious MIXED BERRY CRUMBLE BARS that are bursting with four kinds of berries! All that berry goodness is sandwiched between a delicious crumble crust and topping.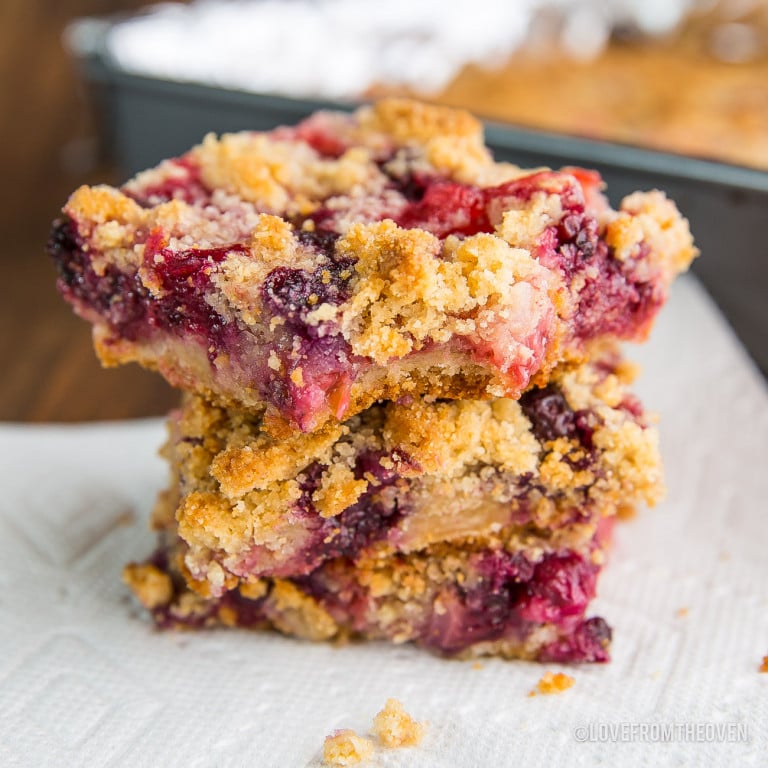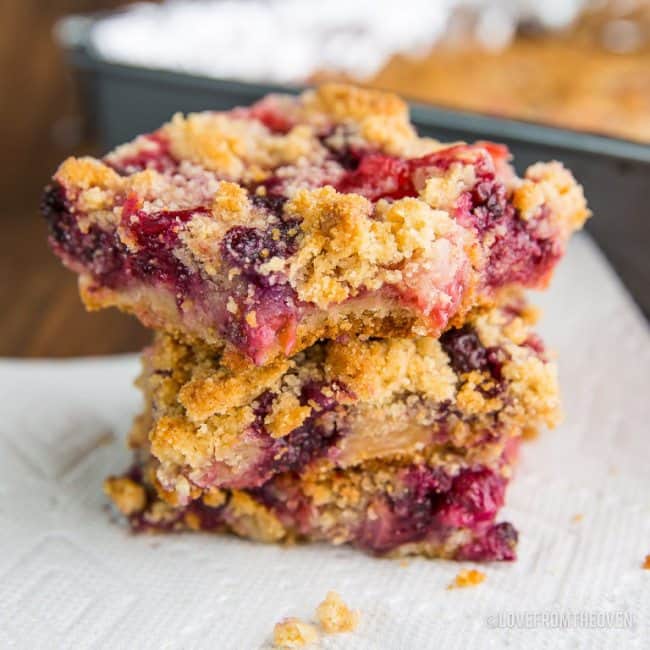 There is something in the air when spring arrives, and I'm not just talking pollen! It is one of those invigorating times when nature makes things new, and we seem to follow her lead. While I like to do the whole spring cleaning thing, what I really like to do is switch up my recipes.
While I tend to bake with a lot of chocolate and cinnamon in the fall and winter, when spring comes I break out the fruit. From citrus to berries, there are so many great ingredients to work with. These berry crumble bars are packed with four different berries!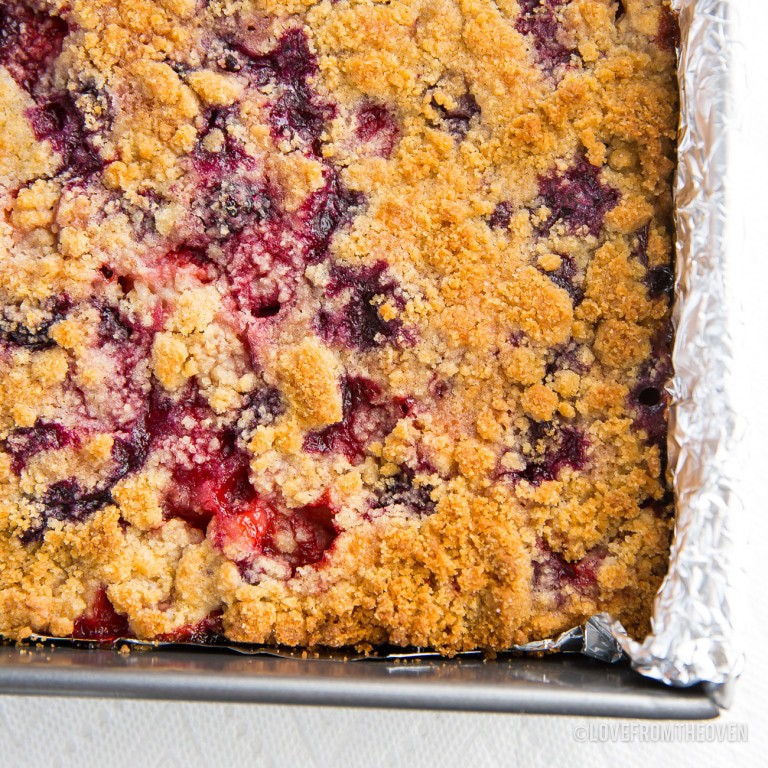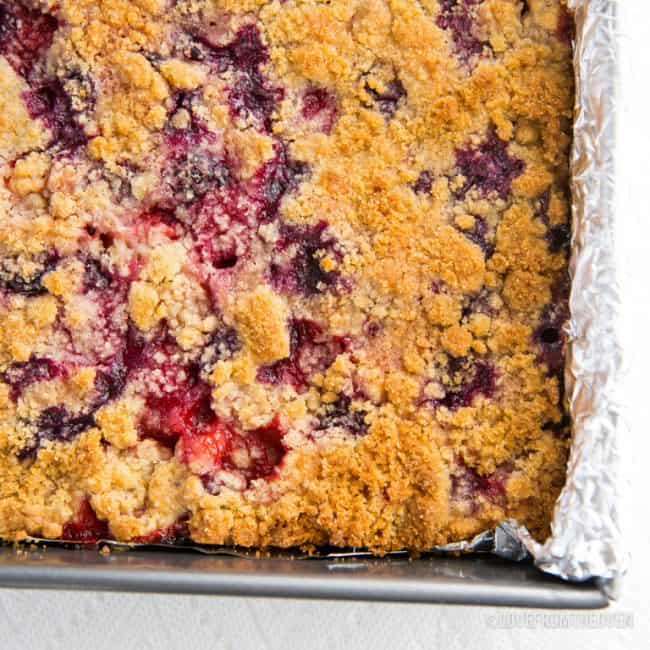 Berry Crumble Bars
When my friends at Bounty asked what I was making for spring, berries immediately came to mind. My family loves berries, especially my youngest. I love berries as well, though I'm not quite as fond of the mess they can make. Thankfully Bounty has that mess part covered. Thank you to Bounty for sponsoring this recipe for berry crumble bars.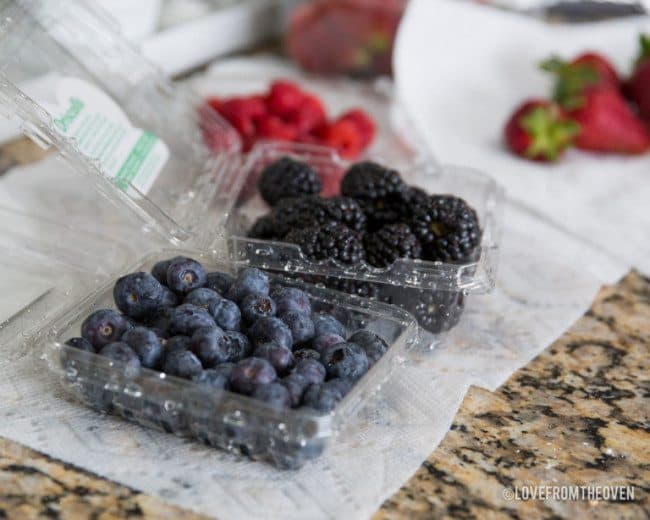 Let's face it, berries can be messy. They can really be messy in the hands of kids. Thankfully Bounty is a more absorbent paper towel, which means the roll lasts longer and you don't need to use as much to tackle all of the messy fun that comes with spring baking, spring cleaning and outdoor projects.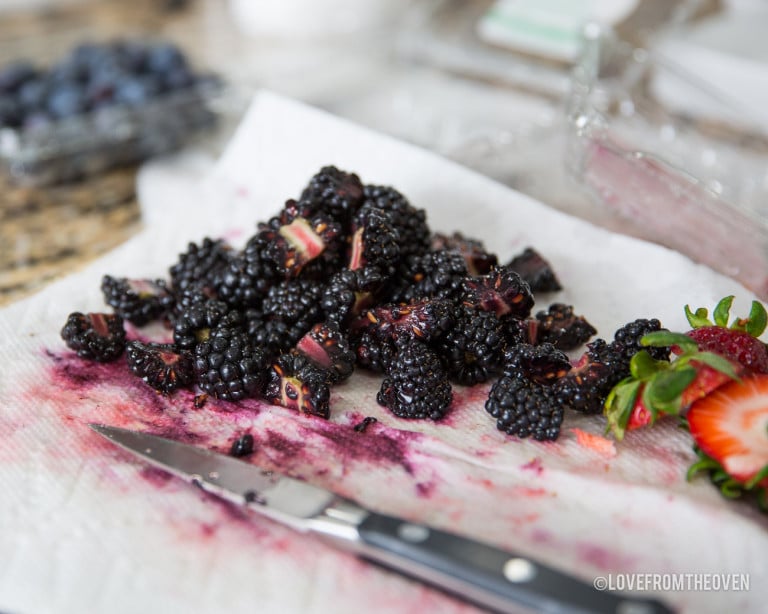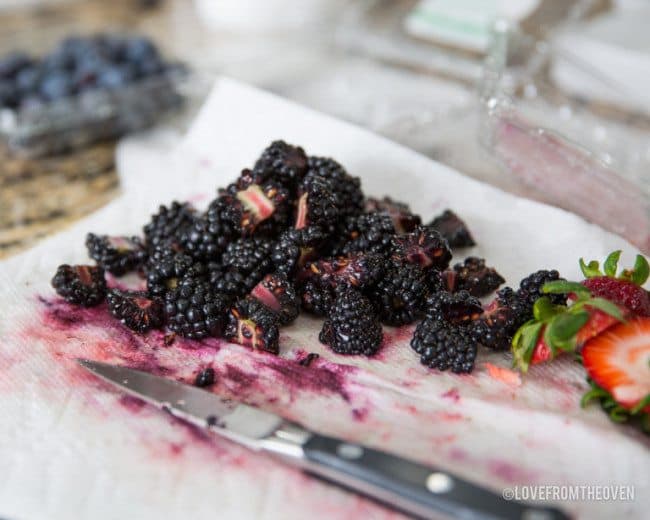 I always have Bounty on hand to help contain and clean up the berry messes.I like to cut up my strawberries and blackberries when I make this recipe. I learned a while ago that I quickly stained my cutting boards when cutting up berries. I put a stop to that by using a Bounty paper towel over my cutting board when slicing berries.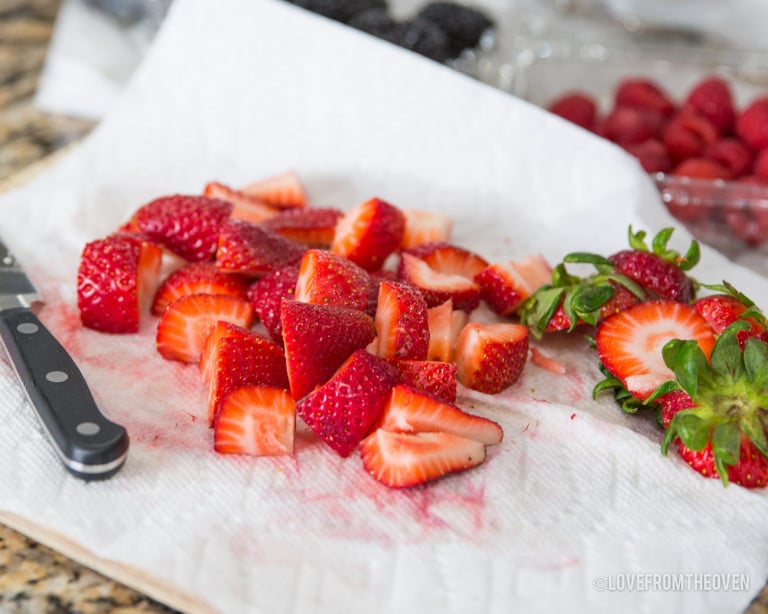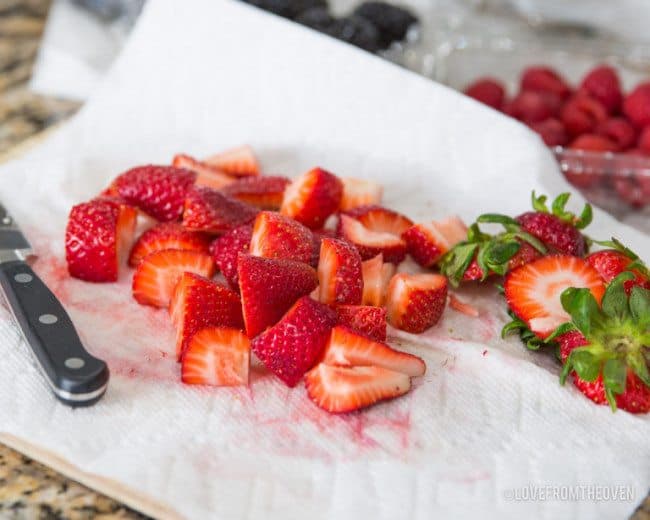 Easy clean up!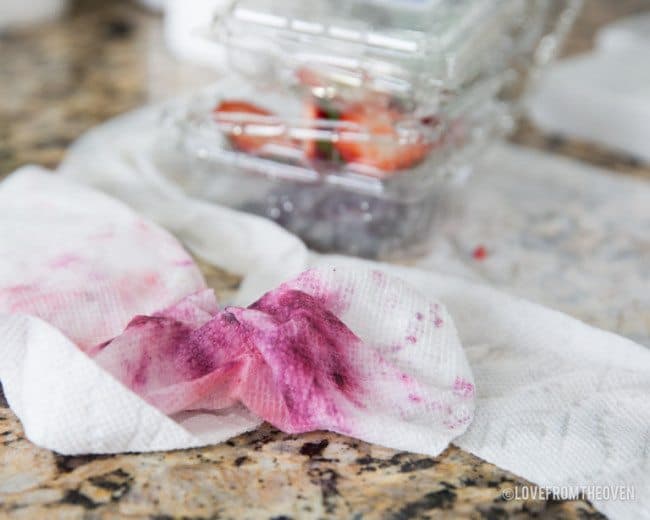 This recipe is so simple and delicious. While I used four types of berries, you can mix and match with what you have on hand. As long as you have four cups of berries, in any combo, you're in good shape.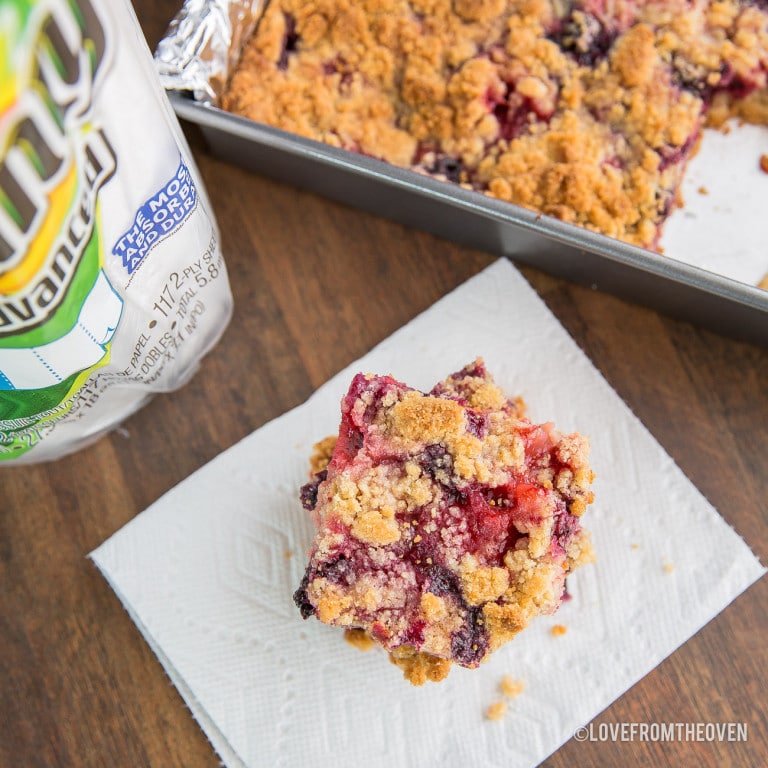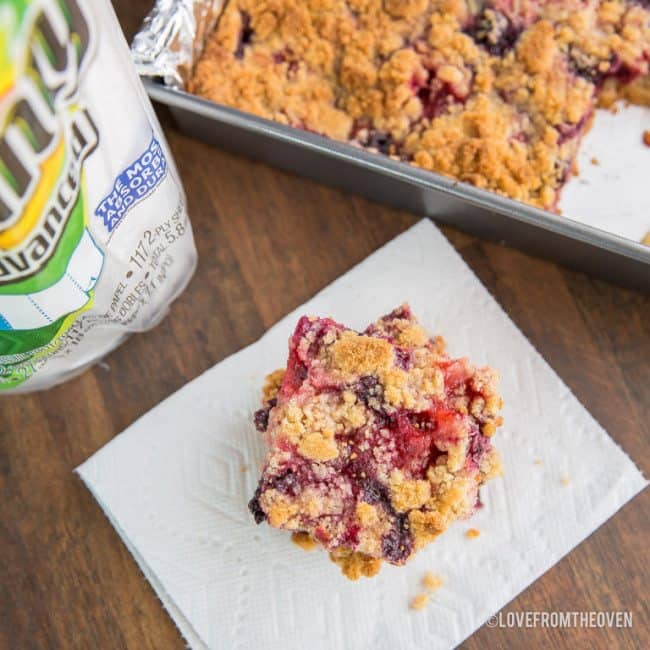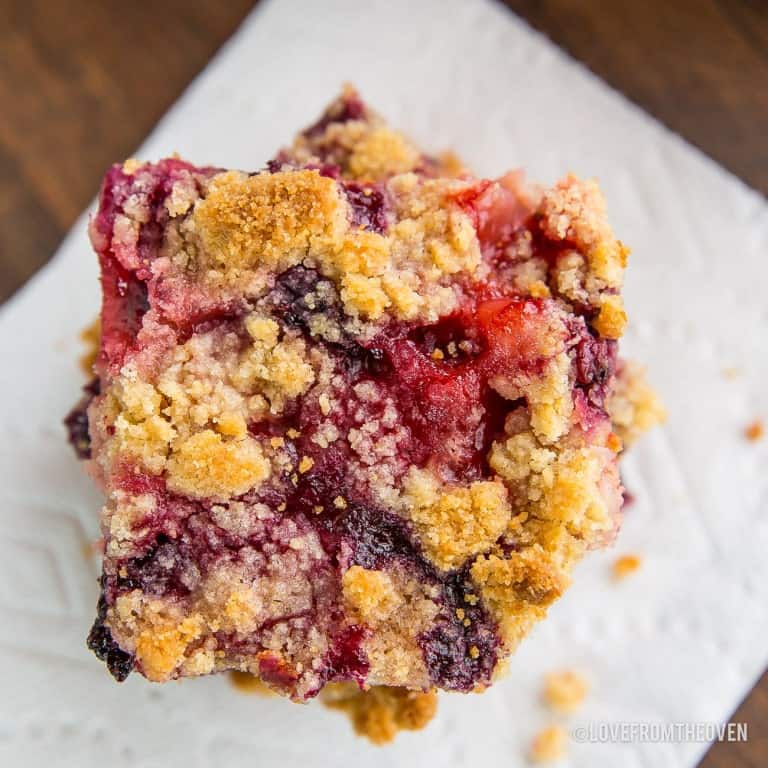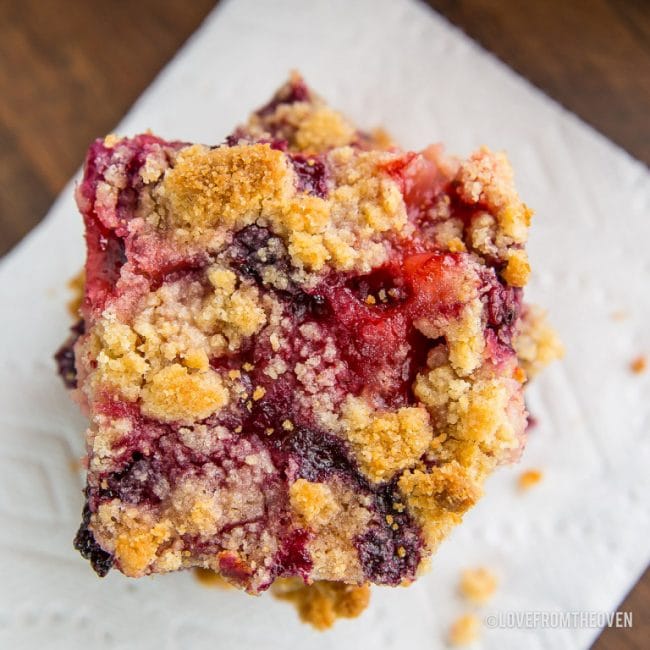 BERRY CRUMBLE BARS RECIPE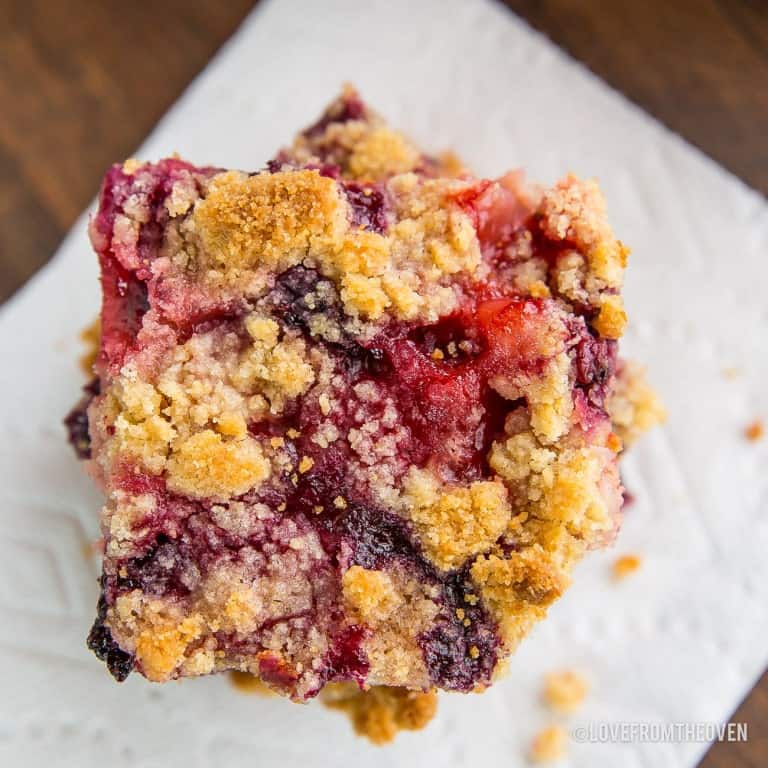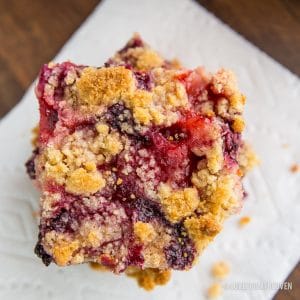 Ingredients
1

cup

sugar

1/2

cup

brown sugar

1

teaspoon

baking powder

3

cups

all-purpose flour

1

cup

cold butter

, cut into small pieces (I freeze mine first)

1

egg

1/2

teaspoon

salt

1

TBSP

lemon juice

, plus lemon zest

1

cup

fresh raspberries

1

cup

fresh strawberries

1

cup

fresh blueberries

1

cup

fresh blackberries

1/2

cup

white sugar

4

teaspoons

cornstarch
Notes
Preheat the oven to 375 degrees. Grease a 9×13 inch pan (I like to also line mine with foil). In a food processor, combine sugar, flour, baking powder and salt. Plus to combine. Add egg, pulse to combine. Add in cold butter pieces and pulse until mixture is crumbly and holds together. *You can also do this in a bowl by combining ingredients and using a pastry cutter. Press half of the mixture into your baking pan and set aside. In a bowl combine berries, sugar, cornstarch and lemon juice and zest. Gently stir to evenly coat berries. Spoon berries over prepared crust. Sprinkle remaining crust over berries. Bake in preheated oven for 45-55 minutes, or until top is slightly brown. Cool prior to cutting. These store best in the refrigerator, but can be heated up and topped with ice cream for serving if desired.
If you are looking for another delicious dessert full of berries, make sure to check out this Summer Fruit Tart recipe from That Skinny Chick Can Bake. Do you love the combo of berries and crumb topping? You'll want to try these Blueberry Muffins With Crumb Topping.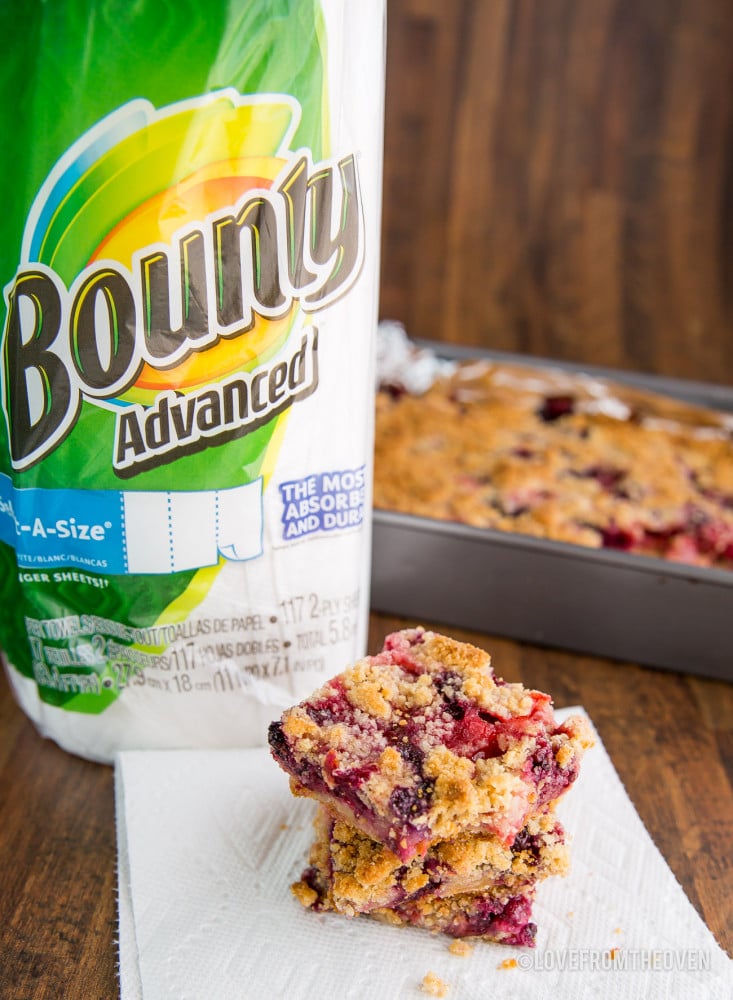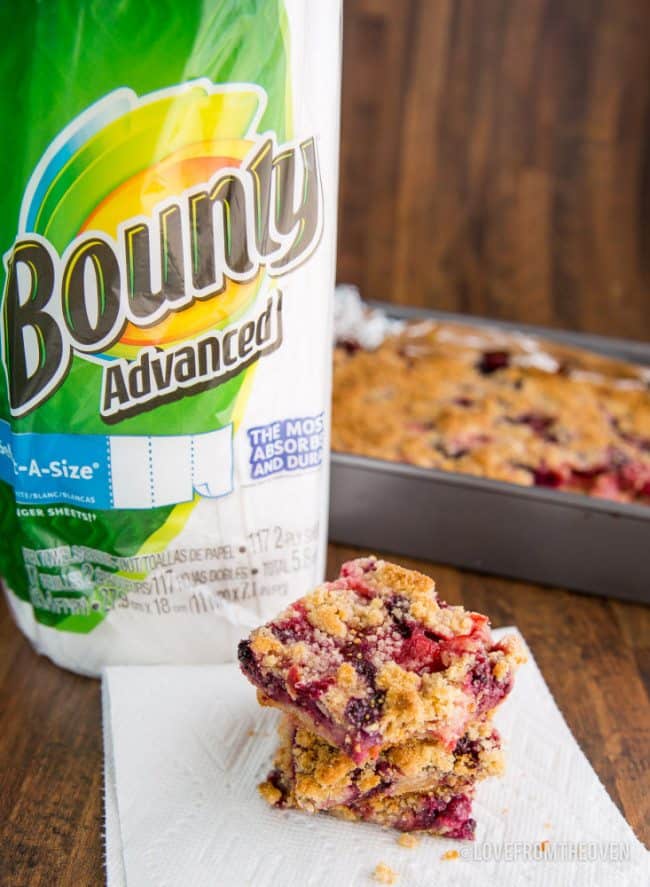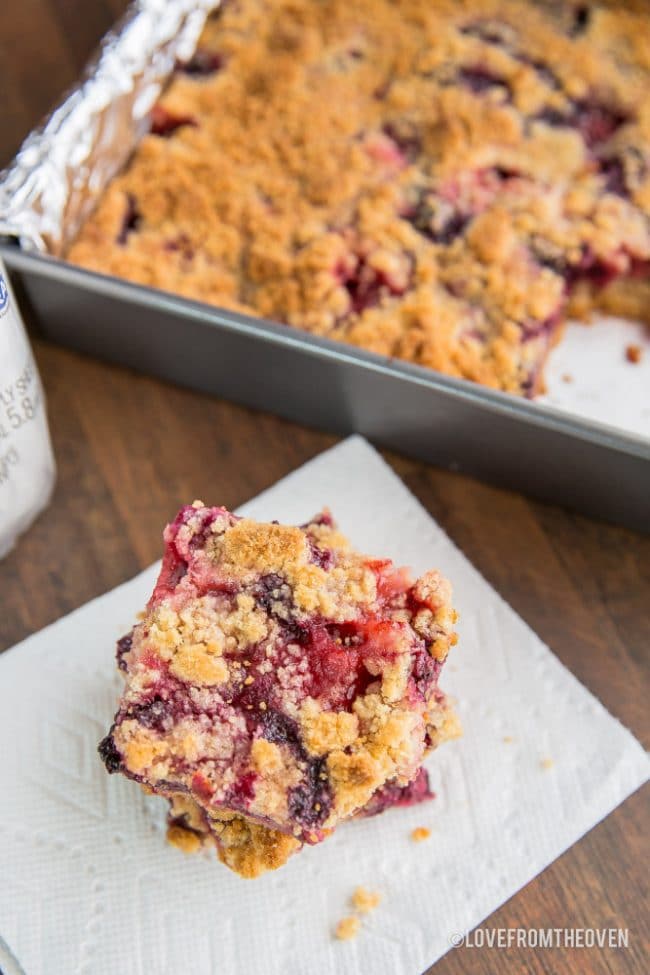 PIN TO SAVE RECIPE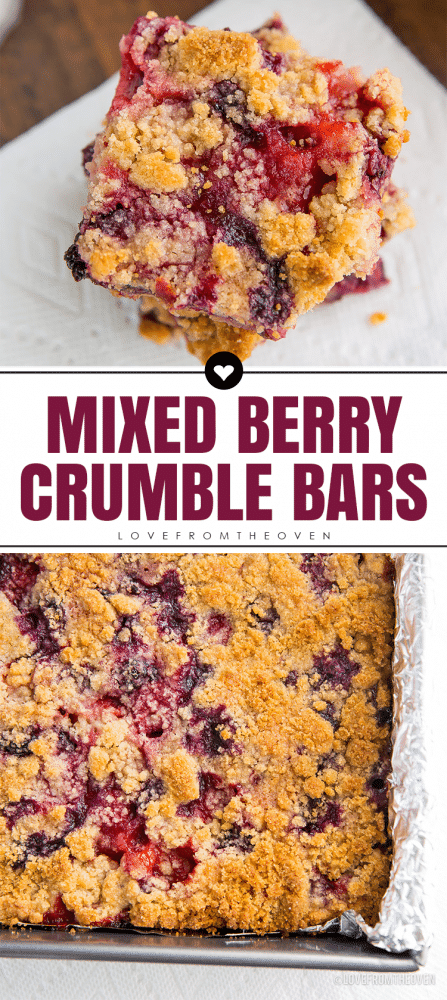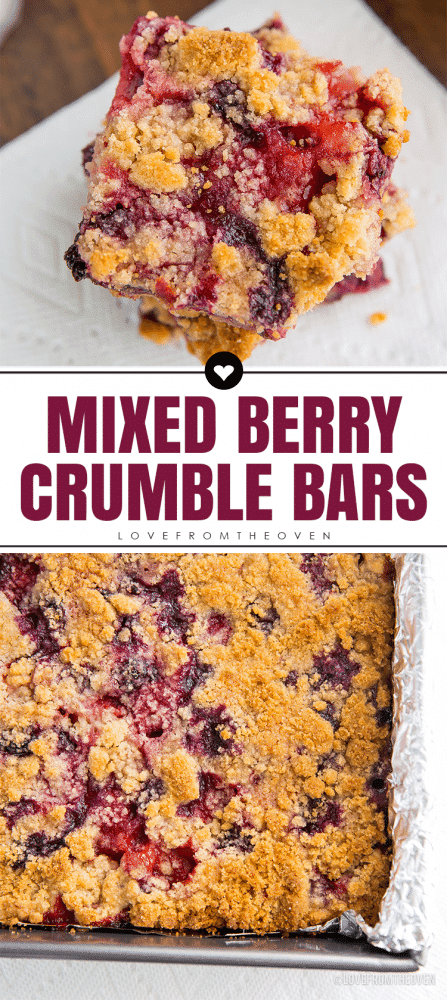 I hope your family enjoys these berry crumble bars as much as my family does! You can get ready for messy spring recipes, projects and activities by having Bounty at your side to quickly pick up the mess! Head to Bounty for coupons and special offers.
Disclosure: This post was sponsored by Bounty. All opinions however are mine and mine alone.