For the past year, I have been thinking about adding a few contributors to the blog.  I'll think about it, then get all indecisive about it, kind of the same way I do when my husband asks where we should go to dinner.  But I keep coming back to it.  Being a one woman show is great, and fits my introverted personality well, but truth be told, I miss working with and collaborating with other people on a more regular basis.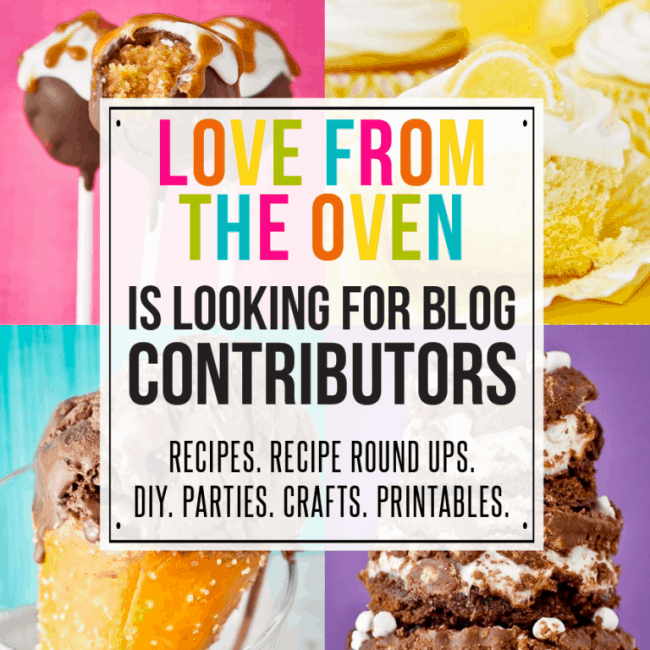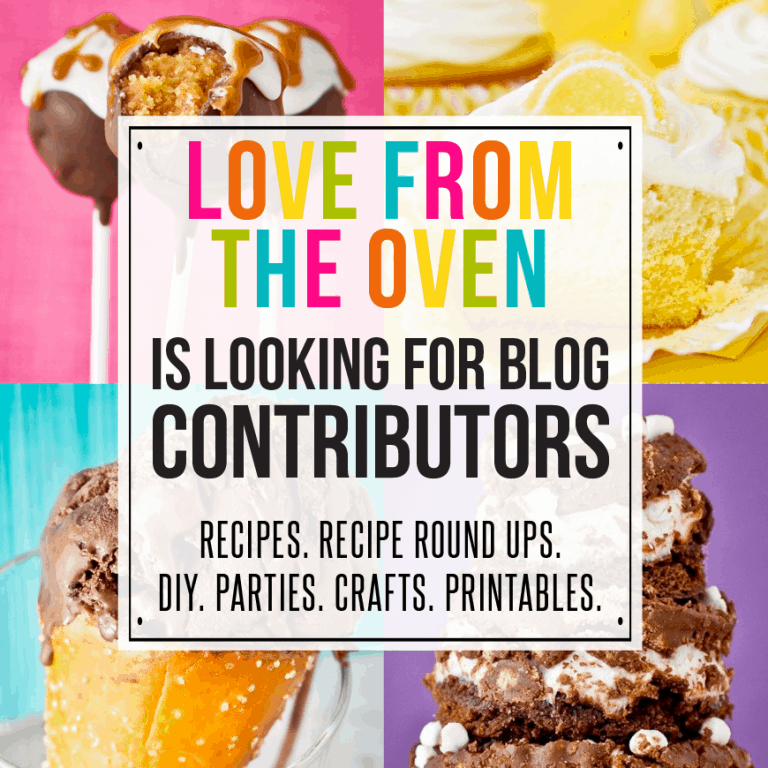 I also would like to add a bit more variety to Love From The Oven, nothing too crazy, but I keep thinking it would be fun to have more meals, some DIY stuff, maybe even some cute party styling ideas.  And while I love all those things, I lose focus very quickly when I start going in a lot of different directions, so it's best that I stick to sweet treats and fun eats most of the time.
So back to the idea of adding a few contributors, to share what they shine at, for the coming year.  If you keep thinking of something month after month, maybe it's time to take action, right?  I was fortunate to have a few bloggers let me contribute to their blogs early on in my blogging career, and I would love to do the same for a few bloggers myself.
Are you a blogger (or know someone who is) who might be interested??? 
What I'm looking for:
Who?   Bloggers who want to share what they do best, primarily in the areas of recipes (simple meal recipes would be fantastic, but sweets and treats are always welcome!), meal planning, simple approachable DIY projects, printables and party or table styling (which I love, but try as I might, am not so stellar at).  I'd love to find 4-5 contributors, each specializing in a different area, who love what they do!
What?  Blog posts!  Original (never used before) posts with helpful content, recipes, pretty pictures (bright, cheery, poppy colors fit in well, high quality photos are a must).  You would need to provide images and graphics that you've created yourself, and being comfortable with programs like Photoshop or Lightroom is a plus.
While posts need to be original, they can be reused on your own blog three months after posting on Love From The Oven.
I love sharing Bites From Other Blogs recipe round up posts, and that is something a contributor could do as well (making sure to link and credit all original sources!).
How Often?  One post per month, ideally for at least six months.
Payment?  At this time, payment will be in the form of exposure and promotion for your own blog.    If you are a newer blogger, I would love to help promote your blog on both Love From The Oven and the Love From The Oven social media channels including Facebook, Pinterest, Twitter & Instagram.    You would be credited as a contributor, and set up with a contributor/bio page where you can showcase and link up to your favorite posts on your site.  You can also link to your site, and social media channels, on any posts that you write for Love From The Oven.  Oh, and a little welcome gift would be sent your way.  🙂
Interested?  Yay!  Click here to fill out a form and tell me a little about yourself, your blog and what you do!  🙂
I don't have a deadline right now, I'm more interested in finding the right fit than the right time.  🙂   It would be great to have a few contributors set up by the end of November, and ready to start posting the beginning of January (or even December if that works!).