It's Wednesday, and that means waffles for #WaffleWednesday. And today we are taking breakfast… for dinner. Breakfast for dinner is one of my all time favorite dinners, and is always a hit in my house. Chief Waffle Officers (CWOs for short) for Eggo Waffles, like myself, are sharing how we like to enjoy breakfast for dinner.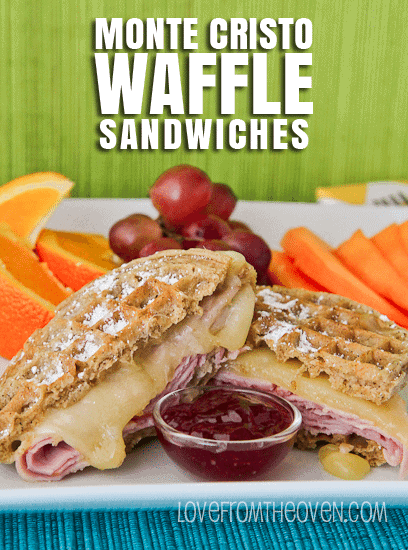 I'm not sure what it is about breakfast for dinner, but it always makes me happy. It makes my kids happy. It makes my husband happy. There is just something fun and novel about it and it almost puts everyone into a good mood instantly. Sometimes we plan breakfast for dinner, sometimes it's the answer to "what the heck can I make for dinner" and sometimes mama has just a had a really long day and I want something quick, easy and comforting for dinner. No matter how we get there, we always love having breakfast for dinner.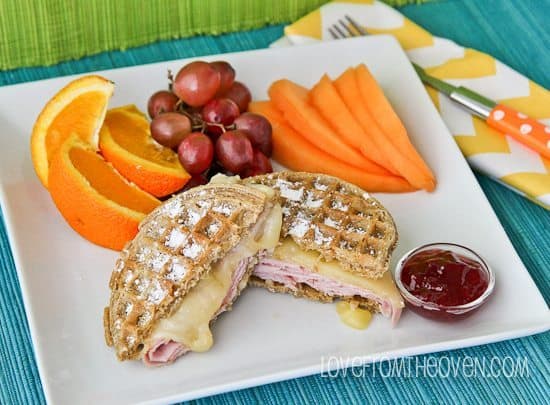 I'm not a big sandwich person, but one sandwich I love is a Monte Cristo sandwich. If you've never had one, a Monte Cristo is a toasted, fried or grilled ham and cheese sandwich that is sometimes batter dipped, and often has a sweet quality, sometimes from the bread/batter, or from a dusting of confectioners sugar and a side of strawberry jam. It's this odd combo of sweet and savory that somehow works. Quite well.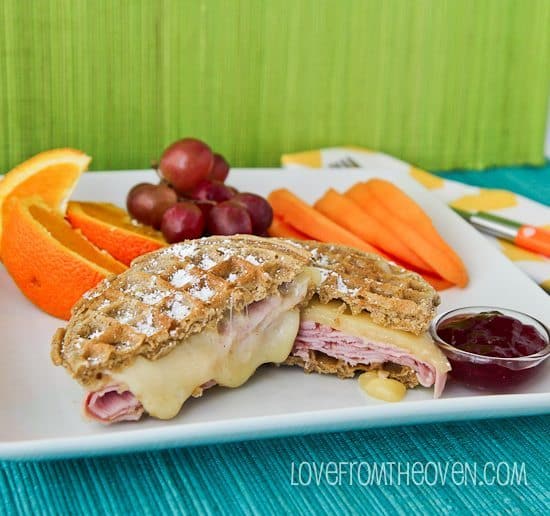 It might be my favorite sandwich because this is what I ordered when we at at the Blue Bayou restaurant at Disneyland. The Blue Bayou is the restaurant in the center of The Pirates Of The Caribbean ride. As a child, I always wondered how people got to eat there. Did they swim out there? Did the boats take them? Surely they were special, and I was fascinated by them! When we visited Disneyland for my daughter's fifth birthday, I learned that you really just have to go in the door in New Orleans Square and walk up to the hostess station, the way you do at any restaurant. I dragged my family right on in. My husband and daughter enjoyed it but for me it was pure Disney magic – I was finally one of the people on that little island with twinkling lights. Eating my Monte Cristo.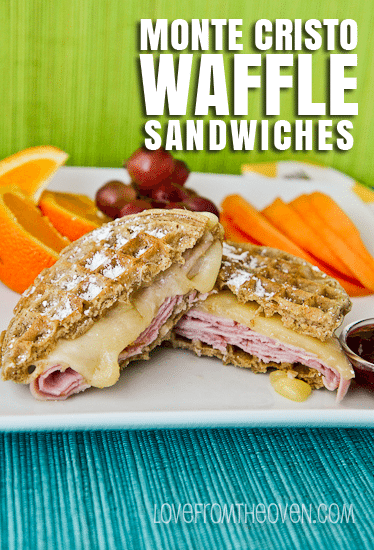 This is so easy to make at home, and is a perfect breakfast for dinner. I used Eggo Nutri-Grain Whole Wheat Waffles, and simply added some honey roasted ham and swiss cheese.   That's all you need to make these, no special measurements or lists of ingredients, how easy is that??? I toasted my sandwich, but I have a feeling that frying it, as you would a grilled cheese, would take it to a whole other level.   Waffles make for one heck of a tasty sandwich, trust me on that. All that is left to do aside from that is give it a dusting of powdered sugar and serve it up with some strawberry jam and fruit on the side. Dinner is served. Quick, easy and sure to please.
If Monte Cristos aren't your thing, don't worry. You can really make any kind of sandwich with waffles! Some eggs, ham and cheese would be wonderful, and toasted peanut butter, banana and honey – why yes please! Really the only limit is your imagination. So the next time you are trying to come up with something for dinner, something that won't take too much work but will result in a table full of happy faces, consider breakfast for dinner. Get out those Eggo Waffles and get creative.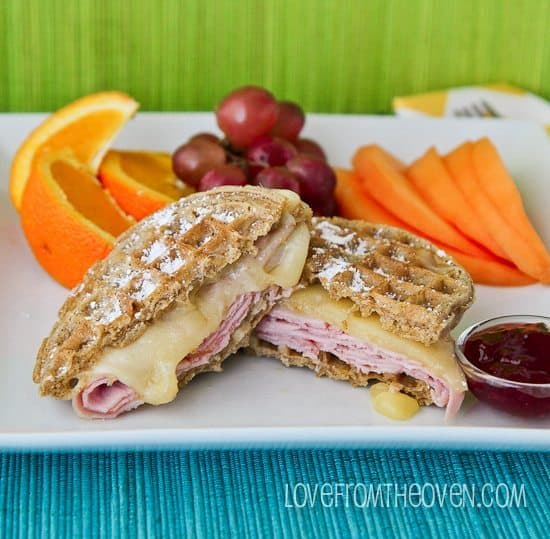 And if whipping up something creative with Eggo Waffles sounds like fun for you, then you have to check out the Eggo Waffles Facebook page and enter it in The Great Eggo Waffle Off. You would win $5,000 with your recipe. Yes $5,000! So head on over, that's a contest not to be missed out on. While you are there check out all of the delicious recipes that are already entered.
Waffle lovers, I will see you back here next week for another #WaffleWednesday.
Disclosure: Kellogg's sponsored this post and I am compensated for being a Chief Waffle Officer. That said, all opinions are, as always, mine and mine alone.