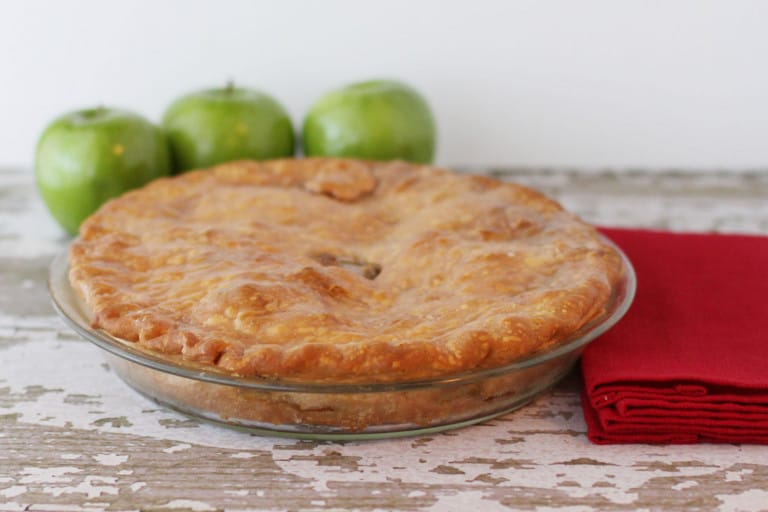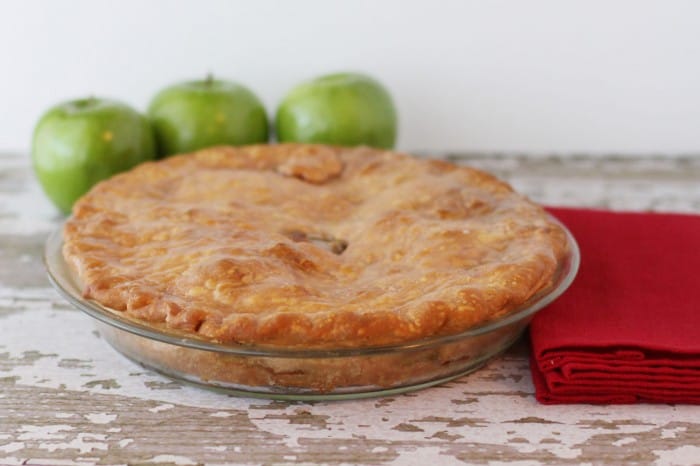 One of my favorite things to bake, especially in the fall, is apple pie. It's such a comfort food – a warm slice of apple pie with a big scoop of vanilla ice cream – so simple, so delicious, such a classic. I recently reviewed "Pie – 300 Tried And True Recipes For A Delicious Homemade Pie" by Ken Haedrich, which can best be described as the bible of all things pie! This time I'm going to share with you Ken's book "Apple Pie – 100 Delicious And Decidedly Different Recipes For America's Favorite Pie".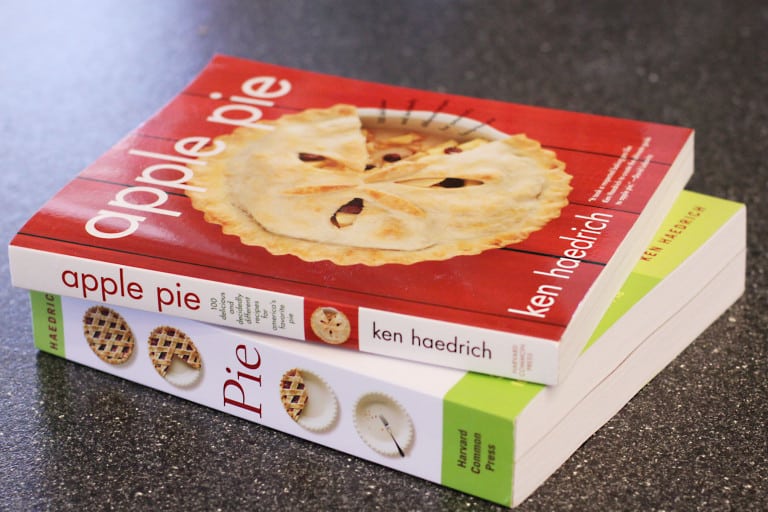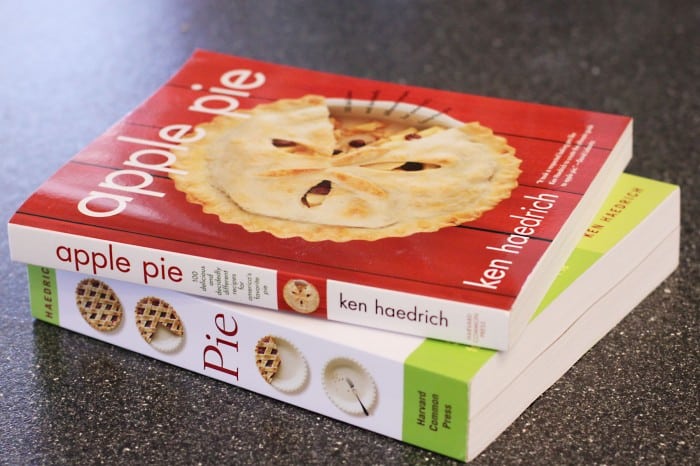 My first thought was "are there really 100 different ways to make apple pie?". Let me assure you that there are indeed – 100 GREAT ways, and I'm going to guess even a few more. Here are a few of the 100 recipes that caught my eye…
Caramel Apple Nut Pie (which I'll share with you today!)
All-Granny Pecan Crumb Crust Pie
Andy's Cranberry Apple Pie With Walnut Crumb Topping
Apple Pecan Pumpkin-Butter Pie
Strawberry Pink Lady Apple Pie
Vanilla Bean Apple Cherry Pie
Tropical Apple Pie With Coconut Crumb Topping
Sour Cream Apple Crumb Pie
Apple Cheesecake Burritos
Apple "Calzone" Pie
Apple, Marshmallow and Chocolate Chip Hand Pies
There are so many wonderful and diverse apple pie recipes to try, and I love that there is a section of pies that will appeal to kids (and adults like me who still quite enjoy things like marshmallows and chocolate chips). As with Ken's "Pie", there is a great deal of educational material to be found in "Apple Pie", including a detailed guide to apple varieties. You will also find notes, advice and bits of wisdom throughout the book, which I love. It's great to find new recipes, but I also love that I feel like I learned a thing or two in addition to just adding new recipes to my collection. If you don't already have a perfect pie crust recipe, don't worry, Ken provides some wonderful pastry recipes and information on which pastry recipe you might want to pick and why.
I decided to try Ken's recipe for Caramel Apple Nut Pie. Yum. Worked out to be a great choice.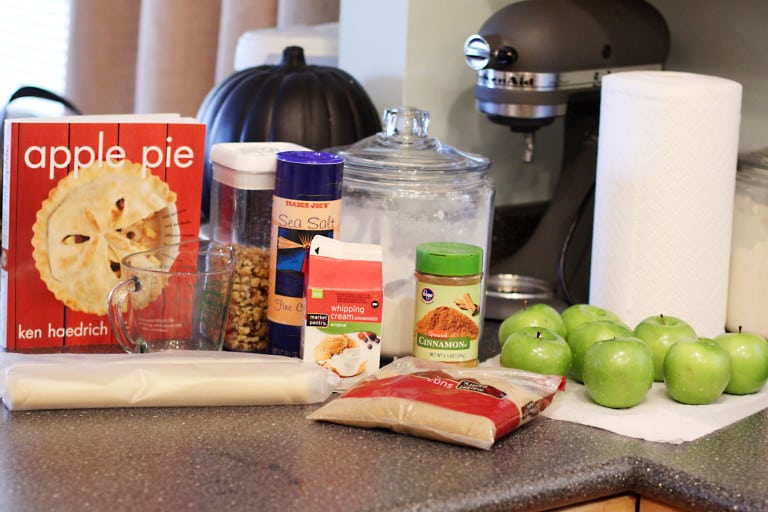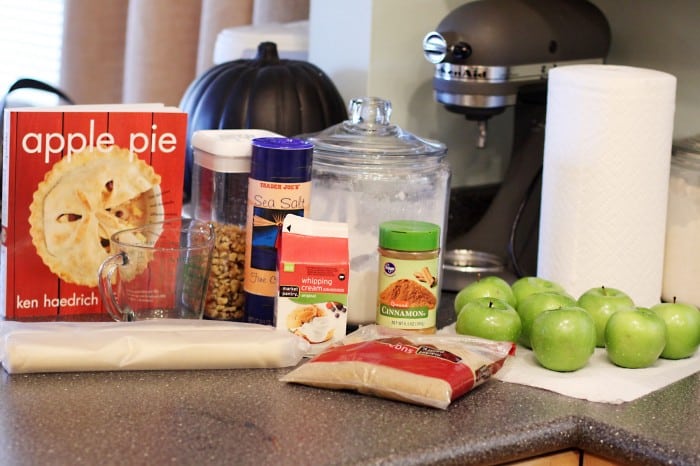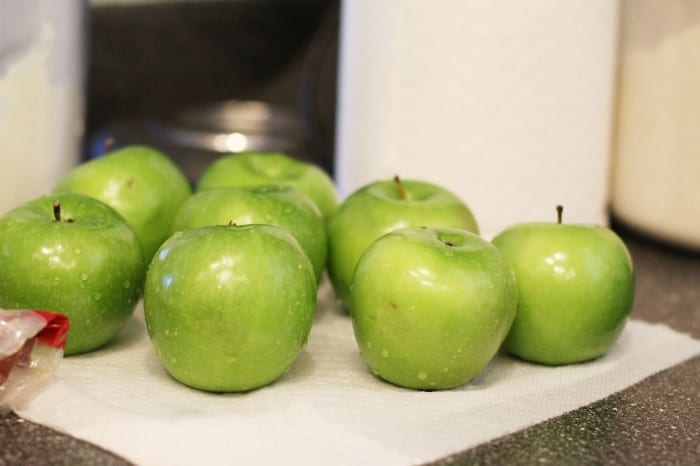 I know I said I was going to stick to homemade pie crusts, but I had a box of crusts in the fridge that was set to expire soon, so instead of let them go to waste, I did use them for this pie. The pie recipe is pretty straight forward, but really taken over the top with the additions of the caramel and nuts.
One thing I did a bit different from the recipe is that I didn't peel my apples. I like my apples sliced very thin, and because of this I usually don't bother peeling the apples. I've made my apple pies this way for years and it's pretty much my standard for apple pies. I use a mandoline slicer from OXO, and it makes slicing my apples a breeze (and makes me think that I REALLY need to try homemade potato chips!). I will say that the cooked skins are not the prettiest thing ever, so if you are going for "wow" on the presentation, you probably want to peel the apples first.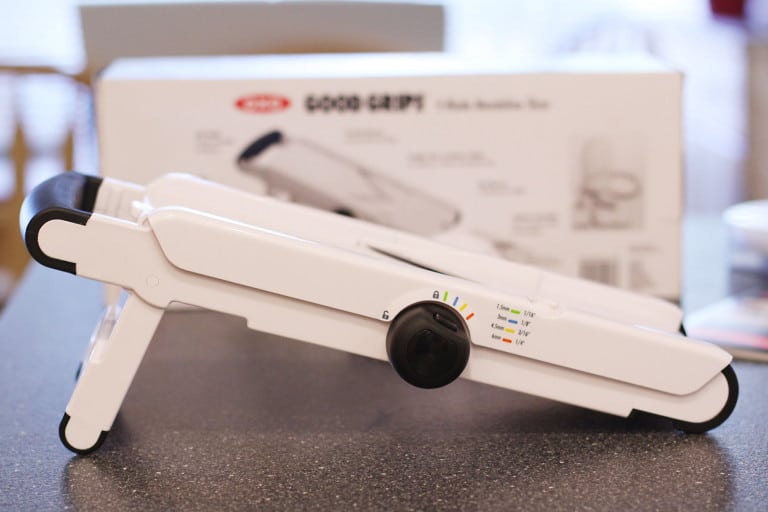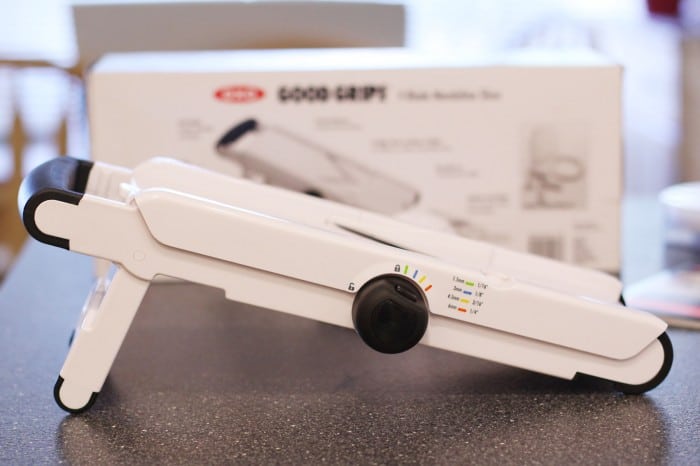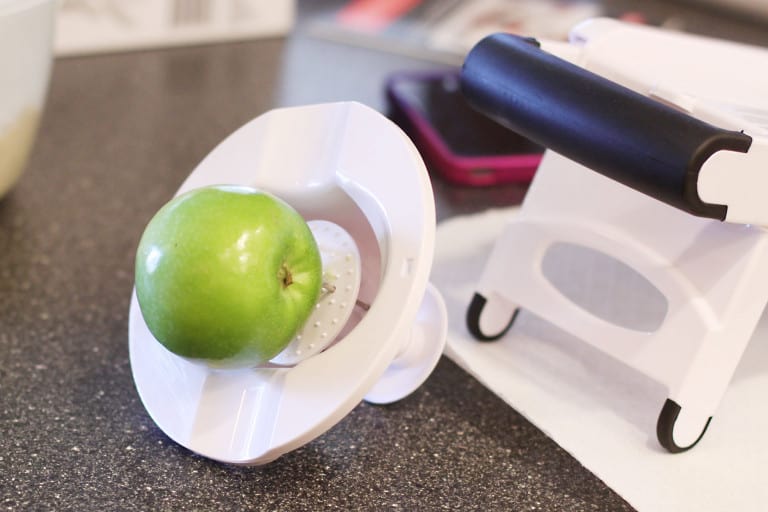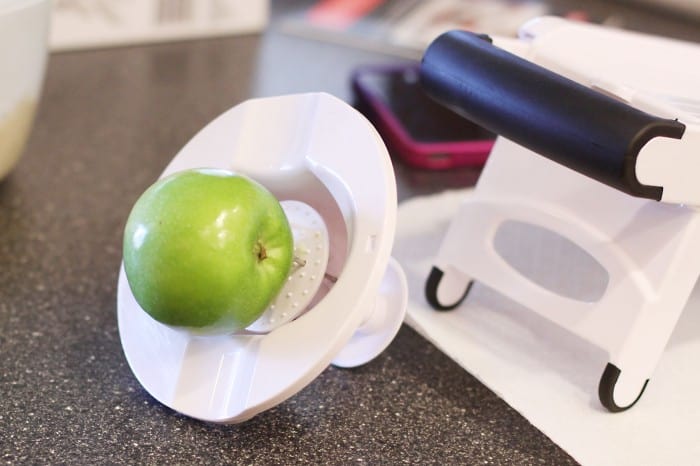 Check out how wonderfully thin and uniform the apple slices are. Love it!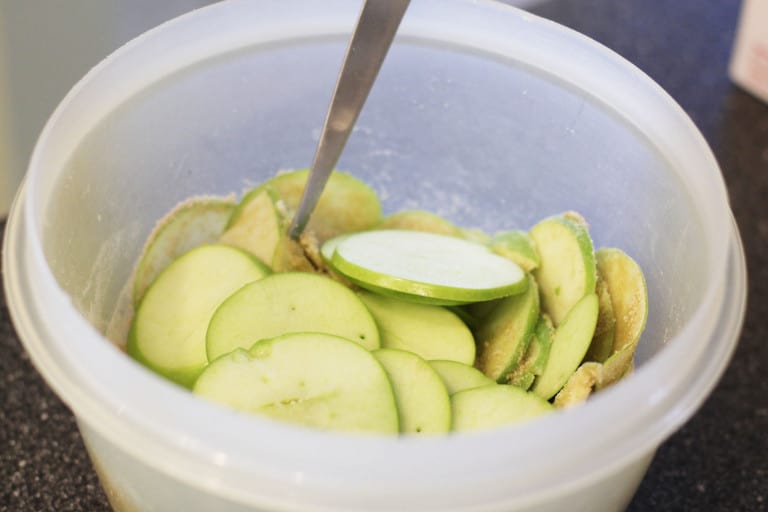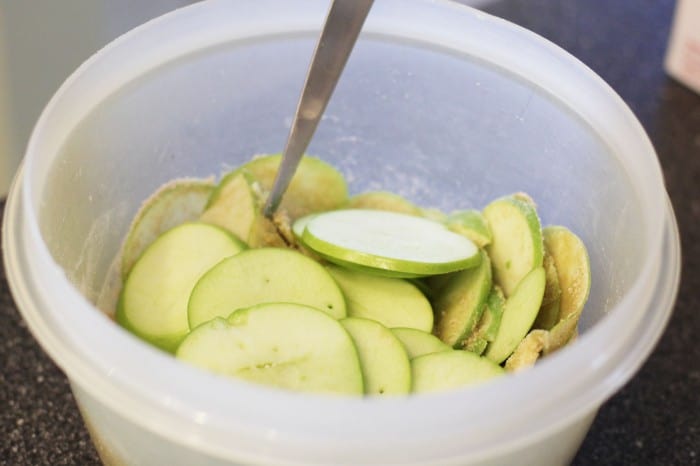 We loved the addition of walnuts to the pie, it gives it such a nice crunch and extra layer of flavor.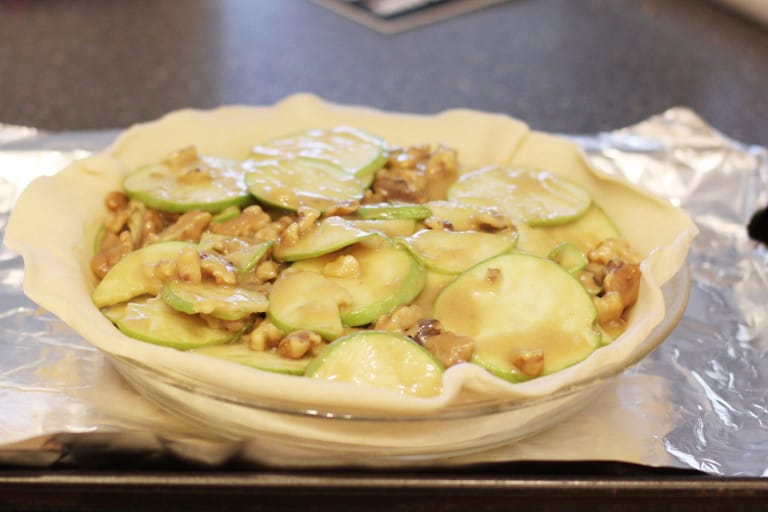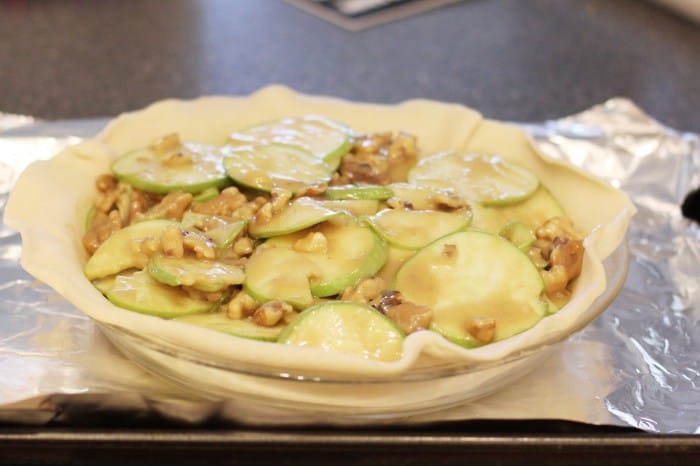 The hole in the middle is there to allow you to add your delicious creamy caramel sauce to the pie while it's baking.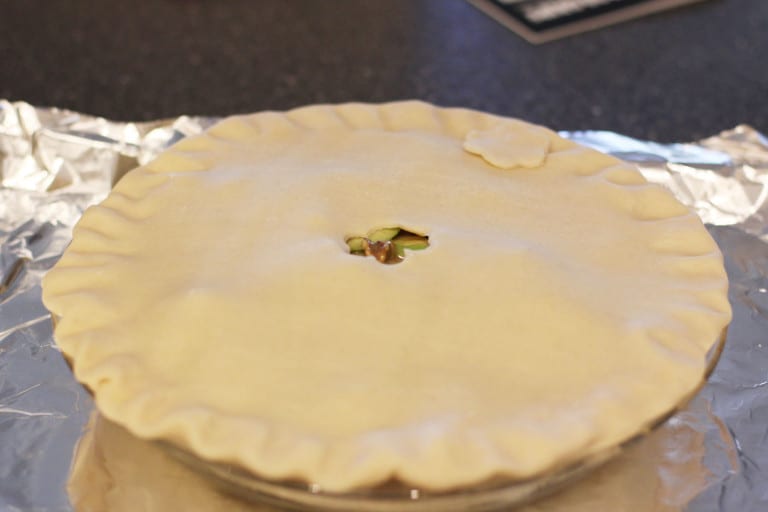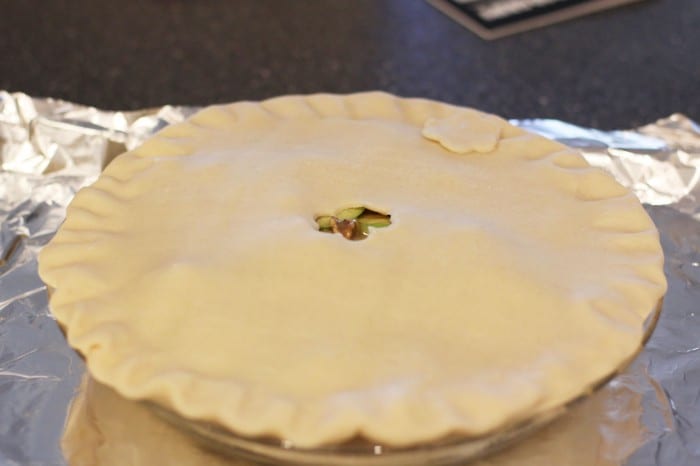 Yes, I'll take a slice please!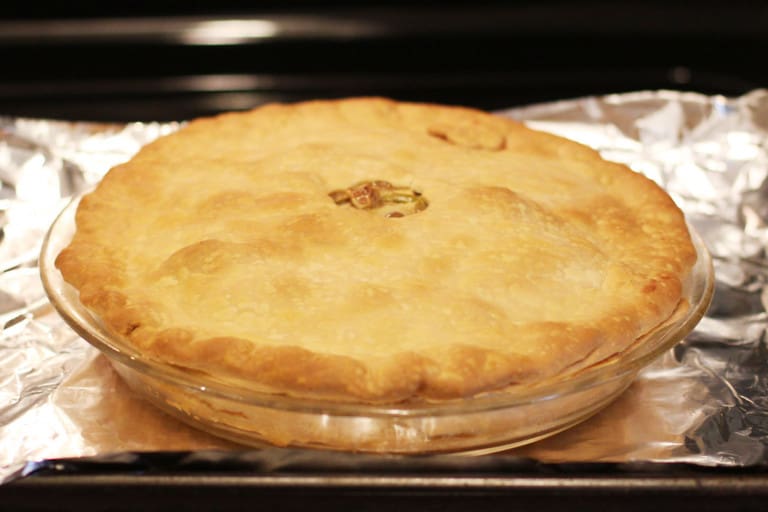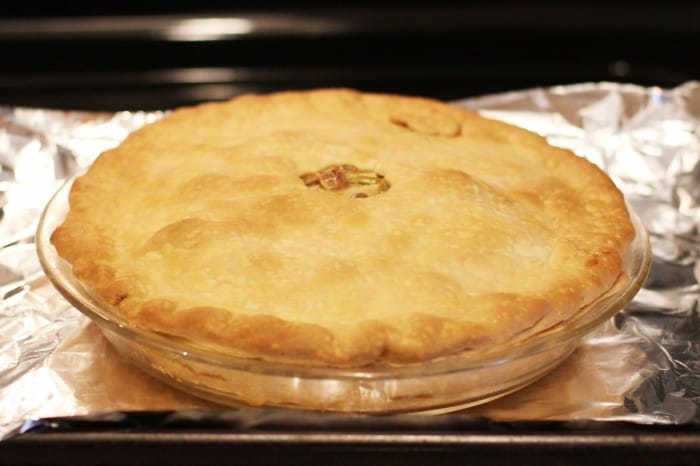 Here is the recipe for you…
Caramel-Apple Nut Pie

From "Apple Pie – 100 Delicious And Decidedly Different Recipes For America's Favorite Pie" by Ken Haedrich
Notes from Ken: The flavors of caramel and apples together are wonderful — witness our nation's love affair with caramel apples. Pulling off this flavor combination in a pie, however, is not so simple. One can't simply pour store-bought caramel sauce' over a piece of pie — too tacky, to say the least. Here's a better idea: pouring heavy cream into a brown sugar — sweetened pie. The combination of the heavy cream, brown sugar, and extra flour in the pie conspire to create a thick caramel sauce that bakes all around the apples — though you must wait until the pie is nearly cool for this "sauce" to achieve the proper body.
I like to give a sneak preview of the contents by coating the top pastry with a simple caramel sauce. As you might imagine, it changes the texture of the pastry. Rather than remaining crisp and flaky, the pastry -becomes quite soft and tends to collapse and press down on the filling, making for a compact slice. It all adds up to an interesting pie any caramel fan will adore.
Ingredients:
FAVORITE DOUBLE CRUST PASTRY
FILLING:
6 LARGE APPLES — PEELED, CORED, AND SLICED
3/4 CUP FIRMLY PACKED LIGHT BROWN SUGAR
5 TABLESPOONS ALL-PURPOSE FLOUR
1 CUP CHOPPED WALNUTS
1/2 TEASPOON GROUND CINNAMON
1 PINCH SALT
1/4 CUP HEAVY CREAM
GLAZE:
1/2 CUP HEAVY CREAM
1/4 CUP FIRMLY PACKED LIGHT BROWN SUGAR
1 TABLESPOON UNSALTED BUTTER
l. If you haven't already, prepare the pastry and refrigerate it until firm enough to roll, about 1 hour.
2. On a sheet of lightly floured waxed paper, roll the larger portion of pastry into a 13 ½ -inch circle with a floured rolling pin. Invert the pastry over a 9-inch deep-dish pie pan. Center it, then peel off the paper. Gently tuck the pastry down into the pan, without stretching it, and let the excess pastry drape over the side of the pan. Cover loosely with plastic wrap and refrigerate for 15 minutes. Preheat the oven to 400
degrees.
3. To make the filling, mix the apples, brown sugar, flour, walnuts, cinnamon, and salt together in a large mixing bowl. Set aside.
4. On another sheet of lightly floured waxed paper, roll the top pastry into an 11 ½ inch circle. Using the lid of a jar or another small (1- to 1 ½ -inch) circle cut a hole in the very center of the pastry. Remove and discard the center circle.
5. Turn the filling into the pie shell and smooth the top with your hands. Lightly moisten the edge of the shell with a wet fingertip or brush. Invert the top pastry over the filling, center it, and peel off the paper. Press the top and bottom pastries together along the dampened edge. Trim the pastry, leaving an even 1/2 inch all around, then sculpt the overhang into an upstanding ridge. Place the pie on a large, dark baking sheet covered with aluminum foil. Bake on the center rack for 30 minutes.
6. Near the end of the 30 minutes, put the heavy cream in a small saucepan and bring nearly to a boil over medium heat. Transfer to a heatproof measuring cup. Remove the pie from the oven and pour the hot cream through the hole in the center of the pie. Reduce the oven temperature to 375 degrees, then put the pie on the baking sheet back in the oven and bake for 25 minutes longer.
7. When the 25 minutes are nearly up, combine the glaze ingredients in a small saucepan. Bring to a boil, then remove from the heat. Remove the pie and baking sheet from the oven. Spoon and spread the glaze over the entire top crust, then bake for about 3 minutes more.
8. Transfer the pie to a cooling rack and let cool to room temperature before serving.
Makes 8 to 10 servings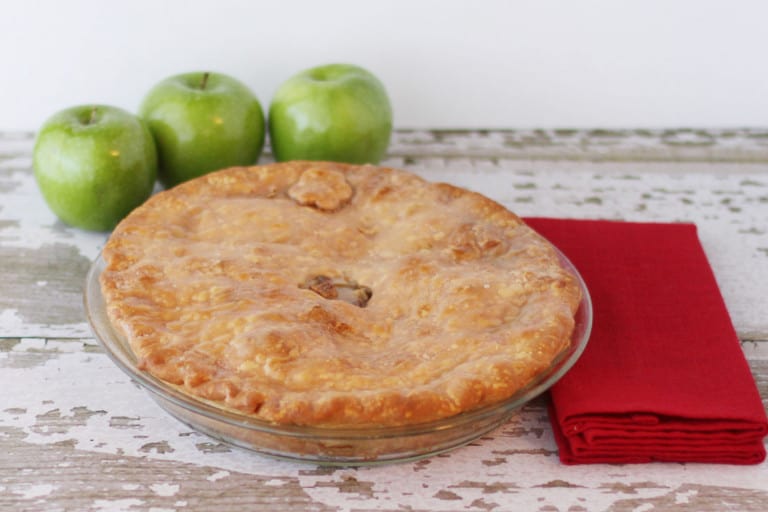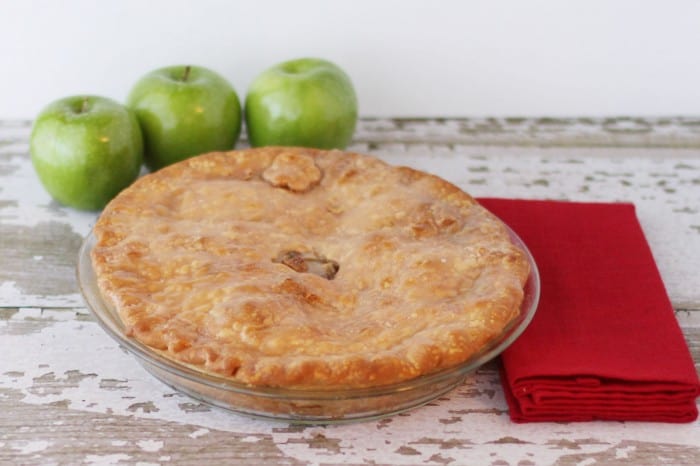 This recipe is certainly a keeper, and I have to say, I'm not sure I want to go back to apple pie that doesn't have the addition of walnuts – I REALLY loved that something extra they brought. Well that and the insanely decadent caramel sauce.
Would you like to win a copy of "Apple Pie – 100 Delicious And Decidedly Different Recipes For America's Apple Pie"??? Well you are in luck! Here's how you can enter to win…
1. Leave a comment here, simple as that. Nothing more required, you are entered to win!
If you would like EXTRA entries, you can do any or all of the following…
2. Follow Love From The Oven on Facebook and leave a comment here that you do.
3. Follow Love From The Oven on Twitter and leave a comment here that you do.
4. Follow Harvard Common Press on Facebook and leave a comment here that you do.
Simple as that and you can have FOUR chances to win! Remember that for four entries, you will be leaving four comments on this blog post (Facebook doesn't allow comments left on Facebook to act as contest entries). The winner will be selected at random on 10/26/11. Thanks for entering and good luck!