These are kind of amazing. And with a name like Caramel Chocolate Chip Cookie Stuffed Brownie Cupcakes With Cookie Dough Frosting, how could they not be?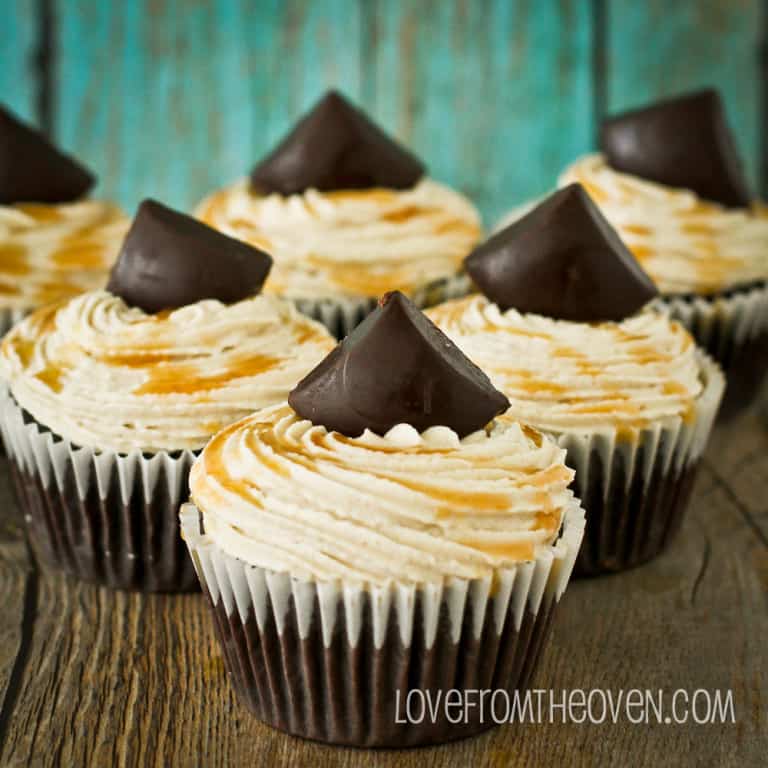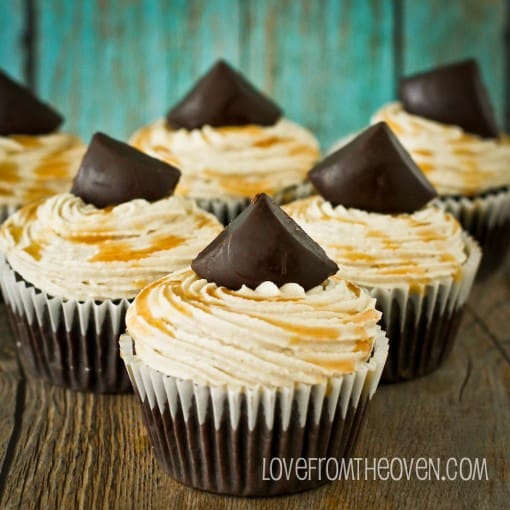 Even more amazing when you realize that there is a cookie inside. A caramel filled chocolate chip cookie.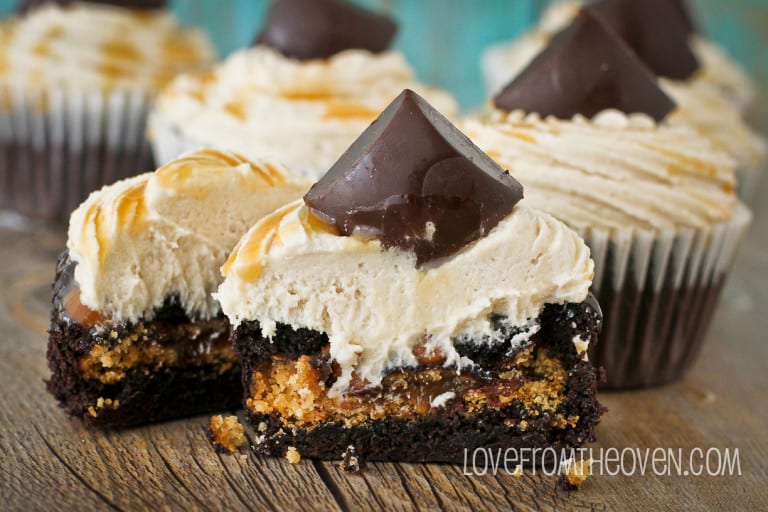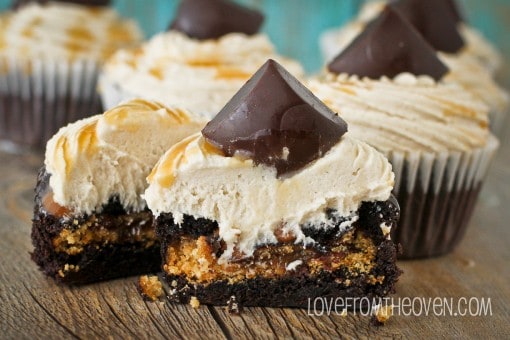 And they are frosted with cookie dough frosting. How I have gone this long in life without cookie dough frosting is a mystery to me. The stuff is life altering, it's that good.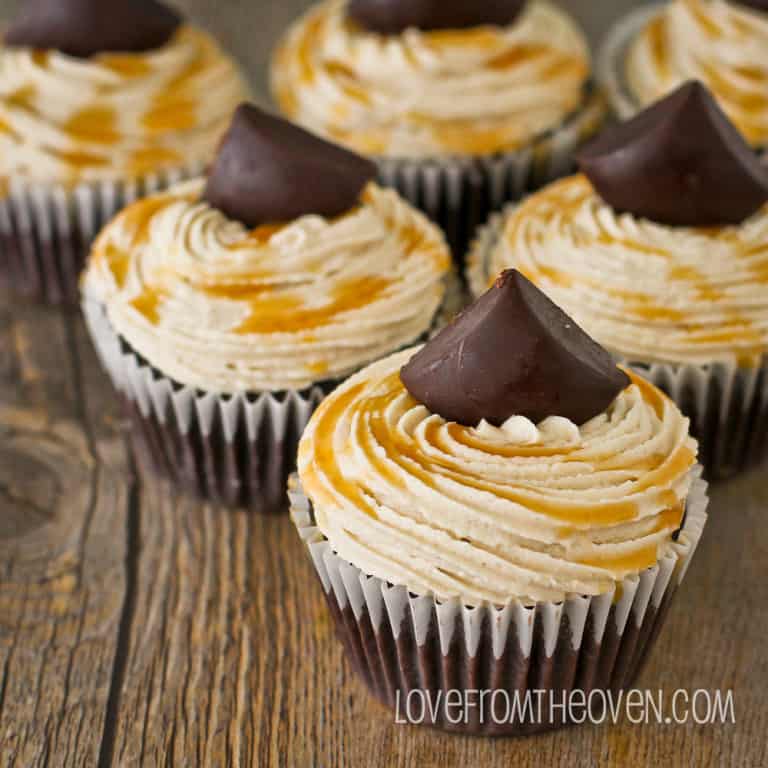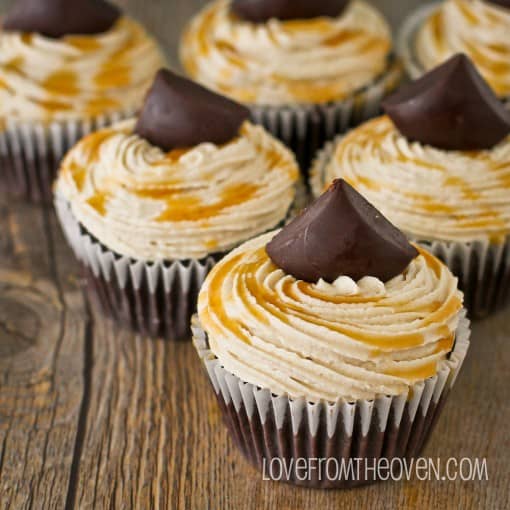 These are actually quite easy to make and this is much more of an idea than a specific recipe.   You can absolutely use a boxed brownie mix. I used my favorite brownie recipe (which I will share below), but as long as you are making brownies of some sort, you are probably good. The magic is in the extras. Mainly the Chewy Chips Ahoy! Gooey Caramel Cookies. I found these at Walmart yesterday while looking for fun ingredients to bake with, and they definitely fit that bill.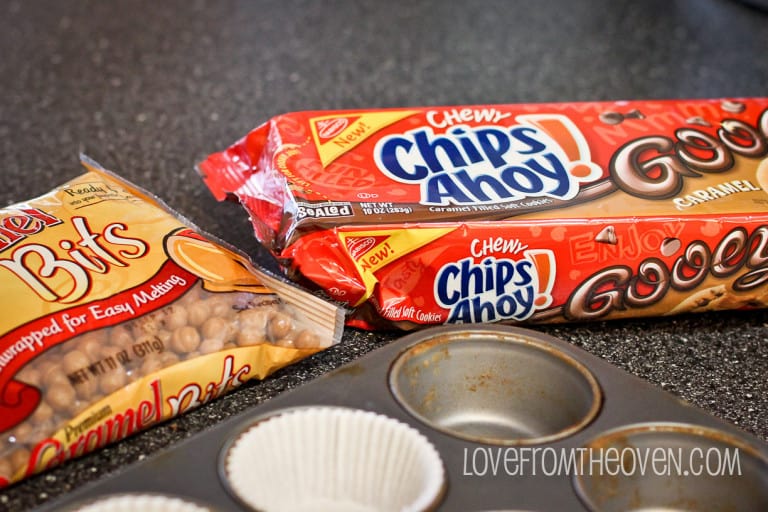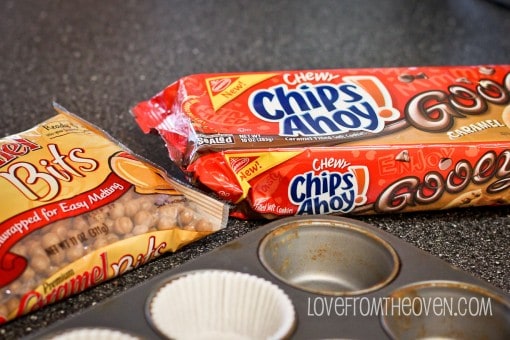 I also used Kraft Caramel Bits, but those are optional. I will say if you like to store your treats in the fridge, let them sit out for a while before serving as the caramel bits get a bit hard when chilled.
So back to how to make these. The very first thing you will want to do before starting is to put your cookies in the freezer. Whenever I bake something like a stuffed cupcake, I like to put the "stuffing" into the freezer, to help combat it completely melting in the oven. They may hold up just fine without the freezing part, but I haven't tried them that way.
While your cookies are chilling, line your muffin tin with liners and put a bit of brownie batter in the bottom of each.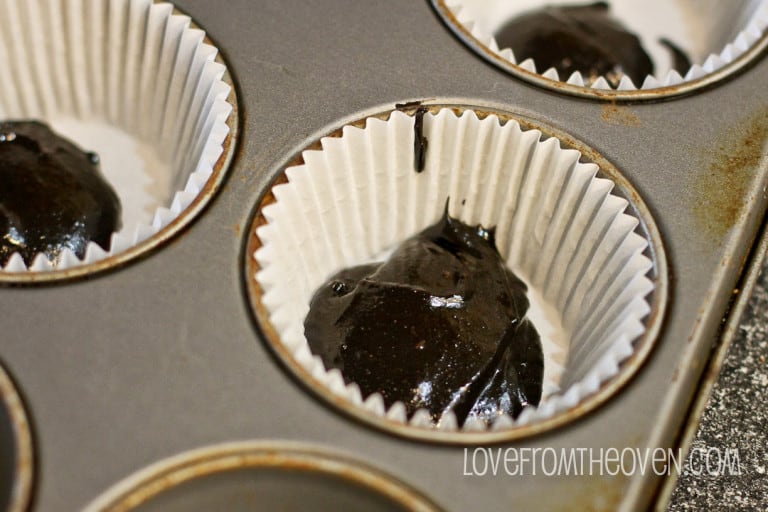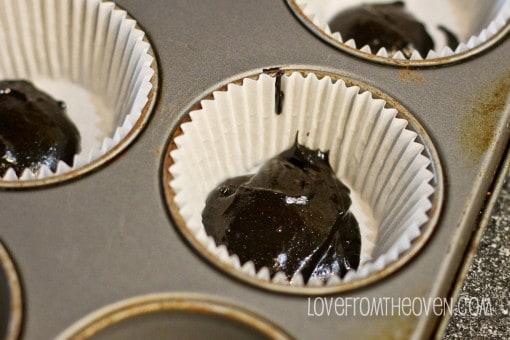 Then add your frozen cookies.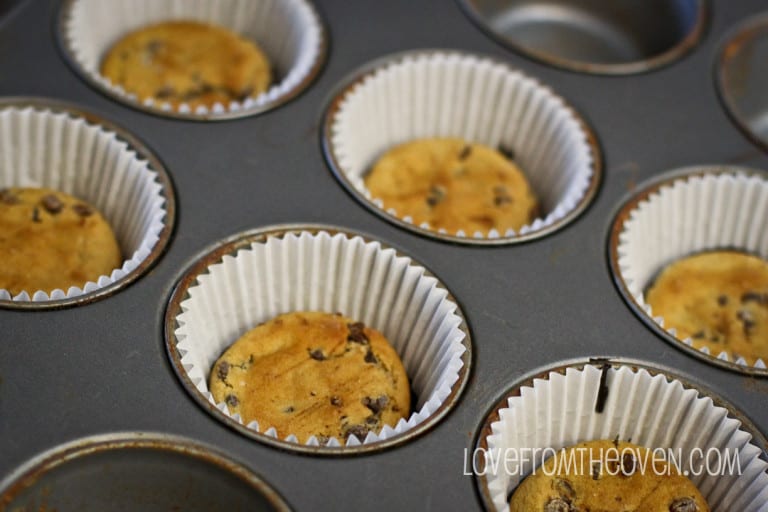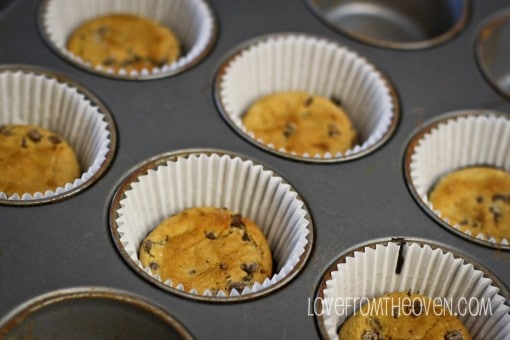 Then add more brownie batter. I filled mine about 3/4 of the way full.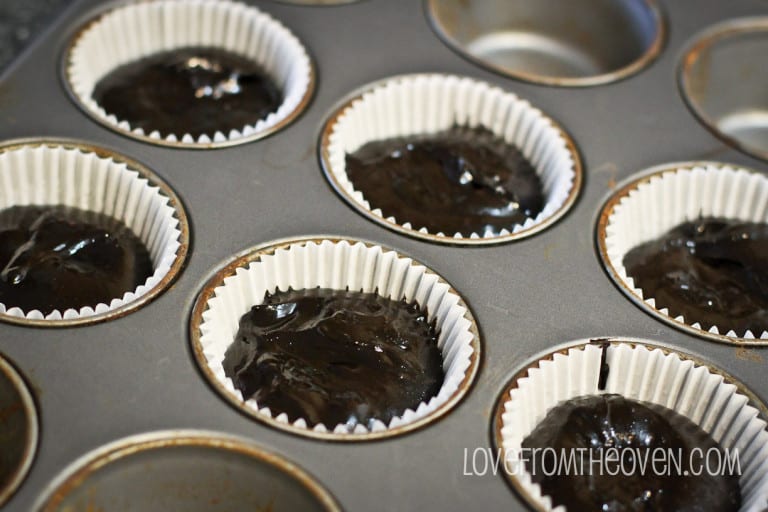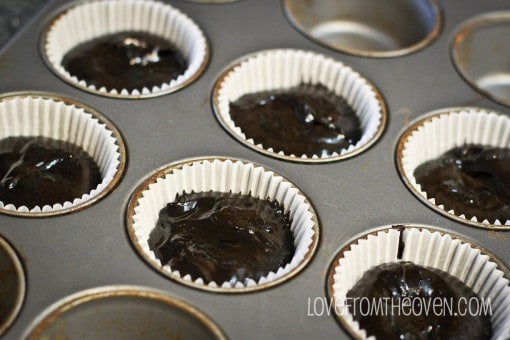 And if desired, top with a few Kraft Caramel Bits.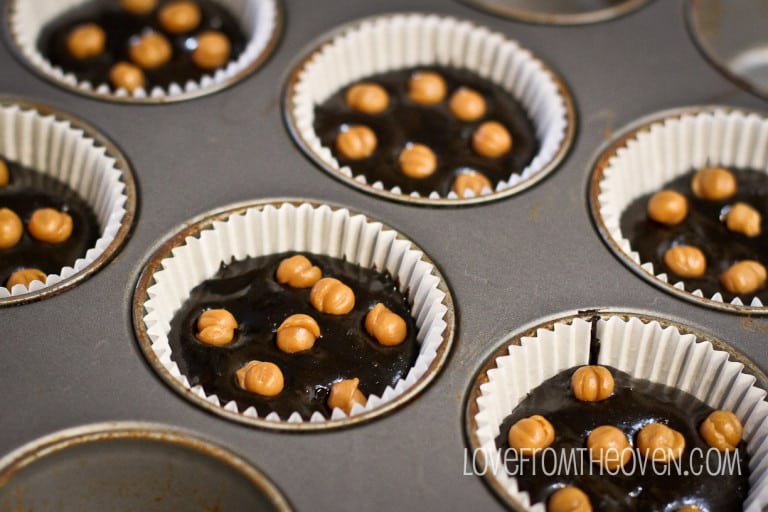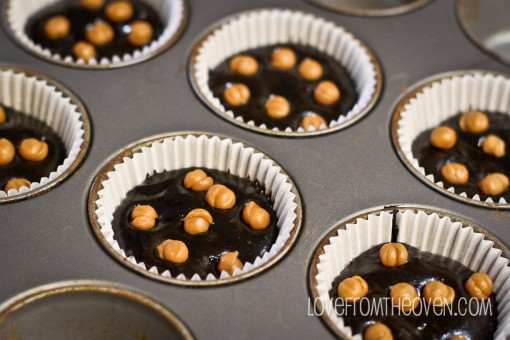 And into the oven they go. Baking times are going to vary based on what brownie you are using. For my recipe, these took about 14-17 minutes, which is just about half of the bake time for when I make a 9×13 pan of this same recipe.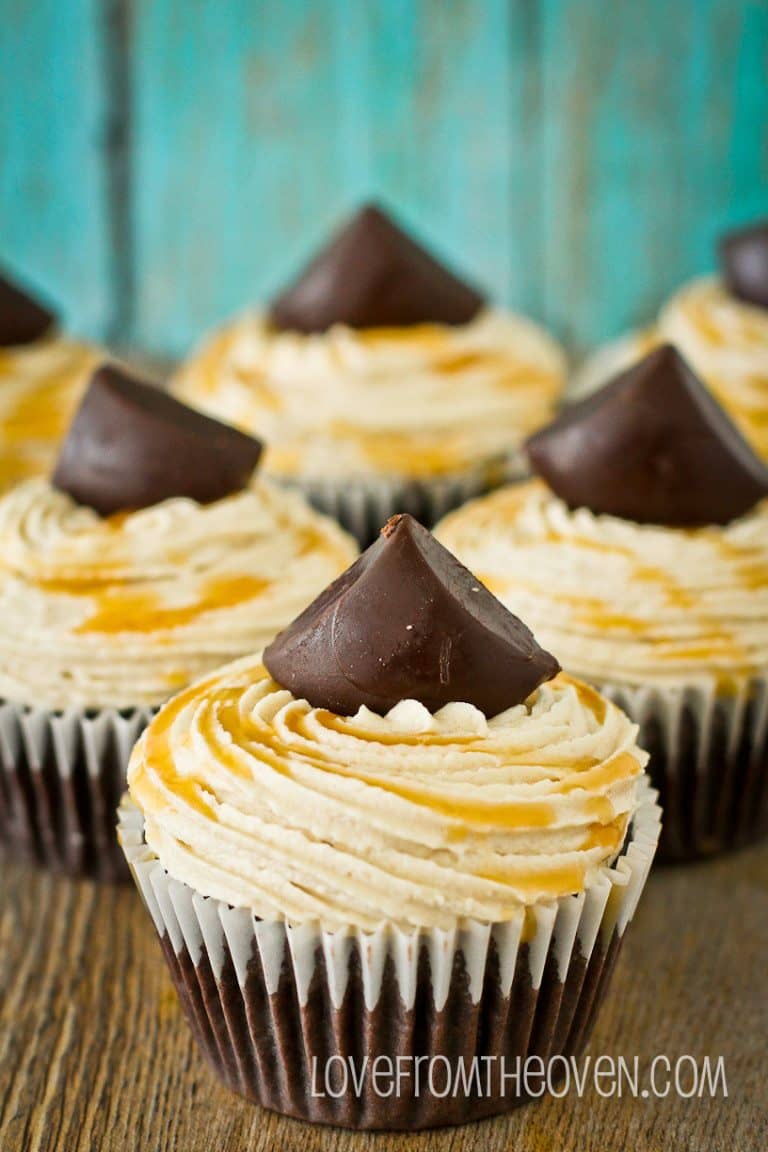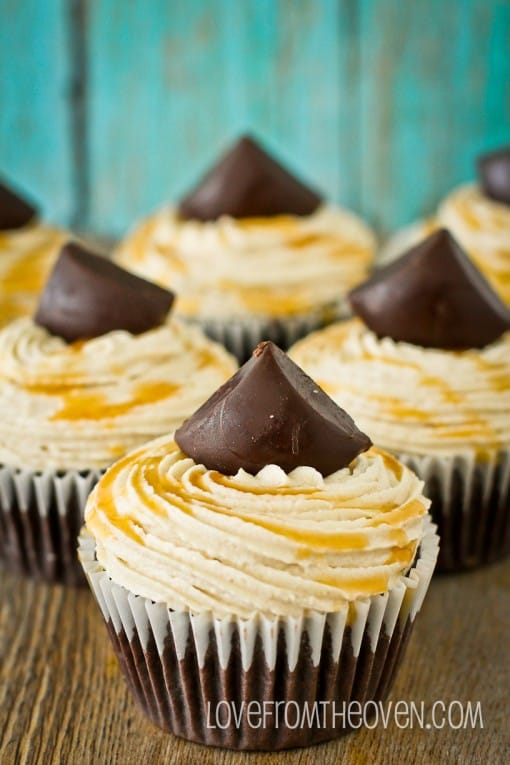 I can't take credit for the amazing cookie dough frosting. I used this recipe from Tidy Mom. Heck, if you don't make the brownie cupcakes, at least make the frosting. It is insanely delicious. I topped my brownie cupcakes with frosting, a drizzle of caramel sauce and a chocolate caramel candy. This is a pretty darn decadent dessert to say the least.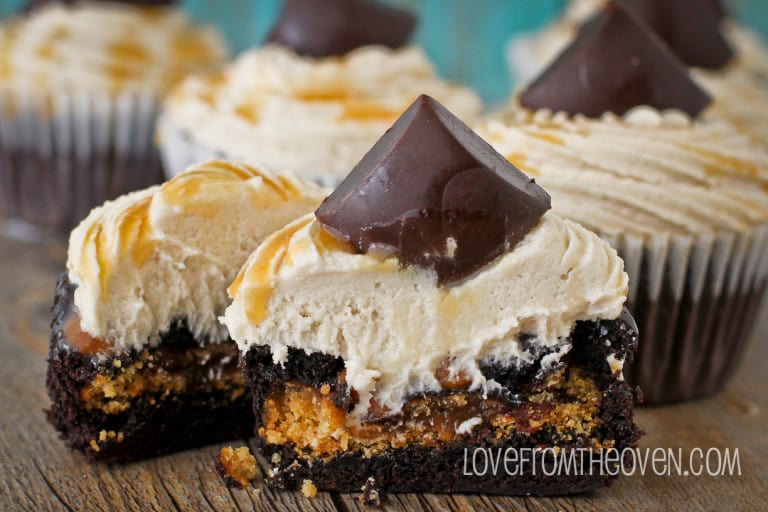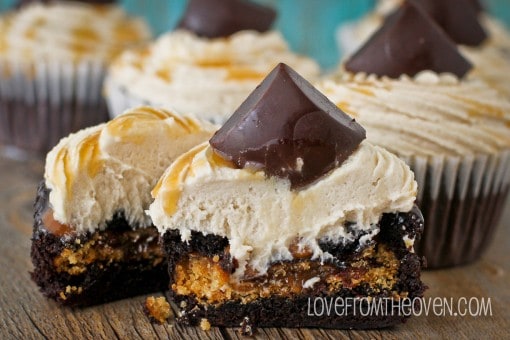 Crazy good.
Okay, here's my favorite brownie recipe if you'd like to use it. This is my go to brownie recipe, and you can see how I make it step by step in this post. This is for the 9×13 pan recipe. If you are making these as cupcakes, I was able to get 24 cupcakes out of the recipe and baked them for approx 14-17 minutes. 
My Favorite Brownies
Adapted from King Arthur Flour
1 cup (2 sticks) unsalted butter
2 1/4 cups sugar
4 large eggs
1 1/4 cups Dutch Process Cocoa (Dark Cocoa is great if you have it)
1 teaspoon salt
1 1/4  teaspoons baking powder
1 1/2  tablespoons vanilla extract
1 1/2 cups All Purpose Flour
Directions
1) Preheat the oven to 350°F. Lightly grease a 9″ x 13″ pan
2) In a saucepan set over low heat, melt the butter, then add the sugar and stir to combine. I turn to low heat and let sit while I work on the rest of the ingredients.
3) In a separate large bowl crack the 4 eggs, and beat well. Beat in the cocoa, salt, baking powder and vanilla until smooth. Make sure to get all of the cocoa powder broken down and incorporated.
4) Add the hot butter/sugar mixture to the bowl, a little at a time,  stirring until smooth.
5) Add the flour and stir to combine. If you are adding in chocolate chips or other mix ins that might melt, let the brownie batter sit for a while to cool first.
6) Spoon the batter into a lightly greased 9″ x 13″ pan.
7) Bake the brownies for about 30 minutes, until a cake tester inserted into the center comes out clean. They should look moist but be well set on the edges. This is for the 9×13 pan recipe. If you are making these as cupcakes, I was able to get 24 cupcakes out of the recipe and baked them for approx 14-17 minutes.
Cookie Dough Frosting Recipe Available At Tidy Mom

Stay tuned the next few days for three additional (and equally decadent) versions of these stuffed brownie cupcakes!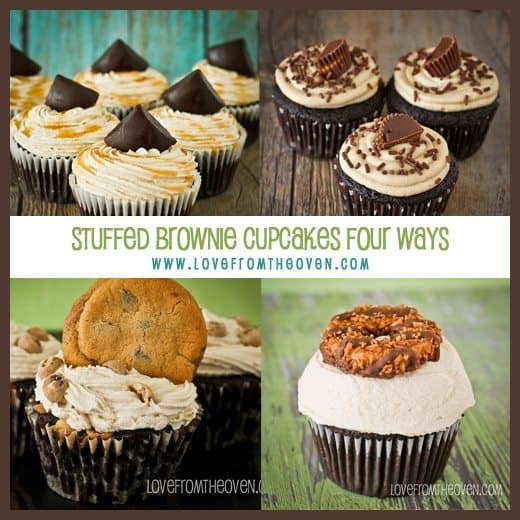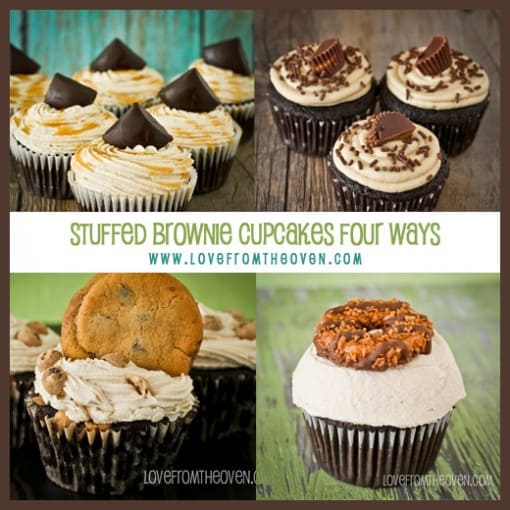 Looking for more yummy brownie recipes? Try these!