It's that time of year where not only is everyone baking a lot of cupcakes, but they are transporting them here, there and everywhere, which isn't always the easiest thing to do.  Chicago Metallic has an awesome new product to take care of all o fhtat – the UPtake!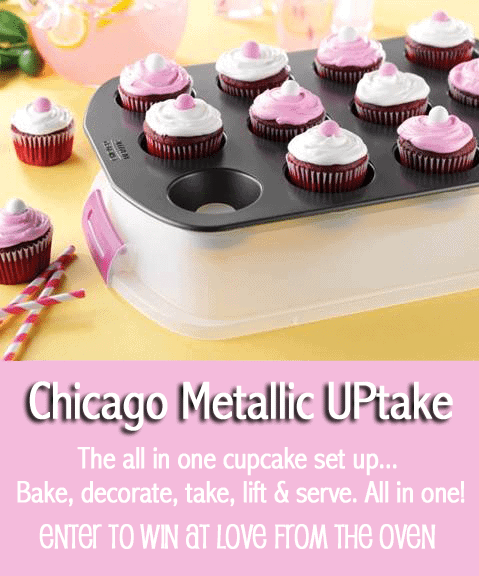 Who doesn't love cupcakes, especially during the holidays?   With the UPtake™ you can bake, decorate, take, lift and serve – all-in-one!  Impress your guests and loved ones with your baking prowess… and leave the UPtake behind as a gift that keeps on giving!  Available nationwide at Bed Bath and Beyond and Sur La Table for $24.99.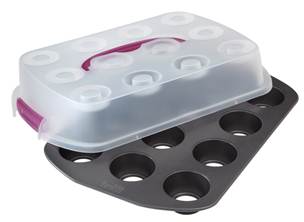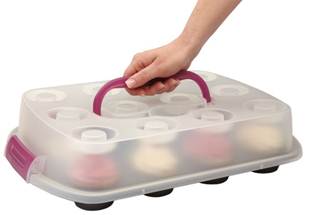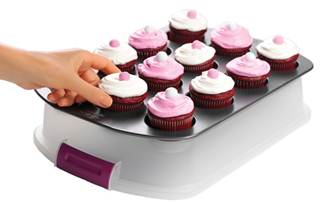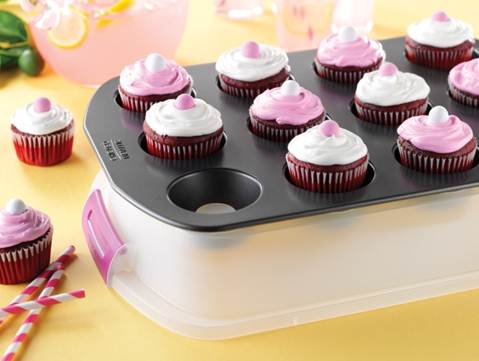 This is so cool!   Here is more about the Chicago Metallic UPtake…
Chicago Metallic™ – home of the baking experts – introduces the ultimate all-in-one set for making, taking and serving festive cupcakes & treats: introducing the UPtake™!  With its unique pop-up design, this versatile cupcake carrier/pan combo raises your cupcakes for neat and easy decorating and serving, offering a perfect presentation every time!
 
This revolutionary cupcake pan, carrier and elevated server is virtually all you need for flawless baking and entertaining.  The UPtake™ is with you every step of the way – first bake cupcakes or muffins in the pan using paper or silicone liners.  Then, use the innovative lid as a base for the pan to elevate your treats for mess-free decorating. When transporting, the lid locks firmly in place with durable snap-fit latches for convenient carrying to and from any holiday party, office celebration, after-school activity or for use as a gift! Finally, your delicious goodies can be individually displayed and served using the lid as a pedestal, promising easy access for your friends and family while avoiding sticky fingers and messed up decorations! The UPtake is one small step for cupcakes; one giant step for sharing baked creations with loved ones!
 
The UPtake™ is available nationwide at Bed Bath and Beyond and Sur La Table for a suggested retail price of $24.99.  For more information, consumers can visit www.chicagometallicbakeware.com.
To share and get baking inspiration and tips, please follow Chicago Metallic on Facebook at http://www.facebook.com/ChicagoMetallic.
Need some cupcake recipes to put in  this cool new UPtake, check out this round up of some of the best holiday cupcakes from bakers and bloggers around the web.
To enter to win, use the Rafflecopter Widget below – follow the directions for the required comment, and then there are extra entry options.   Remember it can be slow to load (and doesn't always get along with Internet Explorer).  Open to US Residents only.  Void where prohibited.   This giveaway is a sweepstakes.  No purchase necessary, a purchase will not increase your chances of winning.   Winners will be selected at random on December 27th.    HERE IS THE RAFFLECOPTER WIDGET.  GOOD LUCK!
a Rafflecopter giveaway
This giveaway is a sweepstakes.  No purchase necessary,
winner will be selected at random and must a resident of the US who is of legal age.