Clearly, given all of the muffin recipes I've shared on here, we love muffins. Such a great breakfast or snack, they freeze incredibly well and I've found them so easy to make over from the calorie and oil laden ones at the bakery into something that packs a nutritional punch, while keeping them completely delicious and acceptable to picky eaters. Today's recipe certainly fits that bill.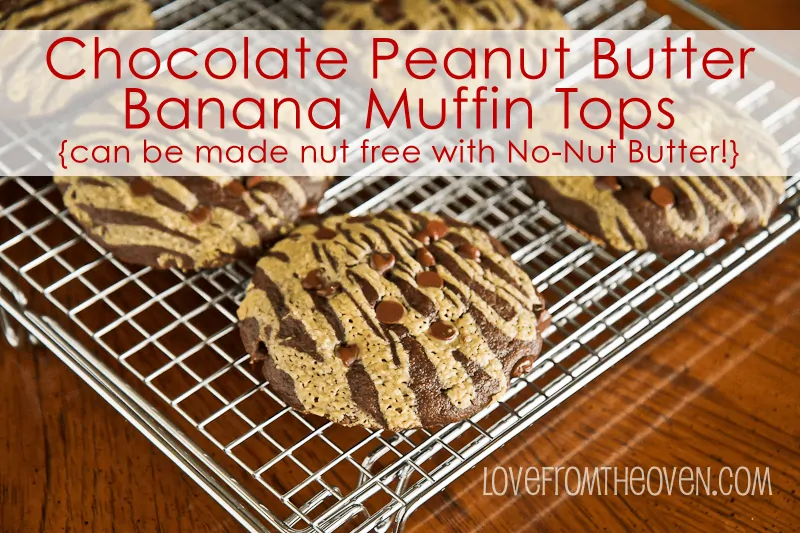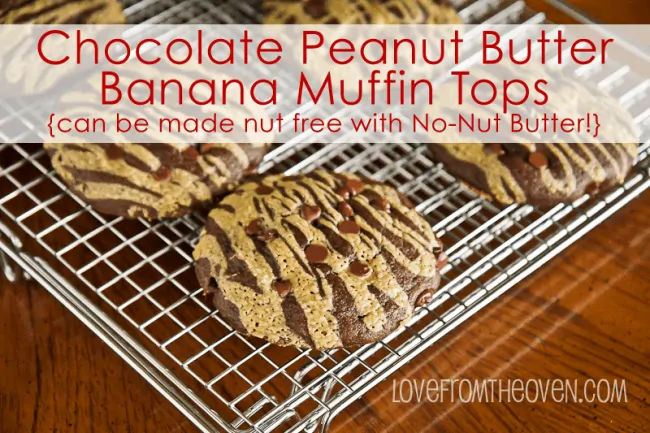 Chocolate & Peanut Butter (or No-Nut Butter if you have a nut allergy in your house like we do) Banana Muffin Tops. My daughter, the super picky eater who started me down the muffin making path (I had to have something that was good for her in the morning that she would eat with out a fight) has declared these to be the BEST of all of the muffins I've ever made. People, this kid is so picky it makes me want to cry half the time, so that's saying something!
My daughter wanted to see what all the fuss was over peanut butter and chocolate (having a nut allergy, she has no clue!) so I adapted my favorite chocolate muffin recipe by ditching the pumpkin and upping the yogurt and bananas. Worked like a charm! The only problem is now I don't think she'll want to go back to the regular version, the PB is too darn tasty.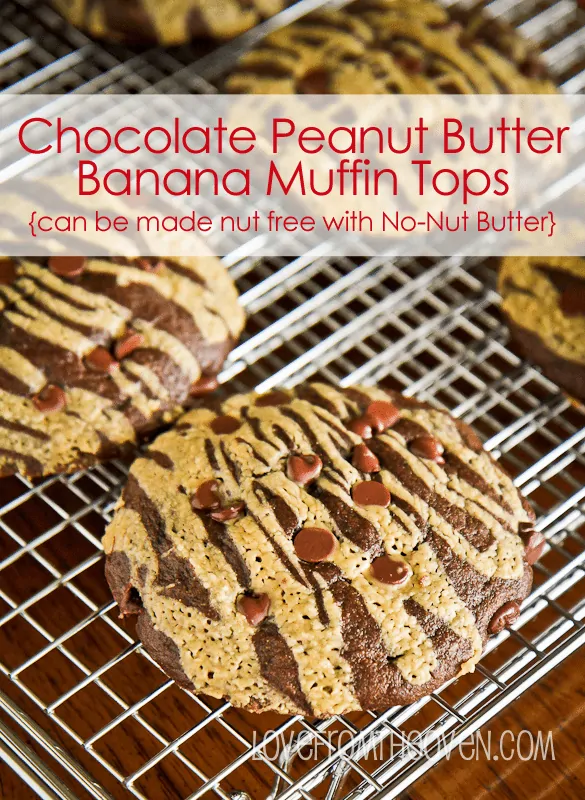 Have you had muffin tops? I think anyone who has done Weight Watchers for even 15 minutes in the past 5 years has heard of (and probably tried) the Vitatops. I bought a few boxes back in the day and then started making my own Vita Top Muffins at home. Super yummy muffin tops that come in about 100 calories, gotta love that! While I don't have a calorie count on these (and I'm guessing they'd be higher with the peanut butter), they are packed full of healthy stuff like whole wheat, Greek yogurt, bananas and peanut (or No-Nut) butter. And all that aside, they taste REALLY darn good. Muffin tops are nice and compact in the freezer and when packed in the lunch box.
You can absolutely make these into regular muffins as well. I did my batch half and half, mainly because I only have one muffin top pan, so it takes a long time to make them if you have to wait for them to cool and reuse the pan. 🙂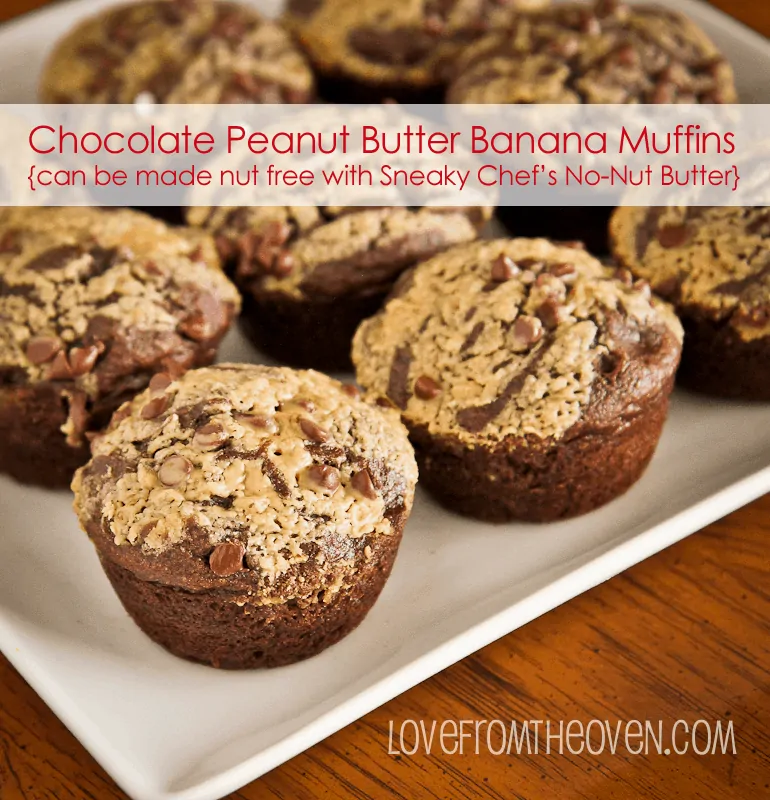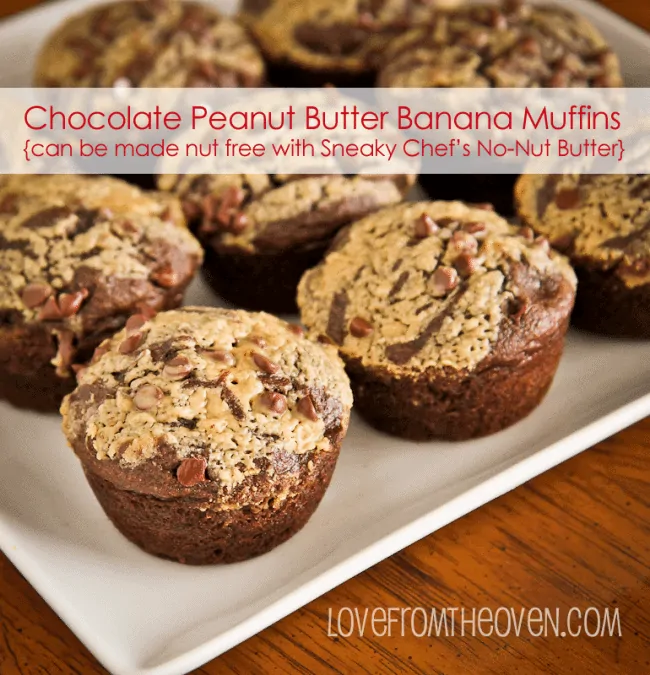 As always, these are super simple. I'm not one for complicated or too many steps. I'm of the mix wet ingredients, mix dry ingredients, combine mentality when it comes to muffins. If you have no nut allergies, use your favorite peanut butter in these. If you are a nut allergy household like ours, I am LOVING the No-Nut Butter from Sneaky Chef. You can learn more about it here, as well as check out another recipe I made with it.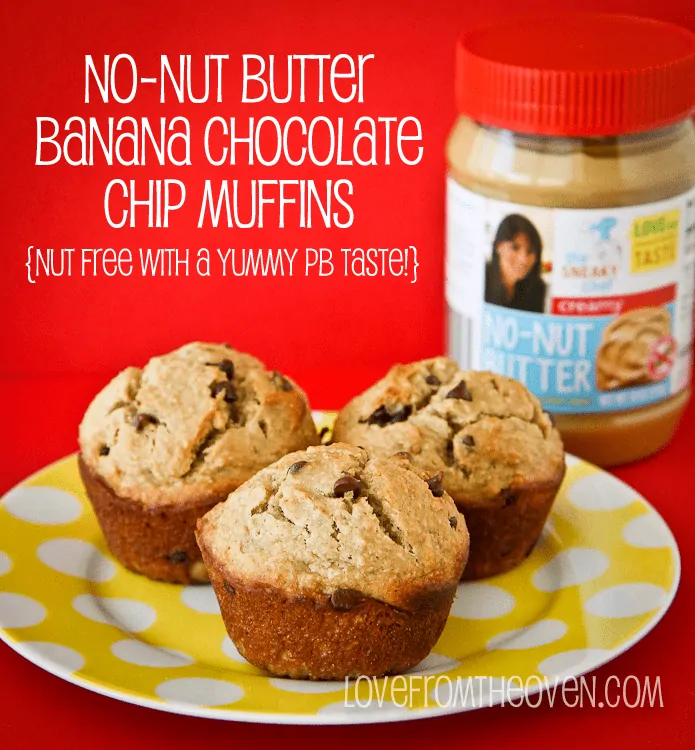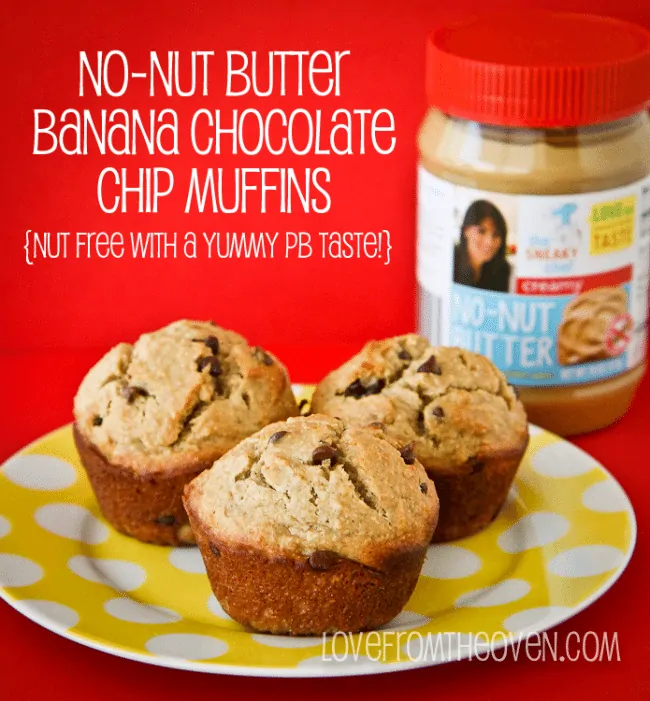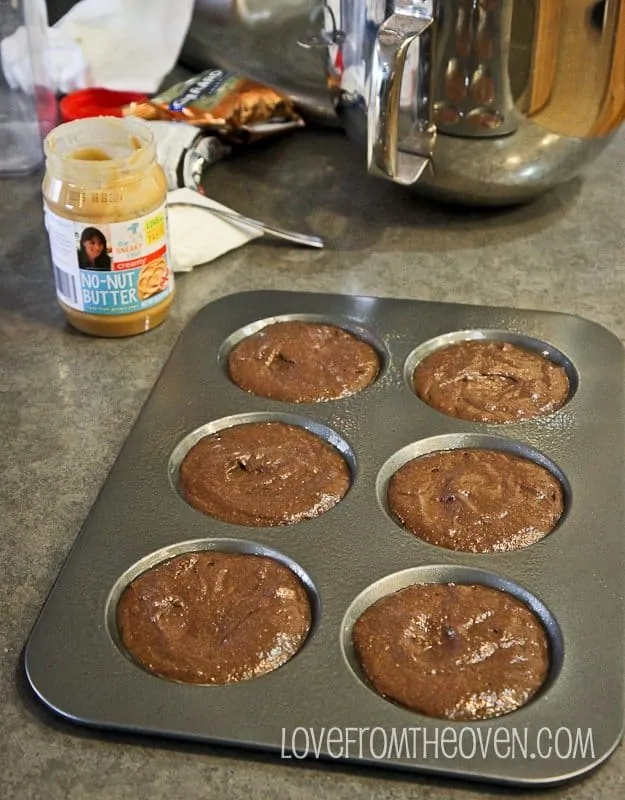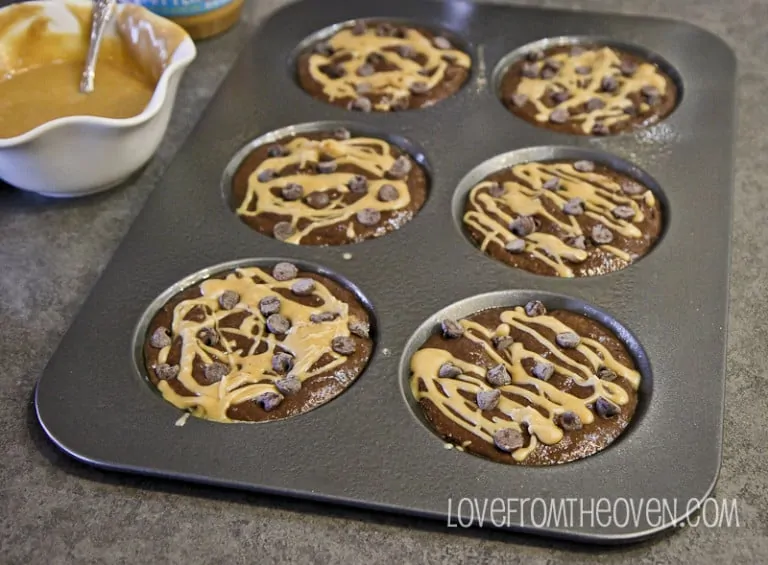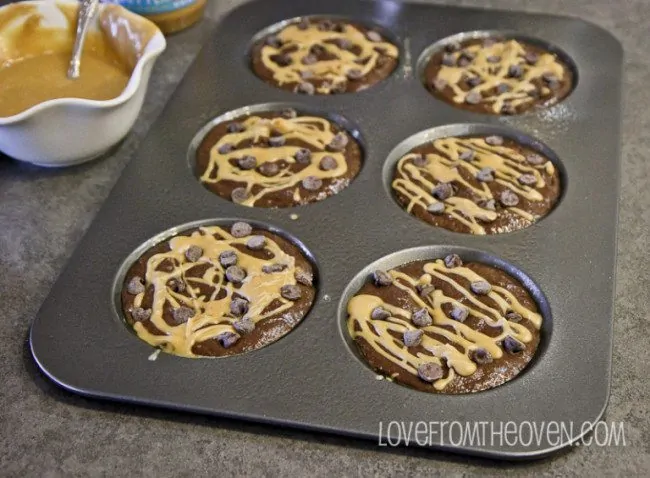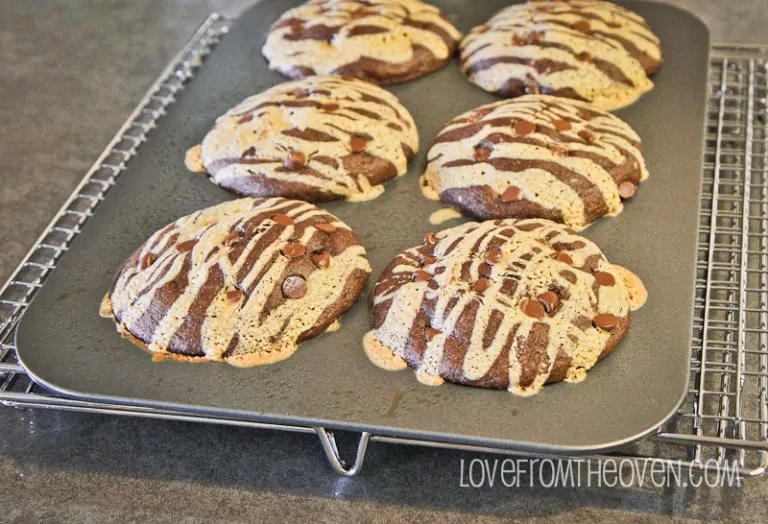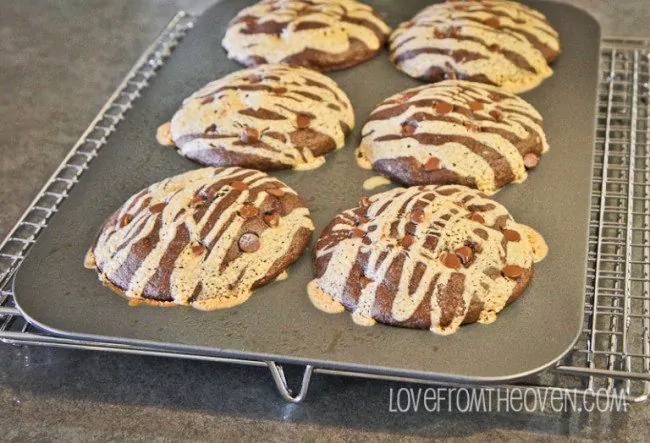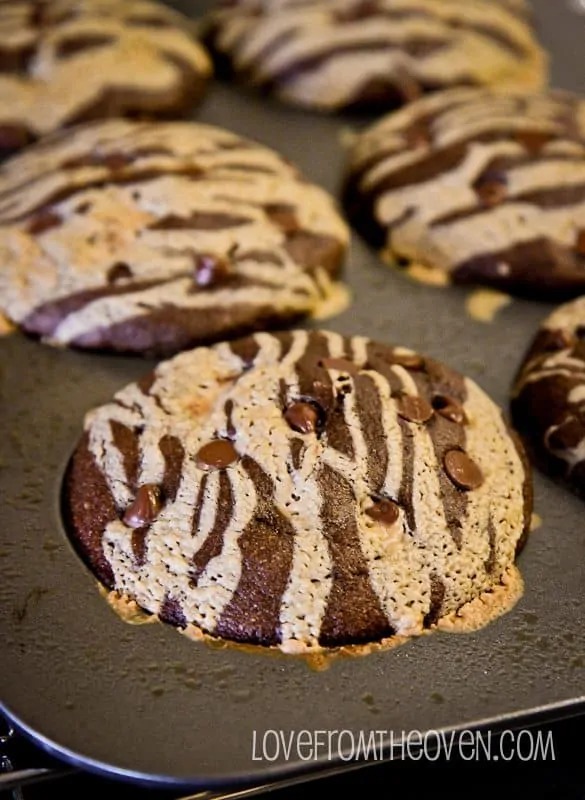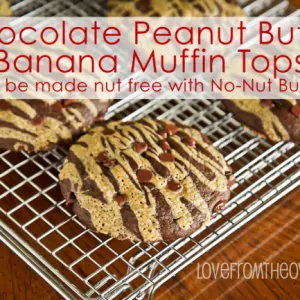 Chocolate & Peanut Butter (or No-Nut Butter) Muffin Tops
Ingredients
2 1/2

cup

white whole wheat flour

2/3

cup

sugar

1/2

cup

packed brown sugar

1/2

cup

unsweetened cocoa powder

I prefer a dark chocolate cocoa

2

tsp

baking powder

2

tsp

baking soda

1/2

tsp

salt

optional

1/4

cup

butter softened

2

large eggs

4-5

large ripe bananas

smashed or pureed (about 2 1/4 cups)

1

cup

vanilla Greek yogurt

2

tsp

vanilla extract

1/2-1

cup

chocolate chips

mini chips work great!

3/4

cup

peanut butter or Sneaky Chef No-Nut Butter
Instructions
Preheat oven to 350 degrees F.

Spray your muffin top pan (or muffin pan) with non-stick cooking spray.

In a large bowl, combine flour, sugars, cocoa powder, baking powder, baking soda and salt. Mix well to combine.

In a separate bowl combine butter, eggs, bananas, Greek yogurt and vanilla extract. Mix with electric mixer to fully combine.

Combine wet ingredients and dry ingredients and stir until just combined. Do not over mix.

Scoop batter into greased muffin top pan or muffin pan.

Place peanut butter or No-Nut Butter in a microwave safe bowl and microwave starting at 10 seconds. You want to melt your peanut butter enough that you can drizzle it, this may take 10-20 seconds (or more) depending on your microwave. Once melted, drizzle a small amount on top of each muffin or muffin top with a spoon.

Sprinkle chocolate chips on top of each muffin.

Bake muffin tops for approximately 10-13 minutes or until toothpick inserted in center of muffins comes out clean and tops spring back lightly when touched. For regular muffins, bake for approximately 15-20 minutes or until toothpick inserted in center of muffins comes out clean and tops spring back lightly when touched.

Let cool for approx five minutes in pans, then transfer to a wire rack to finish cooling. Once completely cooled, I prefer to store mine in the fridge and freezer in freezer style zipper bags. Enjoy!
Would you like more muffin recipes? Here are some of my faves…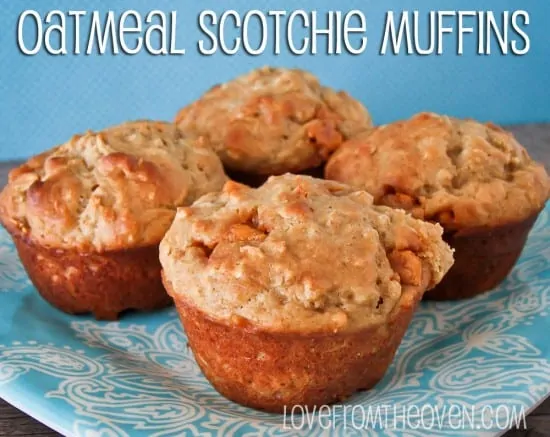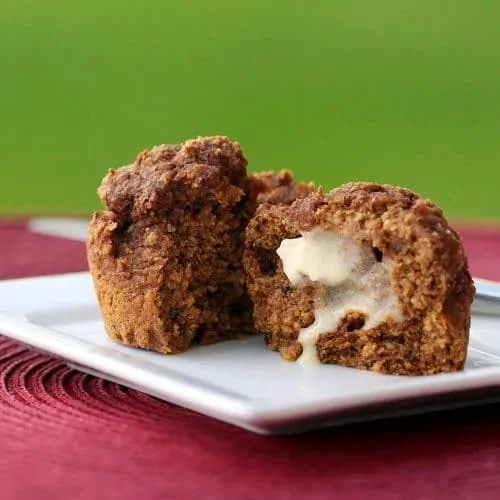 Chocolate Chip Cookie Muffins Three Ways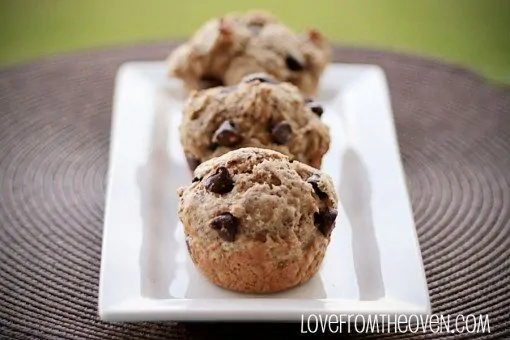 Chocolate Muffin Makeover Success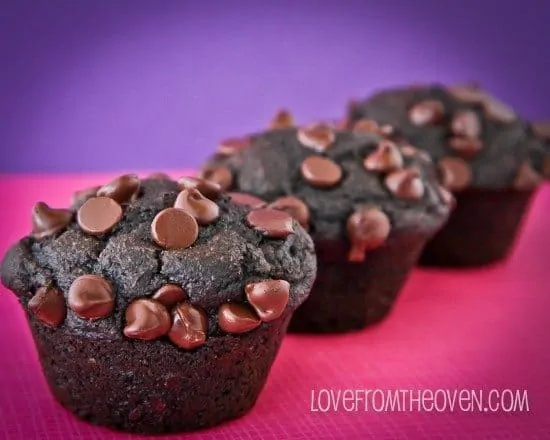 Chocolate Chip Banana Muffins – Flour Free & Low Fat!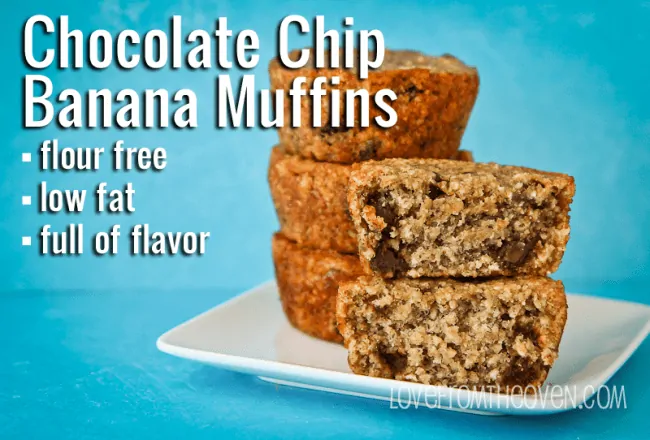 Pumpkin Banana Cinnamon Muffins
What is YOUR favorite muffin?