While looking for great fall recipes to share, I realized that there are more than enough cinnamon roll recipes out there to justify an entire collection of cinnamon roll recipes. I love cinnamon rolls (who doesn't) and I have fond memories of my great grandmother kneading dough and making her famous cinnamon rolls when I was a child. Cinnamon rolls are always one of my favorite treats, so I thought it would be fun to look at some of the great cinnamon roll recipes on web.
Whole Wheat Cinnamon Rolls. We love these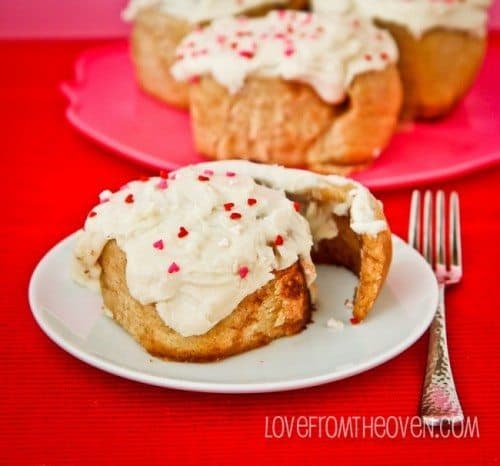 Chocolate Cinnamon Rolls. Yes, chocolate. 🙂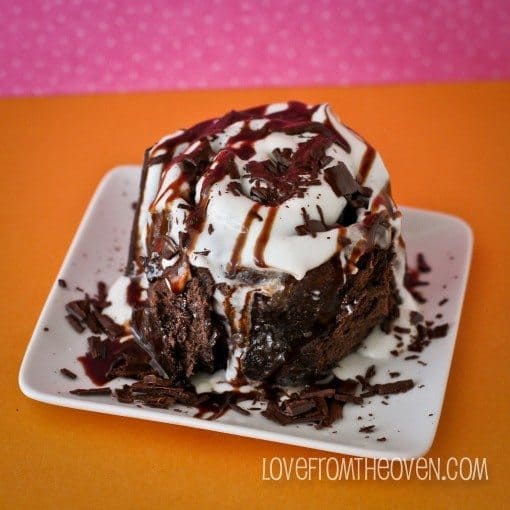 Birthday Cake Cinnamon Rolls – this is how we celebrate birthday breakfasts!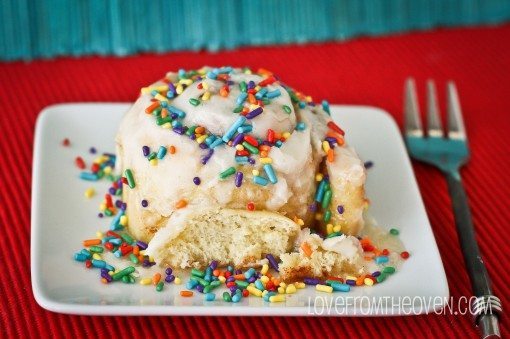 Cake Mix Cinnamon Rolls – these might be my most popular pin on Pinterest!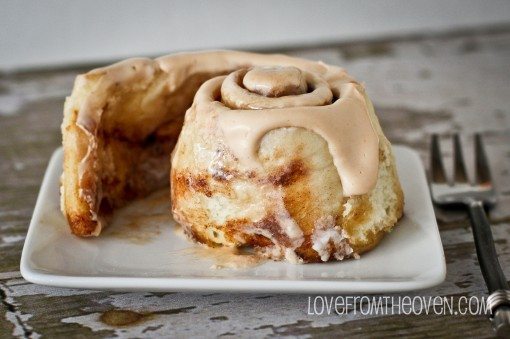 The ever popular Pioneer Woman's Cinnamon Roll recipe.
Let's see what other bakers and bloggers are doing with cinnamon rolls…
Toffee Cinnamon Roll Waffles From The Knead For Speed
Itty Bitty Cinnamon Roll Bites From Picky Palate
Chocolate Cinnamon Rolls From Cooking Ventures
Cinnamon Roll Cupcakes From Happy Sugar Funtime
Chocolate Chip Cinnamon Rolls From Bakers Royale
Cinnamon Rolls On A Stick From Artisan Bread In Five Minutes
Cinnamon Roll Scones From Taylor Takes A Taste
Pumpkin Pie Cinnamon Buns With Caramel Cream Cheese Frosting From Closet Cooking
Cinnamon Roll Cupcakes From Confessions Of A Cookbook Queen
Cinnamon Roll Pancakes From The Novice Chef
Caramel Apple Nut Rolls From Shared Sugar
Cinnamon Roll Cake From Heat Oven To 350
Pecan Cinnamon Roll Cupcakes From Cooking In Sens
Cinnamon Roll Cookies From Chocolate & Carrots
Heath Bar Chocolate And Toffee Cinnamon Rolls From Cookin' Canuck
Cinnamon Rolls In Under An Hour From Ounces And Grams
Chocolate Cinnamon Rolls From Bakindom
Oatmeal Raisin Cookie Stuffed Cinnamon Rolls With Caramel Glaze From Culinary Concoctions By Peabody
Pumpkin Cinnamon Rolls From Recipe Girl
Cinnamon Bun Ice Cream From Kevin And Amanda
Bacon Cinnamon Rolls From The Fresh Fridge
Cinnabon Style Cinnamon Rolls From The Girl Who Ate Everything
Oreo Truffle Cinnamon Rolls From Inside BruCrew Life
Gingerbread Cinnamon Buns From Pen N' Paperflowers Studio & Design
Crunchy Nutella & Peanut Butter Cinnamon Rolls From Ramshackle Glam
Cranberry Orange Cinnamon Rolls From Two Peas & Their Pod
Cake Batter Cinnamon Rolls From How Sweet It Is
Apple Pecan Cinnamon Rolls From Cupcake Project
Honey-Nut Pumpkin Cinnamon Rolls From Sweet Rolls That Rock
Quick, No Rise Chocolate Cinnamon Rolls From Alli N Son
Cinnamon Roll Muffins From Taste And Tell
Whole Wheat Vegan Cinnamon Rolls From Naturally Ella
Cinnamon Roll Pizza From Picky Palate
Cinnabon-Style Gourmet Cinnamon Rolls From La Mia Vita Dolce
Carrot Cake Cinnamon Rolls With Cream Cheese Glaze From Healthy Food For Living
No Knead Sticky Pecan Caramel Cinnamon Rolls From Steamy Kitchen
Caramel Apple Cinnamon Rolls From Annie's Eats
Cinnamon Roll Macarons With Cream Cheese Filling From Mangio Da Sola
Cinnamon Rolls From Baking Love
Cinnamon Roll Pancakes With Buttermilk Syrup By JamieM From The Family Kitchen At Babble
Cinnamon Roll Cheesecake With Cream Cheese Frosting From Culinary Concoctions By Peabody
Cinnamon Roll Sugar Cookies From Picky Palate
Cinnamon Bun Pie Pockets From Gimme Some Oven
Roasted Banana Cinnamon Rolls From Picky Palate
Peanut Butter Cinnamon Rolls With Maple Icing From Just The Food… The Blog
Orange Cinnamon Raisin Swirl Coffee Cake From Back To The Cutting Board
Biscuit Style Cinnamon Rolls From Rara Bakes
Banana Nut Nutella Cinnamon Rolls From Eat, Run, Read
Vegan Pumpkin Pie Cinnamon Rolls From Oh She Glows
Cinnamon Roll Cake From Divine Baking