Hi friends! It's Kristen from Capturing Joy, and I'm here to share some tips about how YOU can capture a little joy and bring it into your homes.
In this digital age, I think we need to be careful that we don't let family memories sit on the computer, and not print them to enjoy. I am a BIG advocate of encouraging others to decorate their homes with pictures. I have a series each February, where I've had contributors share lots of ideas. I'd like to show you 8 ways I have decorated with pictures in my home, so you can see the variety of decorations from room to room.
Decorating Your Home With Pictures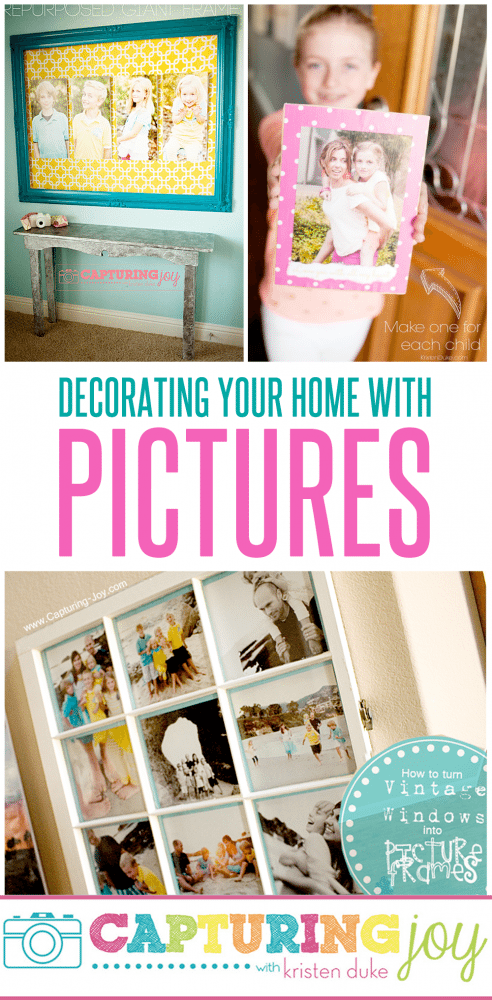 First is when I turned metallic pictures into DIY canvas. These are 16×20 prints, and I found the canvas at a craft store. There were too many great pictures from this photo shoot, so I included my 10 favorites!
In my girls fancy room, the gallery wall has 3 16×20 prints into the mix with quotes and lots of fun color to match their room.
In our play room, I used pictures from our family paint fight. I thought they were perfect for a game room, and even included the canvas we painted in our "fight." It covers the TV!
Also in my girls room, I took a few images, and turned them into ONE color for a bit more of an artistic look. The tutorial is on the link shared.
One of my favorites is when I I used some vintage windows as frames for family pictures. I love how it turned out!
One of my first pictures DIY projects was using mod podge to adhere pictures to wood.
I took a picture with each child, and made a special display for just them of myself and them. This is my daughter and I, it's to reminder her how much I love her!
Lastly, this giant picture frame sits in my office, right in front of me, and two years later, I still LOVE it! Click over to see the finished project and how it fits into my office decoration!
There you have a little snippet into my home, and how I decorate with pictures, and bring variety from room to room.
I'd love you to hop on over to my little spot on the web, to see more photography tips such as How to start a photography business, how to capture natural smiles with kids, and how to decide what camera to buy!
Besides photography, I love to share our family favorite recipes (Andes Mint Cookies and Fudgy Vanilla Brownie), travel adventures (Disney World tips and First Cruise tips), Printables, Parties, and even my LOVE story!
I'd love to have you follow along on your favorite social media site if you'd like to see more!
Facebook // Instagram // Pinterest