My friends at Glam Media recently asked if they could send me a Dell Venue 8 Tablet to try out, and if I could share some of the ways that I use technology to help with my holiday planning. Given that I can't imagine getting ready for the holidays without some help from my tech, I thought sure, let's try it out! I already have an Android phone, so I thought it might be fun to try an Android tablet, and see how it can help me get ready for the holidays.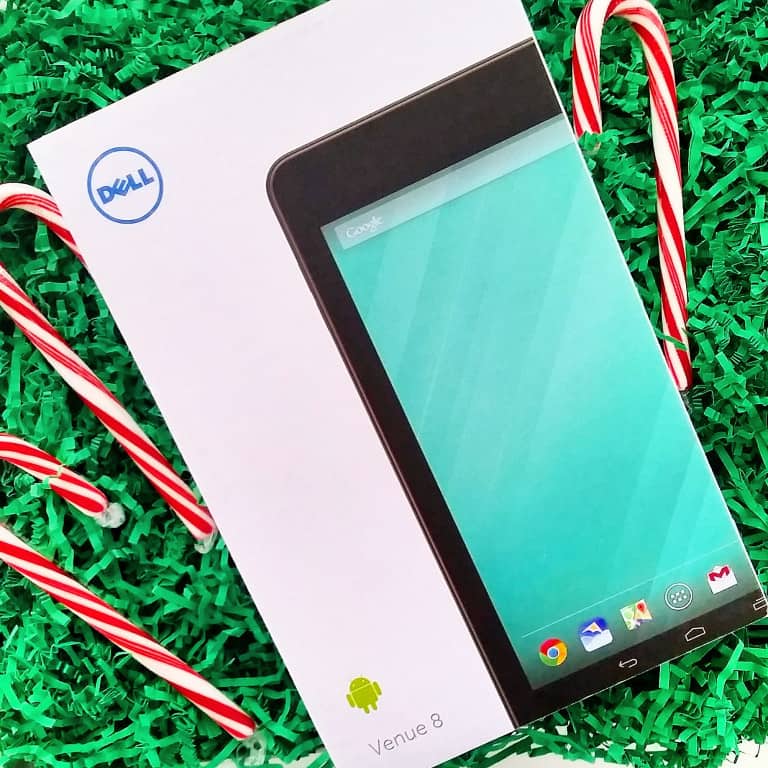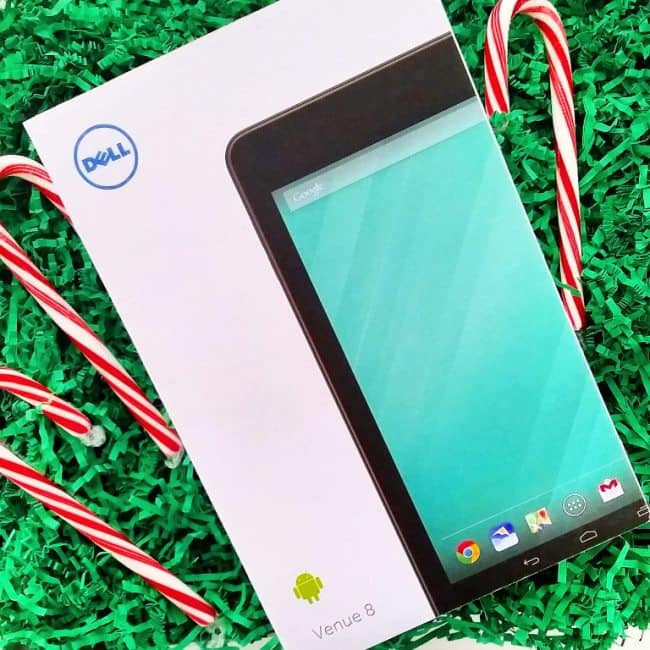 I have to say, the screen on the Dell Venue 8 is magnificent, bright and beautiful. And given that I use an Android phone, I loved how instantly familiar and easy to navigate the Venue 8 was. It's lightweight and can slip right into my purse easily. Let's look at just a few of the ways my tablet helps me get prepared and ready for the holidays.
ONLINE SHOPPING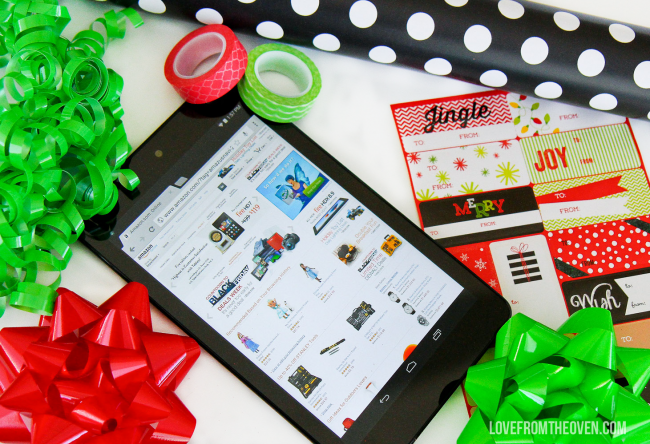 The last few years, I have done SO much of my holiday prep and planning online. I get a little overwhelmed and unfocused (um, impulse shopper in isle 8!) in the crazy after Thanksgiving crowds, so I do most of my holiday shopping online. It really helps me to make a list, and stick to it, item by item. Years ago I used to think you could only find the great deals in person, but I've found some awesome deals online at places like Amazon, Target, Toys R Us and Kohls. Truth be told, I'd much rather be warm, in my pajamas, drinking hot cocoa while I shop than braving the cold and crowds! With the Dell Venue 8, I can not only shop at home, but I can also set up a quick hot spot from my phone and even shop if I'm waiting at an appointment or sitting in the school pick up line (I spent a lot of time sitting in school pick up lines!). I can also pin gift ideas until my heart is content (secret boards on Pinterest are the best!).
ORDERING HOLIDAY CARDS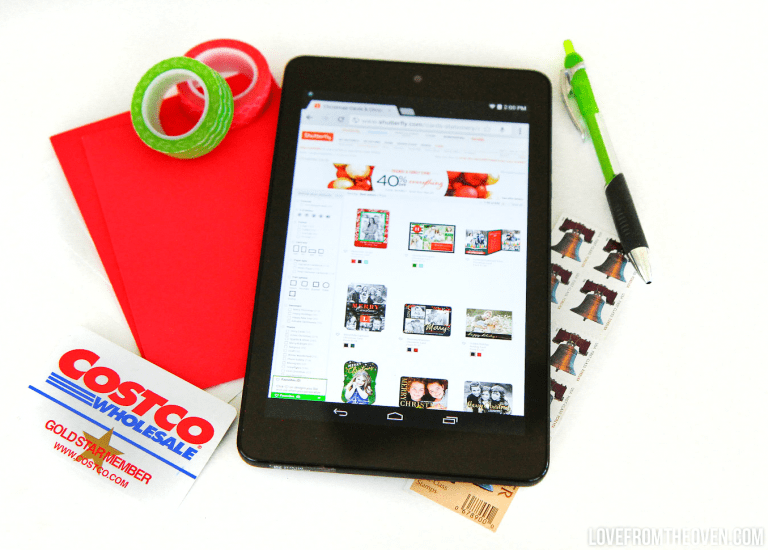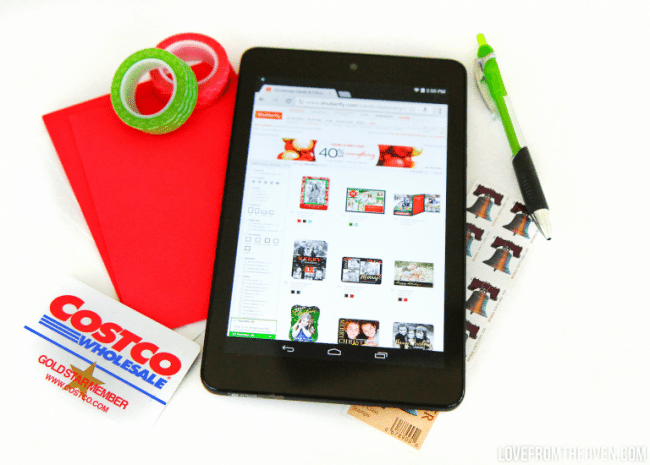 Each year I order our Christmas cards online, sometimes through Shutterfly or Tiny Prints, and often through Costco. Costco has a card you can get printed right in store (it's a bit more like a large photo than a heavyweight card) which is great, especially if you are a last minute queen like I am and don't order early enough to have them shipped. It's so easy to just hop online, order and either have them shipped to you or pick them up when you are picking up other holiday essentials.
CALENDARS, EVENTS & ACTIVITIES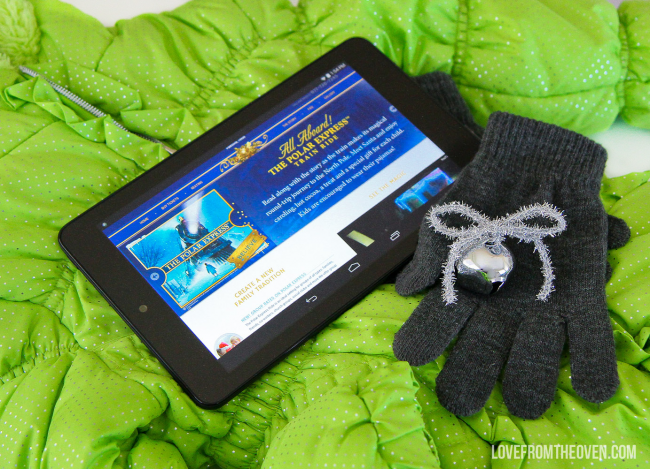 I am a big fan of my Google calendar, and love being able to set alerts and reminders. It's even more important during the holidays, with parties, events, school band performances, dance recitals, standing appointments that are shuffled or changed due to vacation schedules – you name it, it's in my calendar. But I also use my tablet to discover new things to do! From local events like snow nights at the local shopping centers (that's probably an Arizona thing, I'm guessing in Iowa they don't have special nights where they blow fake snow over shoppers, probably a bit unique to us desert dwellers) to fun events like The Polar Express or even catching a holiday show. I can use my tablet to find events, order tickets and then map out where to go and how to get there.
HOLIDAY RECIPES AND BAKING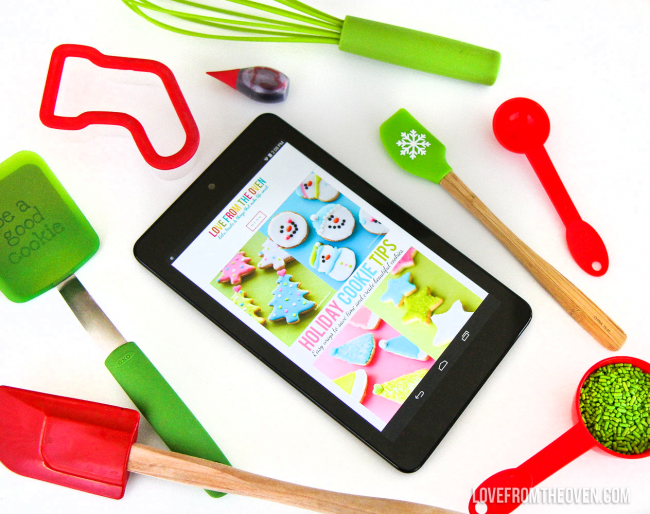 One of the main reasons I originally started Love From The Oven was to keep track of all of my own recipes! Yes, when I need one of my recipes, I log onto Love From The Oven to get it. So I am often on my site pulling up my favorite recipes, going through recipes I've pinned to make later or searching for new ones. My tablet is one of the most important tools in my kitchen! One of my favorite tech tips if you are a messy baker like me, just slip your tablet into a large zipper style freezer bag. The touchscreen will still work, but you won't have to worry about spills!
"From bookmarking, Pinning, or using it while out and about shopping, the Venue 8 3000 Series Tablet will help you navigate the busy holidays. You will want to pass that convenience onto your friends and family, giving the ultimate holiday gift."
These are just some of the ways I put my tablet to use during the holidays. The Dell Venue 8 Tablet is a great tool to help me stay organized, and that's no small task!

Your family and friends have a wide range of passions. Dell has an exciting new way to find the gifts that inspire endless possibilities. Are they a music lover, movie buff, or fab foodie? Are they an avid gamer, fitness fanatic, or gadget lover? With the Dell Holiday Lookbook, instantly discover gifts that fuel all they love to do – PCs, tablets, TVs, gadgets, electronics and more. Try it at dell.com/holidaylookbook  #GetInspired
"Disclosure: Compensation was provided by Dell via Mode Media. The opinions expressed herein are those of the author and are not indicative of the opinions or positions of Dell."