I may have mentioned a time or two (or ten) that some of my favorite recipes are my muffin recipes. They are probably my most personal recipes, as they are the ones I have developed for my daughters – working hard to pack them full of healthy ingredients while making them delicious enough that my extremely picky eaters will be happy to eat them. My eight year old loves the banana chocolate chip muffins and my toddler loves the pumpkin muffins.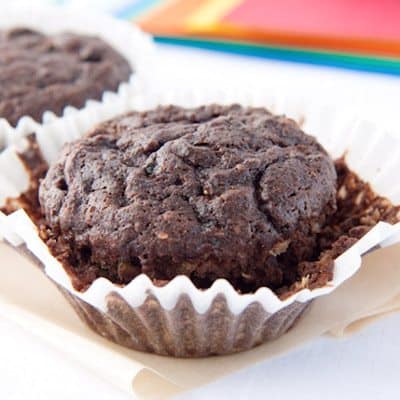 The one muffin I have not been able to perfect a healthy version of is a chocolate muffin. I decided to ask fellow food blogger extraordinaire and holistic nutritionist Leanne Vogel if she could help me out. Leanne is passionate about creating healthy and delicious recipes that are packed full of nutritious ingredients which she shares on her website, Healthful Pursuit. I was super excited when she agreed to help me out and created an amazing chocolate muffin recipe to share with me and my readers. I will let Leanne take it from here…
Hi everyone! My name is Leanne and I am beyond excited to be here with you today.
When Christi asked me to help her come up with a kid-friendly healthy chocolate muffin recipe I was honored… and a bit nervous!
As you know, Christi's talent far exceeds her impeccable sweet tooth. Her photographs are stunning, her personality colorful, and her eye for detail and creativity is just unreal.
I started filling my life with meals to support my health right around the time I'd entered school to become a holistic nutritionist. I quickly learned that what we eat can significantly affect our mental, emotion, physical, and spiritual well being. 3 years after graduation and hundreds of kitchen creations later, I began Healthful Pursuit. My goal was simple, to connect and learn from people, share my story, insight, and possibly inspire those looking to make healthful changes in their lives.
My goal with each recipe I create; and something I strive for when meeting with my clients online, is to use easy-to-find ingredients that wont cost an arm and a leg. I dislike going to specialty shops, paying more than $3 dollars for flour, and having to go to 4 grocery stores a week just to get everything I need.
I'm a big fan of Superstore, bulk bin stores (like bulk barn), and using simple ingredients like honey, cocoa powder, grapeseed oil, apple sauce, medjool dates, and fruits n' veggies to flavor my meals.
My personal road to health has taught me about the importance of high quality ingredients, how to listen to our bodies to optimize our health, and best of all, how to have fun in the kitchen. It's blogs like Christi's that inspire me to re-jive a recipe so that those that have issues with dairy, gluten, or sugars, don't feel like they're missing out on all the muffin fun.
Double Down Chocolate Power Muffins – Makes 12 medium-sized muffins.
Preheat oven to 375 Degrees
1/4 cup cocoa or cacao powder
1/4 cup coconut flour
1/2 teaspoon baking soda
1/4 teaspoon salt
3 eggs
1/4 cup unpasteurized honey
1/4 cup grape seed or melted coconut oil
2 tbsp apple butter, or additional honey, or nut butter
1 tsp pure vanilla extract
1/2 cup finely shredded zucchini
1/4 cup chocolate chips, cacao nibs, or carob chips
Combine cocoa powder, coconut flour, baking soda, and salt in a large bowl. Set aside.
In a small bowl, mix eggs, honey, oil, apple butter, and vanilla until incorporated.
Pour the wet mixture into the dry and mix with a wooden spoon or spatula until just mixed.
Before you add the zucchini, be sure to squeeze out additional moisture. This can be done by placing the zucchini in your hand and squeezing it, or wrapping it in a kitchen towel and ringing the zucchini out.
Then, add zucchini and chocolate chips to the mix and stir until each piece of batter has a chocolate chip in it!
Place 10 medium muffin liners in a muffin pan and spoon the mixture into each tin so they're about 2/3 to 3/4 of the way full.
Bake on the middle rack for 23-25 minutes, or until a toothpick inserted in the center comes out clean.
Remove from the oven and allow to cool completely (about 1 hour) before serving.
The ingredients:
If you don't want to add the zucchini, no problem. Just add an additional 2 tbsp of apple butter.
Don't have apple butter? You can try using nut butter in it's place like salt-free almond or peanut butter. Or replace it with additional honey for a sweeter muffin.
Coconut flour is now being sold at many major grocery stores. It can be found (in Canada) at any Superstore that have a natural foods section. And can also be found online, at TJs, and Whole Foods.
These muffins are a great addition to any weekday lunch and make a great take-along snack for an afternoon play date.
They're just 110 calories, with under 7 grams of fat, over 2 grams of protein, and (get this) 8 grams of sugar! I highly suggest making a double batch – one batch for the kids' lunches and one batch for you.
Seems fair, right?
Along with hiding zucchini in healthy muffins, I get a kick out of sliding avocado in breakfast bakes like I did with this Double Chocolate Crunch quinoa flake bake. These cakes are quick to put together, sugar-free, filling, and delicious.
Another kid-friendly, highly nutrient dense and low-sugar snack that we make again and again are these 100 Calorie Beary Simple Cookies. They're fantastic dipped in yogurt, eaten plain, or with a little nut butter on top.
One of my latest recipes; and the favorite on the blog right now, is this Sweet Almond Spread. It's a fantastic alternative to hummus or other vegetable dips. It's sweet, earthly and filled with healthy fats!
Although sweet treats are my favorite, I promise you I make tons of balanced recipes too. After all, healthful living is all about balance! So, this post wouldn't be complete without sharing my 15 minute salmon cakes with you. They're easy, delicious, and come with a quick tartar sauce recipe to boot.
Thanks, Christi for challenging me to come up with a chocolate muffin recipe that has quickly become a favorite snack for the kids on my block. Not having kids of my own, I'm always having to reach out to the neighbors for official taste testers! I'm sure they don't mind in the slightest 🙂
Have a fabulous day, all, and please feel free to visit by my blog, Healthful Pursuit, to say hi, or connect with me on Twitter, Facebook, or StumbleUpon.