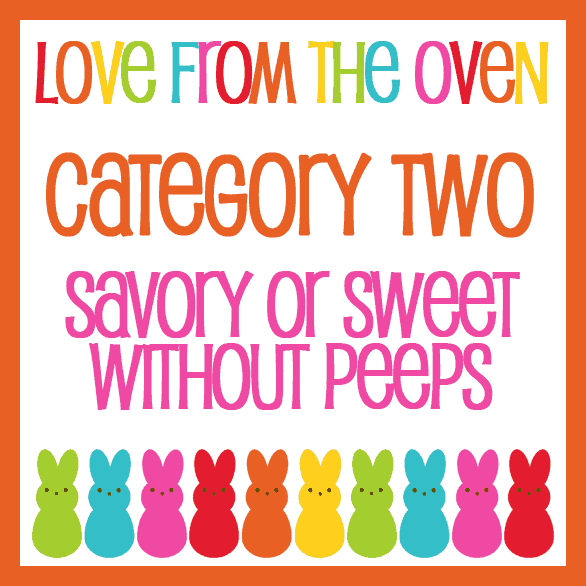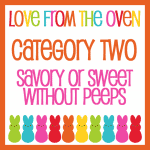 Check out the great recipes below and vote for your favorite!   Ready to vote???    Visit the voting area in our side bar to the right to enter your vote!    There is still time to enter your favorite Easter Recipe in the contest – just head to the contest entry page.

EASTER TRADITIONS CONTEST – NON PEEPS RECIPE ENTRIES
1.  Cereal Treat Easter Eggs by Katrina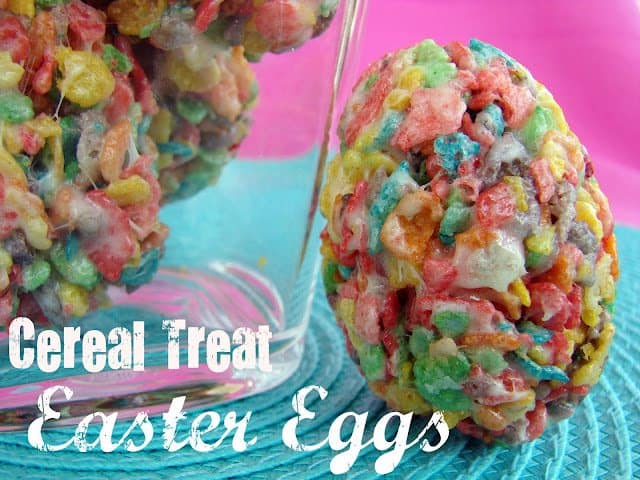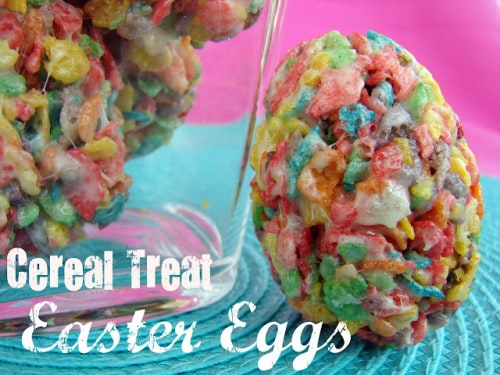 Ingredients:
· ¼ c butter
· 10 oz bag of marshmallows
· 5 c cereal (I used Fruity Pebbles)
Directions:
1. In a large pan melt butter using medium heat.
2. Add marshmallows and stir until melted.
3. Pour in the cereal and mix to incorporate.
4. Spray plastic eggs with cooking spray. I found it was easiest to use eggs that split vertically. You could just use 1 or 2 eggs for this process as the cereal does not take long to take the shape of the egg.
5. Spoon the cereal mixture into each half of the egg then close egg to form shape. Pop cereal out after about 10 seconds.
Recipe can also be found here!
2.  Easter Cupcakes With Bubble Gum Eggs by Larissa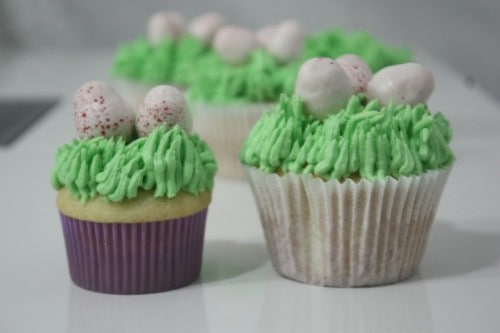 Use a vanilla cupcake recipe and bake like normal. If you do not have one…here is my favorite:
Makes 12 cupcakes. (oven- 325 degrees)
1/2 cup butter-room temp
1 cup sugar
2 eggs
1 tsp baking powder
1 tsp vanilla extract
1 1/3 cups cake flour
1/2 cup milk
Instructions: Creme butter and sugar until light and fluffy. Add eggs and beat until combined. Add the remaining ingredients and beat for 1 minute. fill your cupcake liners and bake for 18-20 mintues until lightly golden or until the tops spring backs.  For the frosting I use a normal american buttercream. You can use store bought or my favorite recipe. (tinted green for grass).
Frosting-american buttercream-
1 cup butter-room temp
4 or 5 cups powdered sugar
1 tsp vanilla extract
-beat well-until fluffy.
Use a wilton tip #233 or #234
candy eggs- mine are bubble gum!
-decorate the cupcakes with the grass tip and place eggs in the middle.   Tadddahhh! Easter egg cupcakes!
3.  Easter Bunny Treats by Kim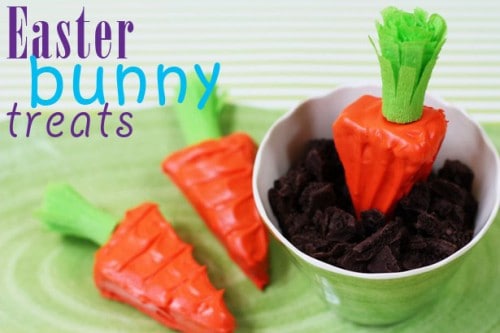 4.  PEEPS Cookies By Callye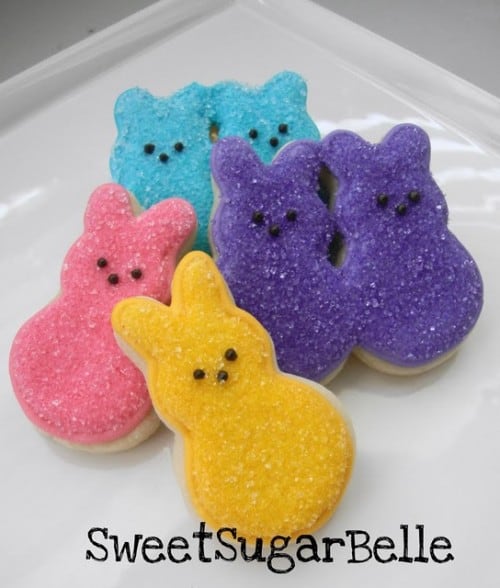 5.  Easter Bunny Bread by Tammi
from Quick Cooking Magazine
2 loaves (1 pound each) frozen bread dough, thawed
2 raisins
2 sliced almonds
1 egg, lightly beaten
Lettuce leaves
Dip of your choice
Veggies of your choice
Cut a fourth off of one loaf of dough; shape into a pear to form head. For body, flatten remaining portion into a 7-in. x 6-in. oval; place on a greased baking sheet. Place head above body. Make narrow cuts, about 3/4 in. deep, on each side of head for whiskers.
Cut second loaf into four equal portions. For ears, shape two portions into 16-in. ropes; fold ropes in half. Arrange ears with open ends touching head. Cut a third portion of dough in half; shape each into a 3-1/2-in. oval for back paws. Cut two 1-in. slits on top edge for toes. Position on each side of body.
Divide the fourth portion of dough into three pieces. Shape two pieces into 2-1/2-in. balls for front paws; shape the remaining piece into two 1-in. balls for cheeks and one 1/2-in. ball for nose. Place paws on each side of body; cut two 1-in. slits for toes. Place cheeks and nose on face. Add raisins for eyes and almonds for teeth.
Brush dough with egg. Cover and let rise in a warm place until doubled, about 30-45 minutes. Bake at 350° for 25-30 minutes or until golden brown. Remove to a wire rack to cool.
Place bread on a lettuce-lined 16-in. x 13-in. serving tray. Cut a 5-in. x 4-in. oval in center of body. Hollow out bread, leaving a 1/2-in. shell (discard removed bread or save for another use). Line with lettuce and fill with dip. Yield: 1 loaf.
6.  Easter Bunny Bars by Tina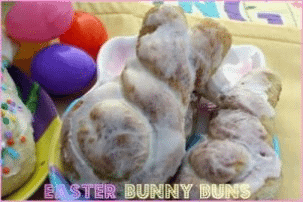 1 – (.25 ounce) package active dry yeast (I use rapid rise)
1 1/2 – cups warm water (110 degrees F/45 degrees C)
3 1/4 – cups all-purpose or bread flour (I prefer bread flour)
1 – 9 oz package jiffy yellow cake mix or 1/2 of
regular 18.5 oz cake mix approx 1 1/4 cups
1/4 cup butter, softened to brush on baked rolls
Cinnamon Sugar
Colored Easter Sprinkles
In a large bowl, dissolve yeast in warm water. Let stand until creamy, about 10 minutes. Stir in the flour and cake mix. Beat until dough is smooth. Add some flour on the counter and knead any additional flour into the dough. Knead until it is no longer sticky. Lightly oil a large bowl, place the dough in the bowl and turn to coat with oil. Cover with a damp cloth and let rise in a warm place until doubled in volume, about 40 minutes – 1 hour. Punch down the dough and turn it out onto a lightly floured surface.
Roll dough into a long rectangle 1/2-inch thick. Cut dough into strips 1/2-inch wide and 14-inches long. (sorry I did not get a photo of that part). Reserve 1-2 of the strips to cut into pieces about 1/2-inch long and roll into small balls (use for bunny tails).
Then roll the dough to make rounded snake shapes.( I just cut them into strips without rolling). Place one long piece of dough on a greased baking sheet. Place one end of the strip over the other to make a loop; bring the end that is underneath up and cross it over the other end. Place a ball of dough on top of the bottom loop (to be the tail).
Brush the bunnies with melted butter and sprinkle on a mixture of cinnamon and sugar. You can also leave some of the bunnies plain. Cover the bunnies with plastic wrap that has been sprayed with baking spray. Allow the rolls to rise in a warm place for 45-60 minutes, until nearly double in size. Remove plastic wrap and bake at 375 degrees for 12-15 minutes. Let cool and then brush on a simple icing and add holiday sprinkles to the plain rolls. Just add the simple icing to the cinnamon ones.
Simple Icing
2 – cups powdered sugar
2 – tablespoons milk
1/2 – teaspoon vanilla extract
1 – teaspoon butter, softened
Stir the powdered add the butter and blend with a fork. Add the milk and the vanilla extract and mix until you have the consistency of a pourable glaze. Brush on the glaze while the bunnies are still warm. Add colored sprinkles.
Note: These bunny buns can be left plain and used as a dinner roll. Just shape, rise and bake the bunnies. When they are finished brush with melted butter before serving.
Recipe Yields – Approx. 20 Bunny Buns
7.  Bunny Cake Bites By Sarah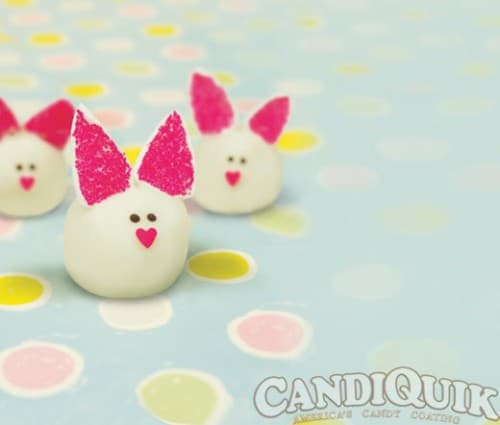 8.  Egg In A Nest Stuffed Peanut Butter Cookie Dough Bites By Averie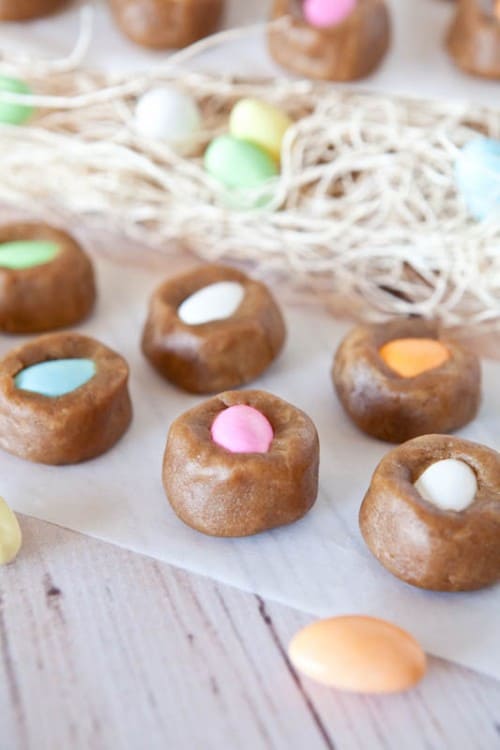 9.  Easter Bonnet Cupcakes By Diary Of A Mad Housefrau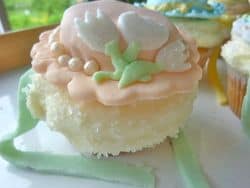 10.  Easter Egg Nests By Natalie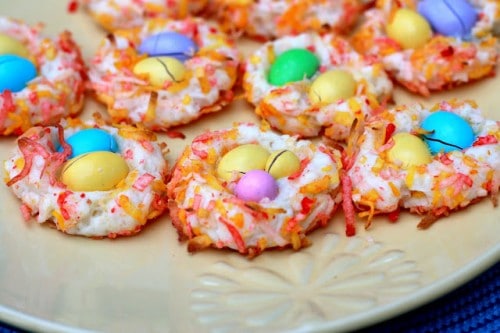 -2 cups flour
-1 tbsp baking powder
-1/4 tsp salt
-3/4 cup butter, softened
-8 oz. cream cheese, softened
-1 cup sugar
-3/4 tsp almond extract
-2 1/2 cups coconut
-red & yellow food coloring
-1 bag almond m&m's (pastel colored)
Directions:
1. Mix dry ingredients and set aside.
2. With a stand or handheld mixer, cream butter and cheese; add sugar and almond extract, beating until fluffy.
3. Gradually beat in flour mixture and 1 cup of coconut.
4. Cover and refrigerate for 45 minutes (or until firm enough to handle)
5. Take 1/2 cup of coconut and tint with 1-2 drops red coloring (place in a covered container, add food coloring, and shake until evenly tinted). Take another 1/2 cup coconut and tint with 1-2 drops yellow food coloring. Toss tinted coconut with remaining 1/2 cup of (white) coconut.
6. Roll large tablespoonfuls of dough into balls. Roll each in coconut until lightly coated.
7. Place balls on greased cookie sheets and press 2-3 m&ms into each cookie.
8. Bake for 12 minutes at 350F. Remove from oven and cool on wire rack. Refrigerate in a sealed container until ready to serve.
11.  Peanut Butter Eggs By Devi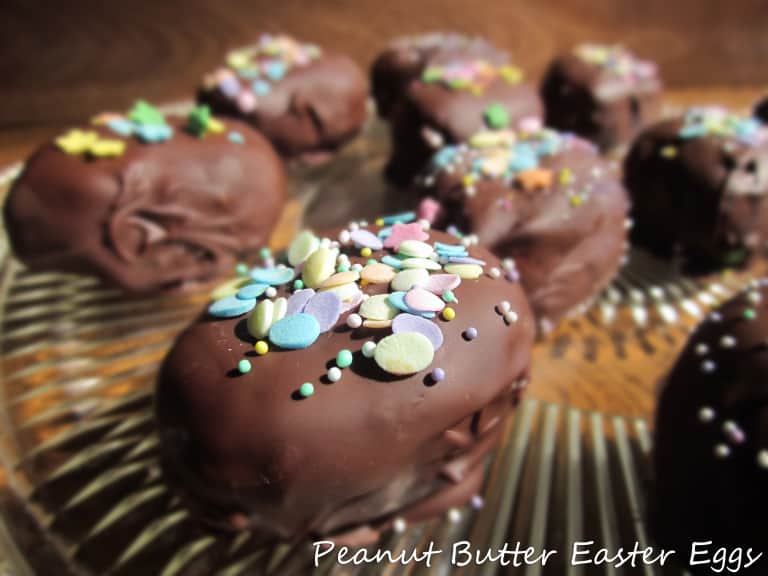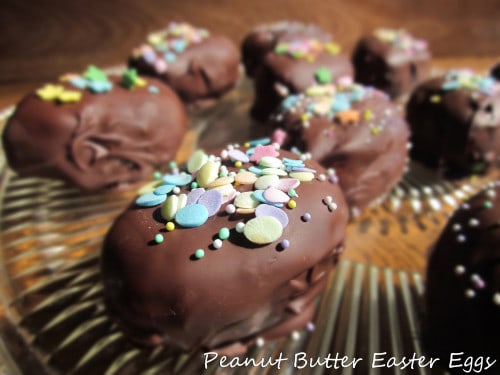 1 cup peanut butter
3 cups confectioners sugar
4 sheets of graham crackers (crushed)
4 tablespoons butter (melted)
3/4 teaspoon salt
2 tablespoons milk
1 package semisweet chocolate (or white chocolate is really really yummy too!)
1 tablespoon shortening
Combine peanut butter, confectioners sugar, graham crackers, butter, salt and milk. Mix it together and make sure everything is well combined. It may seem a little dry but it will help to keep the shape of the eggs!  Form into balls about the size of a golf ball and shape it until it starts to look like an egg. You can also make smaller eggs (about the size of a cherry tomato) to put on sticks, if you'd like! If the mixture is cracking while you form it, you can definitely add another tablespoon of milk.  Put them on a parchment paper lined baking sheet and place it in the freezer for 45 minutes.  While the eggs are in the freezer, melt your chocolate in a double boiler along with the shortening.   Dip the eggs into the chocolate using either a fork or toothpicks and place on parchment paper.   Before the chocolate sets you can put sprinkles on or you can wait until the chocolate hardens and use some colored chocolate to make pretty designs on the eggs. The designing part is really up to you! I had a little 4 year old begging to put sprinkles on the eggs, so that's the direction we ended up going for the big ones 🙂
Recipe yields about 14 eggs.
12.  Bunny Cake By Michelle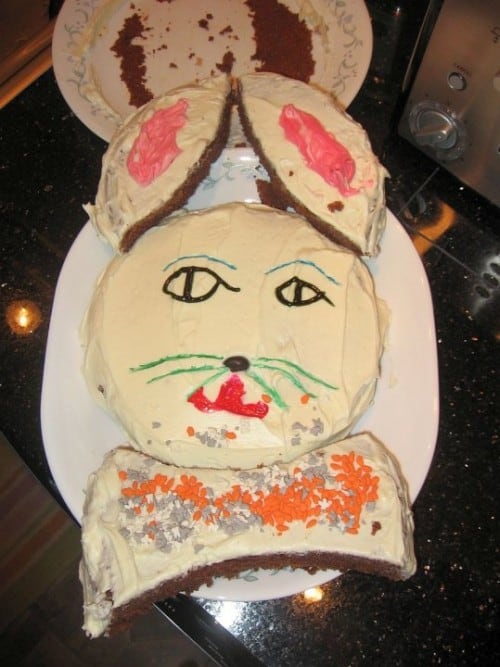 Ingredients:
*2 boxes of carrot cake mix (or any flavor you desire)
*cream cheese icing
*food coloring
*jelly beans
*string licorice
*any other baking accessories desired
*box of Peeps (if desired)
1. Bake cake mix in two 9″ round pans, according to directions on box, and let cool.
2.Leave one round cake intact and slice the second into three pieces, using two curved cuts (as on a baseball) that will leave two "ears" and one "bow tie."
3. Remove both cakes from pans, and ice. Assemble on large serving platter with the two ears atop the head, one on each side, and the bow tie across the bottom.
4. Add details and decorate–you may apply food colors to ear and/or tie frosting. Jelly beans can be used as eyes and nose, licorice strings or colored icing make good whiskers, etc. Add eyes, mouth, decorative sprinkles, shredded coconut, and/or anything else you'd like.
5. Optional: Arrange Peep friends on the plate around the bunny!
13.  Bunny Chow by Aimee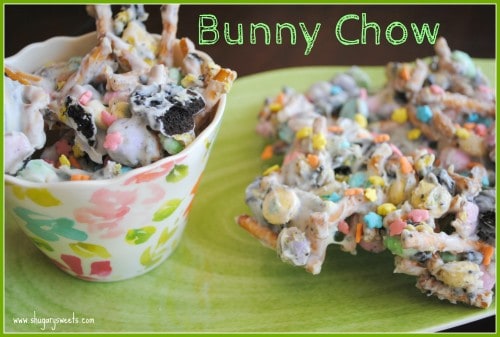 Ingredients
2 cup pretzel sticks, broken
14 Oreo cookies, slightly broken
2 cup milk chocolate M&M candies
16 oz vanilla candy coating
2 Tbsp spring sprinkles
Instructions
In large bowl, mix together pretzels, Oreos and M&M's.
Melt vanilla candy coating according to package directions. Pour melted chocolate over M&M mixture. Pour bunny chow onto a large piece of parchment paper on countertop. Sprinkle with 2 Tbsp spring sprinkles (say that 5 times fast)! Let stand about 10 minutes until hardened. Break into pieces and put in a ziploc bag for storage. Enjoy!
Ready to vote???    Visit the voting area in our side bar to the right to enter your vote (you will need to scroll up to get to voting boxes)!