I'm going to try something new here on Love From The Oven, and from time to time share what I'm going to call my Instagram Recipes.  These are recipes that I made, and shared a picture of on Instagram, that I think you might enjoy.  They do not however have all of the photos or step by step pictures like my regular recipes do, and the pics of the Instagram Recipes are taken with my phone (a Verizon Samsung Galaxy S5), not my actual camera.  Each recipe will have  a picture, maybe two, that I snapped right before we ate, no pretty styling or any of that good stuff that us food bloggers like to do.   Often I have recipes that I really love, but haven't "properly" photographed, so I don't post them.  So many times I think I need to remake a recipe and get better pictures, but there are never enough hours in the day, so that doesn't happen as often as I would like.
I figure a delicious recipe is a delicious recipe, even without all the fancy photos.  When I posted this photo I had so many requests to share, so here we are!   We will kick the Instagram Recipes off with some easy healthy pancakes that can even be made gluten free.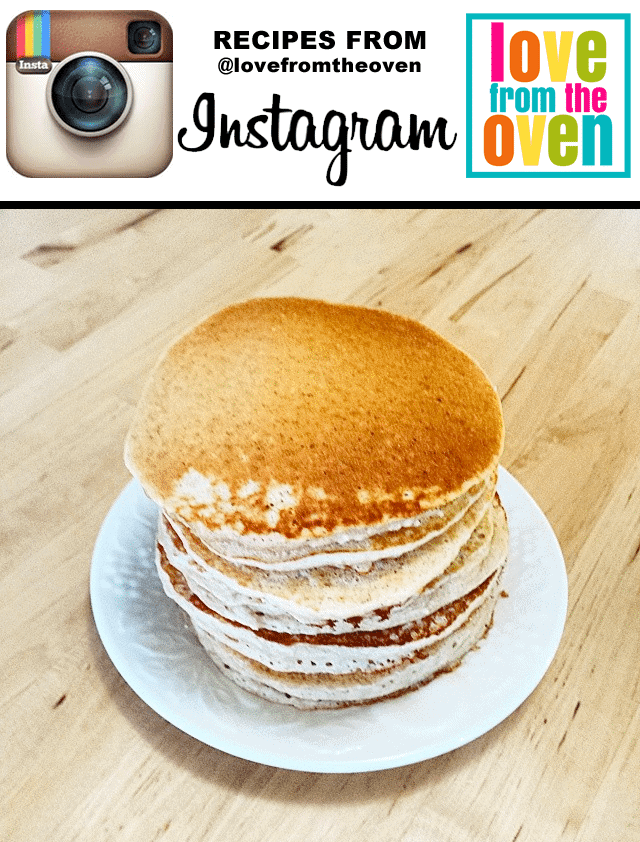 Most of what I post here is full of flour, sugar, butter, sprinkles and delicious magic. 🙂 But, the reality is I can't really eat s'mores for breakfast (not that I haven't tried or that I am above it, trust me on that one!).  A few days ago I shared a delicious easy healthy pancake recipe made with whole wheat, which my daughters have been enjoying each this week. I've been wanting to start making some more healthy pancake recipes, ones that are perfect for me to eat early in the morning before I head to the gym.  I wanted to make some pancakes that are full of healthy ingredients, yet have enough substance to keep you going for a while, so that's what I had in mind with these. I am SO pleased with how this recipe turned out.   Now let's be honest, these are made with oat flour, you are not going to get a big light fluffy pancake like traditional pancakes.  For that, try this recipe.  These are a healthier pancake option.  If you need these to be gluten free, make sure to use oats and oat flour that state that they are gluten free.
I do use protein powder in this recipe.  You can skip, or use it.  I've been trying to up my protein, especially in the morning, but unfortunately I've never been able to do eggs and meats at the crack of dawn, so I usually make some steel cut oats with protein powder (or proats as I've learned people call them).   These are a great change of pace.   I also used two packets of Stevia (the little packets like you put in your tea or coffee).  You can swap it out for sugar, or just leave it out, the oats and bananas give a nice amount of sweetness.
I use oat flour and ground oats in this recipe.  My oat flour, I buy, it's as finely ground as all purpose flour.   For my ground oats, I just run old fashioned oats through a blender or food processor, to chop them up considerably, but it is still pretty coarse compared to actual oat flour.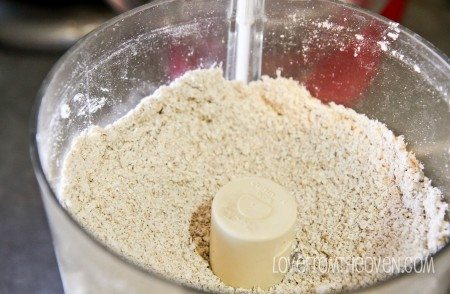 I find oat flour on it's own can sometimes be a bit too gummy for my tastes, and I think the ground oats help combat that, and give a bit of a nice hearty chewy taste, which I actually prefer.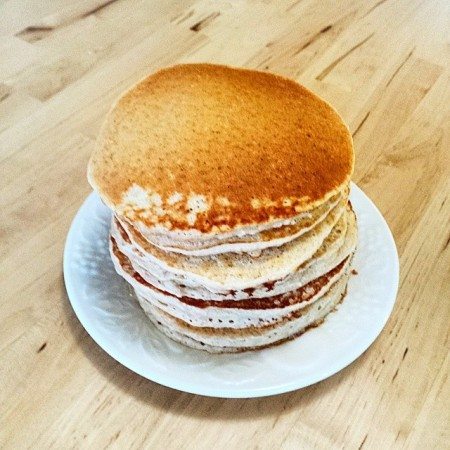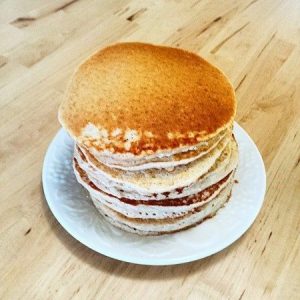 Ingredients
1 1/2

old fashioned oats

that you have run through a food processor or blender (I measure after running through food processor)

2/3

cup

oat flour

this is more fine than the oats run through the food processor, some stores carry it or you can buy it online - I get Bob's Red Mill through Amazon

3

tsp

baking powder

NOT baking soda, divided into 2 tsp and 1 tsp

1/2

tsp

salt

1

scoop vanilla protein powder

I use Jay Robb Whey Protein Powder, but any would work, or you can just leave it out

1 1/3

cup

milk

if desired you could use a soy milk, almond milk or other non dairy alternative

2

egg whites

1

tsp

vanilla

2

ripe bananas

Optional - 2 single serving packets stevia sweetener

I like Stevia In The Raw or you could use sugar, and you can even skip all together, ripe bananas and oats both give some sweetness.

Optional - these would be great with a handful of walnuts or pecans stirred into the batter
Instructions
In a blender or food processor, puree your bananas. You can smash them, but I find that pureeing them works wonderfully.

In a separate bowl combine oats that have been run through food processor, oat flour, 2 tsp baking powder, protein powder, salt and stevia if using it, or sugar. Mix well.

Combine pureed bananas, dry ingredients, milk, egg whites and vanilla in a large bowl, mixing until combined, but do not over mix.

Lightly spray a griddle or pan with non-stick cooking oil, then heat pan to medium heat. Right before starting to cook your pancakes, stir in the additional one teaspoon of baking soda, which will help puff up the pancake batter. It takes about a minute for that to happen, but it does, and it soaks up some of the liquid and makes the batter much more scoopable.

Scoop approximately 1/4 cup servings of batter onto your griddle (I use an ice cream scoop), flipping over once bubbles form on one side. Let second side cook until golden brown. Repeat until all batter is used and enjoy!
Nutrition
I hope you enjoy this recipe.  I wrapped my pancakes in wax paper, and popped them in the fridge to store.  It was great to wake up each day, pop them in the microwave and top them with peanut butter for a quick and delicious breakfast.   I'm not a syrup person, and the slight banana taste in these pairs wonderfully with peanut butter.  YUM!  I'll be sharing more of my "Instagram Recipes" with you soon.  While they may not have all the pretty pictures that other recipes do, they are still recipes that I love!   And speaking of prettier pancake photos, here are some other pancake recipes that you might enjoy!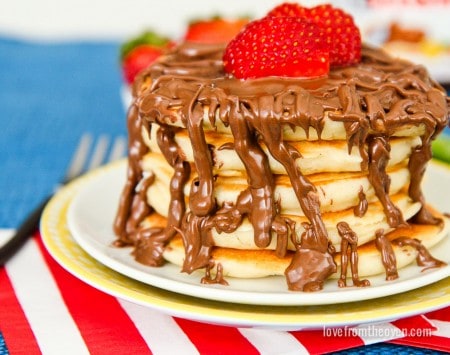 Easy Whole Wheat Pancakes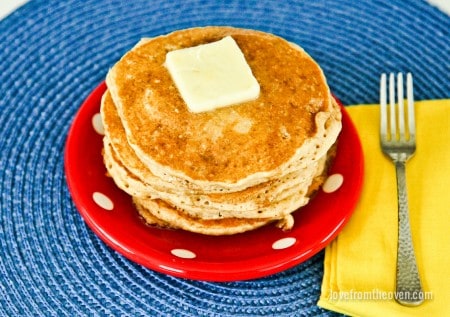 Chocolate Chocolate Chip Pancakes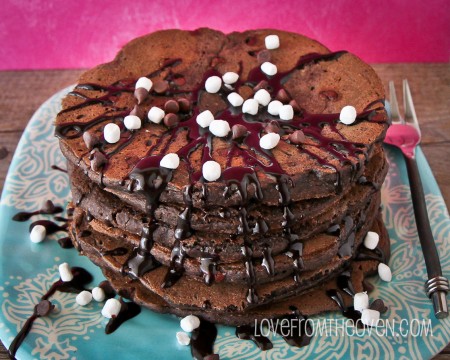 Chocolate Chip Cookie Pancakes