Oh, I have something fun for you today! My favorite thing to talk about aside from sweets, treats, sprinkles and eats? Bags. I. Love. Bags. A lot. I am super excited today to review Epiphanie Camera Bags and GIVE ONE AWAY! To you!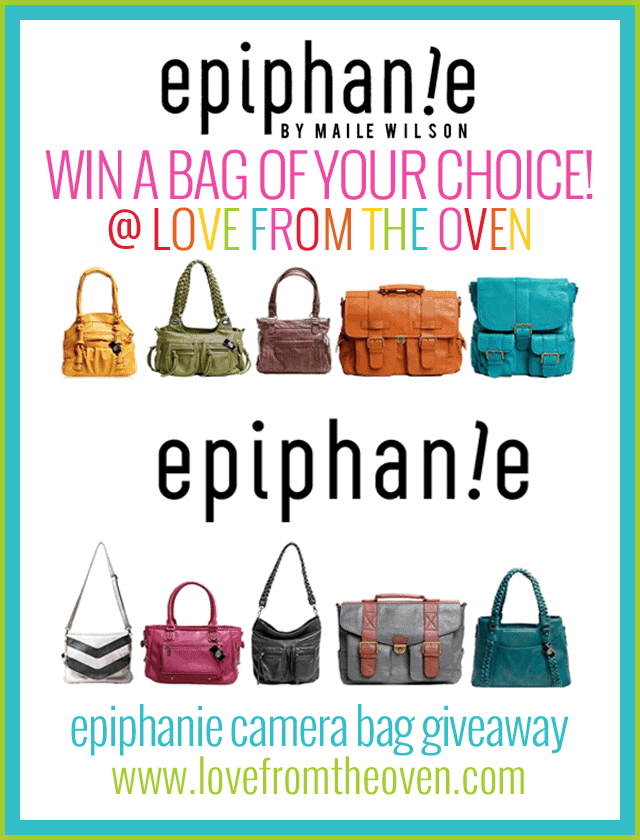 I am a BIG fan of, well, BIG bags. There is just something about a pretty purse that makes me smile. With a big (and somewhat painful) birthday coming up next month, I was thinking of what gift I might like (my husband supports the "order it, ship it and let me put my name on it" gift buying program). The first thing that came to mind was an Epiphanie Camera Bag. I've been longing for one for years. I carry a lot of stuff every day, from cameras to laptops to iPads – you name it. And a beautiful bag to carry it all in, well, as I said, it makes me happy.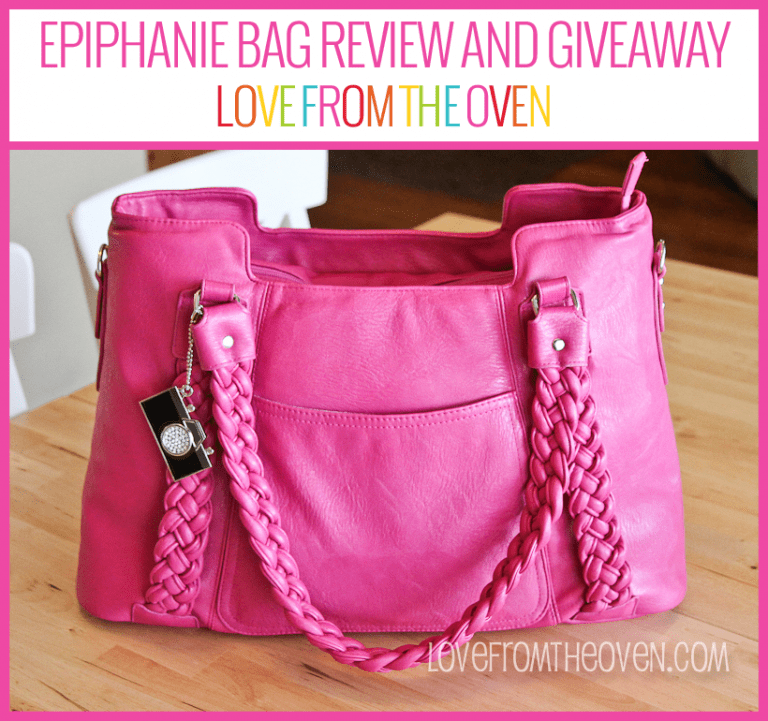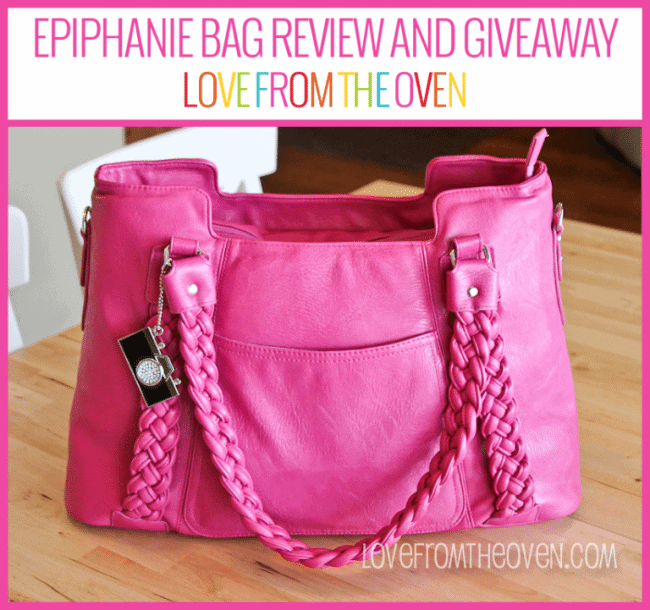 But I thought the only thing better than a new Epiphanie Camera Bag would be if I could also give a bag to one of my fabulous readers. Luck have it, the fine folks at Epiphanie were totally on board with this plan and offered to send me one to review and one to give away to you! WOOHOO!!! So let's do this!
First, a little about Epiphanie. Epiphanie was started by professional photographer Maile Wilson, at a time when there were no cute camera bags for women. She hated carrying a separate bag for her camera so she'd often either leave it at home or shove it in her purse, never the best idea from a protecting your camera standpoint. Maile decided to create her own line of camera bags that was both stylish and protective. And I'm oh so happy she did.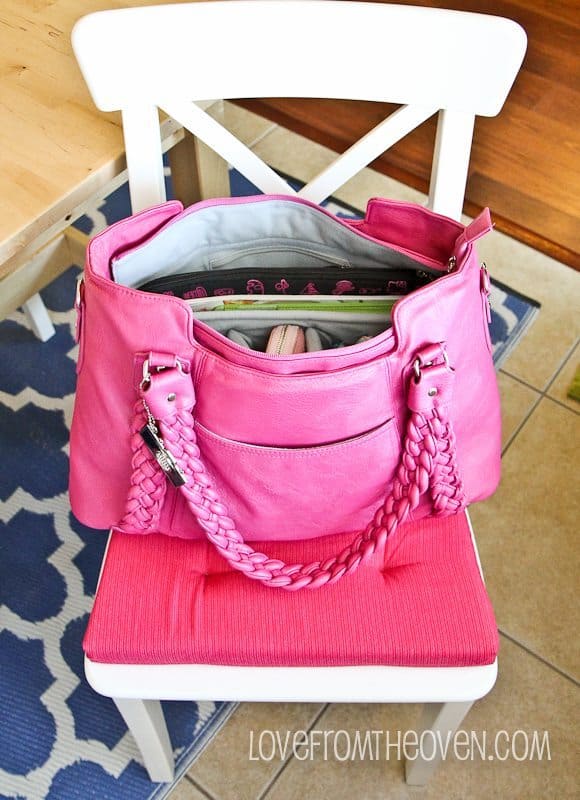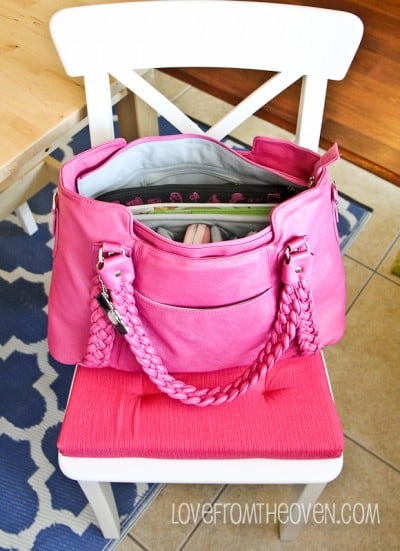 Epiphane sent me their Clover bag in Fuchsia. This bag brings together my two favorite things in any bag – it's big and it's pink. A perfect bright and cheery pink – not too purple, not too red, just a lovely bright pink.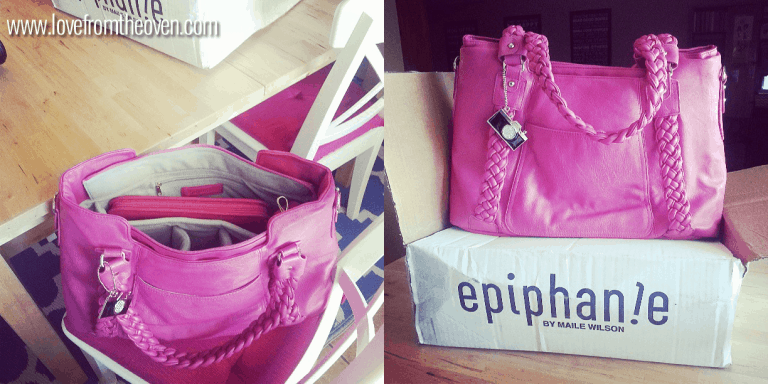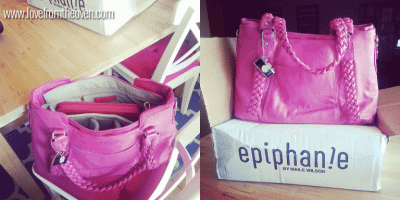 I was in such a hurry to get this back out of the box and onto my shoulder, that I didn't even grab a photo of the wonderful dust cover that comes with it, as long as the removable shoulder strap. I don't consider myself a bag snob, but my holy grail of bags is the Marc Jacobs Stella bag. I have a collection of them, and for materials, craftsmanship and style, they set the bar high. That's great, but it leaves me a bit disappointed with most other bags, which probably isn't fair given how much the Stella costs. But here's the good news, when I opened up my Epiphanie box, I was not disappointed, I was thrilled. 🙂 The "high quality synthetic leather", actually is, high quality. Gorgeous and buttery and soft and wonderful. Love, love, love.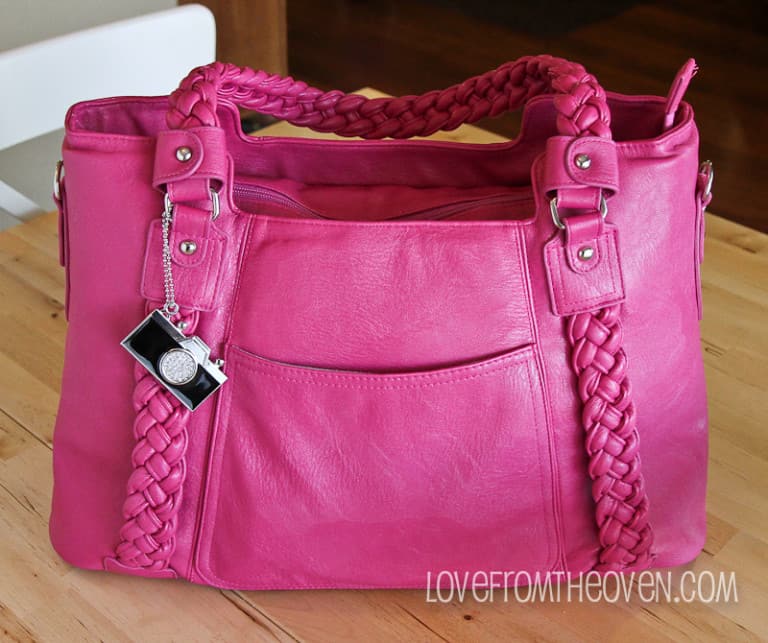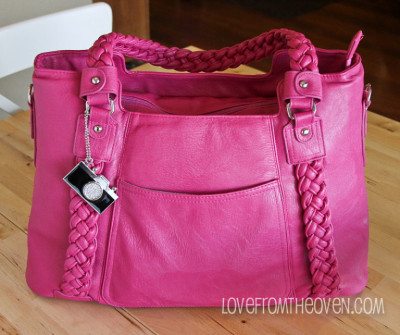 This is a BIG bag, and that is coming from someone who never, ever carries a small bag. This is a perfect bag for traveling, and for people like me, who carry a lot of stuff. Let's take a look and see what exactly I am able to carry in this bag…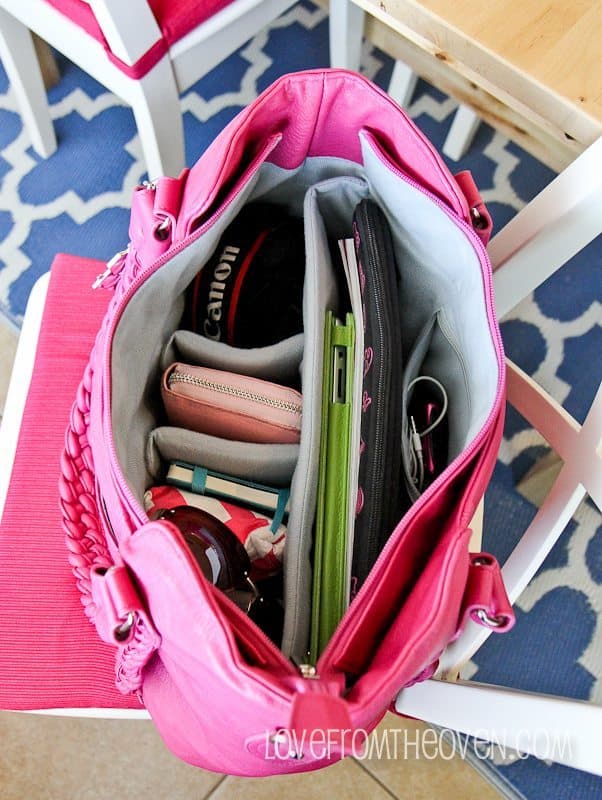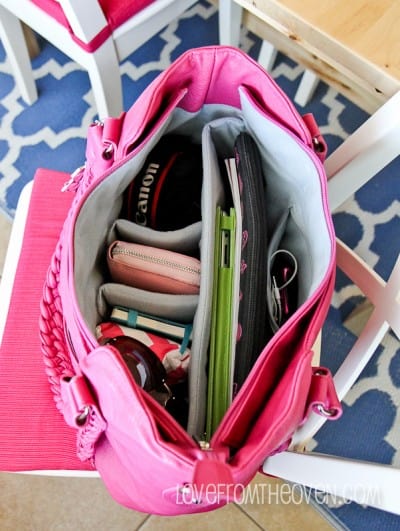 Doesn't really look like that much from the top, but let me empty it out…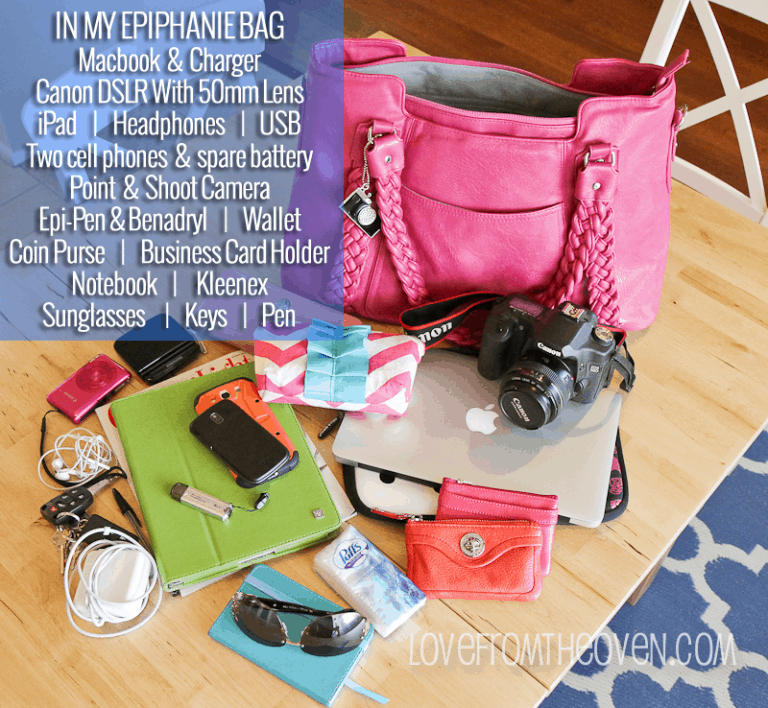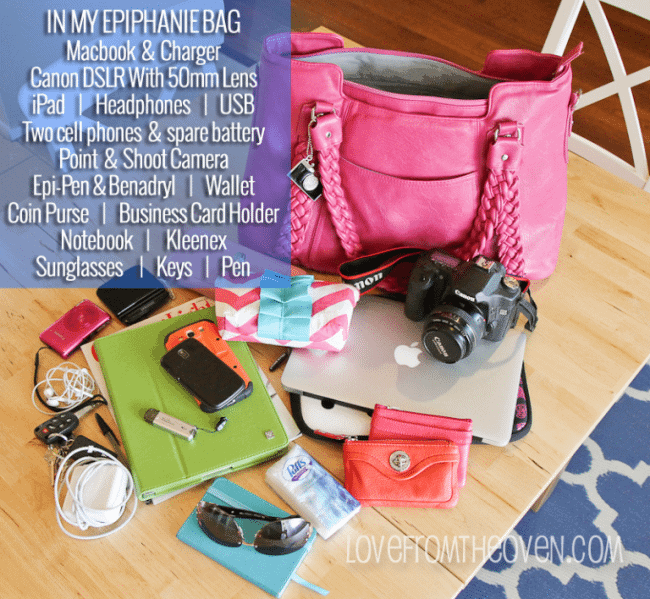 Whoa. That is a lot. Let's break this down…
Macbook & Charger
Canon DSLR With 50mm Lens
(a larger lens would fit fine, but I was using it!)
Two Cell Phones & A Spare Cell Battery
Epi-Pen Kit With Benadryl
Point & Shoot Camera
Business Card Holder
Headphones
Coin Purse
Sunglasses
Notebook
Kleenex
Wallet
Keys
iPad
USB
Pen
and a partridge in a pear tree.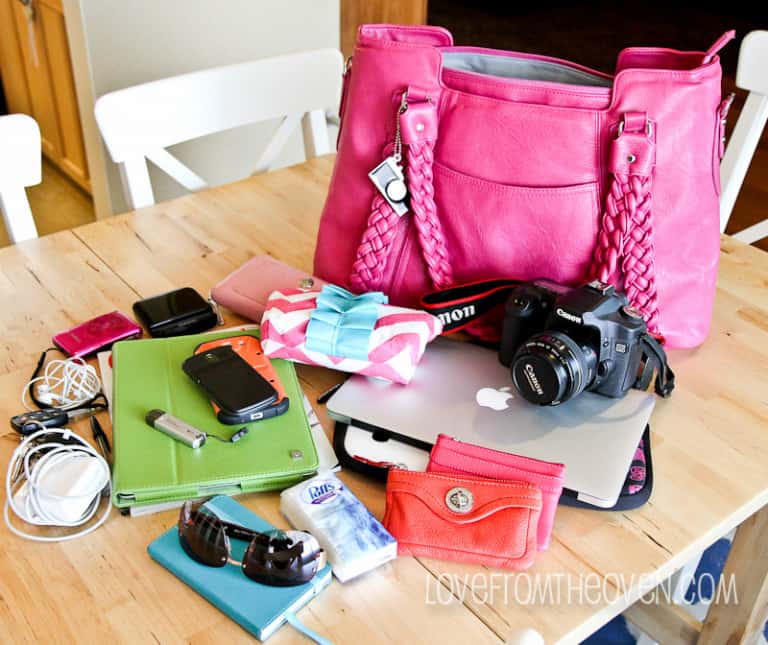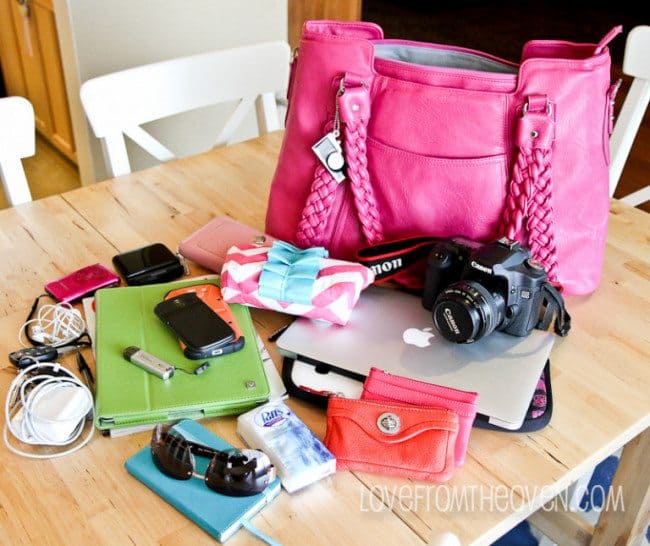 That is a LOT of stuff. While I don't always need to carry a laptop with me (and by the way, I have an 11″ Macbook, but it would hold the 13″ just fine), I do usually carry an iPad. I have a little one with a neurological disorder that impacts speech, so she uses special apps on the iPad to communicate with us. It's not easy to just toss a full size iPad into most bags, so being able to get a bag I love that is large enough to accommodate the iPad, or other aug comm device for my daughter, is awesome.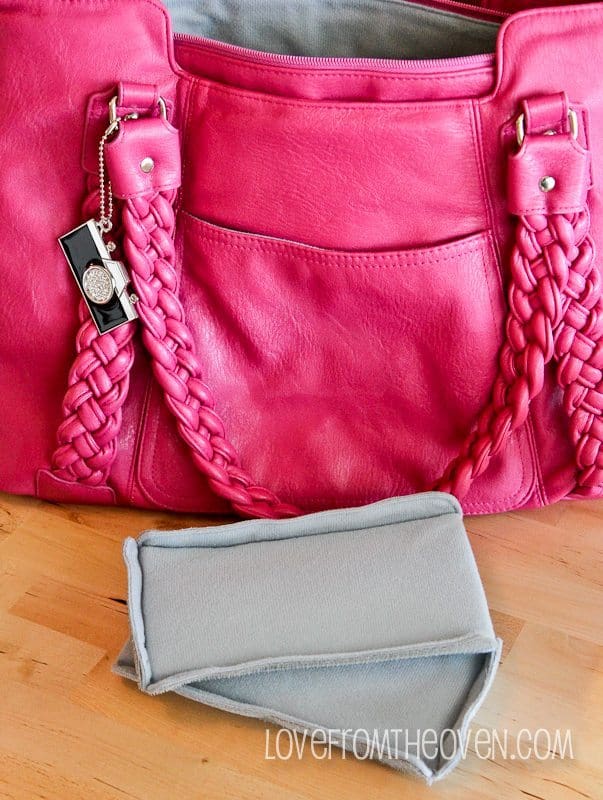 How darling is the little camera tag? Love it, so fun! The interior dividers can be taken out or moved around whichever way works best for you. To give you a bit of perspective on size, my daughter, who's just a few good nights sleep from being five feet tall, is holding it here. Don't go getting too comfy with mama's brand new bag kid!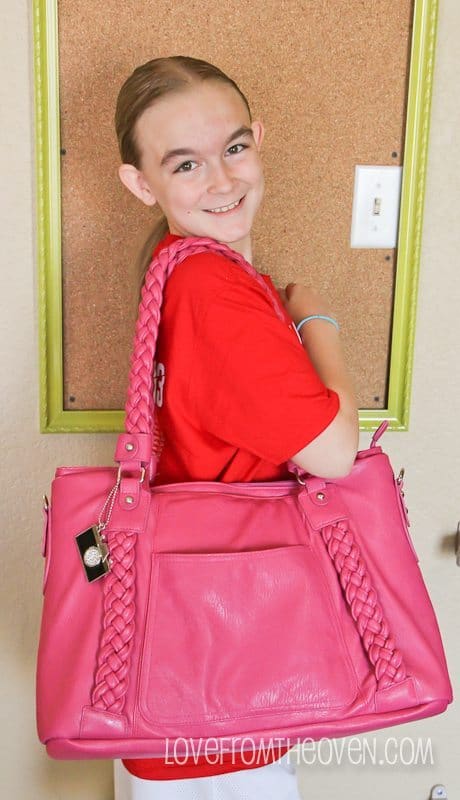 This is just one of the awesome Epiphanie bags. Check out some of the other styles, I'll start with the Lyric in Mustard. Because I have a crush on her.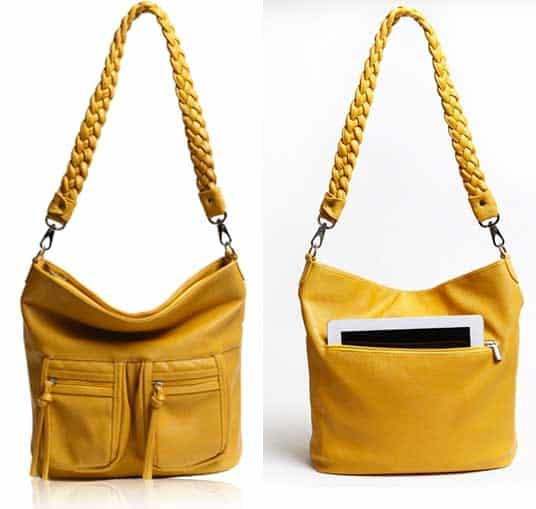 Or the yummy Stella in Olive…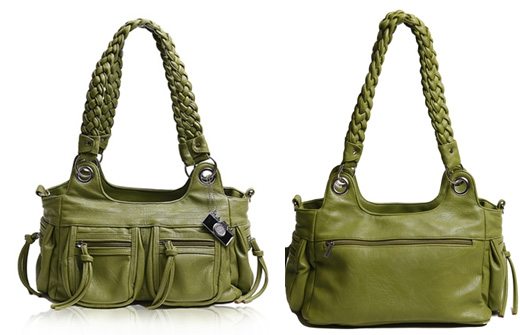 Or lovely Lola in Teal.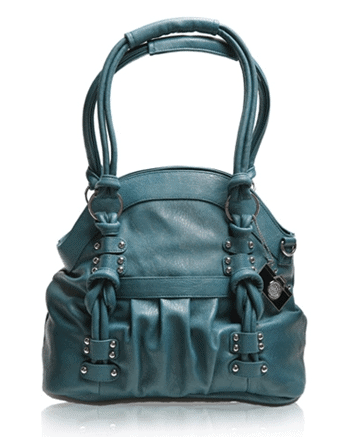 Oh my word, I'll take one of each please! Would YOU like to have one of these gorgeous Epiphanie Camera Bags, one of your choice? Um, of course you would!!!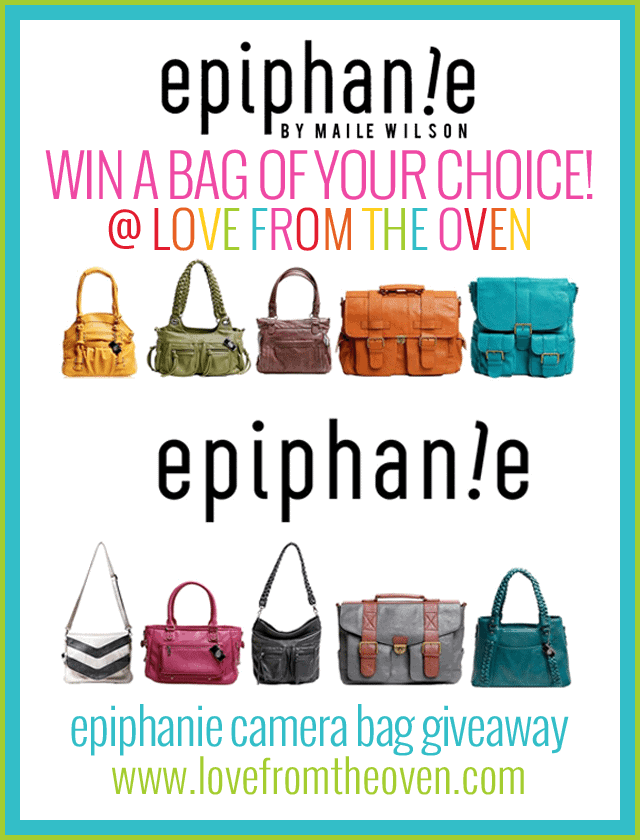 Well lucky you, you can enter to win one! To enter, use the Rafflecopter Widget below. Open to US Residents of legal age only. This giveaway is a sweepstakes. No purchase necessary and a purchase will not increase your chances of winning. Void where prohibited. Odds of winning depend on number of entries received. Winner will be selected at random. Entry period runs from May 30th, 2013 through 12AM PST June 15th. And don't miss out on my favorite entry option through the Rafflecopter widget, (worth FIVE entries!) – take a photo of what you'd put in your Epiphanie Bag and share it on Instagram. Don't forget to tag it with @lovefromtheoven and hashtag #putinmybag (you can see my example here!)
Okay, here's the widget to enter (sometimes it's slow to load). GOOD LUCK!
a Rafflecopter giveaway
Disclosure: Epiphanie Bags provided me with a bag at no charge. My opinions however are mine and mine alone. Epiphanie Bags will be providing the bag for the contest winner as well.