Since I don't want to completely turn this blog into Halloween Central, well, at least not yet, I figured I would focus more on fall in general today. There is no time of the year that I enjoy baking more than I do in the fall. Apples, pumpkin, cinnamon, ginger, sweet potatoes, caramel, pies, breads… The cooler weather (feels like a pipe dream at this point), crisp breezes, spending time outdoors, stores carrying actual canned pumpkin and not just the damn pumpkin pie mix that is useless for my purposes – I love everything about fall. So let's see what kind of fall treats we can find from bakers and bloggers…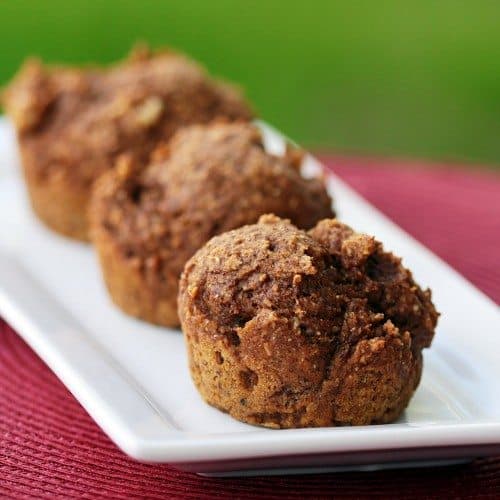 My personal contribution is my pumpkin muffins. I've shared them a few times as I really do love these. The recipe has evolved over about two years into a lovely balance of healthy, lowfat and delicious. And they freeze really well. They also work GREAT as muffin tops.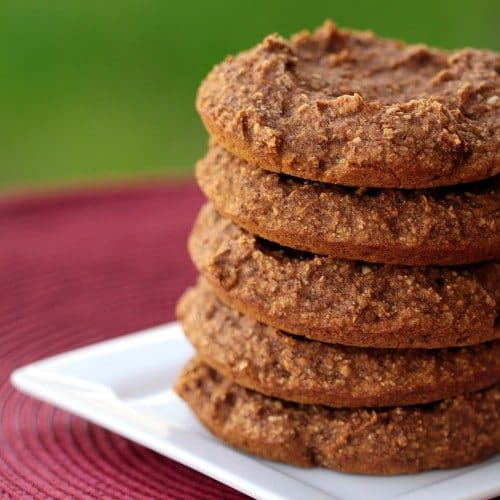 And here is what other bakers and bloggers are baking up for fall…
The Pioneer Woman's Cinnamon Rolls (also known as what most of my friends and family will be waiting for when Christmas comes – if you haven't made them you m-u-s-t).
Caramel Apple Pie From Domestic Fits
Homemade Apple Pie Pop Tarts From Raspberri Cupcakes
Pumpkin Bread French Toast From Pennies On A Platter
Gingerbread Bundts With Cinnamon Glaze From These Peas Are Hollow
Mini Apple Pies With Pine Nuts From My Diverse Kitchen
Pumpkin Cinnamon Rolls From Angie McGowan At The Family Kitchen By Babble
Chocolate Chip Banana Bread From Tidy Mom
Sweet Potato Whoopie Pies With Maple Marshmallow Creme From Sprinkle Bakes
Pumpkin Pie Ice Cream With A Gingerbread Crumb Crust From Cherry Tea Cakes
White Chocolate Chip Gingerbread Blondies From Technicolor Kitchen
Sweet Potato Bread With Pecan Streusel From Kirbie's Cravings
No Bake Apple Pie Cheesecake From The Cupcake Bandits
Apple Pecan Coffee Cake With Cinnamon Sugar Topping From Technicolor Kitchen
Cinnamon Caramel Blondies From The Baker Chick
Cinnamon Roll Scones From All Day I Dream About Food
Pumpkin White Chocolate Chunk And Candied Ginger Blondies From Picky Palate
Apple Pie Cupcakes With Cinnamon Buttercream From Simply Delicious
Apple Pie Streusel Muffins From Sprinkled With Flour
Cinnarookies From Bakingdom
Cinnamon Donuts From Eat Little Bird
Cinnamon Roll Cake With Maple Cream Cheese Frosting From Cooking For Seven
Cinnamon Nutmeg Waffles From Kevin & Amanda
Cinnamon Sugar Pull-Apart Bread From Zoom Yummy
Date Cupcakes With Maple Cinnamon Buttercream From Your Cup Of Cake
Cinnamon Nut Pancakes From Budget Bytes
Sweet Potato Pie Cookies With A Cinnamon Maple Marshmallow Filling From Chocolate Therapy
Overnight Slow Cooker Oatmeal From Pass The Sushi
Blueberry Apple Mini Pies From Barbara Bakes
Gingerbread Apple Pie Trifle From Cute Kitty Punk
Mini Lattice Top Apple Pies From Crepes Of Wrath
Apple Butter Pumpkin Pie With Streusel Topping From Tidy Mom
Simple Cinna-Bun Butter Cakes In A Jar From Picky Palate
Apple Pie In Cookie Form From The Naptime Chef At Babble's The Family Kitchen
Apple Pie Caramel Apples From Blondie's Cakes & Things
Apple Pie Bars From Joylicious
Apple Cobbler Cupcakes With Pumpkin Pie Frosting From Cupcake Project
Toffee Cinnamon Roll Waffles From The Knead For Speed
Sweet Potato Bars With Chocolate From White On Rice Couple
Caramelized Apple Cinnamon Fudge From Lay The Table
Sweet Potato Bundt Cake With Vanilla And Cinnamon Glaze From Citrus And Candy
Sweet Potato Pancake Balls From Savoring The Thyme
Pocket Apple Pies From The Crafty Penguin
Pumpkin Pie, Caramel & Peanut Butter Dips From The Yummy Life
Whole Wheat Sweet Potato Coconut Muffin Recipe By Lindsay Hunt  From Marcus Samuelsson
Cream Cheese And Butterscotch Pumpkin Pies With Gingersnap Streusel Topping From Picky Palate
Apple Pie Cupcakes From Technicolor Kitchen
Gluten Free Maple Sweet Potato Cheesecake With Gingerbread Bottom And Sour Cream Marshmallow Topping From Eat The Love
Traditional Dutch Apple Pie From Almost Bourdain
Caramel Apple Cupcakes From Pip & Ebby
Soft Sweet Potato With Pecans Cookies From Fuss Free Cooking
Cinnamon Bubble Buns From Sprinkled With Flour
Oatmeal Sweet Potato Banana Everything Bread From Flour Child
Apple Pie Pancakes From Desserts For Breakfast
Cinnamon Roll Griddle Cakes From Inn Cuisine
Chewy Apple-Pat Bars With White Chocolate Cream Cheese Frosting From Piece Of Cake Blog
Pumpkin Oatmeal Cookies From My Baking Addiction
Apple Pie Bars For Fall From Recipe Girl
 Apple Cinnamon Roll Cupcakes From Pass The Sushi
Oatmeal Nutmeg Scones From The Food Librarian
Pumpkin Fudge From Sweet Peas Kitchen
Vanilla Glazed Apple Cookies From Sweet Pea's Kitchen
Chocolate Chip Cookie Dough Stuffed Cinnamon Rolls From How Sweet It Is
Apple Cinnamon Walnut Oatmeal Raisin Cookies From Life's Too Short To Skip Dessert