Do you feel like you aren't seeing your favorite blogs and bloggers on Facebook anymore? Wondering where they've been and why they haven't been posting? Well unfortunately they have been posting, but you are right, you are not seeing them. Facebook has been changing the way readers are shown pages that they "like", and to put it bluntly, they probably aren't showing you much of the content that you have chosen to see from your favorite blogs and pages.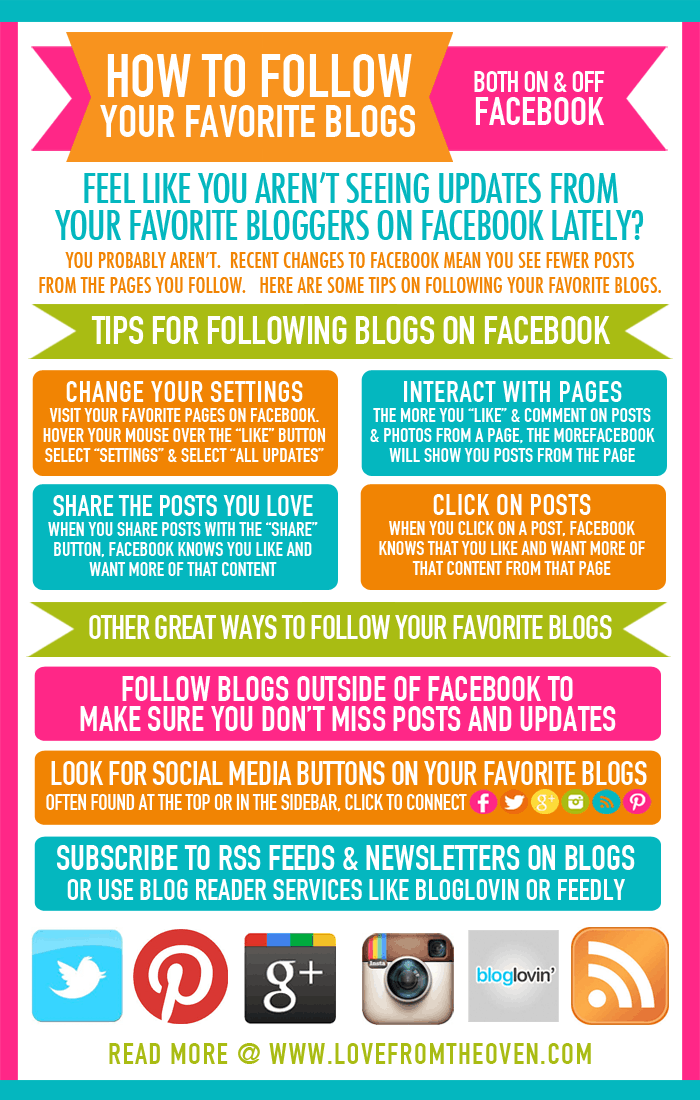 Recent articles have confirmed that Facebook is moving to a model of "pay to play" where they want pages to pay if they are to be shown to their followers. Word is soon that about 1-2% of a page's readers will actually be shown their posts. So it's highly likely that you will soon see even less of your favorite blogs posting on Facebook, until you aren't seeing any at all. Here's a recent example from my page. I'm currently giving away a $500 Amazon Gift Card (go enter, that's one great giveaway!). Facebook showed my post to 862 people, out of the 160,000+ people who "like" my Facebook page. That's less than 1% of my followers.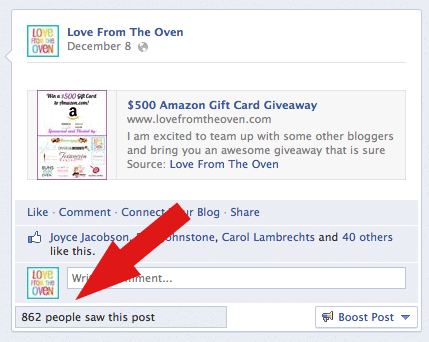 Unfortunately Facebook's changes are kind of a 1-2 punch for readers. Not only are you seeing less of what you want to see, you are probably noticing more and more sponsored content and paid posts in your feed.  Ads are no longer kept to the sidebar of your page, ads are sandwiched between the status updates from your best friend and brother. I don't know about you, but I personally don't want to see poorly targeted paid for posts when I'm trying to keep up with my friends and family. Heck, Facebook is now letting personal users, like you, pay to promote your post. So that post above I talked about, if I "boost" my post, Facebook will happily show that post to you, and possibly over 2.5 MILLION other people who do not follow me, for the bargain price of $1500.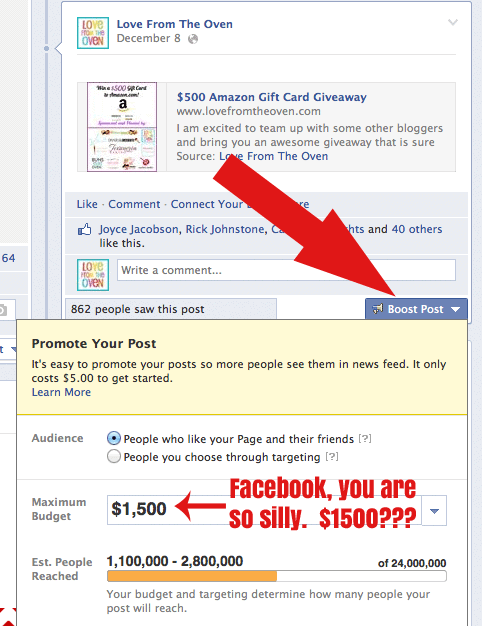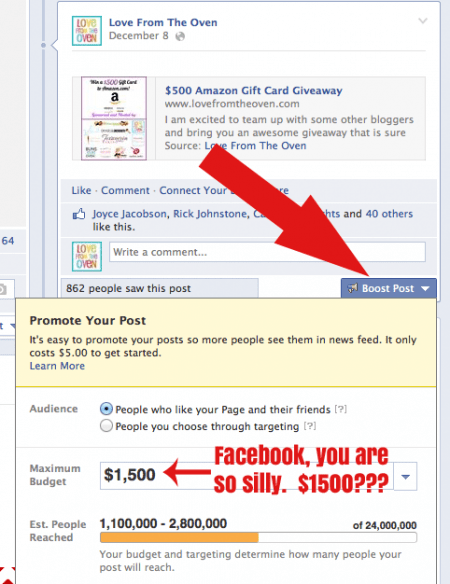 Um, no Facebook, mama don't play that game. It's pretty clear bloggers aren't going to be paying those prices, but big brands probably will. Which means that you will most likely see less of what you requested, by liking pages, and more of stuff you have no desire to see.
How To Follow Your Favorite Blogs
So, what do you do about this? The best advice I can give is to make sure you are following your favorite blogs in ways other than Facebook. Most blogs have social media buttons on the top or side of their blog. Look for those and you can start following blogs in other ways.

Google+ -Many other bloggers that I know are increasing the time they spend on Google+. I don't love Google+, but I am making sure to share my new posts there. Follow Love From The Oven on Google+.
Pinterest – Most bloggers pin their new posts on Pinterest. If you don't want to follow all of their boards, look for one with their blog name. Most bloggers have a board that is dedicated just to their posts, so if that's all you are interested, that's all you need to follow. Follow Love From The Oven on Pinterest.
Instagram – Some bloggers are now sharing their blog posts on Instagram. While I share a lot on Instagram, I'm not very consistent on sharing posts there, but some bloggers do. Follow Love From The Oven on Instagram.
Twitter – Twitter is still around, and some bloggers are very active there. I'm so-so, but I've never been much of a Twitter user. Follow Love From The Oven on Twitter.
RSS Feeds – most blogs have an RSS feed that you can subscribe to which will result in all new posts being sent to your email box. This is not the same as a newsletter, it's just an automatic sending of the post itself. Follow the Love From The Oven RSS Feed.
Blog Reader Sites like Bloglovin or Feedly (and many others). I like to use Bloglovin to follow blogs, and I can scroll through my Bloglovin feed and read all my favorite blogs at once. If you can't find your favorite blog on services like these, you can usually add them yourself. Follow Love From The Oven on Bloglovin or Follow Love From The Oven on Feedly.
Following Your Favorite Blogs Off Of Facebook
By no means am I giving up on Facebook. I still love it and I love interacting with users on it. But there are a few ways that you can try to improve your chances of seeing your favorite blog on Facebook. Here's a quick video to show you how to chance your settings to increase the likelihood that you will see updates from your favorite pages.    If you go to your favorite pages (not from your general feed) you can hover over the "Like" button to bring up settings and change the settings for your favorite page. Also, Facebook will show you more posts from pages that you interact with, so "LIKE" posts, comment on posts, share posts and click on posts (that's a biggie). The more you interact with the page, the more Facebook actually believes you want to see that page. EDITED TO ADD: Unfortunately it appears that this option of selecting how often you want to see posts is already gone for many Facebook users. While I can still use it in my Facebook account, the option is no longer there in my husband's account, so you may or may not be able to change this setting.
I want to take a moment to
THANK YOU
so much for following Love From The Oven and other bloggers. We work hard to create recipes, projects and content that we hope you will love and find useful. Please know that we very much appreciate you taking the time out of your busy day to follow our blogs and social media.
We truly love sharing our passion for baking, DIY, decorating, parenting – you name it – with YOU!