Hi! This is Christi from Love From The Oven. Katrina was so kind to invite me to come share some holiday cookies with you. I decided to go with a cookie recipe that combines some of my very favorite flavors… dark chocolate, more chocolate and peppermint. Yum!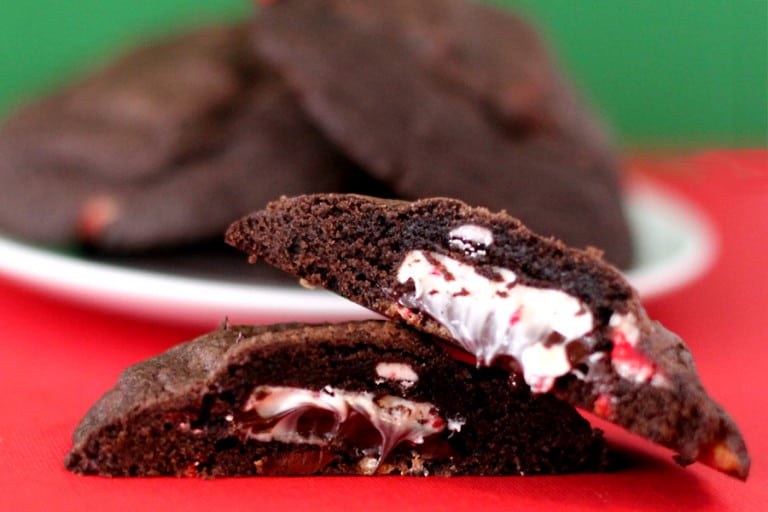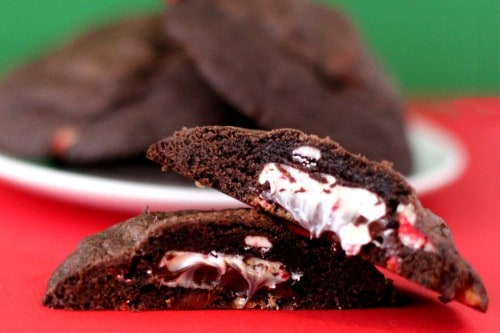 Here's what you will need…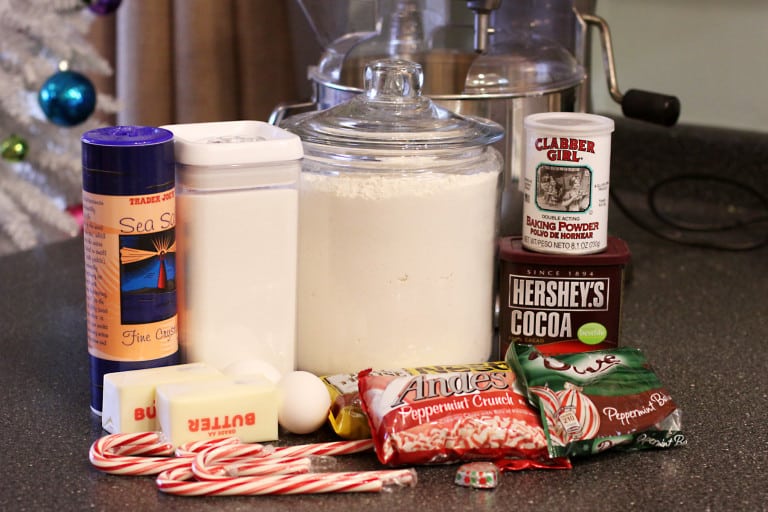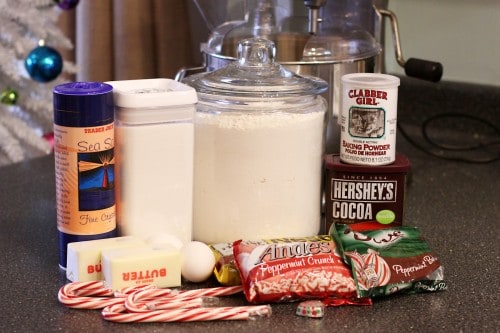 Peppermint Bark Stuffed Double Chocolate Candy Cane Cookies
Ingredients:
1 cup (2 sticks) cold, unsalted butter, cubed
1¼ cup sugar
2 large eggs
½ cup dark cocoa powder (regular cocoa powder is fine as well).
2¼ cups all-purpose flour
¼ tsp. coarse salt
1 tsp. baking powder
1 cup chocolate chips
1 cup Andes Peppermint Crunch Baking Chips (or chopped up peppermint bark)
1 1/2 TBSP Crushed Candy Cane Sugar (recipe at bottom, but you can skip this part and your cookies will still be delish!)
This recipe works great with just the above ingredients, but If you want to "stuff" your cookies then you will also need some peppermint bark. You can make this yourself or you could use Dove Promises Peppermint Bark or Candy Cane Kisses or any other peppermint chocolate candy you may have on hand. I put my Dove Promises into the freezer before adding them to my cookies, taking them out when I'm ready to stuff the cookies. The freezing helps to keep them from completely melting when baking.
Directions:
Preheat the oven to 350˚ F. In the bowl of an electric mixer, combine the butter and sugar.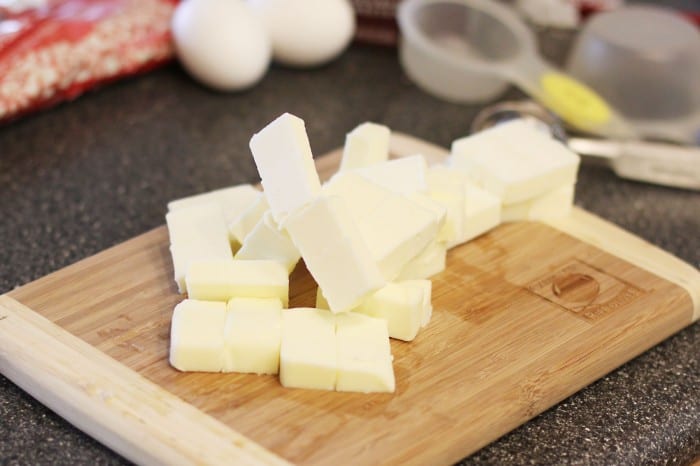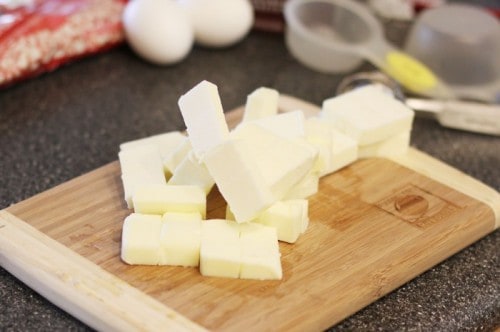 Beat together on medium-high speed until light and fluffy, 2-3 minutes. Blend in the eggs one at a time, scraping down the bowl as needed. Mix in the cocoa powder until well blended. I LOVE the Hershey's Dark Cocoa Powder, but it can be hard to find. Regular cocoa powder works just fine in this recipe.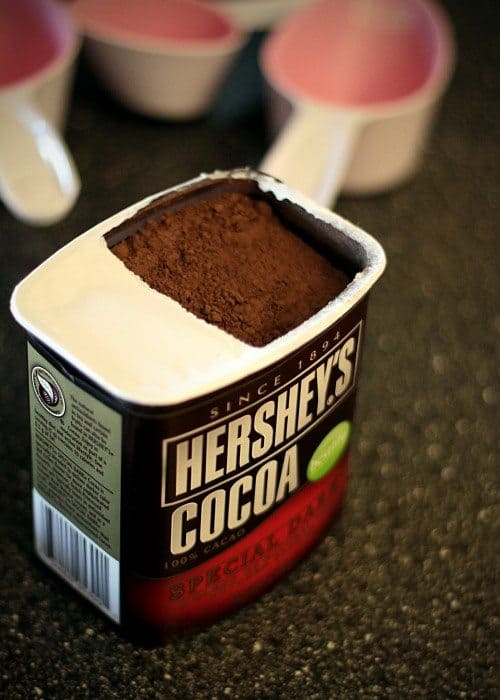 Add the flour, crushed candy canes, salt and baking powder to the bowl and mix on low speed just until incorporated.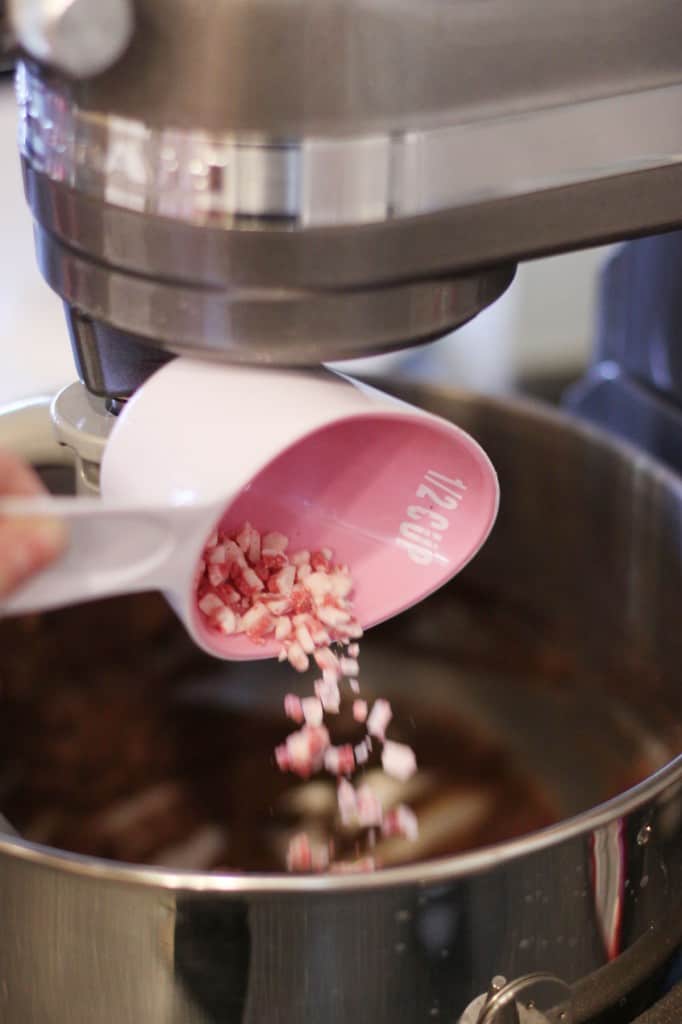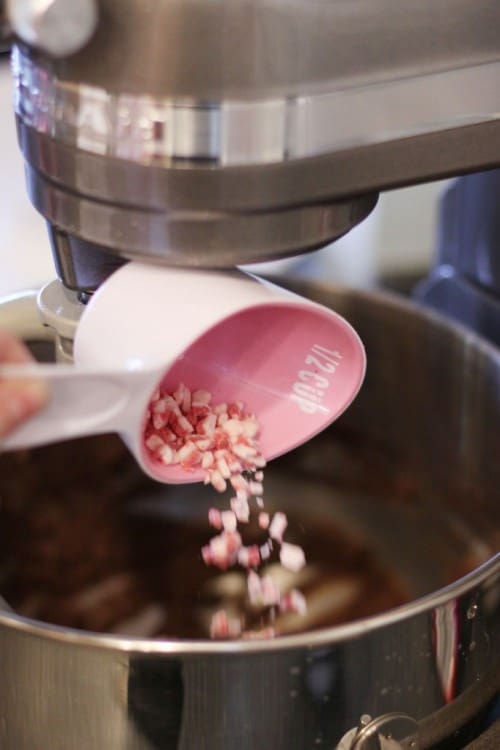 Fold in the chocolate chips and peppermint chips with a spatula. The dough is very thick. So thick that at the end you may have to knead it almost as you would bread to incorporate everything.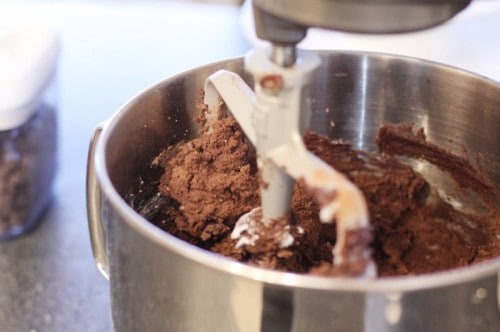 Now it's time to make your "stuffed" cookies. I scooped out two balls of dough with my cookie scoop and then put together my minty chocolatey cookie sandwich if you will.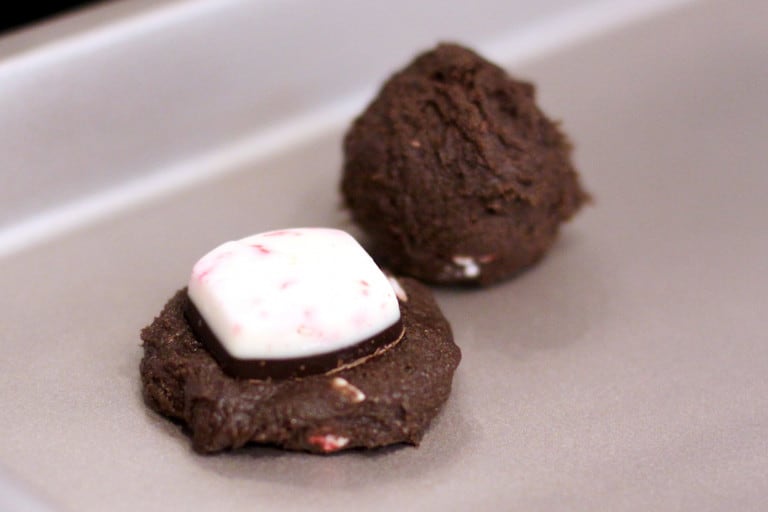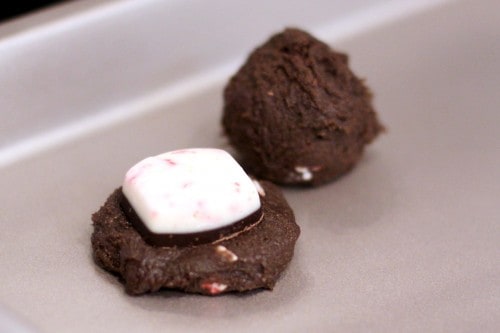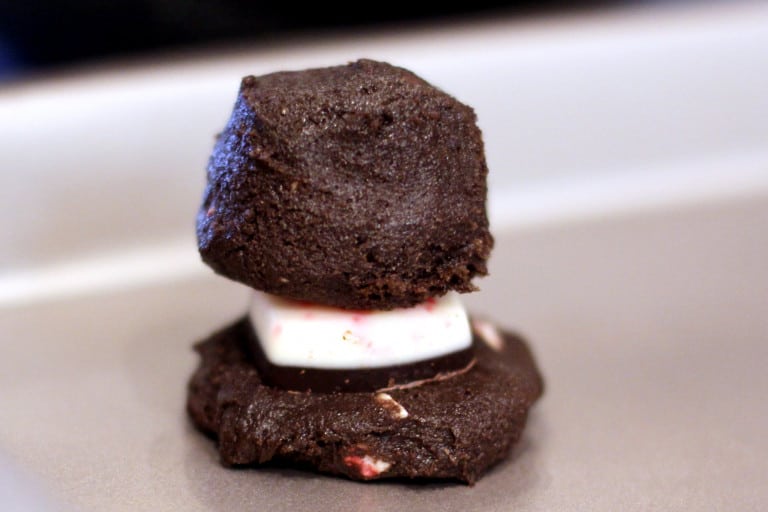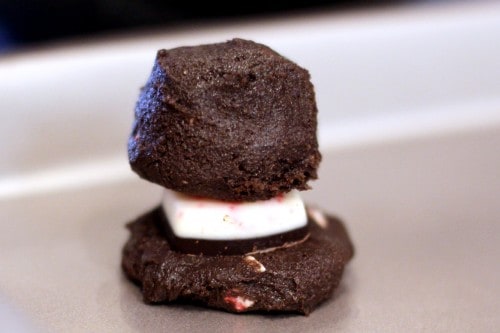 Completely cover your peppermint bark by working the top and bottom pieces of dough together.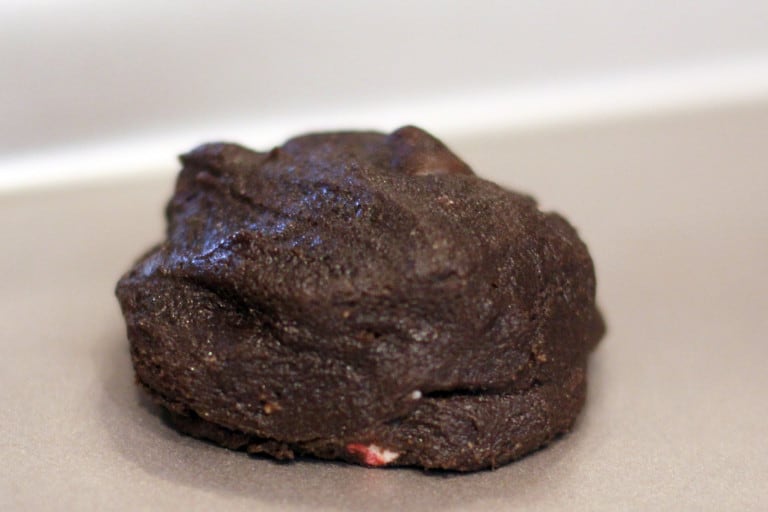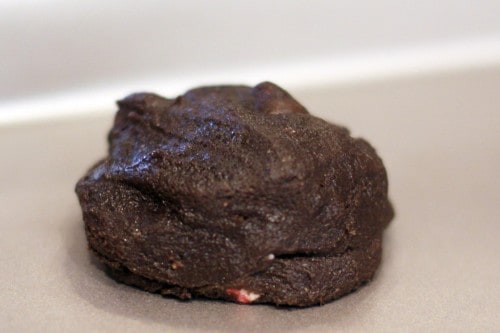 If you stuff all of your cookies, you will probably get about 12 stuffed cookies. Bake for approx 12-16 minutes for stuffed cookies, and 8-12 for regular cookies. These cookies are delicious when slightly underdone and still warm,  but if you are packing them up for holiday cookie trays you might want to go with the slightly longer baking time to make them easier to handle. Let cool on baking sheet for approx 5-10 minutes then transfer to a wire rack to cool completely.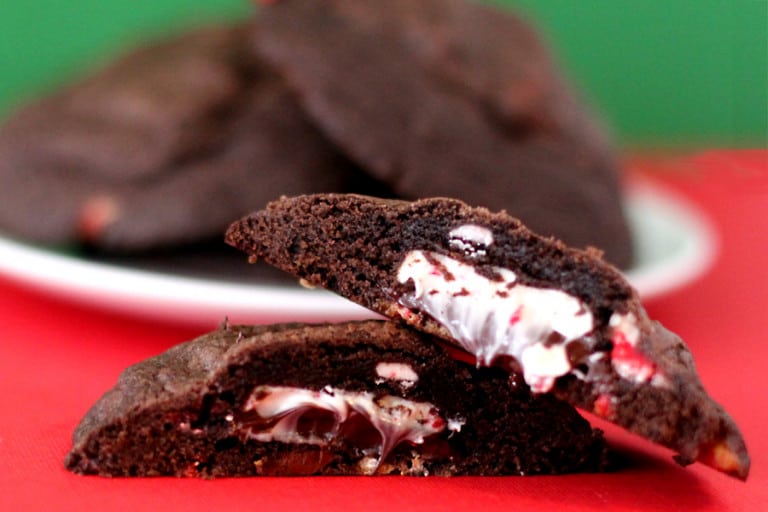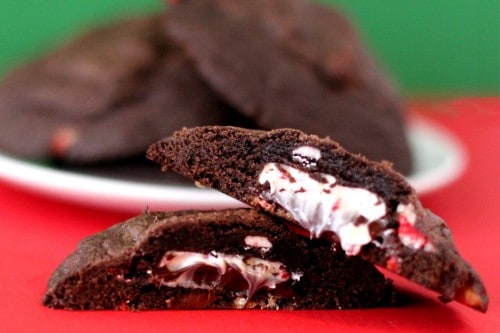 Deliciousness!
Crushed Candy Cane Sugar
I don't know that there is any specific way to crush candy canes, but I will share how I do it. I put a few candy canes into a large freezer bag, then get out the rolling pin and give it quite a few good smacks…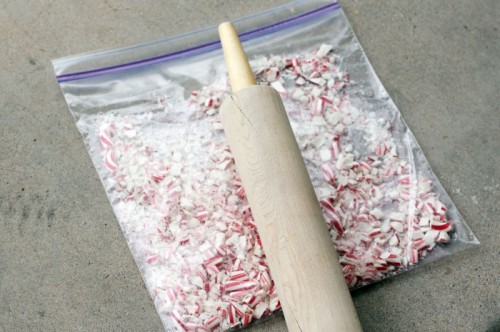 After I am done, I like to sift my crushed candy canes, letting me separate out the "chunks" and the "sugar"…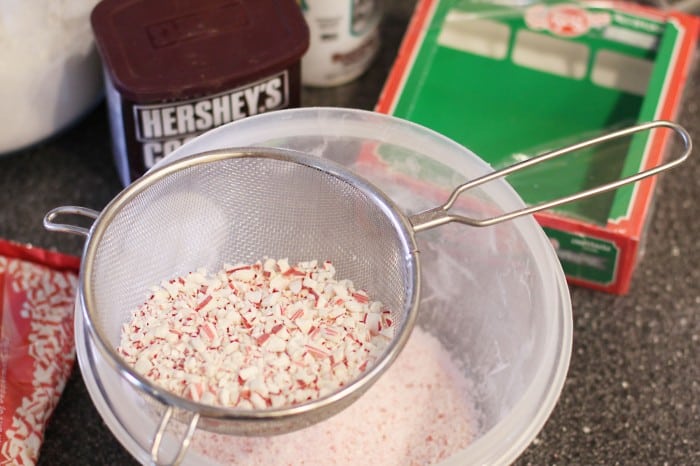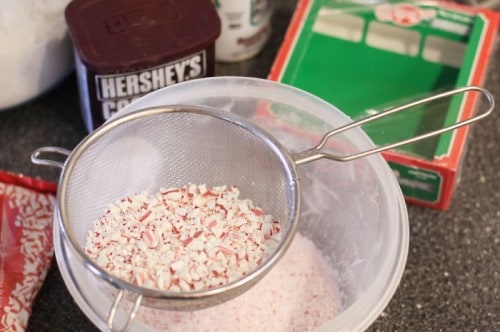 You really can add either to your recipes, but I prefer the sugar as I'm not a fan of getting an unexpected hard piece of candy cane.
I hope you enjoy these yummy cookies! If you love the combo of chocolate and peppermint, you might want to check out my Candy Cane Cookie Crunch Brownies as well! Thank you so much to Katrina for having me and I hope you all have a very sweet holiday!