I am so excited to have a guest post today from one of my favorite bloggers, Hayley from The Domestic Rebel. She makes delicious treats and has fabulous recipes that I know Love From The Oven readers will really enjoy, things like Reese's Stuffed Chocolate Chip Pudding Cookies, Twix Brownies, Triple White Chocolate Cookies and Blondie Covered Brownies. Yeah, those sound right up my alley! Today she is going to share a recipe that is perfect for this time of year, simple to make and incredibly cute. So let's turn it over to Hayley…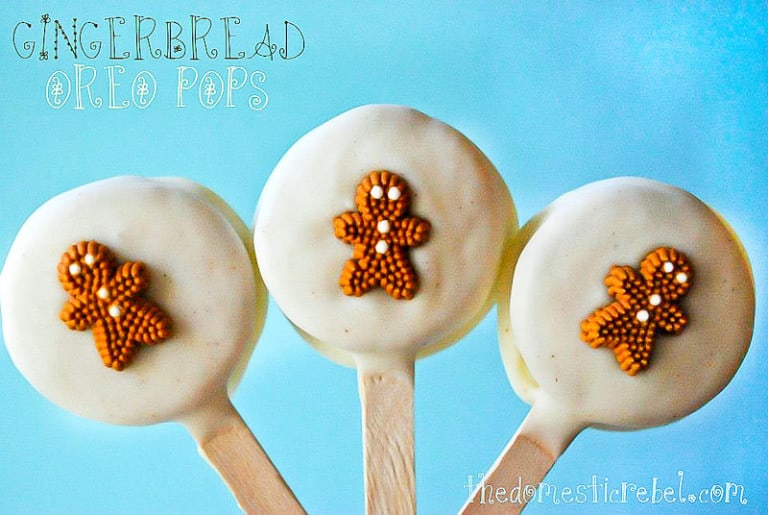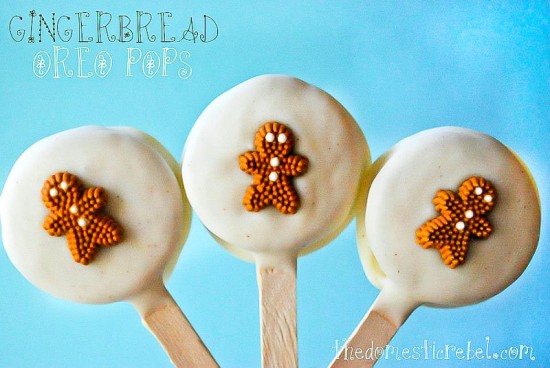 Hi Love From The Oven readers! My name is Hayley aka The Domestic Rebel. I am SO excited that Christi asked me to post for her today because I LOVE her blog! Christi's blog was one of the first I saw before I started my own blogging journey, and I found her to be (and still be!) such an inspiration for my own baking endeavors. How could you not when she cooks up things like Pecan Pie Cupcakes, Devil's Food Cupcakes with Pink Velvet Cake Pops, and Chocolate Caramel Pretzel Brownies?! She rocks!
If I know Christi, I know that she loves to make pops and is particularly brilliant at doing so! Since I tend to be cake pop-challenged (hello, perfectly round cake balls? I don't think so), I prefer to make my pops from Oreos. Because cookies rule my life.
And when I stumbled upon the new Gingerbread Golden Oreos, I knew I had to make a pop that was equal parts delicious, impressive and easy for the holidays. With all the hall-decking, list-making and Christmas shopping, I needed something super simple to wow my coworkers, family and neighbors and these are exactly what I'm looking for.
Plus, who doesn't love gingerbread? The sweet + spicy flavor is quintessential for the holiday season and Oreo cleverly knew that when they released this AMAZING Oreo cookie. One I coated in white chocolate + cinnamon because duh, that's what logical people do.
Make them! You'll love them, I promise 🙂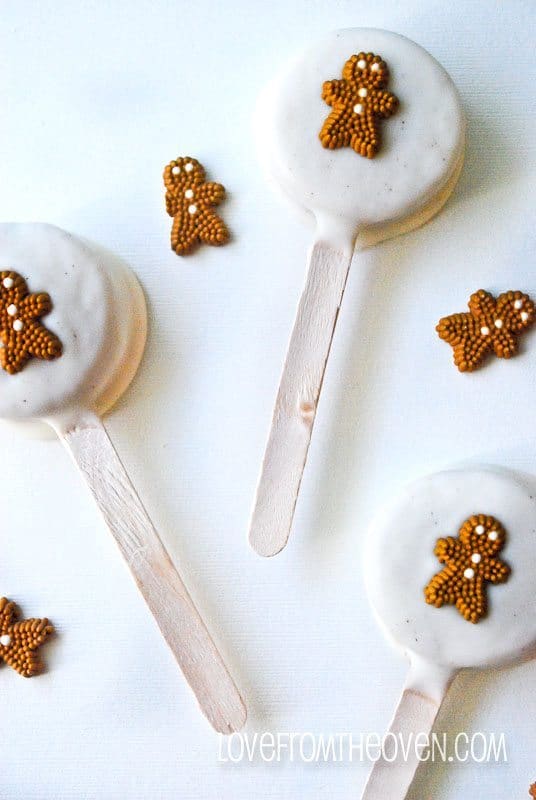 Gingerbread Oreo Pops
1 pkg Gingerbread Golden Oreos
1 pkg vanilla Candiquik or white candy melts
1 tsp ground cinnamon
2 pkgs gingerbread cookie decorations or gingerbread quinns (I found mine at Michael's)
Popsicle sticks or pop sticks
1. Line a baking sheet with foil. Gently twist the cookies apart and place the tops and bottoms side by side on the baking sheet. Set aside.
2. In a large microwaveable bowl, melt the candy melts according to package directions until smooth. Dip the end of a popsicle stick in the melted candy and gently press it into frosted side of the Oreo cookie half. Close the cookie up and repeat until finished. Freeze the pops about 20 minutes to set.
3. Once the pops are set, stir the teaspoon of cinnamon into the candy melts. Dip the pops into the melted candy, allowing excess to drip off. Replace the pops on the baking sheet and gently add the gingerbread sugar decoration or sprinkle on gingerbread quinns. Allow the coating to set, about 15 minutes. Store the pops airtight at room temperature.
These pops make excellent gifts–just wrap them in cellophane, tie off with a festive ribbon, and gift away! And if pops aren't your thing, they also make adorable coated cookies–just omit the pops 🙂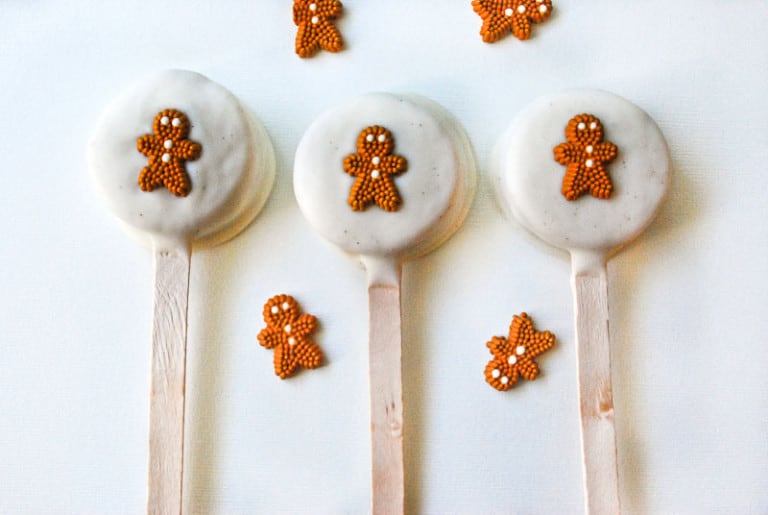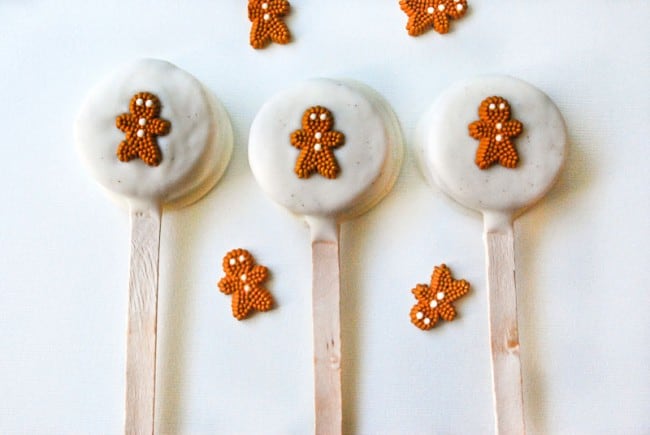 Thanks again for having me, Christi! I hope you all enjoyed my post, and know that you're always welcome over at The Domestic Rebel!!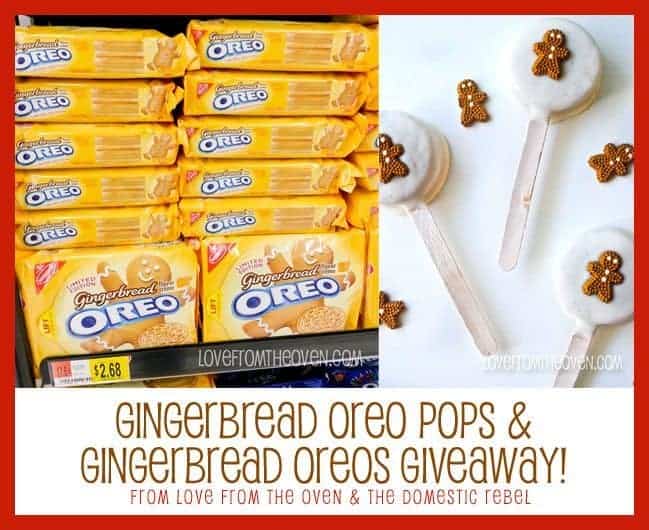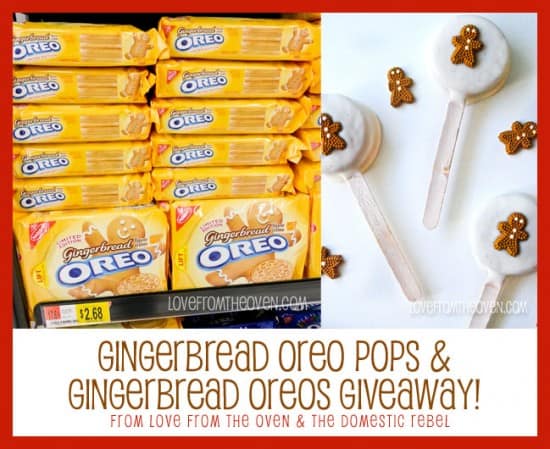 Okay, seriously how fabulous are those??? Since I know that everyone is going to want to get their hands on these Gingerbread Oreos, and I happened to pick up a few of them the other day, how about we giveaway a bag of these yummy limited edition Oreos?  To enter to win use the Rafflecopter widget below. Open to US Residents only. The winner will be selected at random on 11/14.   Good luck and make sure to go check out Hayley's page The Domestic Rebel as well as visit her on Facebook!
a Rafflecopter giveaway