Brownies are hands down one of my all time favorite desserts. I love a rich, chewy, chocolatey brownie, and think they make a fabulous base for dressing up and getting creative. Today I'm going to share some delicious chocolate covered brownie bites that can be made gluten free thanks to Krusteaz Gluten Free Brownie Mix.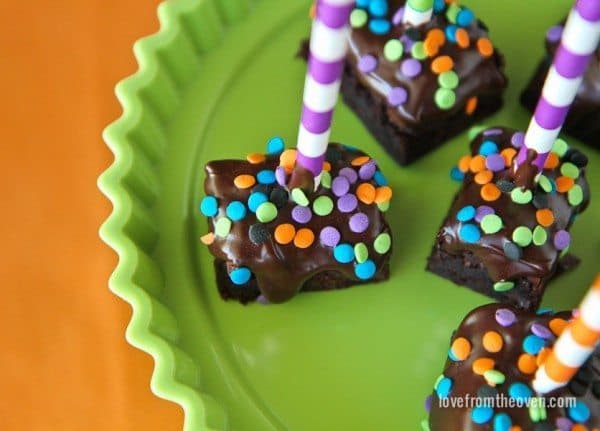 You can make these quickly and easily and they are fantastic for parties. By changing up the colors and types of sprinkles you use on them, you can make them fit almost any party theme or holiday. I made some with Halloween sprinkles, festive party sprinkles and even used mini heart sprinkles to make a Valentine version.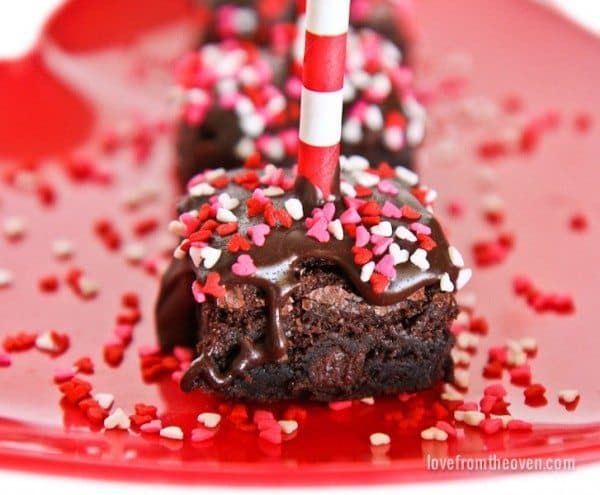 To make these fun brownie bites, I started with a Krusteaz Gluten Free Double Chocolate Brownie Mix. I love that this mix is every bit as easy to make, and delicious, as a traditional brownie mix. Having a child with a food allergy, and a number of friends with food allergies including gluten allergies, I know it can be hard to make things that work for everyone, and it's not always fun to have to make two versions of what you are serving. I've done some from scratch gluten free baking, and it can be a bit complicated, and costly, and the results aren't always stellar. I've made the Krusteaz Gluten Free Double Chocolate Brownie mix probably six or seven times, and the results are always great, and if I don't tell people the brownies are gluten free, they never would guess – they are just delicious chocolatey brownies.
If you aren't eating gluten free, feel free to use a regular Krusteaz brownie mix for this. This is a fun way to dress up your brownies, both gluten free and traditional.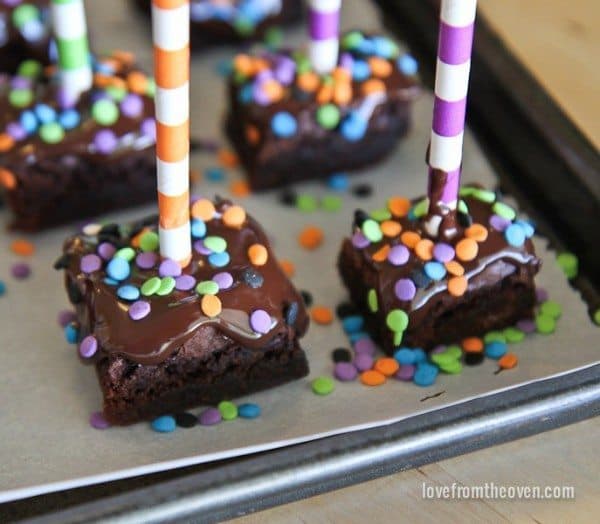 To make these, start by baking your brownies according to package directions. Allow them to cool completely (overnight is ideal, they'll hold together the best that way), then cut into small squares, about 1.5″-2″ in size.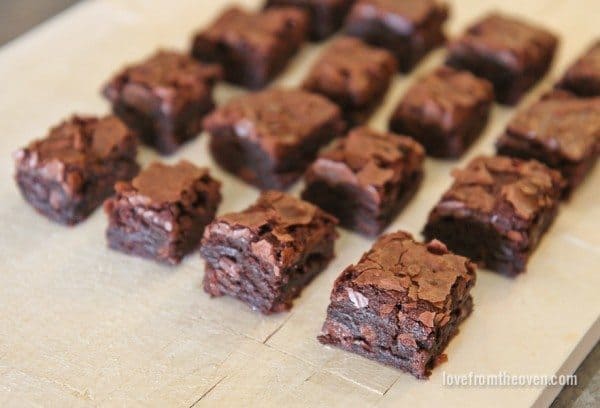 There are a few ways to proceed from here. You could prepare your chocolate coating and simply spoon it on top of the brownies, add your sprinkles and call it good, sticking the sticks. Or if you want to add sticks you could spoon your chocolate on, add your sprinkles and then add sticks or straws. I like to dip my sticks into my chocolate and then place them into the brownie, as this helps the brownie stay on the stick a bit better.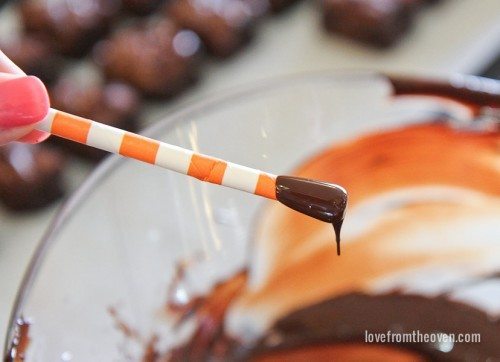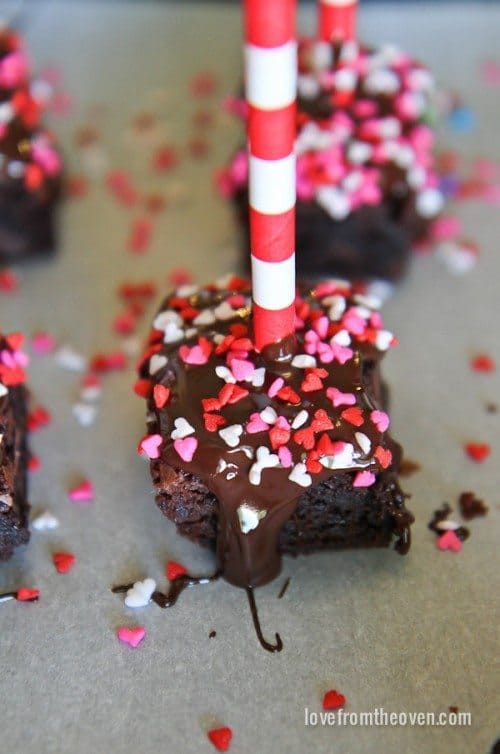 I love that these give you the fun of cake pops, but they are super simple to make, and I prefer the flavor of a brownie over a cake pop. If you want you can dip the entire brownie into chocolate, but I think the layer on top is perfect, not too much, just right.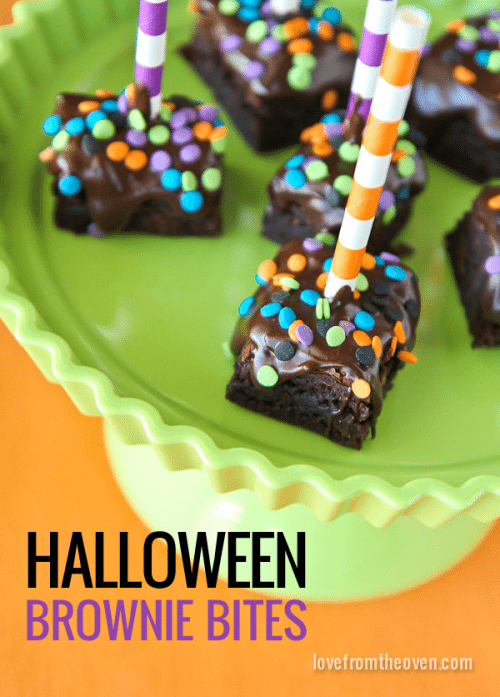 A full size straw is a bit long for these, so I cut my paper party straws in half, which is the perfect size. Pick straws with colors and prints that match whatever theme or look you are going for. I get my straws from Sweets And Treats Boutique (great selection and quality), but you can also find them at party supply stores and even places like Target.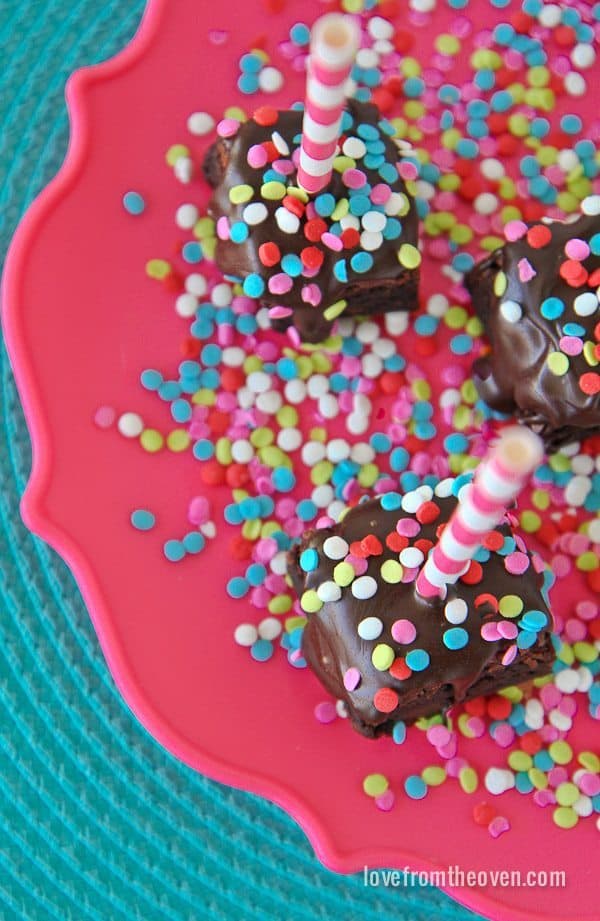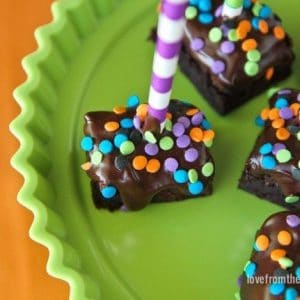 Gluten Free Chocolate Covered Brownie Bites
Ingredients
1

package Krusteaz Gluten Free Double Chocolate Brownie Mix

prepared according to package directions and cooled completely

12

ounces

Chocolate Candy Coating

3-4

tablespoons

sprinkles

Lollipop sticks or party straws
Instructions
Cut brownies into small squares (approximately 25 pieces). Place on wax paper.

Prepare chocolate candy coating according to package directions.

Gently spoon chocolate candy coating onto the top of each brownie square. If using lollipop sticks or straws, dip each straw into the chocolate candy coating and then gently press into the center of brownie squares. Immediately garnish with sprinkles, before chocolate sets up. Allow to dry for approximately one hour, or speed up the process by placing brownies in the refrigerator. Serve and enjoy!
You can also check out this recipe on the Krusteaz website. If you are looking for a fun gluten free dessert option for a party or get together, these are a fabulous way to go. Kids (and by kids, I mean adults!) of all ages will love them. 🙂
Disclosure: As a Member Of Krusteaz Baker's Dozen, I am compensated for my posts with Krusteaz. All opinions are mine and mine alone!