Christmas seems to be sneaking up on me so fast this year. There is still decorating that needs to be done, trees that need to be trimmed, gifts that need to be bought and plans with friends and family that need to be made. There is no denying it, the holidays can be a hectic time of year and it's very easy to get so wrapped up being busy and working on our to do lists, that we forget to take a moment to actually enjoy the holidays (at least for me!).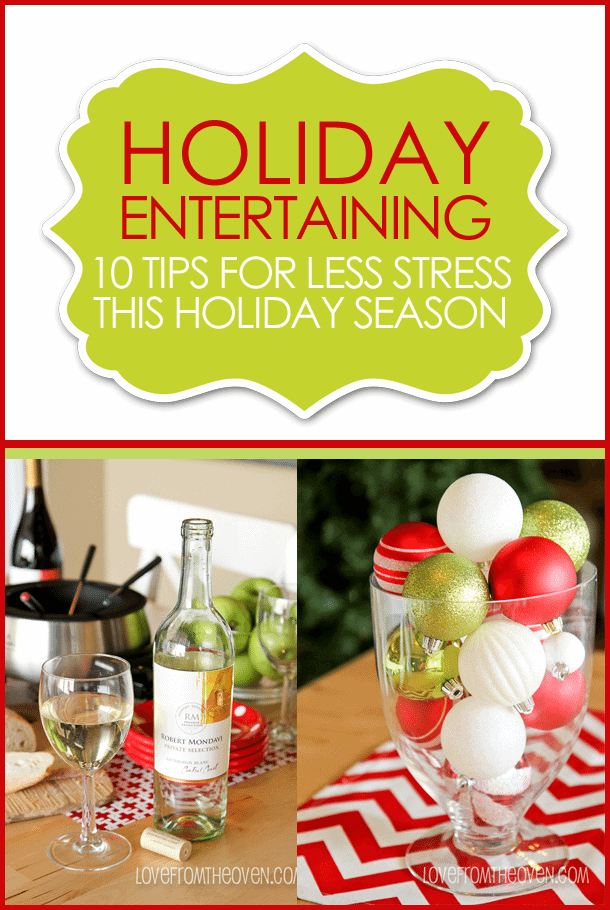 When it comes to holiday entertaining, I used to have a "go big or go home" approach, but I found I really didn't enjoy entertaining. So the past few years I've started to scale back and simplify my holiday entertaining. And guess what? I'm enjoying it more and I think my guests are too!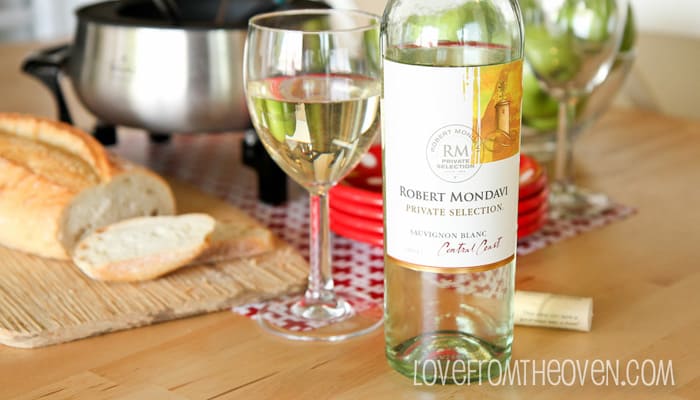 Today I'm going to share some of my tips for less stressful holiday entertaining, my favorite fondue recipe that I use for holiday entertaining, and some lovely Robert Mondavi Private Selection wines and recipes that pair perfectly with them.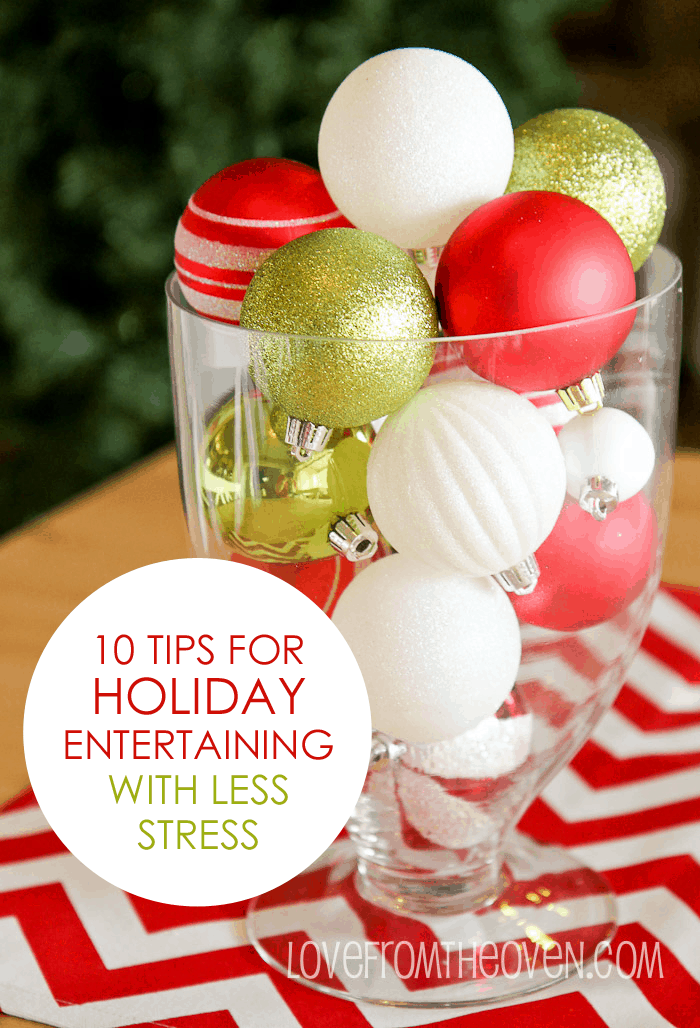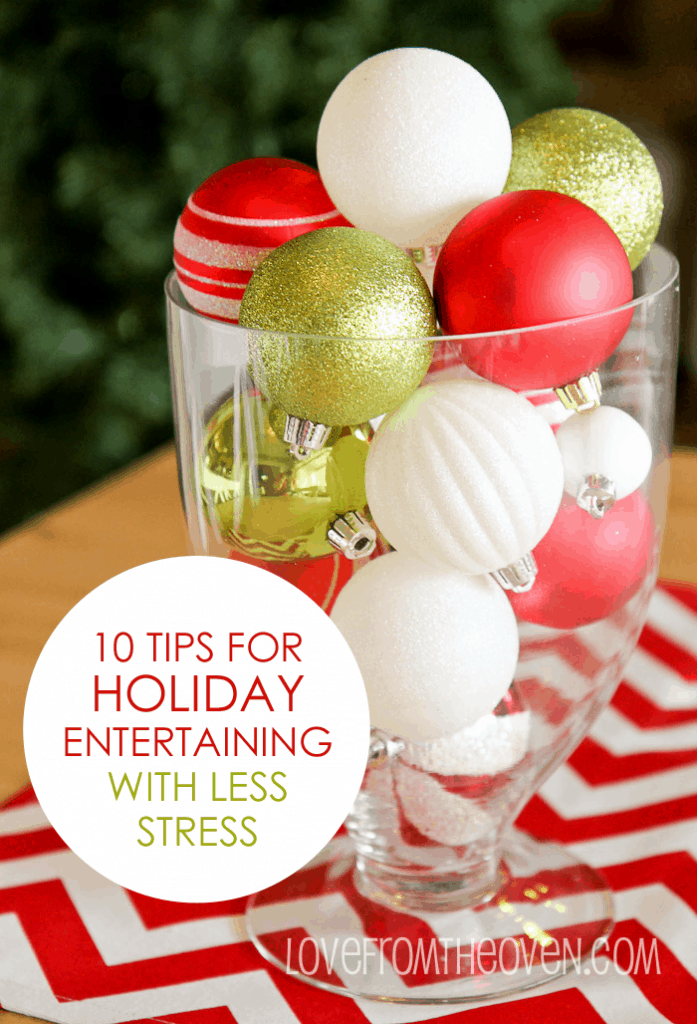 My Holiday Entertaining Tips For Less Stress

Holiday Entertaining Tip #1 – Host An Open House

One of the ways that I've changed my holiday entertaining in the last few years is that I've moved away from formal (or even casual) sit down meals at a certain time and I've moved to hosting an open house. Everyone is so busy with so many holiday parties and get togethers, visiting family and friends all over town, that often it's really hard to fit specific times into those busy schedules. We've had many years where our holiday schedule looked crazy, with four or five places to be, four or five meals to have, and four or five hours to do it all. And if you have a little one who still naps like I do, you know how hard that makes things. I love having an open house, either in the morning or afternoon/evening. People are free to stop by when it works for them and free to eat as little or as much as they want. I find this is less stressful for me as a hostess and for my guests.
Holiday Entertaining Tip #2 – Trade Sit Down Meals For Snacks, Sips and Sweets
This tip works wonderfully with the open house format. Instead of big sit down meals, I have moved to much more relaxed snacks, sips and sweets. I am not the best at having a giant meal ready and on the table all at once. With everyone having so many places to go, there is almost always someone who isn't there when it's time to eat, and you have that awkward "do we start the meal or wait" situation. Moving to a snacks, sips and sweets set up has been a fabulous option for my family. We either do a breakfast/brunch version, or an appetizer/snacks/desserts version. This takes a lot of pressure off of the host and hostess, and most people really love the variety of food that is served in this format. This also works really well when your guests bring a dish to share. It's so easy to add it to the selection that is out without having to "fit it into the meal" so to speak.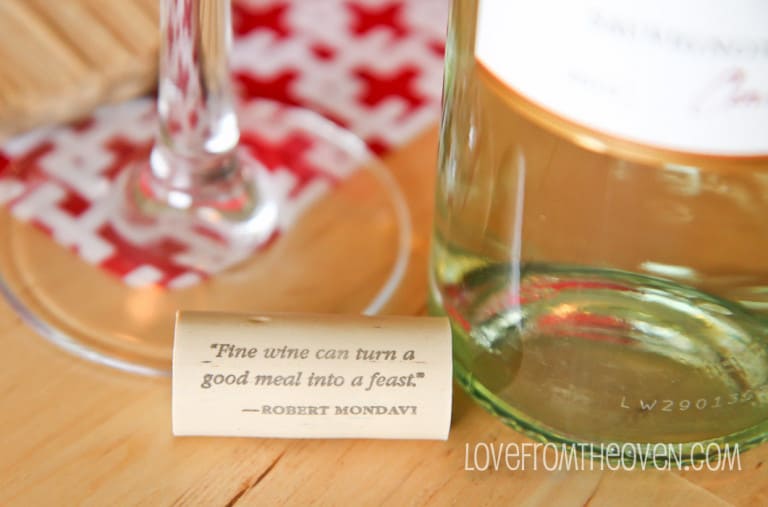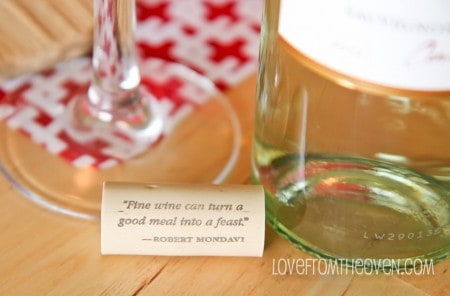 Holiday Entertaining Tip #3 –  Mix Simple, Store Bought And Homemade Foods
I am a big fan of combining homemade foods with store bought options. For a breakfast I might make an egg and sausage casserole or a breakfast that can be made in the slow cooker and pair it with some homemade muffins, store bought croissants and danishes. For an afternoon/evening meal, there are so many great appetizer options at the stores, and so many easy options like fresh fruits and veggies, breads and cheeses, that it's easy to fill an entire buffet table with items that do not require much more than heating. Pair fresh veggies and breads with a homemade dip, or dress up a store bought dip by placing it in a bread bowl. The slow cooker is great for warm appetizers. One of my absolute favorite holiday meals to mix homemade and store bought ingredients in is cheese fondue.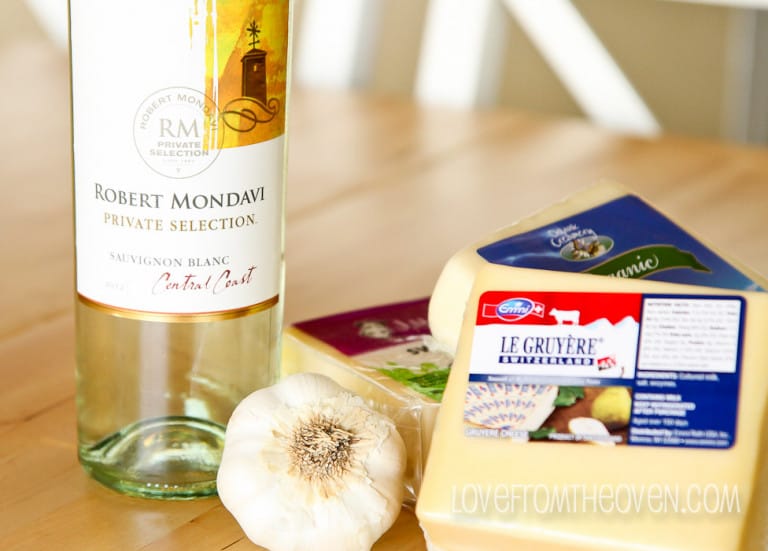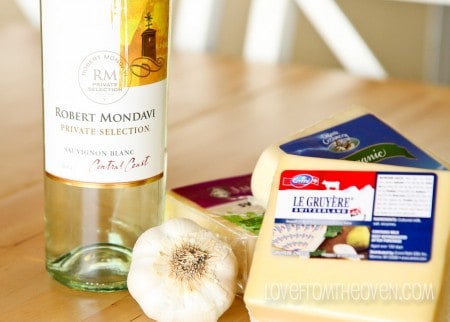 A delicious fondue easily comes together with some cheeses and Robert Mondavi Private Selection Sauvignon Blanc (see my recipe below). It is perfect to serve with fresh granny smith apples, a rustic bread, veggies and whatever else you might have on hand.
Holiday Entertaining Tip #4 – Have A Selection Of Self Serve Sips
Having a great selection of drinks makes for a great party. Set out a variety of drinks with something for everyone and encourage guests to help themselves. A nice selection of Robert Mondavi Private Selection Wines is a great choice.  In Robert Mondavi's vineyards in the Central Coast, it's foggy, windy, cool, and damp, with a break of afternoon sunlight, pretty much every day. It's beautiful in a rough 'n' tumble kind of way. But for grapes, it's paradise. In this environment, grapes grow slowly, with plenty of time to build deep, pure flavors, bright acid, and elegant wine textures. From Chardonnay to Cabernet, the delicious benefits of those just-right conditions come shining through in glass after glass of Robert Mondavi's wines.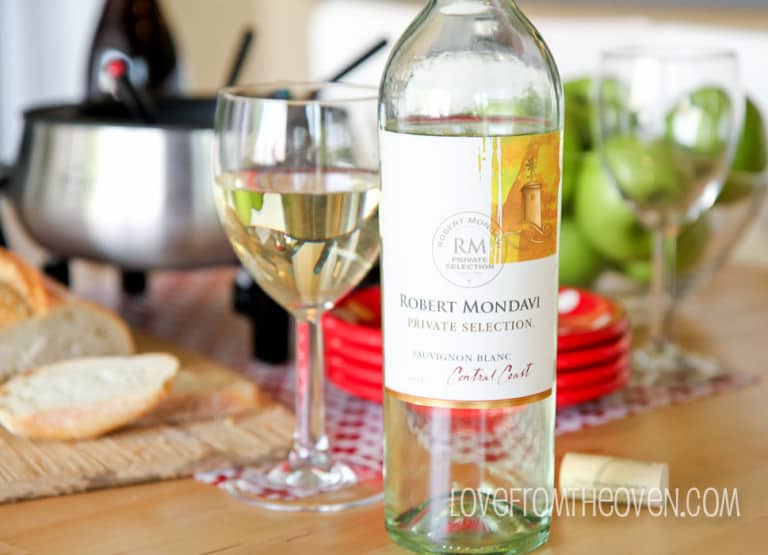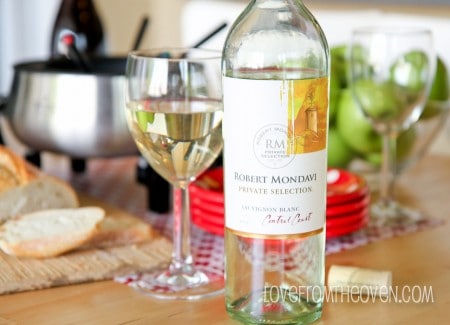 Some perfect non-alcoholic choices include a variety of waters, sodas, cider, coffee or even a hot cocoa bar. Using a single cup coffee maker with a selection of coffees, hot cocoas and even teas offers a great selection of warm drinks. Kids love a hot cocoa bar, especially with fun toppings like marshmallows, whipped cream and sprinkles.
Holiday Entertaining Tip #5 – Let Guests Help With Desserts
Desserts is the perfect answer when your guests ask what they can bring! This makes less work for the hostess, creates a great variety of desserts and if a guest is late or doesn't show up in time for the meal, their contribution is still perfect!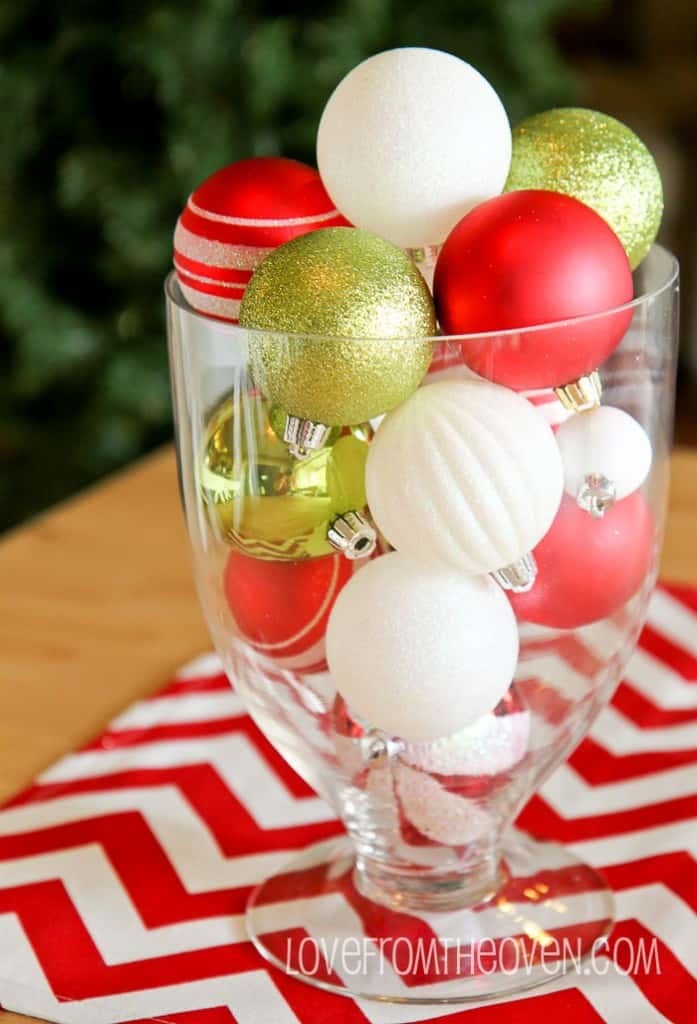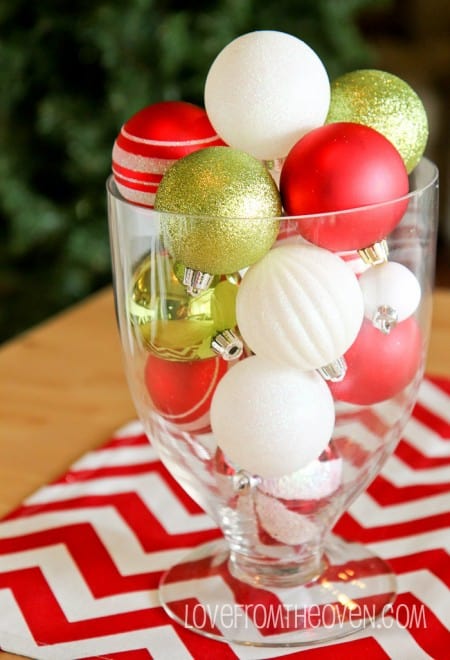 Holiday Entertaining Tip #6 – Holiday Decor Makes For Great Party Decor
One of my favorite things about holiday entertaining is that often our houses are already decorated for the holidays. Holiday decor makes for perfect party decor, so let it work for you! One of my favorite simple centerpieces is a giant glass bowl full of beautiful Christmas ornaments. Twinkling lights always make any setting magical and candles or a fire in the fireplace create a warm and cozy atmosphere. Chances are your home is already brimming with holiday cheer, so there's not much more that you need to add.
Holiday Entertaining Tip # 7 – Create An Area With Child Friendly Fun
Having some easy and enjoyable activities available for kids can be a party saver. You could have a table or area set up with ready to decorate gingerbread houses, sugar cookies waiting to be frosted, ornaments to can be decorated or even a holiday card making station. You could even have a favorite holiday movie playing on one of the televisions (we love Elf), coloring pages with crayons or board games sitting out. These ideas do not have to be elaborate at all. Not only can this provide fun for the kids, but it is often met with a sigh of relief from parents who are worried about how they are going to keep their kids entertained. Make sure to have bags or boxes on hand if guests are creating something to be taken with them.
Holiday Entertaining Tip # 8 – Don't Worry About Being Over The Top
Let's be honest here. More than ever, people are going over the top with parties. And if that is your thing, then party on in a big way. But for many of us, it's not and we can feel pressure to put on a great theme party or something spectacular like we see on Instagram and Facebook. Your holiday entertaining does not need to be over the top to be wonderful. Let me repeat that, it does not need to be over the top to be wonderful.  Your friends, family and guests want to gather together, slow down and spend some time together. You do not have recreate a Winter Wonderland, the North Pole or Santa's Workshop to have a great party. Simple can be wonderful and even refreshing.
Holiday Entertaining Tip #9 – Prepare For The Unexpected And Go With The Flow
I'm great at having everything planned out perfectly in my head, but sometimes things don't go as planned. A recipe doesn't turn out. The weather changes from bad to worse. The kids knock over the beautiful centerpiece. It's all okay. Sometimes we put so much time into planning that in our heads we are locked into how things have to happen. Do your best to have a go with the flow attitude. The only constant is change, so sometimes it's best to embrace it versus fight it. Sometimes a deep breath, a moment of thought and an unexpected direction can work out for the best.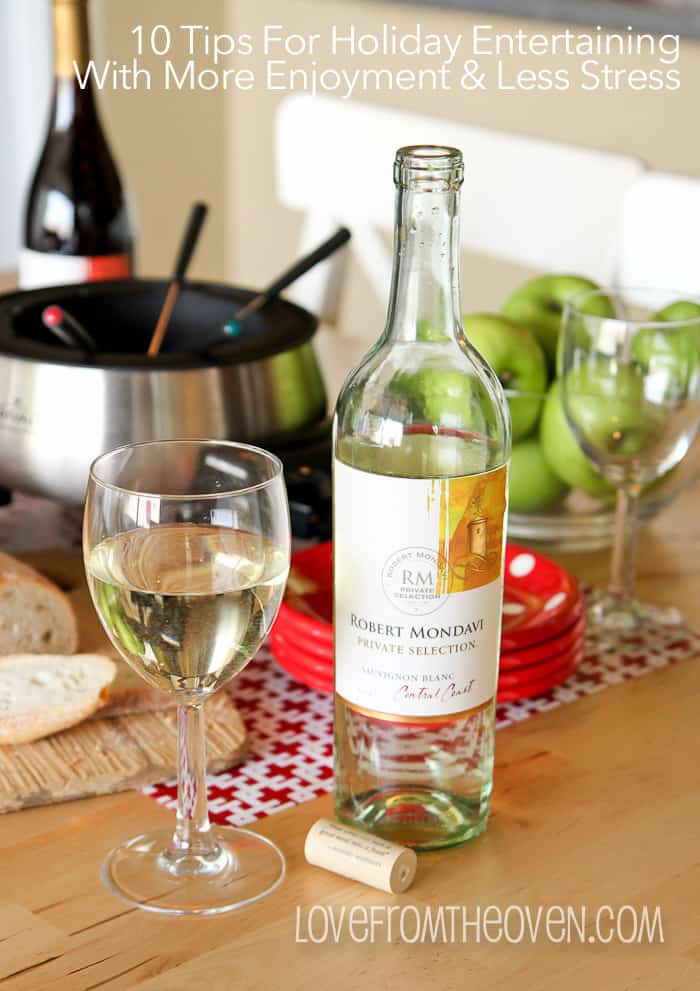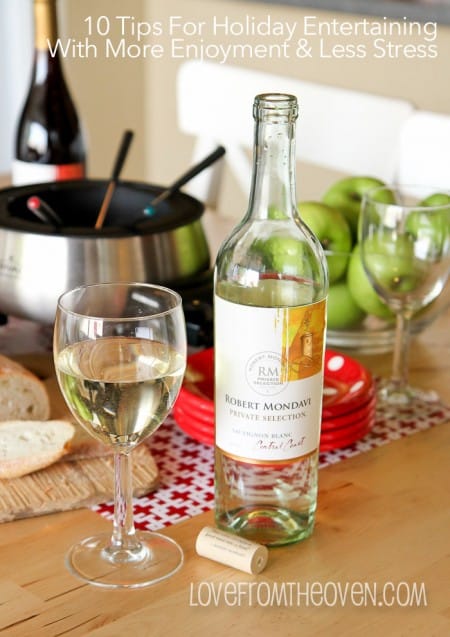 Holiday Entertaining Tip #10 – Enjoy Yourself
It's very easy to focus on making everything perfect and making sure everyone is enjoying themselves that we forget to enjoy ourselves! Many of these tips will help you create holiday entertaining that is easy going, letting you enjoy yourself as well. While you may be the hostess, the cook, the decorator and the cleaning crew, you are also a guest at your party, so try to find moments to sit down, enjoy it, enjoy your guests and enjoy yourself. Life moves so fast, don't miss the moments that matter.
For more great tips, make sure to check out my Holiday Entertaining board on Pinterest.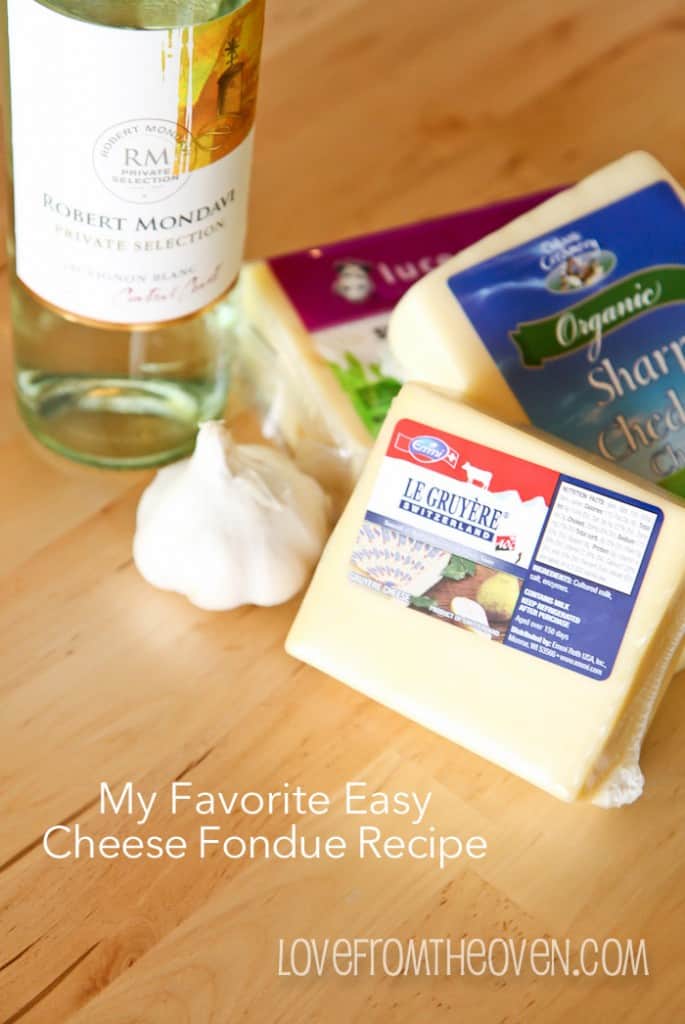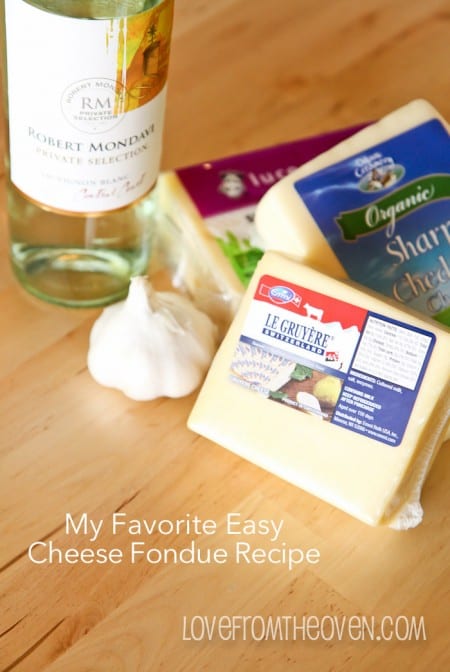 I promised you my favorite fondue recipe! I love to make this fondue and let everyone gather around the table to enjoy. I love that fondue turns eating into an experience. We usually do fondue when we have a small group, and everyone brings something to contribute, from a favorite cheese to some wonderfully crusty bread to fabulous fresh veggies. It's delicious and pairs wonderfully with Robert Mondavi Private Selection Sauvignon Blanc.
EASY CHEESE FONDUE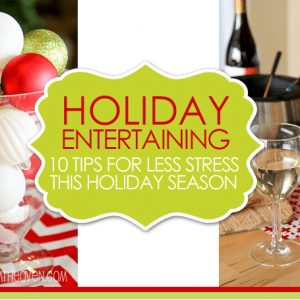 Easy Cheese Fondue
Ingredients
1

cup

dry white wine

1/2

pound

shredded Swiss cheese

1/2

pound

shredded Gruyere cheese

2

tablespoons

all-purpose flour

1

tsp

finely minced garlic

you skip this if you aren't a garlic fan

1/4

teaspoon

salt
Instructions
Bring wine to a simmer in your fondue pot. Add cheeses, about 1/2 of each at a time, stirring after each addition of cheese until melted. Stir in flour. When all the cheese has melted, stir in salt and garlic. Serve immediately.
Notes
Feel free to use other cheeses as desired. I always prefer a mix of cheeses though for the best flavor. 
You will find more great recipes and holiday entertaining tips and ideas on my Holiday Entertaining board on Pinterest.

Robert Mondavi Private Selection offers something authentic, true to Mr. Mondavi's legacy of making great quality, expressive wines from California's Central Coast. Connect with us on Facebook for more: www.facebook.com/robertmondaviprivateselection
Please enjoy our wines responsibly.
Disclosure: Compensation was provided by Robert Mondavi Private Selection via Glam Media. The opinions expressed herein are those of the author and are not indicative of the opinions or positions of Robert Mondavi Private Selection.
SaveSave
SaveSave