Are you a fan of Hostess with the Mostess?  I have been for a long time.  Jennifer creates, features and shares the greatest ideas, tips, printables and advice for parties, weddings, holiday events and more.   She packs SO much inspiration and fun into one website.   Check out some of these amazing ideas for Halloween…
Monster Mash Kids Halloween Party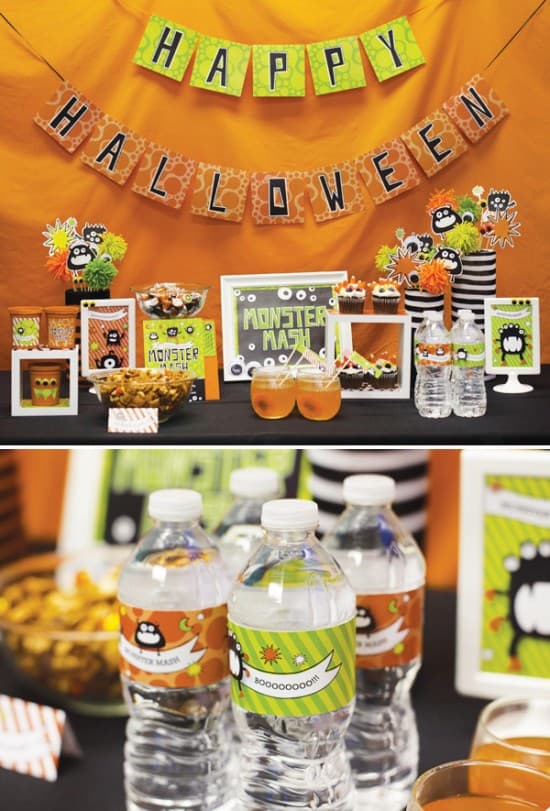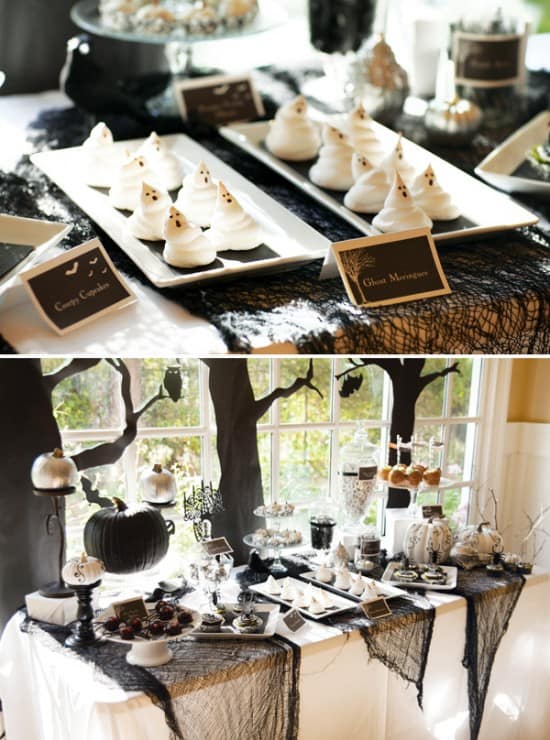 Spooky And Sparkly Kids Chevron Halloween Party (ahh, chevron!)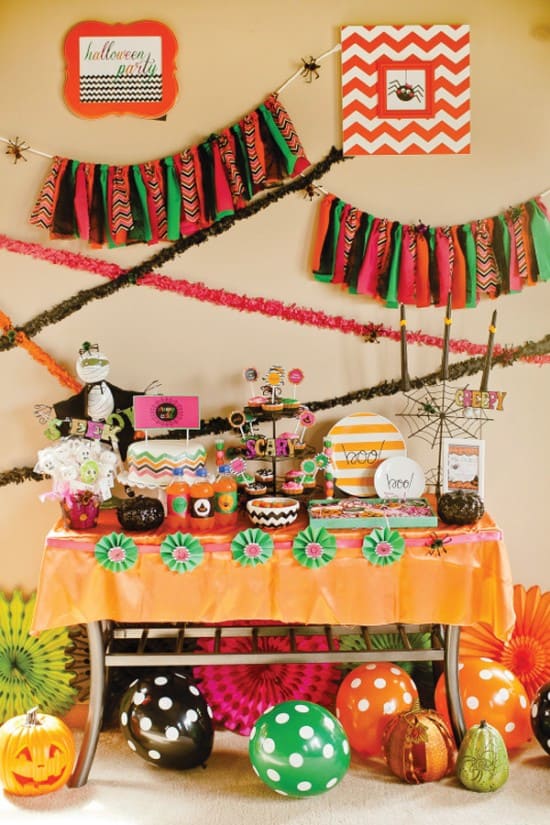 Here are a few of Jennifer's tips for Halloween fun…

An important step in planning a party is deciding on a theme that reflects the ages of the party-goers. If you're throwing a bash for younger kids, use a theme like "Too Cute to Spook."  Focus on making all of your treats with smiley faces, so just in case you have someone who's scared easily, they are sure to have a good time!
If you're finding it hard to make time to prepare treats and decorate your house, always focus on baking your Halloween-themed goodies first. To save time 'decorating,' focus on just adorning your front door. Not only will you enjoy seeing it every day, but it will be the first thing your guests – and trick-or-treaters – see too!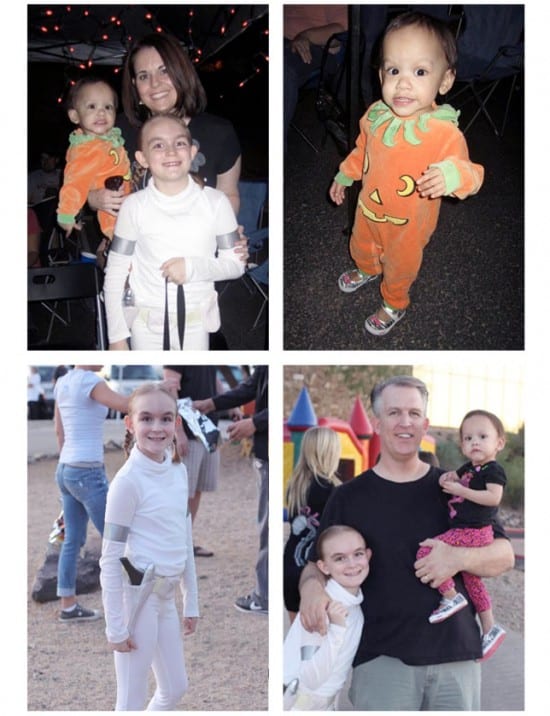 Being the Hostess With The Mostess, she doesn't just have tips for the big party, she also has some great ideas for dinner on Halloween night.   I always find Halloween night to be one where I want to do something fun with the kids for dinner, but also not take all evening preparing it as we have other things to get done, like turning turning kiddos into pumpkins and Star Wars characters…
Jennifer has a great idea for a wonderful weeknight pizza that gets the kiddos involved and will fill their tummies before heading out for all of the trick or treating.   Here is her Fleischmann's Creepy Mini Pizza Recipe (and keep reading to see how you can win your own weeknight pizza party kit).
Fleischmann's Creepy Mini Pizzas (These turn out great and the best part is, just put out your favorite pizza toppings and let everybody create their own spooky or fun masterpiece!)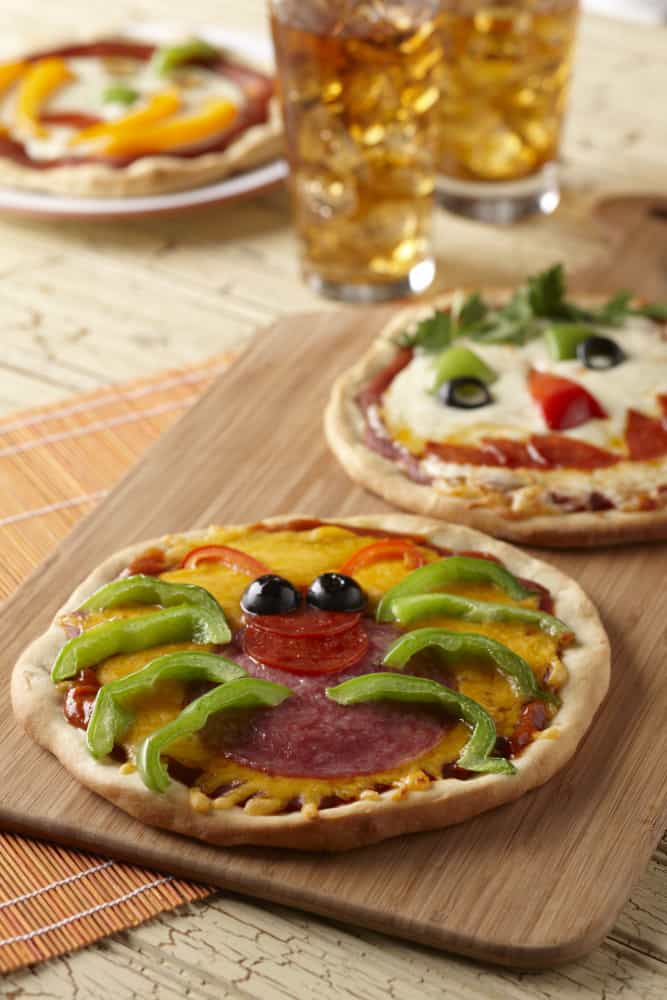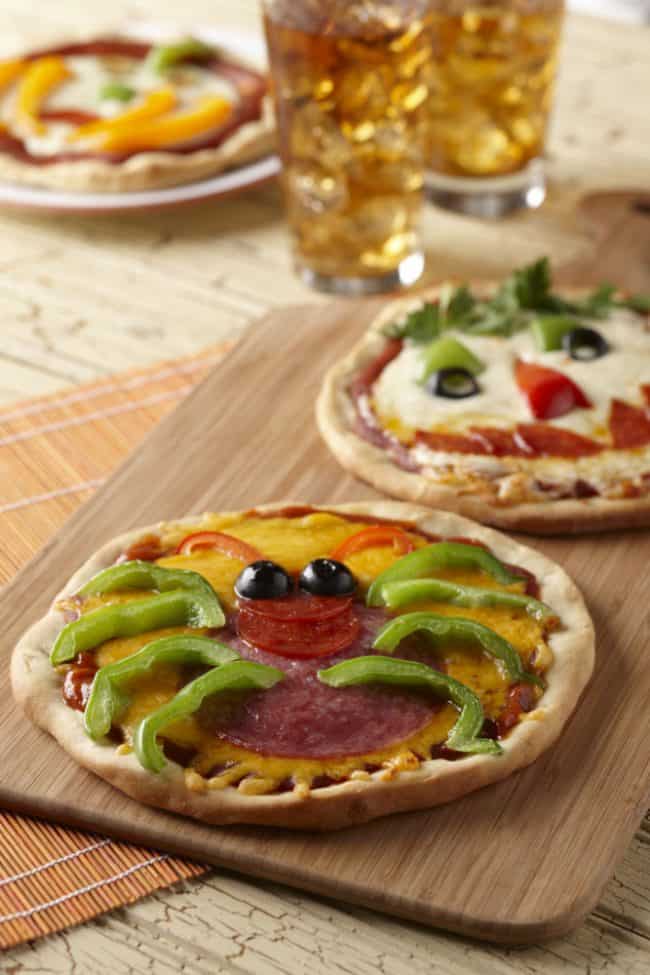 Makes: 8 (6-inch) pizzas
Prep Time: 20 minutes
Bake Time: 12 to 15 minutes
 Crust:
3-1/4 to 3-3/4 cups all-purpose flour
1 envelope Fleischmann's® Pizza Crust Yeast OR RapidRise Yeast
1-1/2 tablespoons sugar
1-1/2 teaspoons salt
1-1/3 cups very warm water (120° to 130°F)*
1/3 cup Mazola® Vegetable Plus! Oil
Toppings:
1 to 2 cups pizza sauce
Suggested toppings: green, red and yellow bell peppers, mushrooms, black olives, pepperoni slices, hard salami slices, curly leaf parsley, etc.
1 pound (total) shredded white and yellow cheeses such as mozzarella and cheddar
Directions
Preheat oven to 425°F.
Combine 2 cups flour, undissolved yeast, sugar and salt in a large bowl.  Add very warm water and oil; mix until well blended, about 1 minute.
Gradually add enough remaining flour to make a soft dough.  Dough should form a ball and will be slightly sticky. Knead** on a floured surface, adding additional flour if necessary, until smooth and elastic, about 4 minutes.  Divide dough into 8 portions; cover. (If using RapidRise Yeast, let dough rise at this point for 10 minutes.)
Pat each portion of dough with floured hands into an 8-inch circle on a greased baking sheet.  Form a rim by pinching the edge of the dough.  Add a second crust to the same baking sheet.
Bake for 6 to 7 minutes, dough will be just set and only lightly browned on the bottom.  Remove crusts to a wire rack to cool.  Continue with remaining pizza dough.  (Works best to use several baking sheets.)  May use crusts immediately or place in freezer bags and freeze for up to 1 month.
When ready to bake, preheat oven to 475°F.  Spread each crust with pizza sauce.  Top with desired toppings to make Halloween designs!  Repeat with remaining pizzas.  Place on a baking sheet and bake for 6 to 8 minutes, until cheese is melted and lightly browned and bottom of crust is browned.
*If you don't have a thermometer, water should feel very warm to the touch.
**To knead the dough, add just enough flour to the dough and your hands to keep the dough from sticking.  Flatten dough and fold it toward you. Using the heels of your hands, push the dough away with a rolling motion.  Rotate dough a quarter turn and repeat the "fold, push and turn" steps.  Keep kneading dough until it is smooth and elastic.  Use a little more flour if dough becomes too sticky, always working the flour into the ball of dough.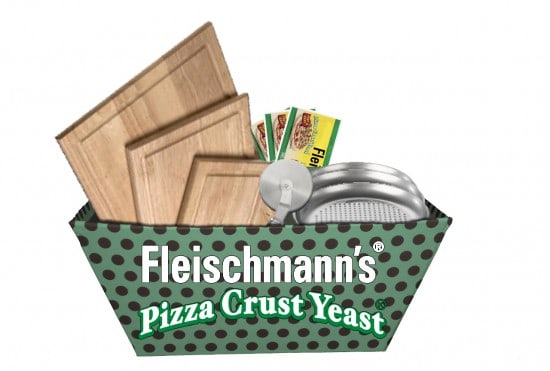 What a great recipe and I LOVE the idea of freezing the crusts.  I think I may whip some up tomorrow and then just pull them out to top and bake on Wednesday night – can't get much easier than that!   Would you like to win your very own Fleischmann's Weeknight Party Pizza Kit?  Use the Rafflecopter widget below to enter.  A winner will be drawn at random on 11:59pm on Wednesday, October 31st.    Good Luck!

a Rafflecopter giveaway