You scream, I scream, we all scream for ice cream! Well, on second thought, no screaming, that's kind of annoying. But ice cream – SO not annoying. With it being about one billion degrees in Phoenix (okay, maybe 112, but, well, details), I'm all about ice cream. I've put together a great collection of ice cream recipes to share with you through FOODIE.    There is a bit of everything, Oatmeal Cookie Ice Cream, Caramel Swirl Pretzel Ice Cream, Andes Chocolate Mint Ice Cream, Circus Animal Ice Cream, Espresso Ice Cream, Cinnamon Crunch Ice Cream – serious ice cream goodness going on.

Check out I Scream For Ice Cream

by Love From The Oven at Foodie.com
FOODIE is a bit like an all food, all the time, version of Pinterest. I love it to find recipes and not get distracted by craft ideas, 17 backyard projects my husband will hate, new kitchen paint colors, Halloween costumes, stocking stuffers, inspirational quotes making me re-evaluate my life, graduation party ideas for seven years from now, new ways to stay on budget, 87 new workouts I probably should be doing, an awesome DIY bug spray, a way to finally fold sheets correctly and two million cute outfit ideas for kids that make me all too aware that my children are almost always wearing mismatched, stained clothes that are too small (but are soft!).
So yeah, FOODIE is all kinds of awesome for just focusing on recipes and giving my legitimately ADHD mind a break. 🙂
You can check out all the recipes on FOODIE by clicking here, and you can see my favorite recipes here.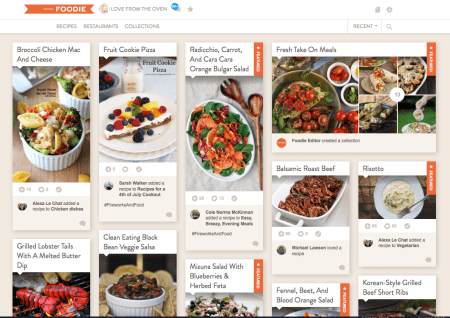 Disclosure: I am compensated through FOODIE for sharing this post.  That said, all opinions are, as always, mine and mine alone.  All recipes are ones that I personally selected and found across the internet.