Do you ever wonder where the new trends in flavor come from? The interesting combos and new ways of putting together familiar flavors? Well it turns out that McCormick is a major force when it comes to looking to the future of flavor. McCormick has an entire team that does extensive research each year to put together the McCormick Flavor Forecast.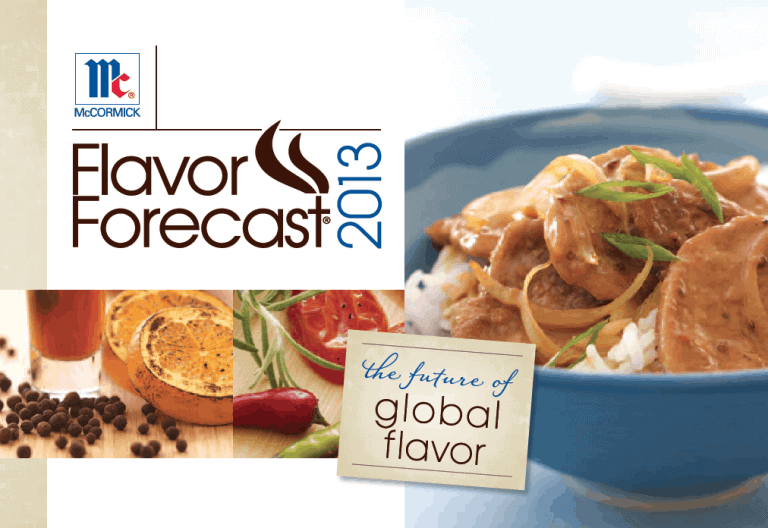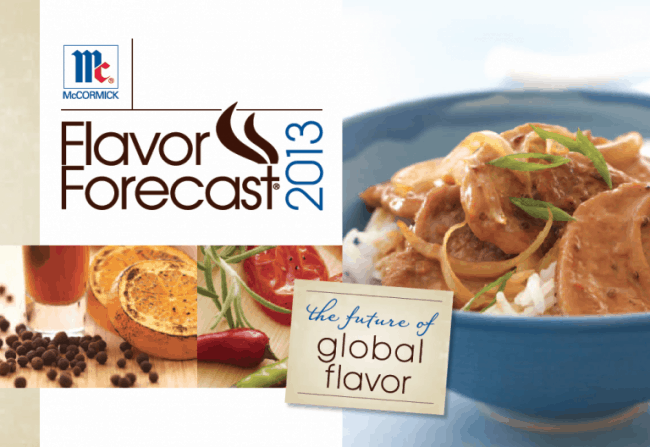 The McCormick Flavor Forecast has been a leader in identifying emerging culinary trends that inspired a passion for flavor since 2000. This global forecast pinpoints the forces that will drive culinary innovation around the world in coming years. McCormick recently invited me to chat with Chef Mark Garcia to learn more about McCormick's Flavor Forecast for 2013. Chef Mark oversees the McCormick Kitchens, a creative team of culinary professionals responsible for bringing flavor to life through innovated recipes and products for the home cook. Mark shared with me the five trends that are central to the 2013 Flavor Forecast.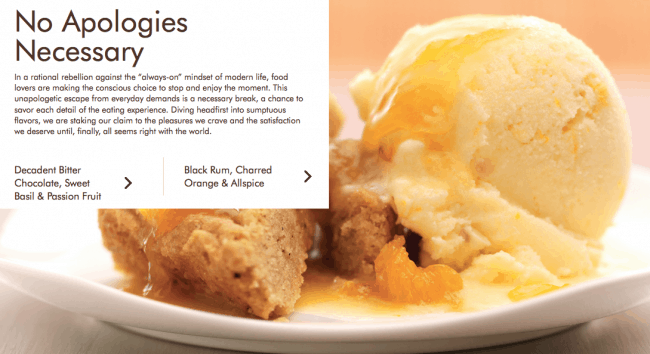 1. No Apologies Necessary. In our busy, non-stop, always on the go lives that we live these days, No Apologies Necessary is all about food lovers making the choice to stop, enjoy the moment and enjoy their food. Food and flavor are wonderful delicious things, and we really should not apologize for wanting to savor and enjoy them. I love the No Apologies Necessary aspect of the Flavor Forecast, as I know that for my family, often it is sitting down at the table for dinner or dessert, where we get to stop, we get to slow down and we get to enjoy each other and our food, and that is a trend I hope to see more of.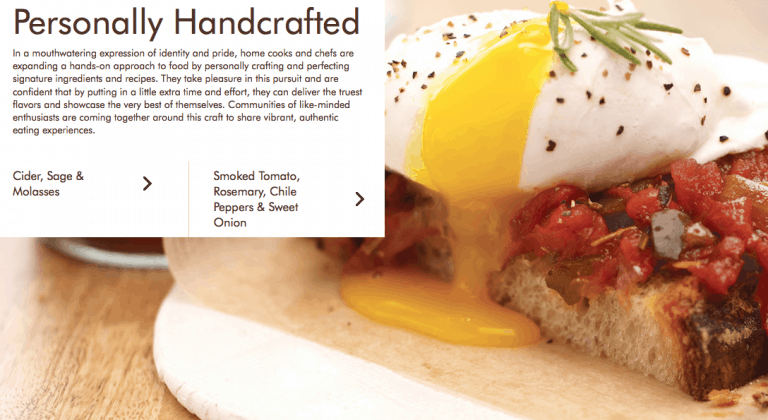 2. Personally Handcrafted. As a baker, this trend really resonates with me. For so many years saving time and finding convenience have been king, and they certainly have their place, but this trend sees people taking more time and pleasure in a hands on approach to not only cooking and baking, but to putting personal spins on what we make. That little extra time and effort to what we put into our foods, is paying off and looks to be something we will be seeing more of as we move forward.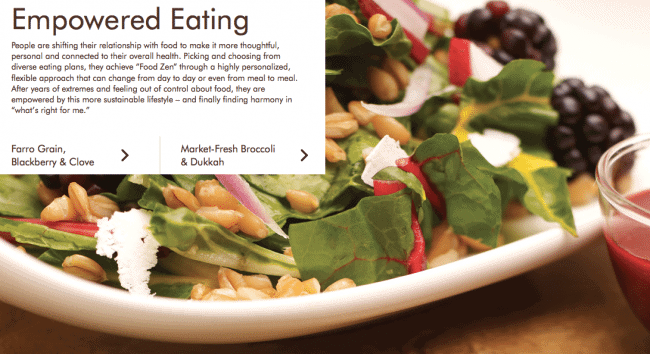 3. Empowered Eating. I can't think of a time in food where it seems like there have been more choices and more options. More than ever, eating can be personalized to fit your needs, whatever they may be. Choices abound. Many are going for a fresher farm to plate way of eating, some are focusing on eating local, while others may be selecting specialized diets to fit their personal health needs. This is certainly a time when eating your way is not only acceptable, but to be embraced.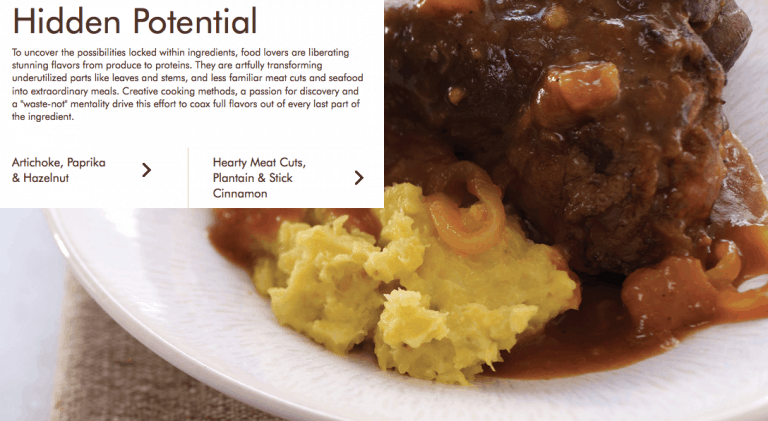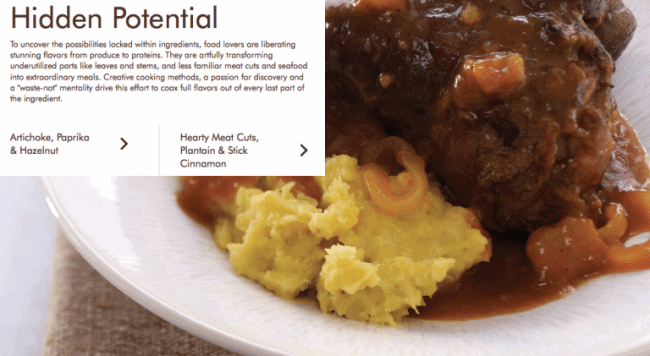 4. Hidden Potential. Taking some cures from Empowered Eating, we are finding new ways to blend flavors and even new foods to enjoy. My brother and his wife have recently started taking part in local produce co-ops as well as buying their own beef from a farm only a few hours from their home. With this comes new cuts of beef they may have not eaten before as well as new fruits and vegetables finding the way to their kitchen table. Foods that in years past we may have thrown out or passed by, we are trying, experimenting with and embracing. This also ties into the theory of not letting anything goes to waste. I have no doubt this is how my grandparents grew up eating – all cuts of meat were used and every piece of fruit and vegetable was put to use.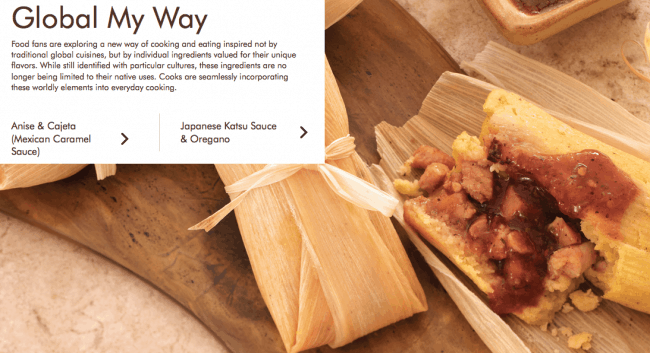 5. Global My Way. Food fans are exploring and finding their own way of including global flavors in their foods and these ingredients are no longer being limited to their native use. I love this trend. Living in Phoenix, Arizona, almost every supermarket has a variety of foods items from Mexico. Truth be told, I don't know how I'm supposed to use most of those items, but that doesn't always stop my from buying them and using them "my" way. A recent example of that is the Chocolate Caramel Pretzel Seven Layer Bars I made using La Lechera Dulce De Leche. I couldn't even read the can, but I still wanted to find a way to work it into a recipe, and it worked wonderfully, even if it wasn't the "right" way to use it.
There is so much more to the McCormick Flavor Forecast, including some amazing and creative recipes.

Recipes like Bittersweet Chocolate Tortes With Passion Fruit Cream, Cocoa Rubbed Ribs With Passion Fruit BBQ Sauce, Charred Orange Colada, Charred Orange Sorbet With Warm Rum Sauce & Spiced Cookie Bars, Fried Chicken And Waffles With Molasses-Cider Syrup and Cajeta Sauce With Anise (Mexican Carmel Sauce). I will be sharing more about the Flavor Forecast with you as the new year arrives, but in the meantime head over to the Flavor Forecast Website to find out more about the future of flavor!