I am so excited to have some talented contributors joining me here at Love From The Oven in the coming year. My goal is to share some of the amazing talent that is out there, and hopefully introduce you to some bloggers that I am sure you will love as much as I do. I've thought about doing this for about a year, and figured the new year would be the perfect time to finally make it happen, and I am SO excited about it. Every month, the Love From The Oven contributors will be sharing a post here on the blog, focusing on their favorite things and what they do the best, with great recipes, printables, tips and tricks, and whatever magic they have up their sleeves. I'll still be blogging the same as always, this is just like a fabulous bonus. 🙂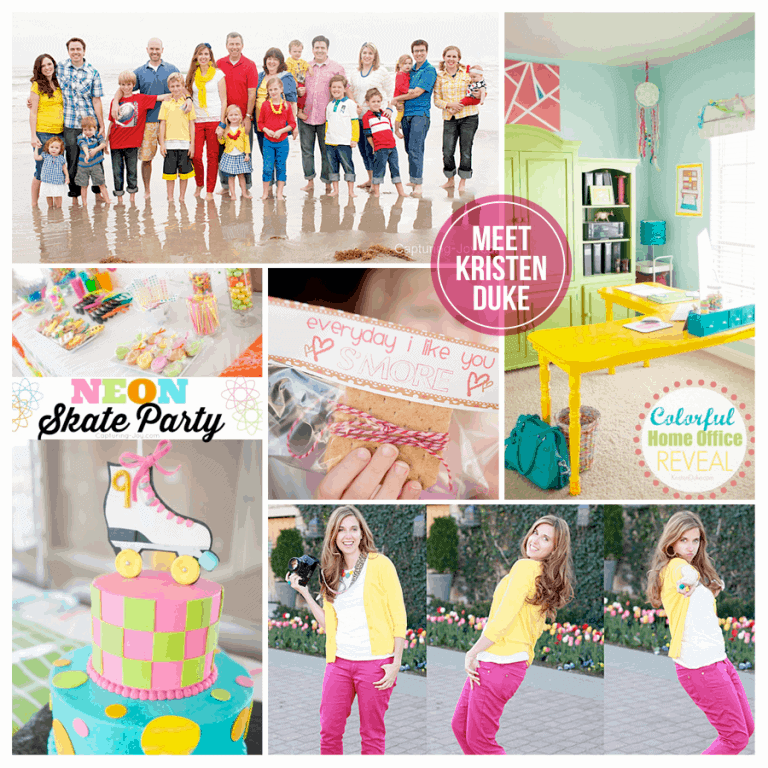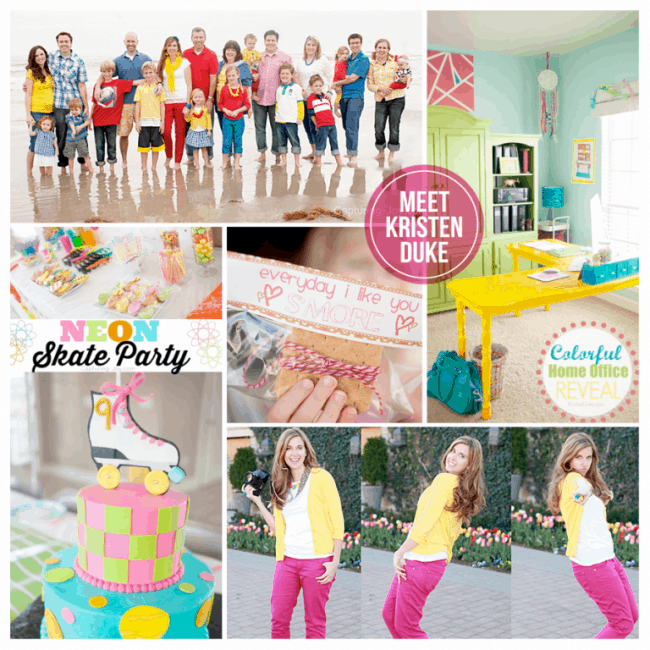 The first contributor I'm going to introduce you to is Kristen Duke, from Capturing Joy With Kristen Duke. I've been a fan of hers for a long time (we're talking fan-girl here, really, like I'd act all awkward and semi-stalker-ish if I saw her in person), so I was beyond thrilled when she decided to join me and share some of her talent here on my little online home. She's a super talented photographer with a love of color that wins my heart over and over agin. From photo tips and tricks, fresh and fun home decor (I'm seriously obsessed with her home office), awesome gift ideas, party ideas, great printables to delicious recipes, she has so much to share and I am SO excited that she's sharing some of it here.
So meet Kristen! 🙂 Kristen, I am so happy to have you here!
Hi there! I'm Kristen Duke, and I'm thrilled to be introducing myself to all of you! I share all kinds of fun stuff over at Capturing Joy, and I'm going to give you a snippet of that goodness today!
I've been a family and portrait photographer for over 10 years now, and I love capturing family happiness! I was born in Texas, and lived my childhood in New Orleans and Houston. I graduated from Brigham Young University in 2000, and got married, and had my first child shortly thereafter. I now have two handsome boys (14 & 12) and two beautiful girls (9 & 5), and live with my handy husband in Austin, Texas. I've been blessed to be a stay-at-home mama, and love helping in my kids classrooms and going on field trips. Photography has been a great hobby turned business that I can do when I want, but have set that aside quite a bit for my new found love of BLOGGING!
My creative blog started in 2010 where I started sharing photo tips, and then collaborated with another blogger, which eventually led to the release of my beginner photography book, Say NO to Auto.
From there, the blogging fire caught on, and I was grateful to have a place to dump all of the creative ideas swirling around in my head!
A big passion of mine is Decorating with Pictures. I have a series every February where I share lots and lots of ideas to help people get pictures off of the computer and out into their homes. I have to get really creative around my home because we take pictures so often! See this Giant Frame tutorial up close on the link.
I continue to share random photo tips, but my blog has shifted to sharing Family Adventures such as our trip to Walt Disney World and our family Cruise. I like to share tips that helped me plan for those, and also tips from those trips to hopefully help others that go there in the future.
I've got a section on my site where I share our favorite family recipes, mostly the main dish and desserts. Most popular are Fudgy Vanilla Brownies and Parmesan Ham & Swiss Crescent rolls.
I've recently also loved sharing gift ideas, and did a week long series over the summer the week of MY birthday, about ideas to give people for birthday gifts.
I love to throw parties, tell life stories, share printables, and even share What I Wore every once in a while.
I've got a bit of a Home Tour up, too, still working on a few more spaces! Here is a peek at my tranquil Master Bedroom.
Now that you know about me, come on over, hang out for a while, you can even sign up for my weekly newsletter! You can also find me on all social media, too! Follow along on Instagram to share in a daily dose of fun. I'd love if you leave a response below and tell me where you read LOVE FROM THE OVEN from (what state/country) and what you love about her recipes!