A quick and easy treat idea for you today, inspired by one of my long time favorite summer treats from Dairy Queen – the cone dipped cone. There is something about that crunchy cone dip shell that I just love, especially when combined with the creamy ice cream underneath. Well this is a different spin on that, no ice cream here, just cupcakes and frosting!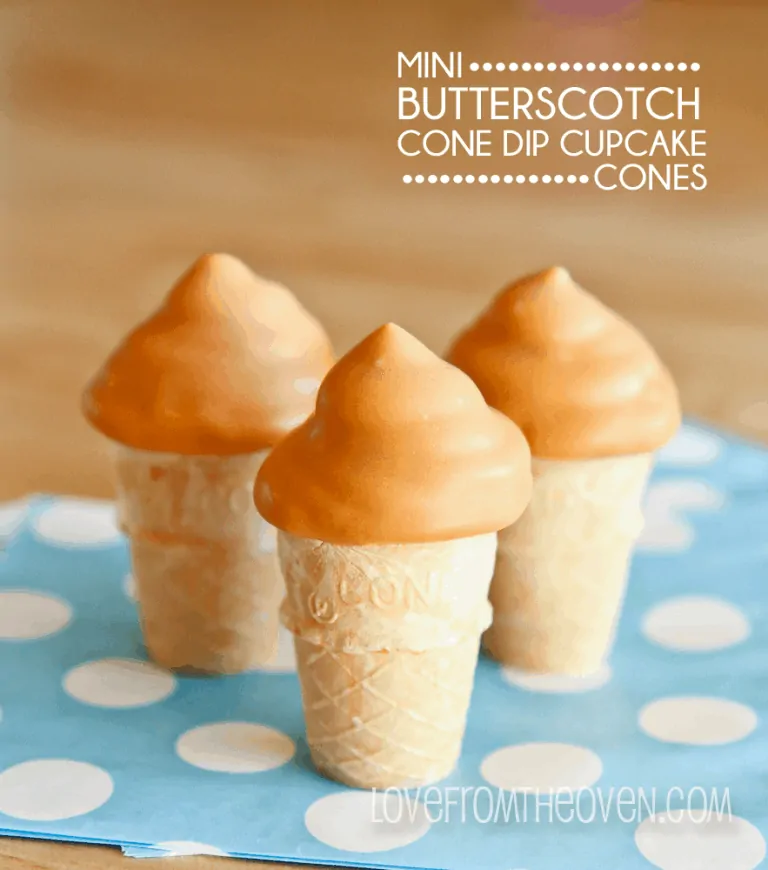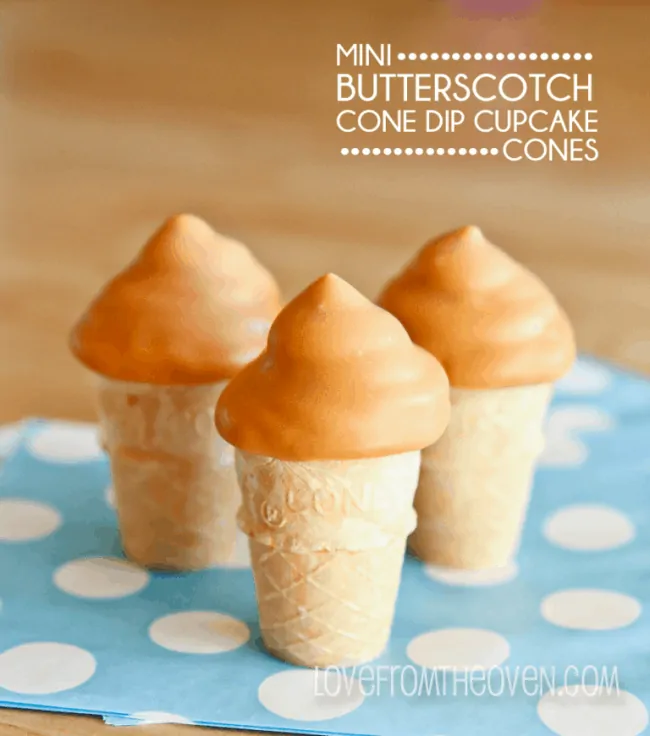 These are a super sweet mini size treat that pack a big flavor punch. I made these in my Kupcake Konz pans, which are awesome for making cupcake cones in, as well as transporting them in. I shared about my love of these pans earlier in the week in this post where I made some full size Cupcake Cones.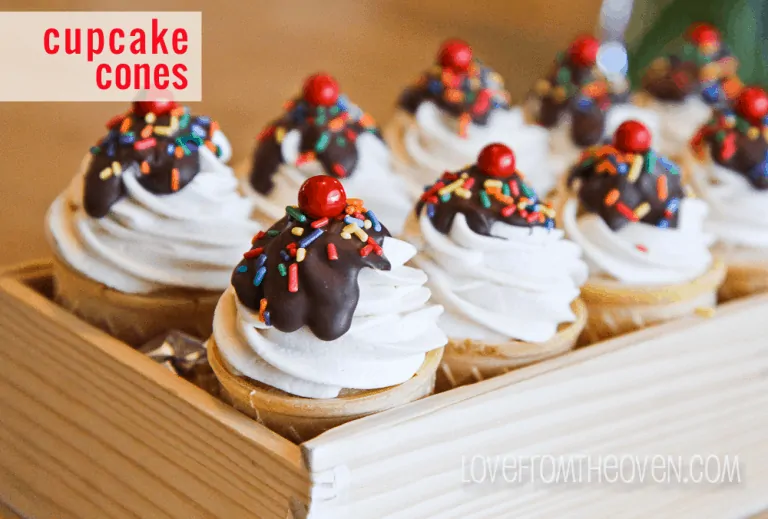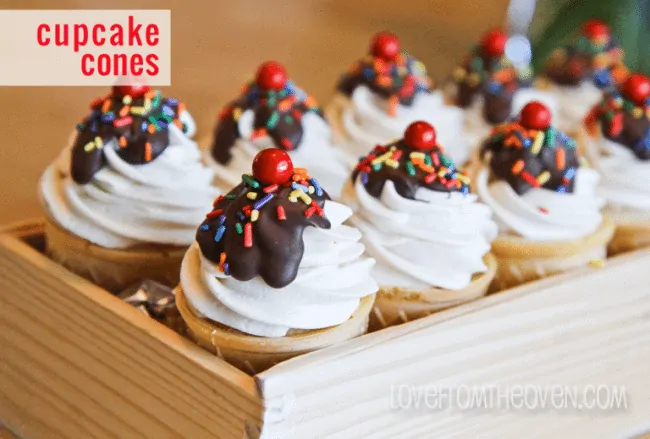 The Butterscotch Cone Dip Cupcake Cones are sort of like a hi-hat cupcake meets an ice cream cone, just bringing those different elements together. While I used butterscotch chips to make these, you could use other flavors like chocolate or even peanut butter – whatever works for YOU. 🙂    Here is what I did…
I used a white cake mix (though yellow would be great) to make my cupcakes. For a full detailed post on how I make these cute little cones and the pans I use, head to this post.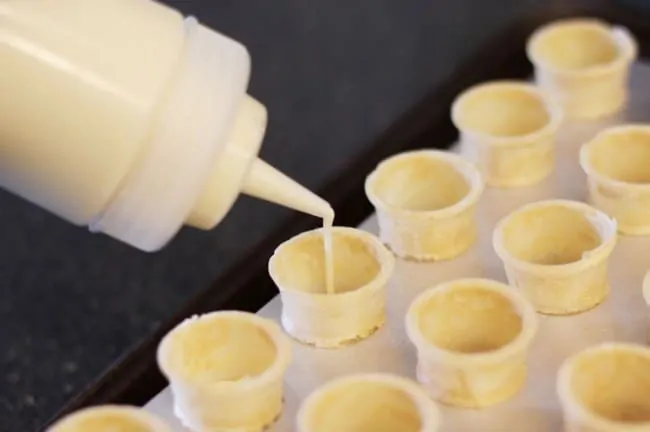 For the frosting I used I Am Baker's Perfect Crusting Buttercream.   This is a great frosting to use if you want to dip your treats into chocolate, as it holds up very well. I piped my frosting on to the cooled cupcake cones and then put them in the freezer to chill for about 30 minutes. Bakerella has an awesome tutorial on making Hi-Hat Cupcakes, which is basically the exact same thing you are doing with these, only they are on little cones. I wasn't able to get many photos of the process, that takes a few more hands than I had on deck.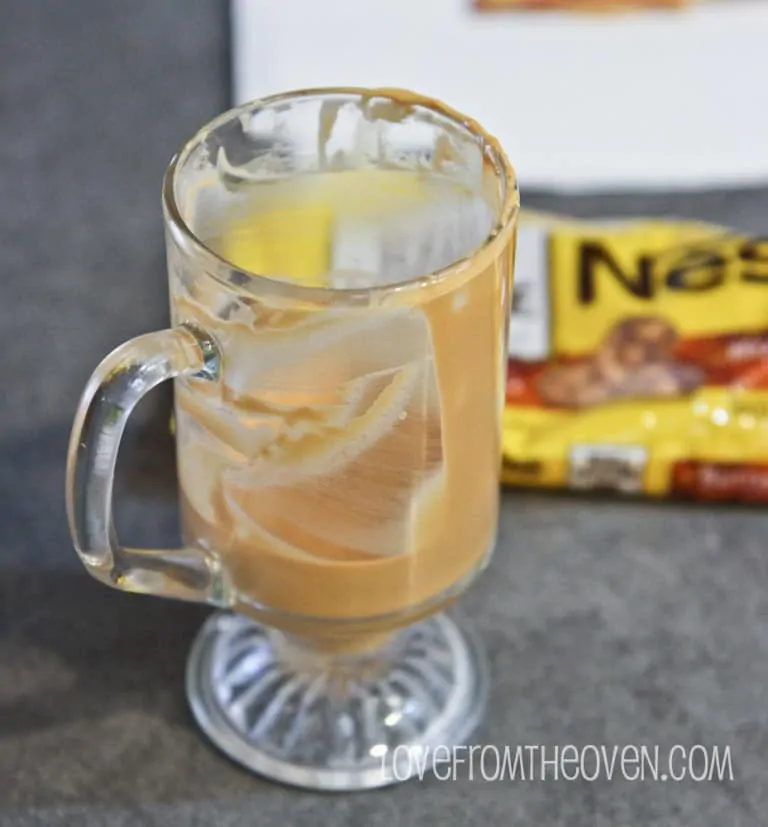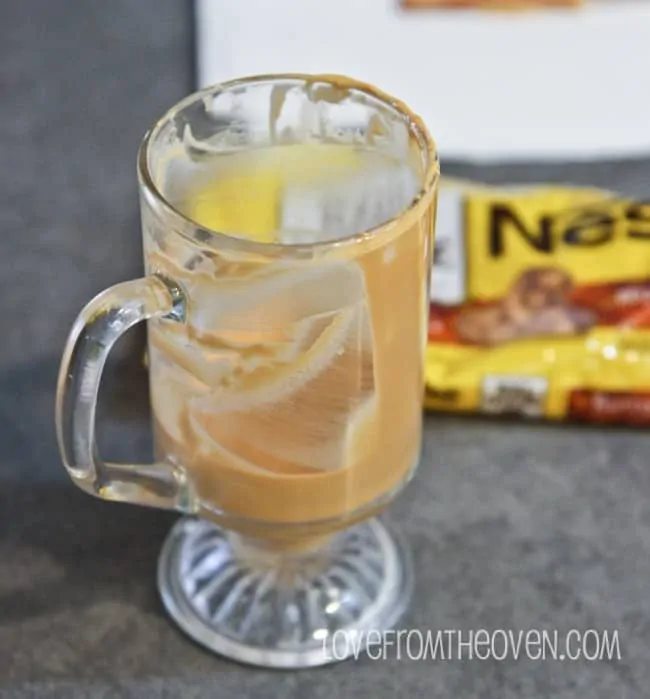 I usually do not use chocolate chips for dipping and coating things in chocolate, preferring to stick to chocolate coatings. For these however, I wanted to use butterscotch chips.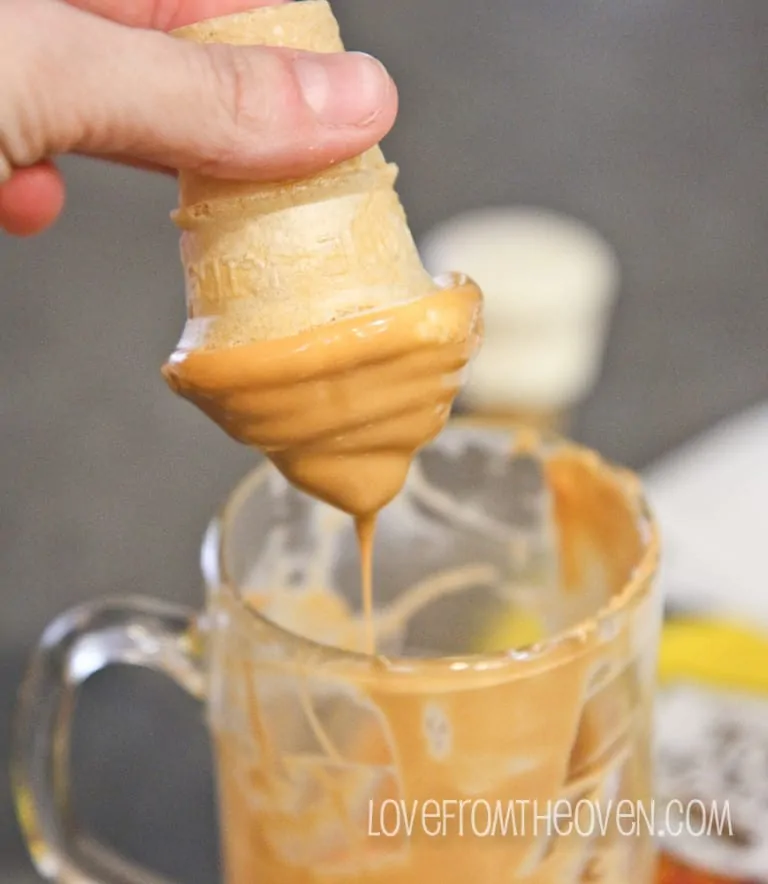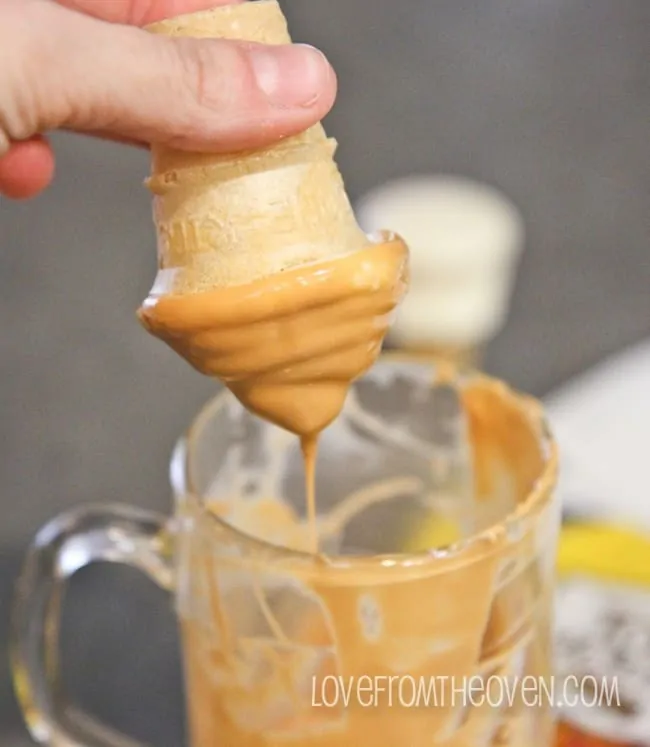 Butterscotch chips can be a bit temperamental to melt, and slow and low is the way to go. I also add Paramount Crystals to my chocolate (about a tablespoon for a bag of chips) which helps thin the chocolate out and I highly recommend it. I combine the two in a microwave safe bowl or glass and heat for 30 seconds at a time at 50% power.  If you overheat these, they will scorch and turn into a lump.    After the first two 30 second increments, I usually only heat for 15 seconds at a time on 50% power. After each run in the microwave I stir, stir and stir – often that is what's needed to get the chocolate melted and smooth. Once the chocolate is melted, and your cupcake cones frosted and chilled, you can start dipping. I prefer to pull a few out at a time to dip, leaving the rest in the freezer. You want to keep them cold so that the chocolate sets up quickly and the frosting doesn't melt.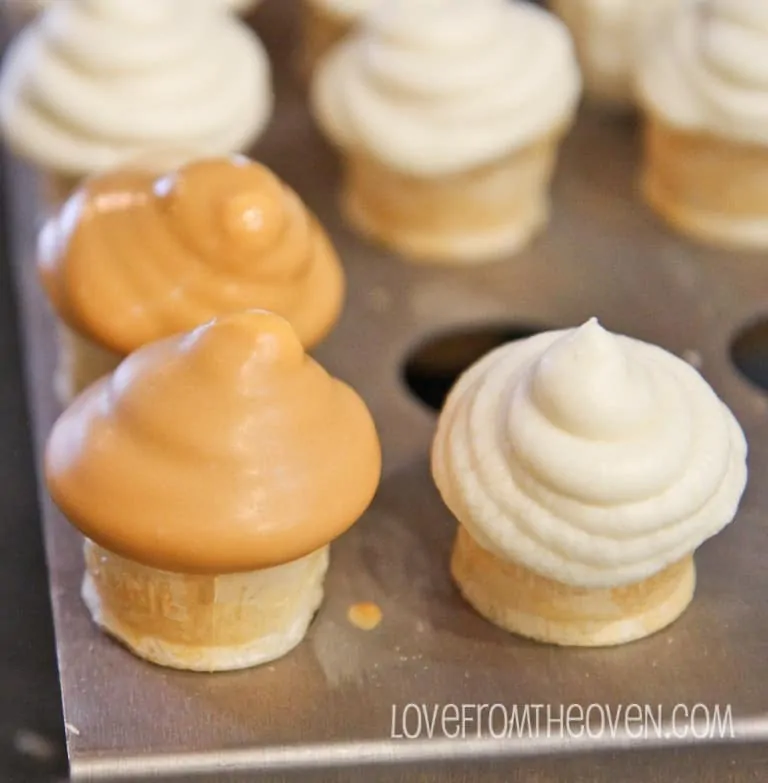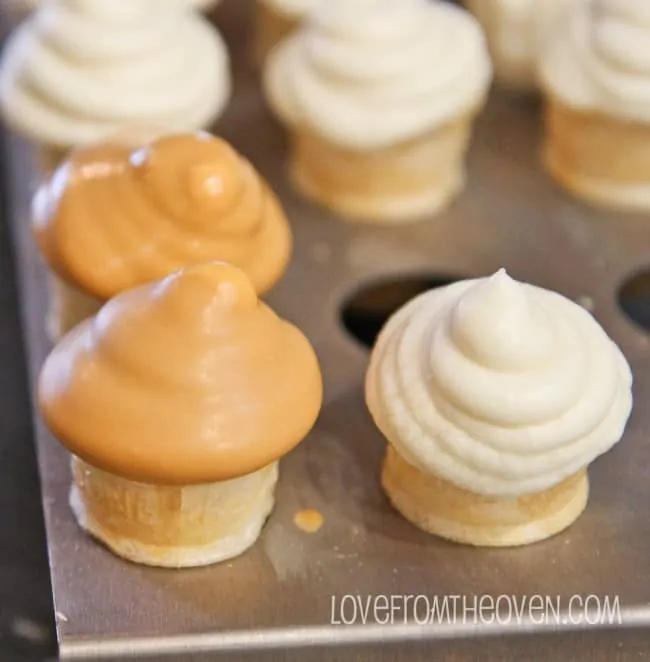 That's all there is to it. Pretty simple actually, just combining a few different ideas into one. An average cake mix will make more than one pan of mini cupcake cones using the Kupcake Konz pans (which holds 24 of the Mini Cup Joy Cones), so you can either make a double batch or use the rest of the cake batter to make cupcakes (which you can always freeze, unfrosted, and use later). I found that one bag of Nestle Butterscotch Chips worked out well for the 24 cones.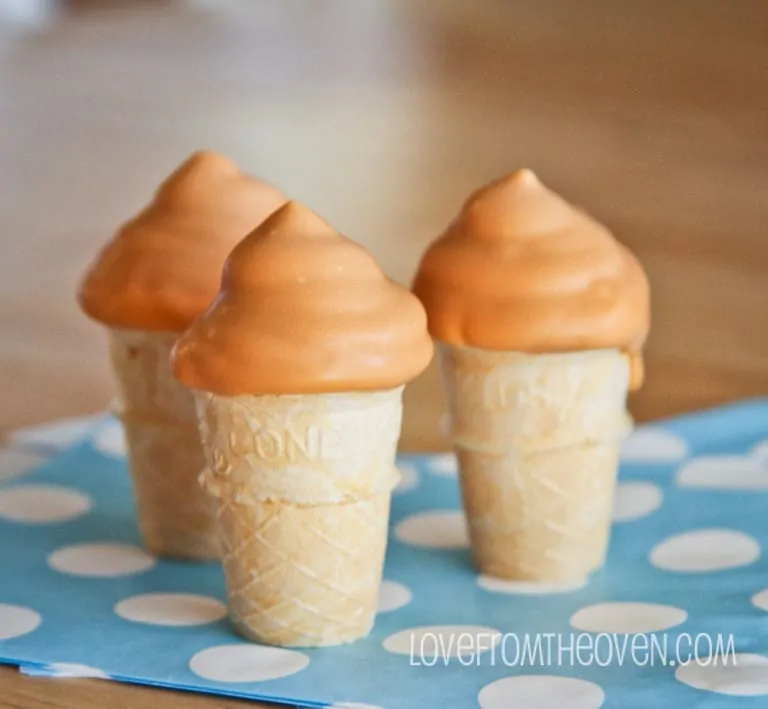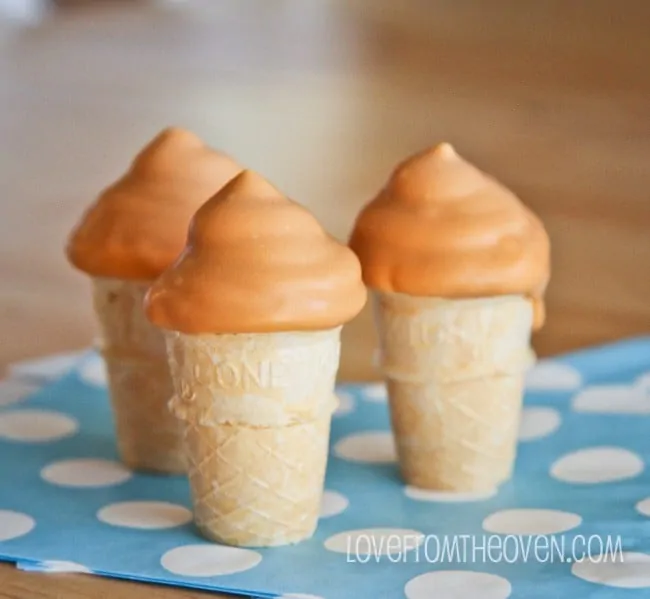 You will want to keep these in the fridge, especially if you live in Phoenix like I do! They can certainly stand up at room temperature for a while, but for storing them, the fridge is your friend, and then pull them out when ready to serve. Watch eyes light up as they try and figure out if you made ice cream cones or what kind of magical food trickery you are pulling off. 🙂
Below is a look at my "ugly tester" cone. Oh my word, that crunchy butterscotch shell, just what I was going for. Yum!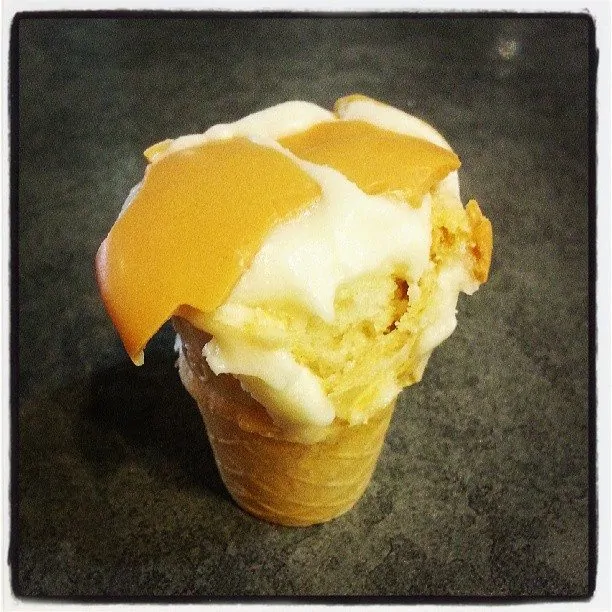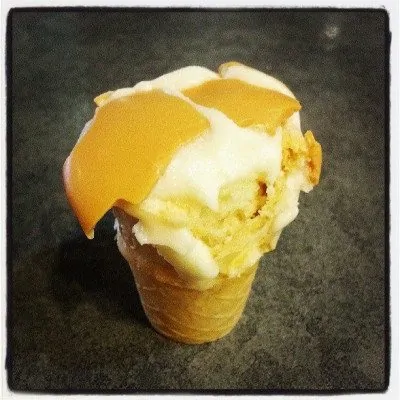 If you are a butterscotch fan like I am, you might want to check out these recipes as well…
Butterfinger Candy Bar Cupcakes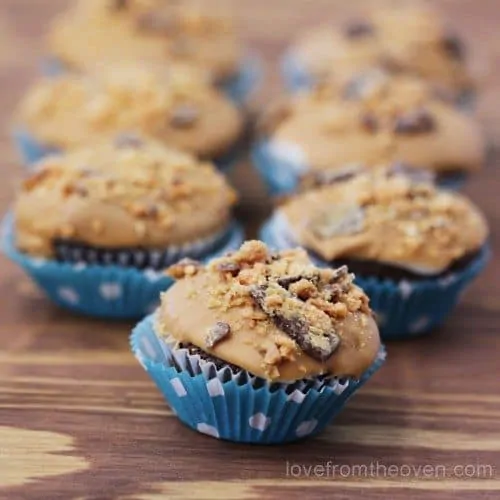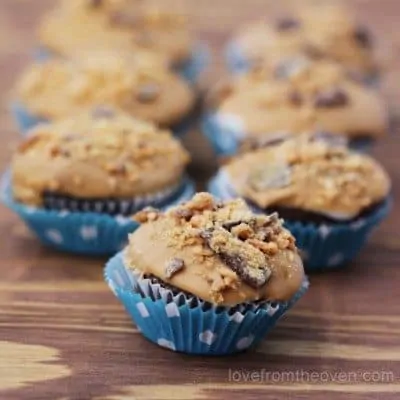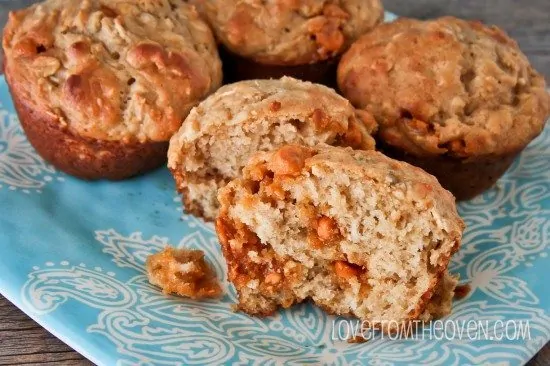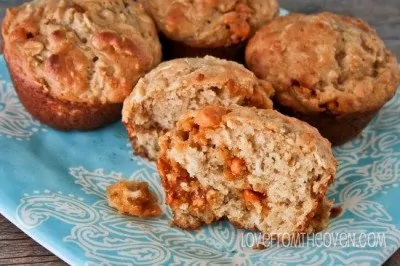 Enjoy!