At the beginning of each new year, I like to try and get organized. I want to go buy baskets and bins and calendars and planners and clear out the clutter and create a zen like atmosphere.
But, truth be told, I'm a very disorganized person. I get distracted easily. I walk into a room to get or do something and completely forget what it is I was going to do or get by the time I get there. I'm bad at details and keeping things in order. I don't have a junk drawer, I have junk drawers. I'm constantly bothered by the clutter and chaos that I create and quite often feel overwhelmed by it. And yes, in case you are wondering, I do have ADHD. Go figure.
Because I spend so much time in the kitchen, I have worked this year to get my kitchen a bit more organized. It's a work in progress, but baby steps, right? I'm by no means one to dish out organizational advice, but I thought I would share some of the resources that have inspired me, some of the things I have done, and some of the things I'd like to do. Let's start with the pantry.
My kitchen is small, and my pantry is smaller. And it's almost always a mess. As in "I'm afraid something will fall on my daughter and bonk her on the head when she opens it" type of mess. I knew something had to be done and I started looking around at how other people organized their pantries on Pinterest. Here are some great pantries that I found very inspiring…
The House Of Smiths – adore her patterned walls!
Honey And Fitz – love the pop of pretty blue.
I Heart Organizing – love the green and the storage on the door.
Better Homes And Gardens – everything fits just right.
Better Homes And Gardens – this is actually freezer organization. Brilliant!
Sand And Sisal – great organized and labeled containers.
Tatertots & Jello – organized and fun.
A Little Of This, A Little Of That – she has the big glass jars that I love.
After a bit of pantry envy, and really studying what it was that I was drawn to, I decided I needed baskets and containers. I also realized that buying a number of matching containers, all at once, was probably the best option. I tend to want to buy things on clearance, and I end up with pieces and parts that don't match, and I'm never truly content with the end result.  The uniform, clean and organized look that I longed for required matching containers and baskets.
While it's not exactly the work of art that so many are, here is my simple little somewhat organized pantry. It's still a work in progress, and it kind of breaks down after each Costco trip, but it's getting there.
Far from perfect, but this is just some of what came out of it, and went bye bye. I have no idea how all of that was crammed in there.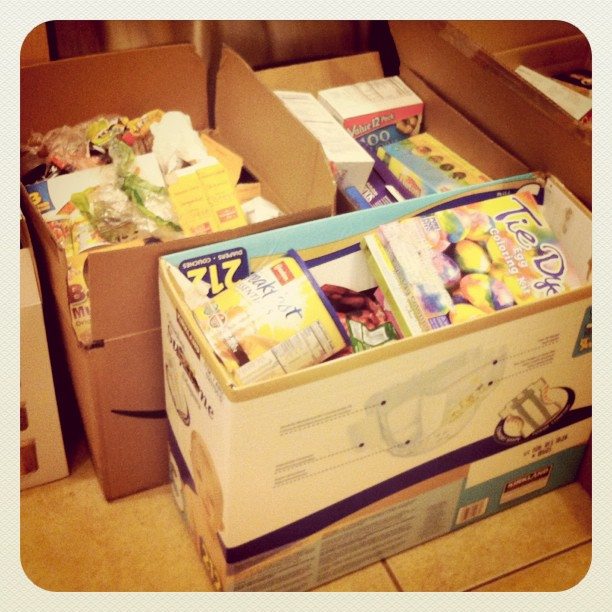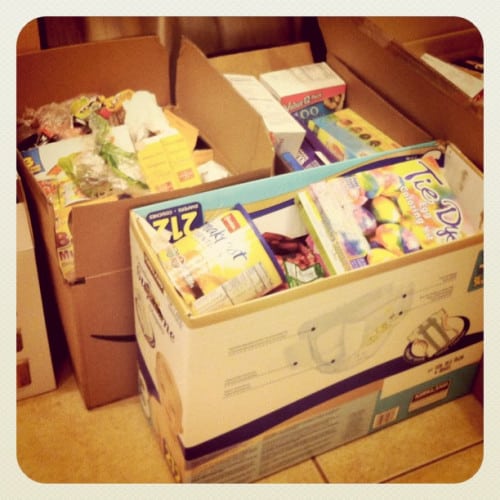 Before buying anything for my pantry, I measured the spaces in my pantry and sort of mapped out on paper what space I had and what I could do with it. I figured out what I would want to put in containers – things like sugar, oatmeal, chocolate chips, crackers… I needed to know what I wanted to do with the space before I started spending money. Once I figured that out, I found the containers and baskets, and picked out the dimensions that would work for my space.
I love the OXO Good Grips Pop Containers. I also have another brand, but have found that the OXO are so easy for both my daughter, and my mother (who has arthritis) to open, that I think they are the way to go. They are so easy to open that you can pop the top and get in to them without even taking them out of the pantry. While I absolutely LOVE the look of pantry labels like these on Landee See, Landee Do…
I decided against labeling mine. Working with such a small space, I wanted to have flexibility to change things as needed. If I had a larger pantry, I am pretty sure I would have labeled my containers.
I also ordered a multi pack of Sterilite Baskets.
The measurements for these baskets worked perfectly with my space, and I could order them through Amazon Prime, which is always a plus. Being white they are nice and neutral and a bit boring. This is the perfect time of year to pick up things like baskets and bins, as the stores are stocked full of them. You can find so many fun colors and whimsical patterns and prints. Bright and cheery colors make the task of getting organized more fun for me, and I find that I work harder to stay organized. Silly, but I guess I'm just a visual person. Check out some of these at Target (click on any photo to go to the product at Target.com).
There are still some things I would like to do to my pantry to make it more organized. I adore the idea of hanging bins inside of the pantry like this on Lil Blue Boo...
This is a great idea to have on the floor, it's so simple yet SO useful – I need to find a basket to do this with. It's from Ina Garten's kitchen over on House Beautiful. Of course the Barefoot Contessa has a great kitchen…
I love the idea of hanging an over the door organizer inside the pantry. I have a bi-fold door, so I can't do this, but I have one in my hall closet and I'm amazed at how much it holds.
We want to replace the shelves in our pantry soon (they could be a good six inches longer at least) and when we do that, I want to paint the inside of the pantry. In addition to the cute inspiration pantries at the beginning of this post, check out these pretty pantries…
Just Pleased As Punch…
In My Own Style used wallpaper inside her pantry – beautiful and affordable.
On my to do list in the very near future is to paint our pantry door. We recently replaced it, and right now it's just bare wood. I LOVE the idea of putting chalkboard paint on it, so we plan to paint most of the door white, with the top two inner panels painted in black chalkboard paint. I think it's such a cute idea, and a great place to keep track of what we are out of or need at the store.
Tea and Lime…
I think it's such a fun way to jazz up a white door, can't wait to do ours. Next I'm working on a post about organization in the rest of the kitchen, like on my always cluttered countertops…