Wow, do I have tasty muffin recipe for you today. Peanut Butter Banana Chocolate Chip Muffins – made safe for those with nut allergies thanks to The Sneaky Chef's No-Nut Butter, a fabulous peanut butter alternative. If you are fine with nuts, this recipe can be made with regular peanut butter, but I am so excited to a great option for those with nut allergies (like my kiddo).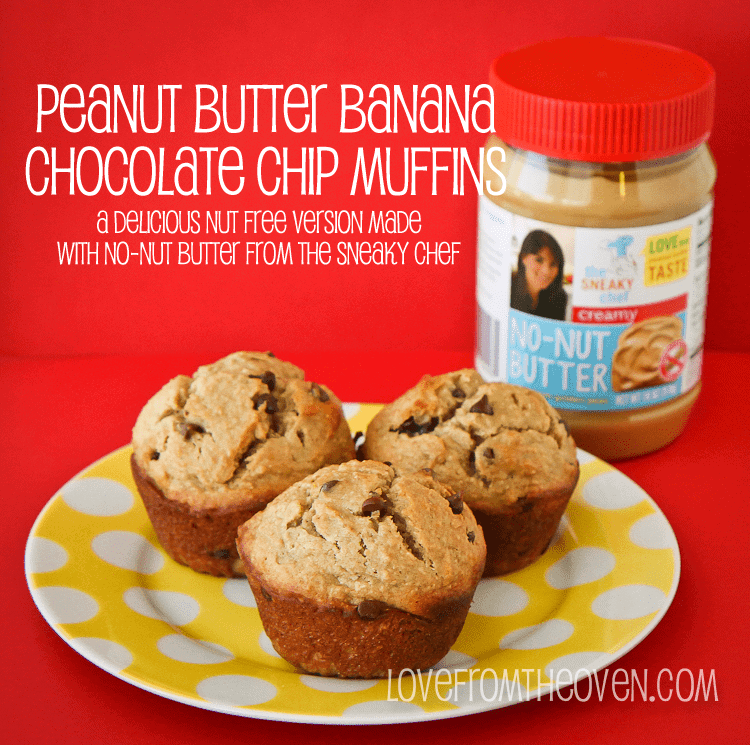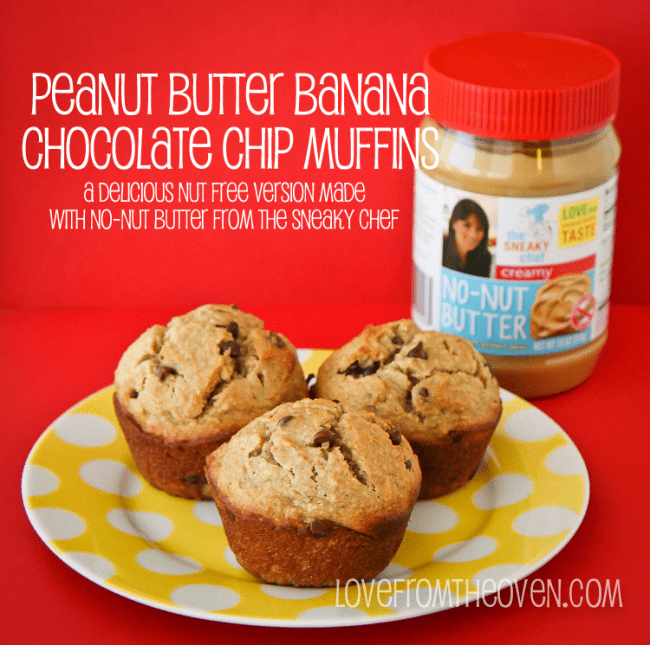 These muffins are SO good. Seriously, make them, be it with peanut butter or The Sneaky Chef's No-Nut Butter. Either way, you need to make these. They are incredible! These were a huge hit in our house.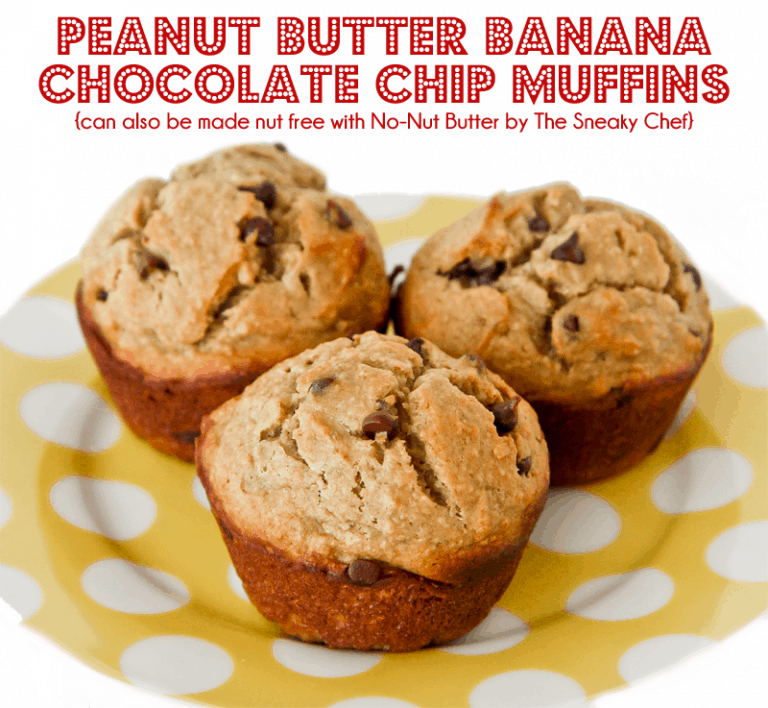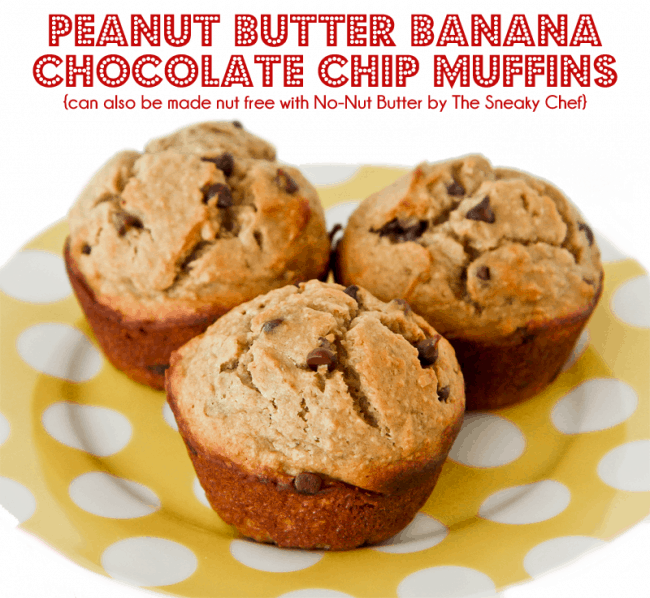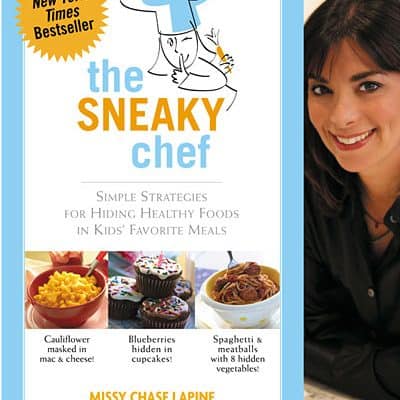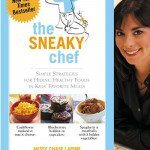 So let's chat a bit about No-Nut Butter by The Sneaky Chef. I've never been a fan of many of the nut free peanut butter alternatives. When I saw that The Sneaky Chef, Missy Chase Lapine, had a nut free peanut butter alternative out, I was intrigued. I have been a fan of her recipes for many years and love her cookbook, The Sneaky Chef. I have had great success hiding all kinds of healthy foods in what I make for my kids thanks to her recipes and advice. Given my positive experience, I was excited to try her No-Nut Butter and was thrilled when they offered to send me some to test out and review.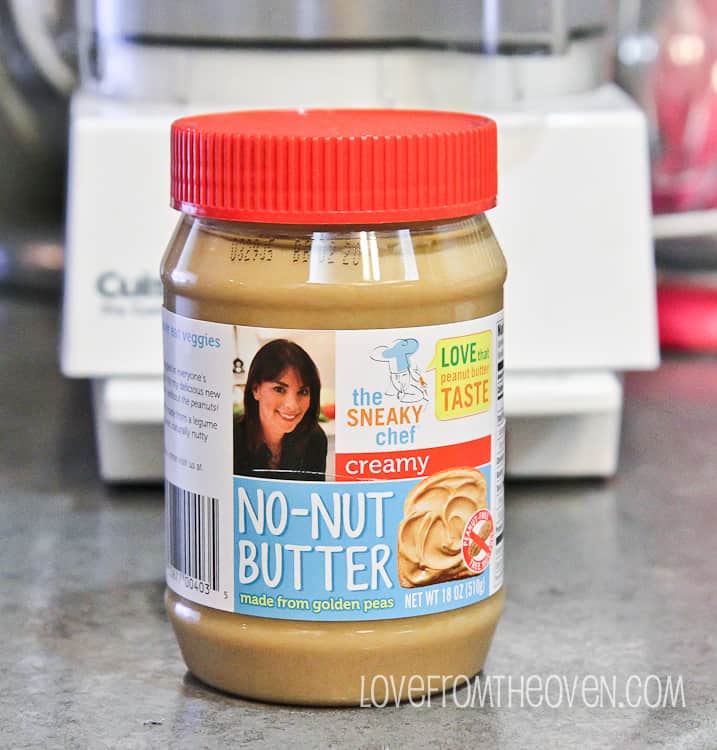 I'll get right to the most important part, what does it taste like? I'm happy to report that straight out of the jar, it's delicious. It smelled and tasted like peanut butter and the only real difference from actual peanut butter I noticed was that it seemed a tiny bit sweeter and slightly thinner. Had I not know I was eating a peanut free peanut butter, I might not have even noticed. I definitely give it a thumbs up.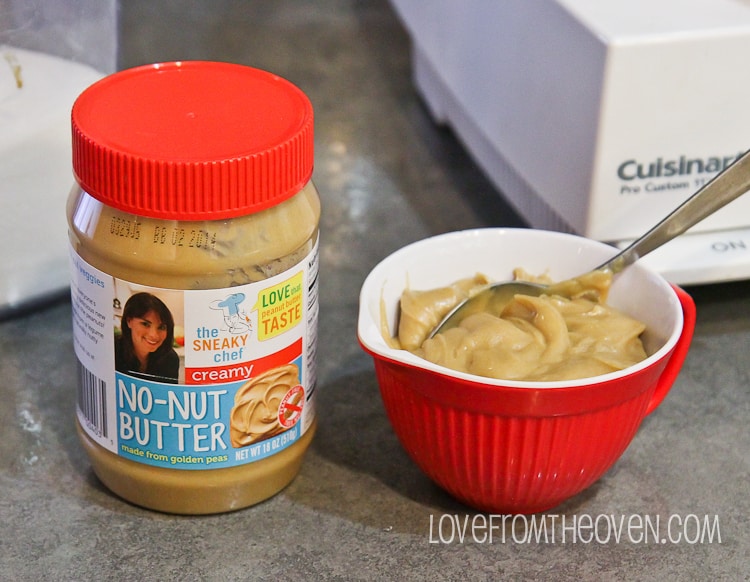 So if it's not made of peanuts, what its it made from? Unlike many peanut butter substitutes made from sunflower seeds, this is made from golden peas. At first thought that sounds a bit odd, but peanuts and peas are both legumes, so not as far apart as they sound. I am really excited to have a delicious way to start baking with peanut butter again – something we've really missed around here! Peanut butter can add such awesome flavor and texture to recipes, and The No-Nut Butter does the same. Here is some information from The Sneaky Chef about No-Nut Butter…
"Smooth texture, "peanutty" taste, no nut allergens, great for nut-free schools. Get ready to experience the taste of a PB & J again! Click here for Creamy No-Nut Butter Nutrition Facts
FEATURES:
100% peanut and tree nut-free
Produced in a nut-free facility
Great for nut-free schools
Soy free
No high fructose corn syrup
No hydrogenated oils
No artificial colors or flavors
Gluten free
BPA free jar
Awesome taste!"
The Sneaky Chef's No-Nut Butter is currently available at select Whole Foods locations and at Netgrocer.com.
Okay, so back to the muffins! Oh my goodness, these are just crazy good. If nut allergies aren't an issue for you, you can absolutely replace the No-Nut Butter with peanut butter.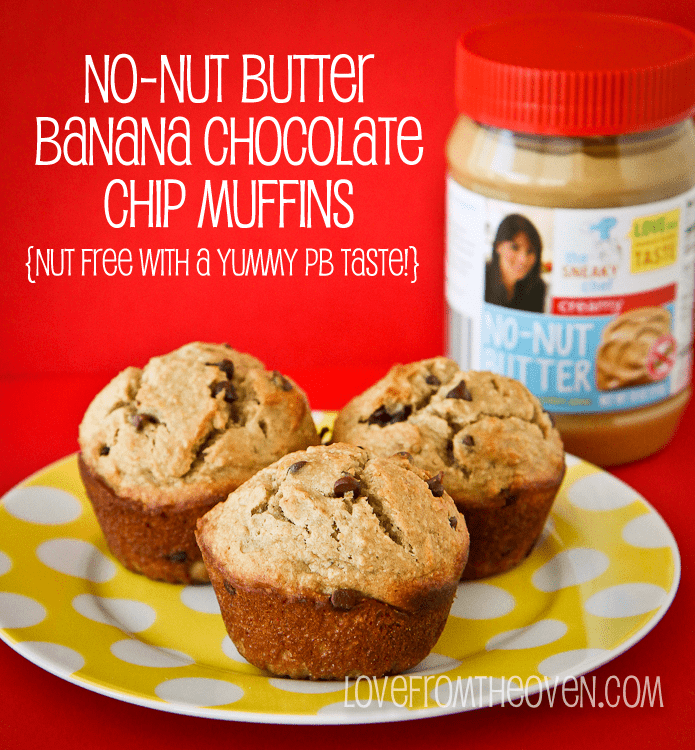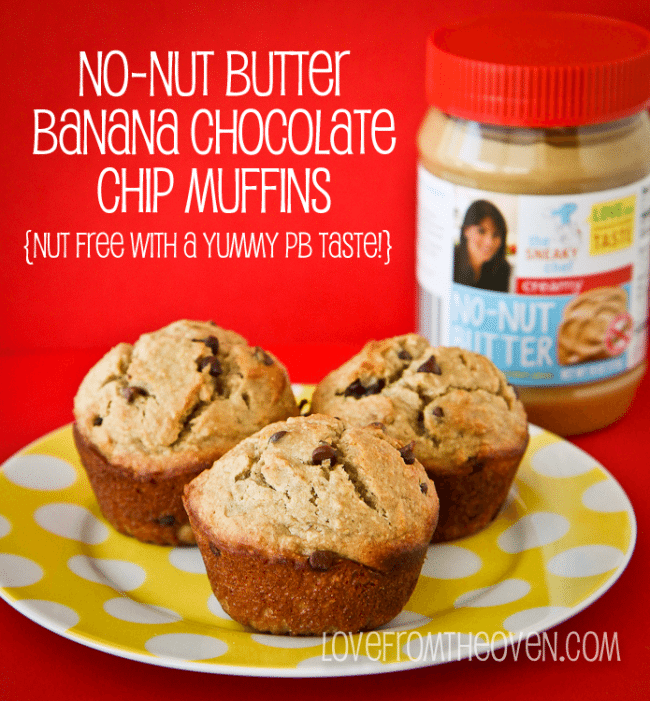 One thing I do with all of my banana muffins is puree my bananas and other wet ingredients in my food processor. You do not have to do this, but if you are like me and don't always love the banana texture, the food processor is an awesome option. I added my No-Nut Butter to my banana puree when preparing these.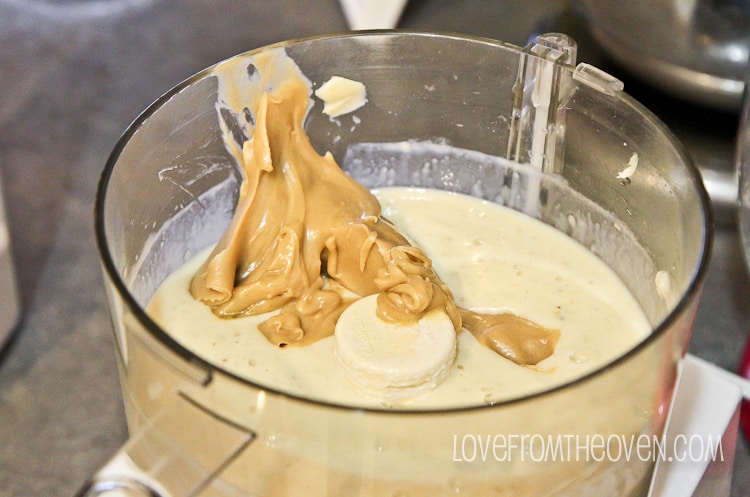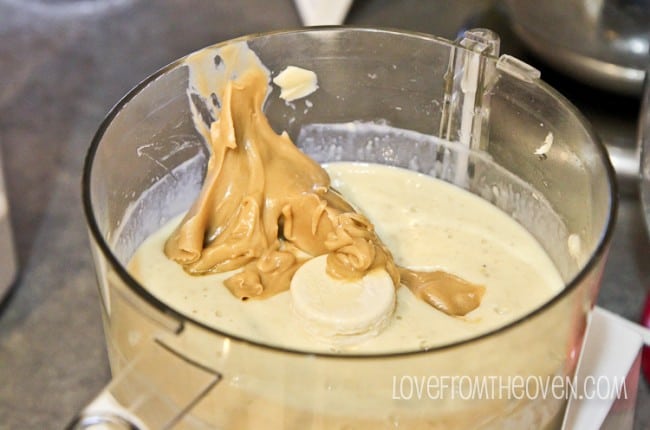 This recipe makes 18 standard size muffins. Like most muffins, they freeze wonderfully.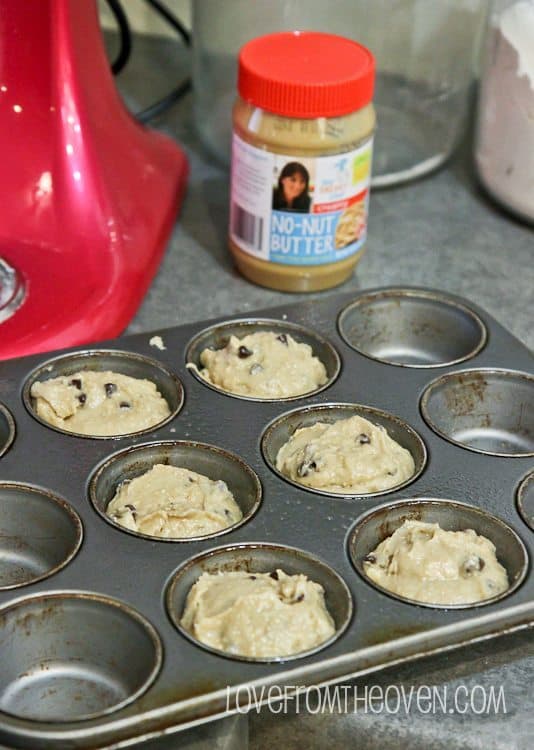 Here's the recipe. I also have a giveaway coming up for you this week which includes The Sneaky Chef's No Nut Butter. Yay! Stay tuned for that!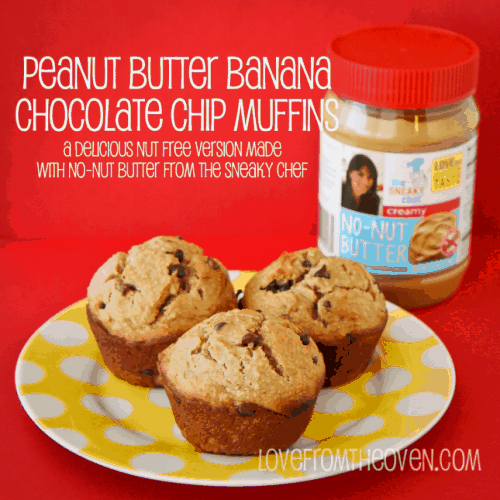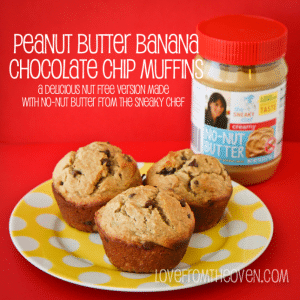 No-Nut Butter Peanut Butter Banana Chocolate Chip Muffins
These delicious muffins can be made using peanut butter or No-Nut Butter (a peanut & tree nut free product) by The Sneaky Chef. A fabulous way to start the day!
Ingredients
This delicious muffin recipe can be made with peanut butter or can be made nut free with No-Nut Butter!
1 1/2

cups

white whole wheat flour

1/2

cup

oat bran

you can replace this with 1/2 cup of additional white whole wheat flour

1/2

cup

sugar

1/2

cup

brown sugar

1

teaspoon

baking soda

1/2

teaspoon

baking powder

1/2

teaspoon

salt

2/3

cup

Sneaky Chef No-Nut Butter

no peanut allergies, you can use your fave peanut butter

1

egg

1

egg white

1 1/2

cup

ripe mashed bananas

I use about three large bananas

1

container

approx 1/2 cup Greek vanilla yogurt

1/4

cup

milk

1

teaspoon

vanilla

1

cup

miniature chocolate chips

these can be left out
Instructions
In a large bowl, combine flour, oat bran, sugar, brown sugar, baking soda, baking powder and salt.

In a mixing bowl, or food processor, combine bananas, No-Nut Butter, egg, egg white, Greek yogurt, vanilla and milk. Blend or mix until smooth.

Stir wet ingredients into your dry ingredients until just combined (do not over mix).

Stir in chocolate chips.

Scoop into muffin pan that has been sprayed with non-stick cooking spray. Makes 18 standard size muffins.

Bake for approximately 20 minutes or until lightly browned and spring back lightly when touched.