Before my little one started kindergarten this year, I used to day dream about how clean the house would be when both kids were in school. It would be sparkling and pristine and totally stay that way. Then I woke up, the kids headed to school and I am left wondering how my house constantly looks like a tornado, equipped with reams of paper, markers and glue sticks, keeps blowing through. Clean dream denied!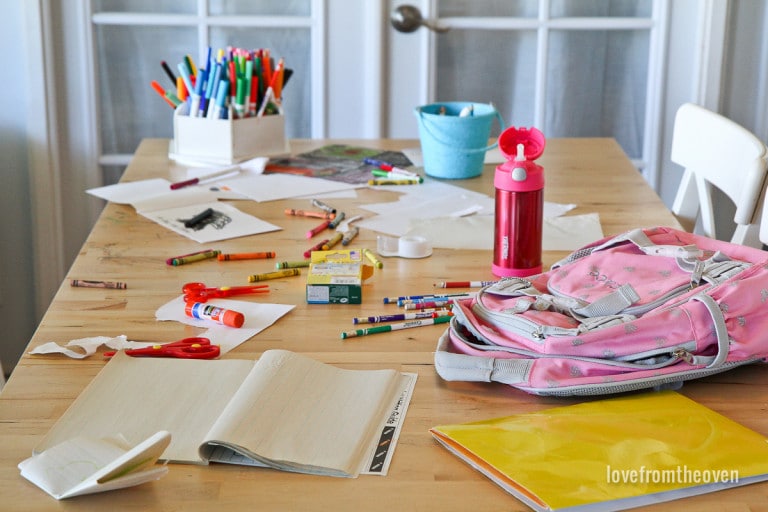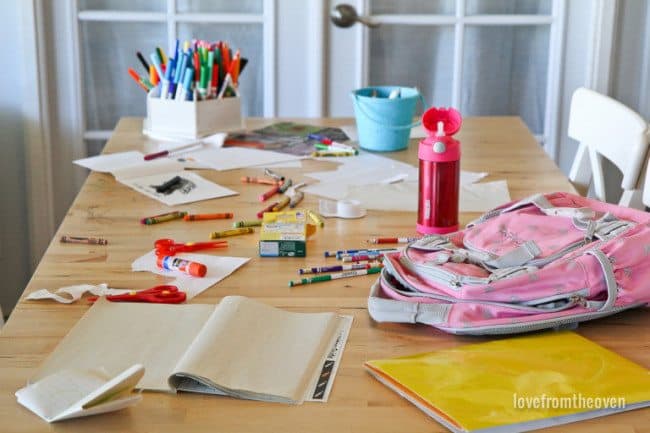 My little one is all about drawing, coloring, cutting and gluing all of the above to any and every surface her little hands can get access to. And bless her heart, keeping her coloring confined to actual paper, well, that's just crazy talk, COLOR ALL THE TABLE! And then there are the backpacks and lunchboxes (which never come home nearly as neat as I send the to school) and all of the other random stuff that seems to find it's way to my house, including 75% of the sand that was once on the kindergarten playground. Needless to say my dreams of a neat clean house have had to adapt a bit. Today I'm partnering with my friends at Bounty to share how I'm cleaning up the back to school messes.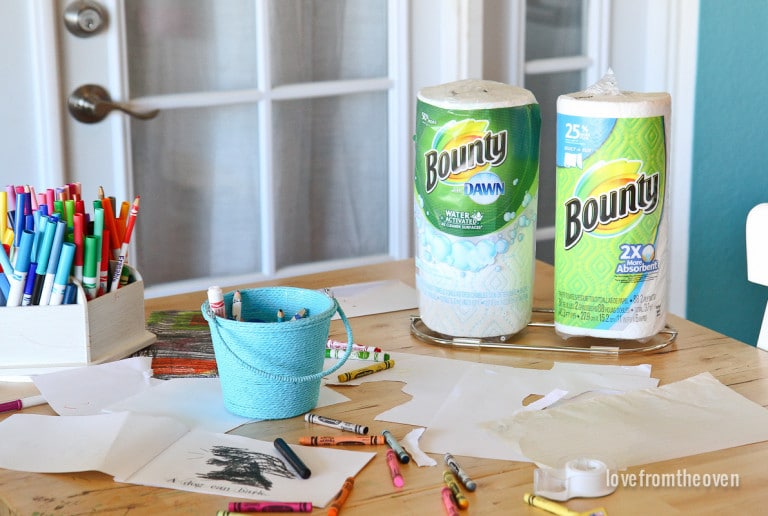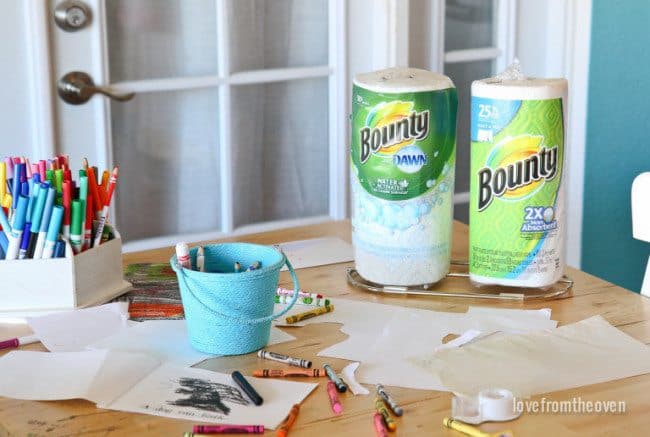 I think we are like most families in that one of our biggest messes is the never ending trail of paper coming into the house. I think a ream of paper must come home each week! It's always piling up on my countertops and I'm never sure where it's going. This year I am trying to tackle that mess.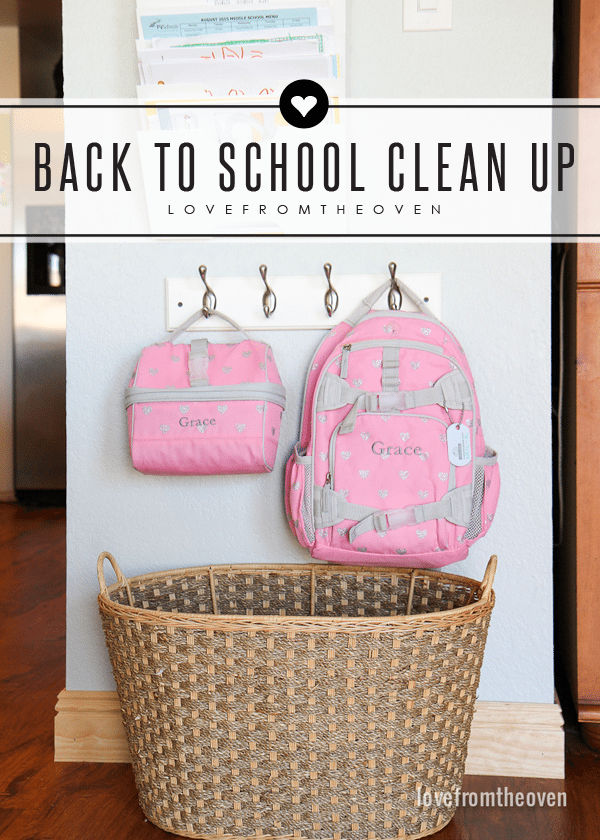 We installed a small wall mounted file holder right above our backpack hooks. I have the file areas divided by child, and it's been awesome at helping keep the paper messes from getting out of hand. The papers can go right into the file holder, and I can then go through them and sort, file or dispose of when I have a bit more time. I won't lie, the papers in it aren't super organized, because I'm not super organized, but they are all right there. It's mounted right below our family calendar, which I made out of a glass picture frame. I print off 16×20 photos of our calendar with the standing activities, then use white board markers to write on new ones.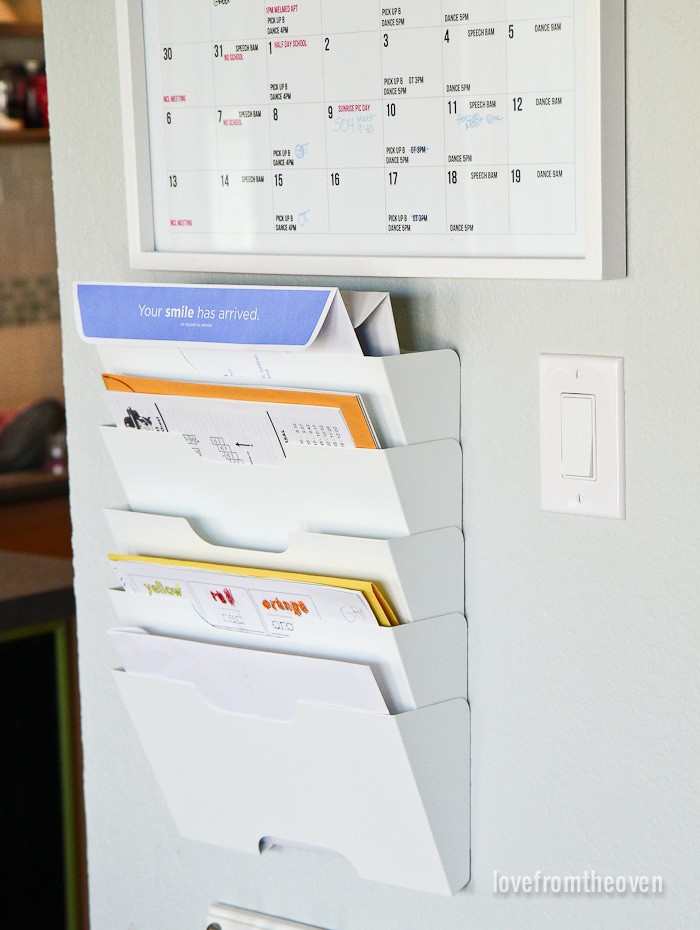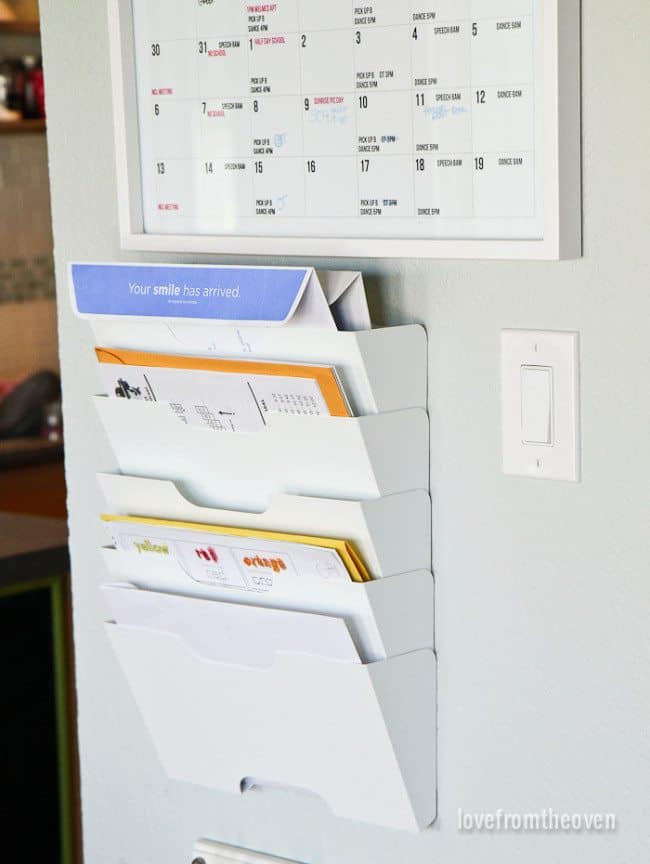 I also keep a basket just below this area, which is where other random items can land, instead of all over the house. It not only helps contain the mess, but it makes things easier to find.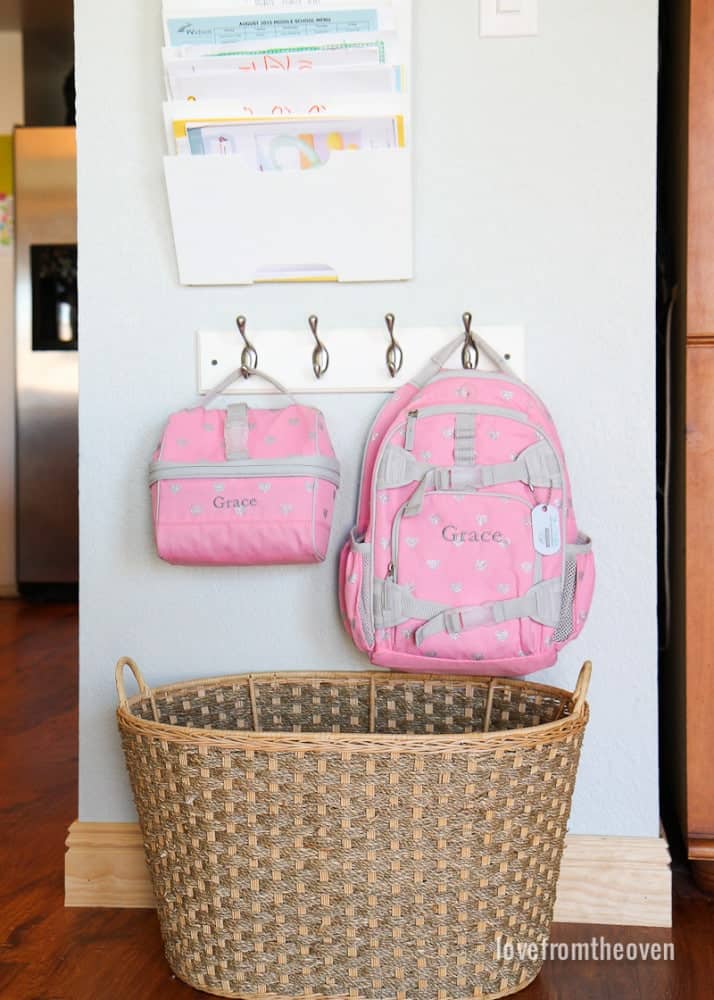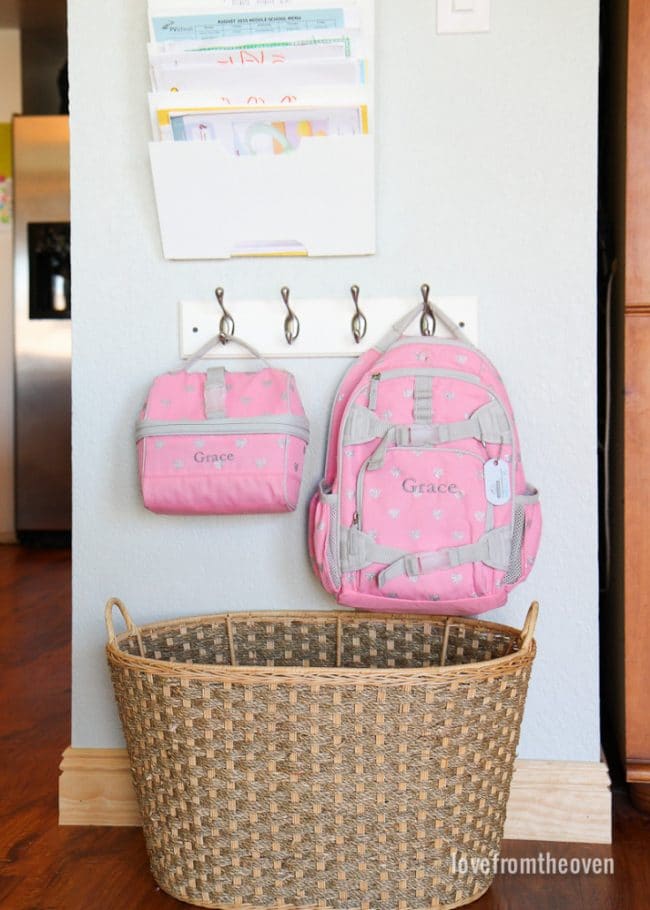 A few other things that I've done to help manage the messes that come home from school include putting a trash can in the garage, so that any obvious trash can get thrown away before it even makes it into the house. I also keep a bottle of water and a roll of Bounty paper towels in my car, because sometimes that little one just gets in the car a hot mess, and needs a bit of clean up before we even pass go.
Doing those things is absolutely helping us control the mess that comes with coming and going to school each day. But then there are the messes at home. Right in the middle of it all, at the kitchen table!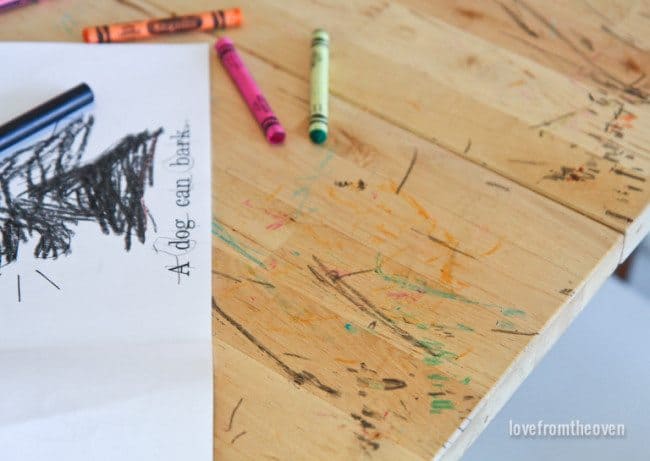 If you have a little one, you probably understand the plight of messy fingers, crayon marks, marker and pencil marks, glitter, glue, and all that fun stuff. Our kitchen table doubles as our homework / art space, and no matter how neat it is when we start the day, before we even make it out the door in the morning, it's already a mess. I try very hard to let the girls be creative and make messes, because that's part of what being a kid is all about. I've always been a big Bounty Paper Towel user, but now I'm also hooked on the Bounty With Dawn, as it makes cleaning up both greasy kitchen messes AND sticky, gluey, art messes so easy.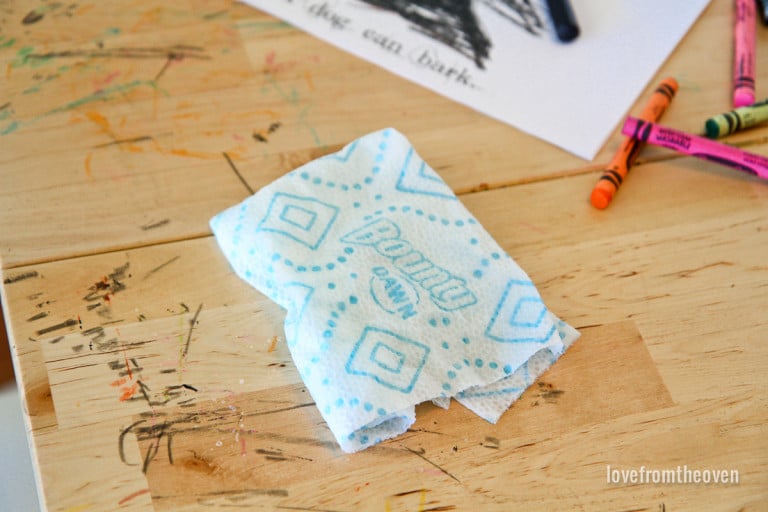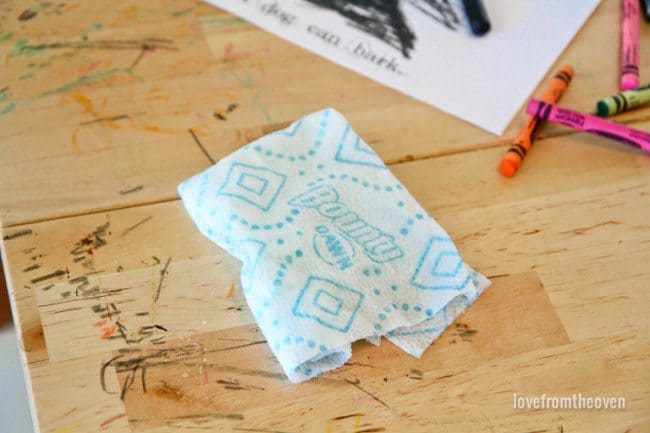 Yep, that's what my table looks like every single day. You can't really see the glue gunk, but it's there. I LOVE the Bounty With Dawn for cleaning up the table. I get a sheet wet, squeeze it out, and no need to get out any spray cleaners or anything else. Just a few quick scrubs and the mess comes right up.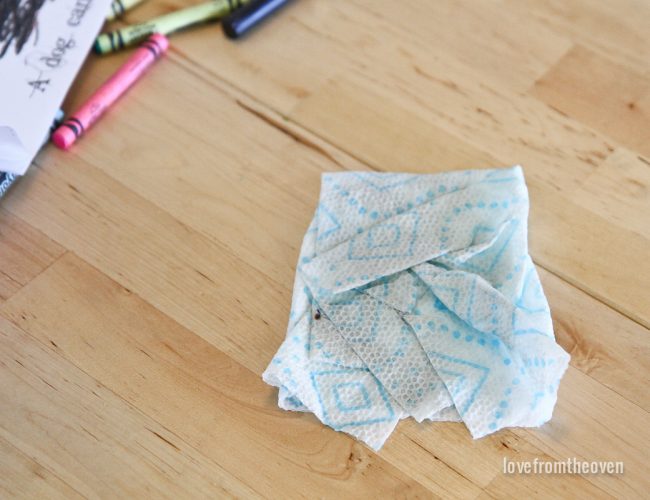 I love having both my standard Bounty Paper Towels and my Bounty With Dawn, because they are both great for cleaning up different things. If you haven't tried Bounty With Dawn yet, you are going to love them. They are not just for cleaning up art masterpiece messes, but also sticky, greasy, ooey gooey, kitchen messes. They really make cleaning up tough messes quick and easy.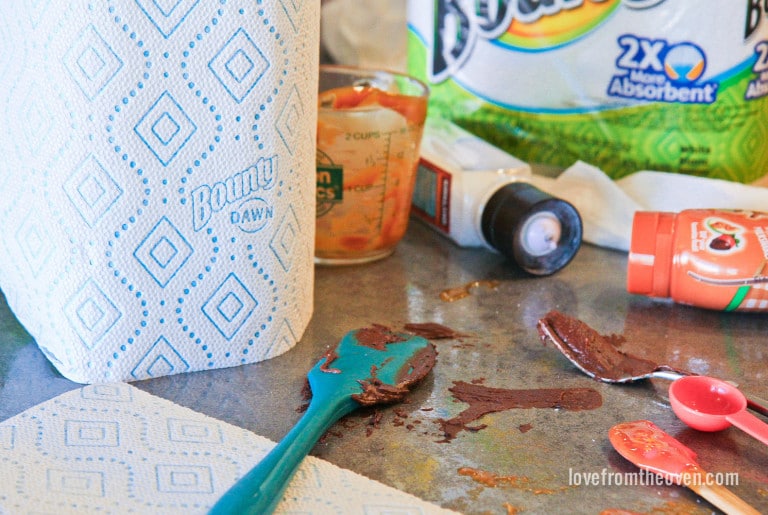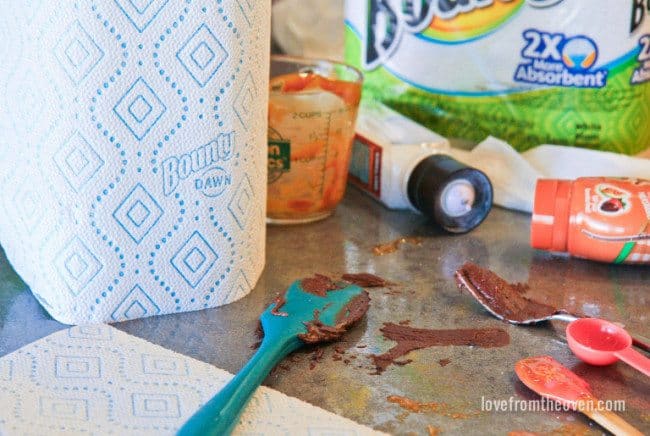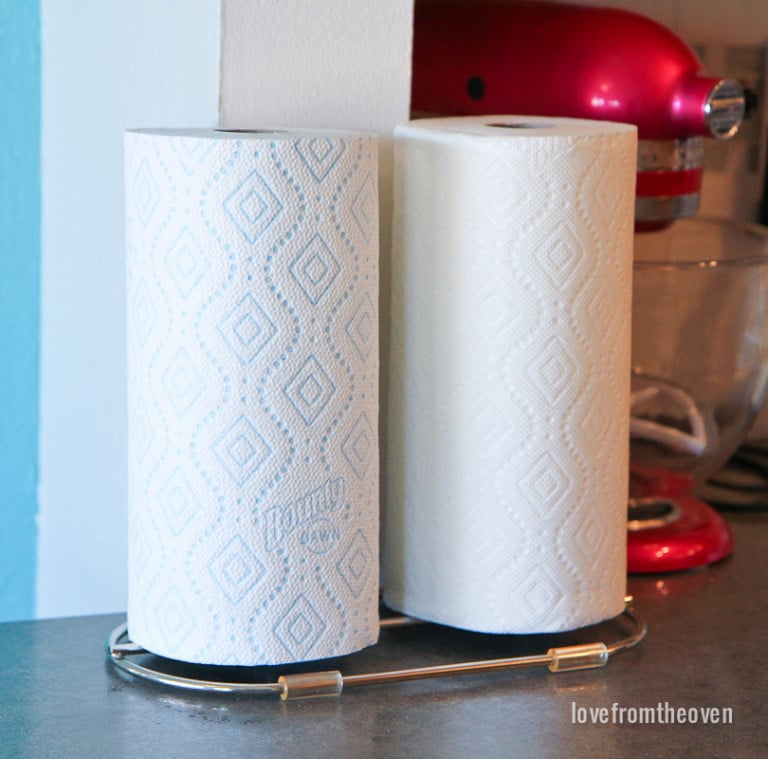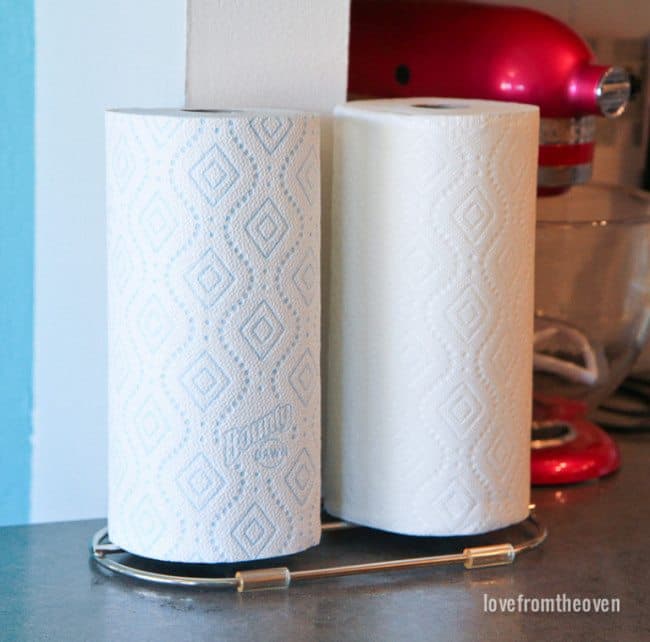 Disclosure: This post was sponsored by Bounty. All opinions however are mine and mine alone. Free paper towels are provided directly from Bounty. Love From The Oven is not responsible for providing or sending product and can not be held responsible if product is not received.