It's no secret that I love PEEPS.  I may have made a recipe or two (or twenty) with the iconic colorful marshmallow treats.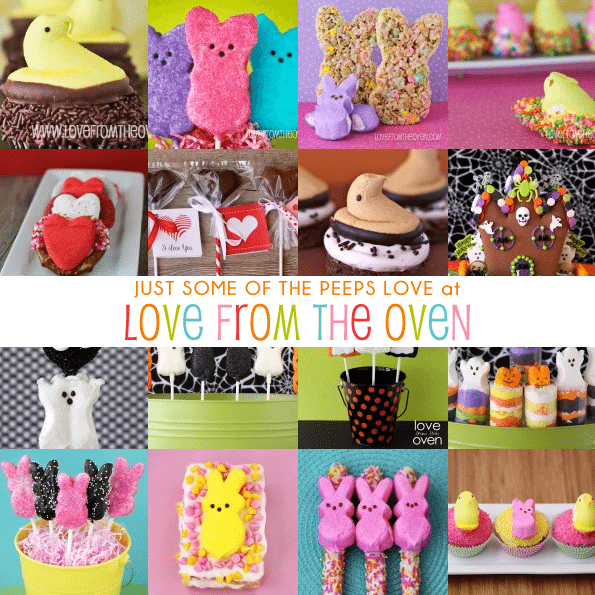 This post is sponsored by Lunchbox, but my opinion (and love of PEEPS!) is mine and mine alone.
I am excited to work with Lunchbox to bring you a fun
PEEPS Pinterest contest, you could pin it and win it!
One person will win "Easter In A Box" Including a $50 Walmart Gift Card.
One runner up will win PEEPS Products and a $25 Walmart Gift Card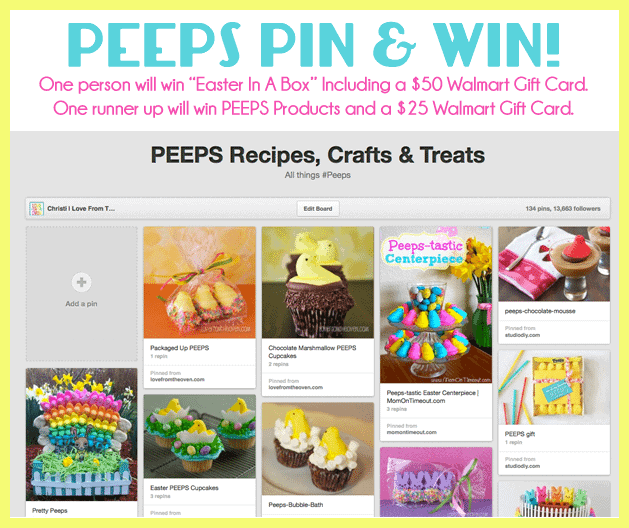 So how does it work?  Here are the details…
First, check out my PEEPS Pinterest board for inspiration and an idea of just what kind of great PEEPS ideas you can find and pin.
1.  Follow PEEPS (Official) on Pinterest
2.  Create a board on your Pinterest titled "Fun PEEPS Ideas"
3.  Pin an avatar from the Walmart PEEPS Page onto your board.
4.  Each pin must be tagged with #PEEPS.
5.  Your board must include a minimum of 10 pins.
6. Once you have completed your board, come back to this post and leave a comment with the link to your board.  Don't forget this step!
Make sure to check out my PEEPS board on Pinterest for a lot of great ideas and examples of what a fabulous board full of PEEPS ideas you can come up with.  Don't limit yourself to recipes, crafts are great too!
How will the winners be selected?   We want to see who can come up with the most creative and fun board, full of great PEEPS ideas!  The internet will be full of awesome ideas the next two weeks, so find and share them!   Feel free to pin ideas from my board, but remember, you will have to make your board unique to win (just re-pinnning my pins alone won't do it!).   We will be picking the winners based on creativity and quality of content – basically come up with the best of the best PEEPS boards on Pinterest!  Winner will be selected at Love From The Oven's discretion, with approval from Lunchbox, who is sponsoring the contest.
CONTEST IS NOW CLOSED!  THANK YOU!
Winner: Susan B.
Runner Up: Kesha G.
Winners will be selected on March 29, 2013.
Open to US Residents Only.    Good luck and happy PEEPS Pinning!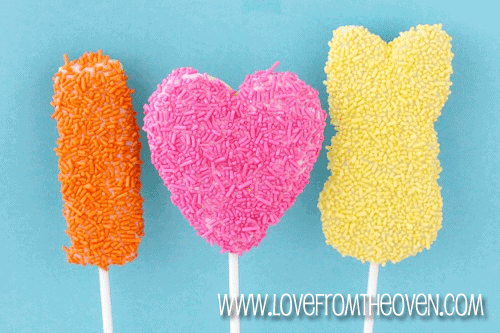 DISCLAIMER: I received compensation from Lunchbox for this post and contest.  As always, all opinions expressed are mine and mine alone.  (Accordance with FTC's 16 CFR Part 255, "Guides Concerning the Use of Endorsements and Testimonials in Advertising.").  No purchase necessary, winner will be selected at random and must a resident of the US who is of legal age.   \ Odds of winning depend upon number of entries received.  Winners will be notified via email within 24 hours of winning.  Winners have 72 hours to claim their prize, if not claimed a runner up winner will be selected in their place. This Contest is subject to all federal, state and local laws. Void where prohibited by law. By entering, participants agree to these Official Rules.  All comments you make for the contest/giveaway must include a valid email address and name.  The reason for this is, if you happen to win said contest/giveaway, you can be contacted and notified.   Love From The Oven will select the winner based on high quality content and creativity of board, with feedback from Lunchbox.  All decisions are final.   Love From The Oven can not be held responsible if a sponsor does not provide the prize stated or for any delays or issues on part of the sponsor (Lunchbox).