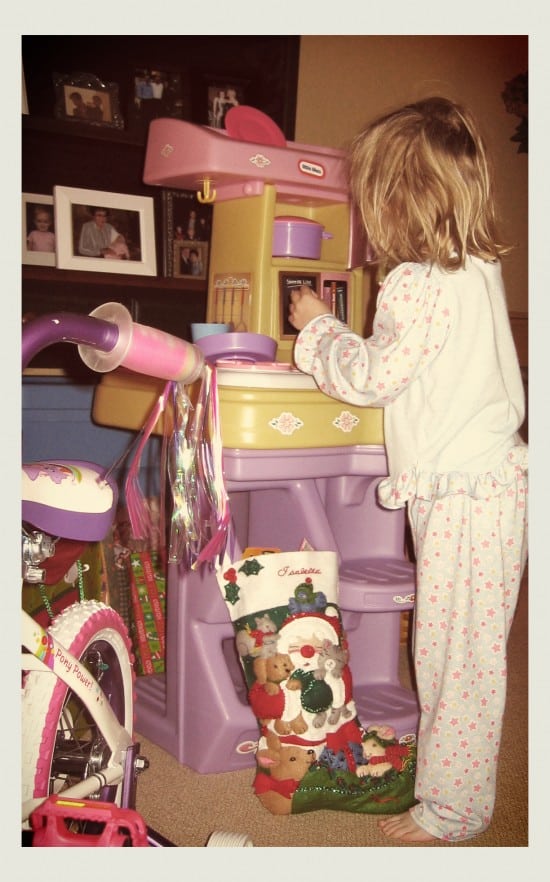 Many of my readers know that I have two daughters, I love to bake and I love all things creative, pink and pretty. Add all of those ingredients together for holiday shopping and a little kid size kitchen seems like the perfect gift idea. With my youngest finally starting to get into pretend play, this seems like the perfect time to bring a play kitchen back into our home. I've been all over the internet window shopping and looking for ideas.  For any of you that follow me on Pinterest, you've might have seen quite a few toy kitchen items in my pins.
My oldest, who is almost ten now, had a play kitchen and some play food – a few plastic pieces and some cardboard boxes – but the options that are available now are incredible and it's a whole different play kitchen world – from what you can buy to what you can D-I-Y. And the play kitchens these days come in so many styles that you can work them right in with your home decor. Amazing how much has changed in not even ten years time!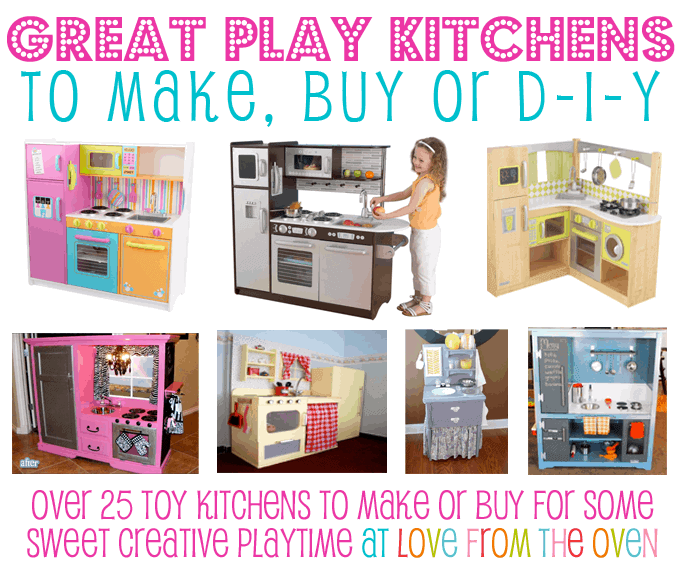 I have been having so much fun discovering all of the cute play kitchens and the little appliance, tools and food sets for them that I thought I would share some of them with you, in case you have a little budding cook or baker on your shopping list. From full kitchens to inexpensive little gift sets, the options are almost endless. I originally planned to just do one post with all my finds, but honestly there are so many wonderful options that I'm going to break it down, so this is the play kitchens post and I will follow up with the cute toys, foods, tools and appliances that you can get to use with them.
Play Kitchens To Buy For Kids – I will start with the many play kitchens that you can purchase, and move on to some great DIY options later in this post. I'm a big Amazon shopper, and you can find a really wide variety on line, though there are also a number of options in stores as well.  Just remember that if you order online, these often come in boxes that have a photo of the kitchen on the box, so if you are looking for a holiday surprise, you might consider shipping to a friend or family member, just to be safe that your little ones don't see their gift coming off the UPS truck!
The one that I have my eye on is the KidKraft Vintage Kitchen. It comes in white, pink, red and aqua blue. It's just so very sweet.


But KidKraft has so many other cute options that truth be told I'm having a really hard time making up my mind. Analysis paralysis on this whole kid kitchen thing here.  My sister in law sent me over this one. It's hot pink. And the model – Gracie. Um, like my child's name. That obviously means I should get it, right???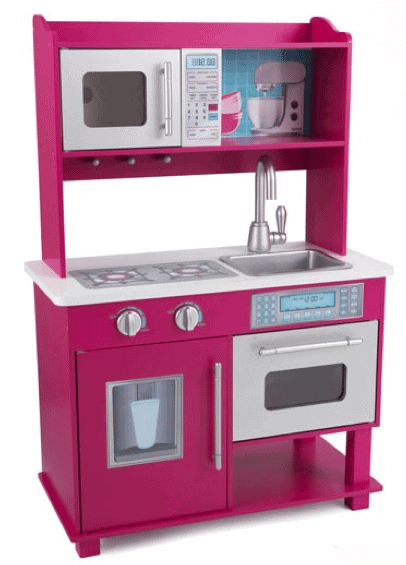 There is the KidKraft Grand Gourmet Corner Kitchen – um, hello, how cute is that back splash???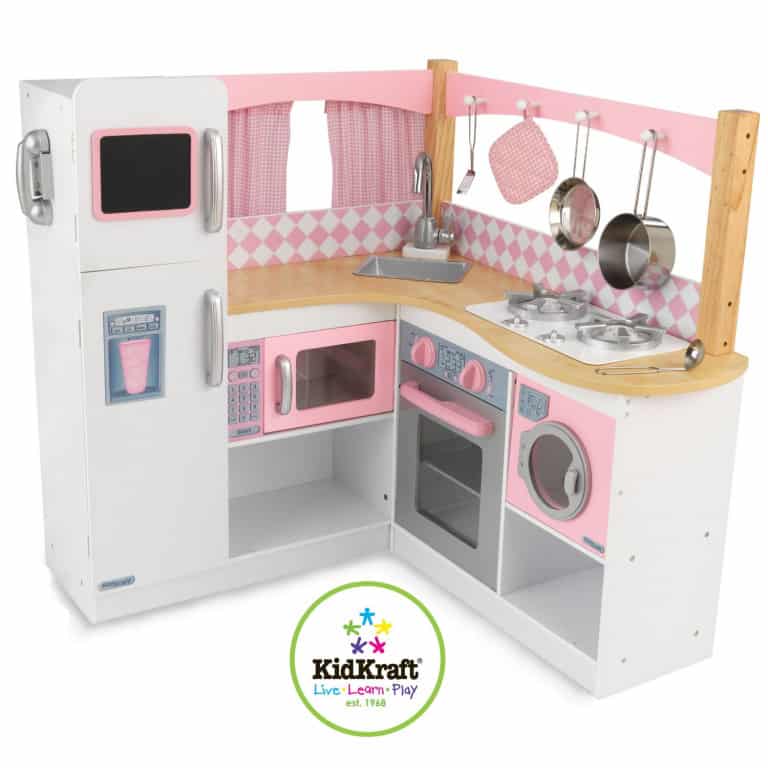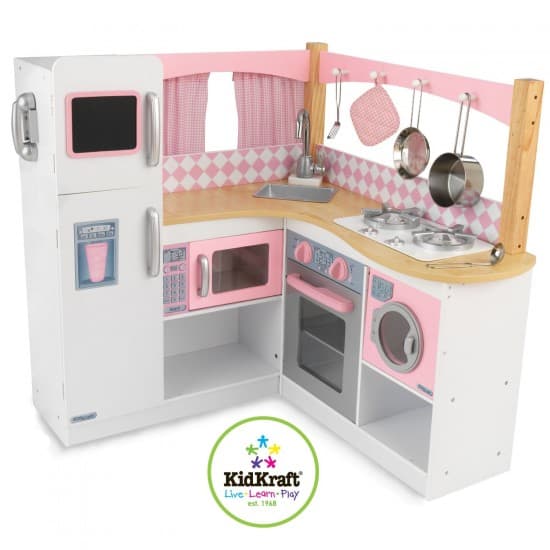 They also have a Lime Green version as well as a red version. With a chalkboard in it – talk about being right in style! I can't get over how cute these are! I'm not sure if I want one for my little one or myself! There is also a smaller non corner version in red.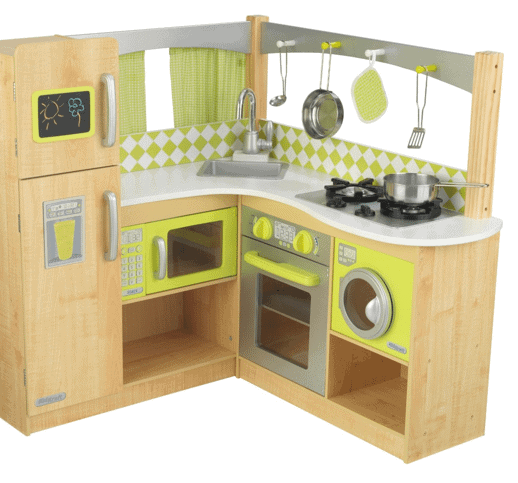 The KidKraft Uptown Espresso Kitchen – sleek, stainless and again with the cute back splash – a glass mosaic tile look, just the like real thing.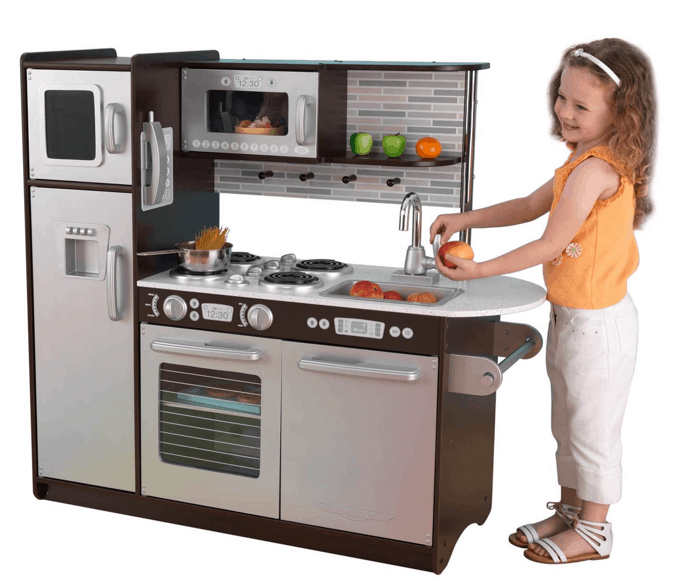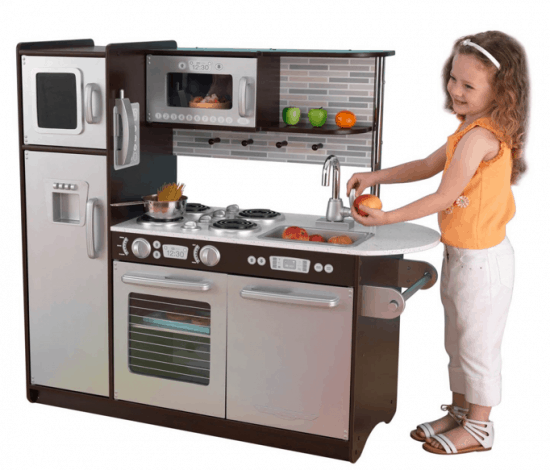 The KidKraft Deluxe Big & Bright Kitchen – loving the fruit punch colors and have I mentioned that I love what they do with back splashes? Oh, right, I did. 🙂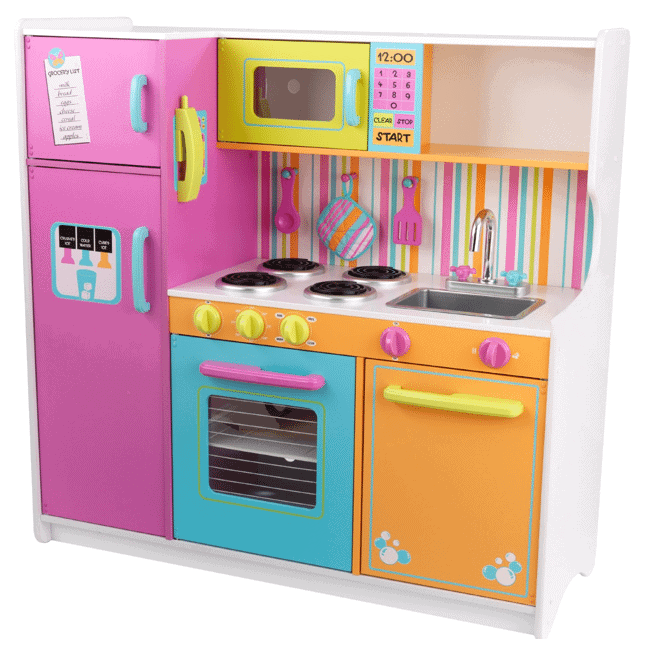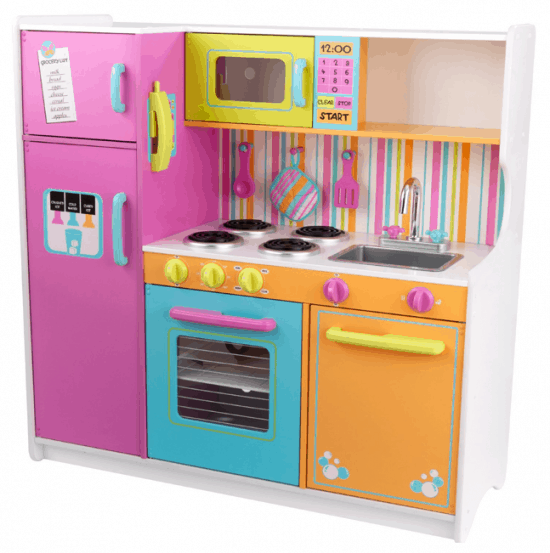 The KidKraft Retro Kitchen And Refrigerator is nice in that they are two pieces and might work well if space is an issue, providing more flexibility with placement. It is also available in blue.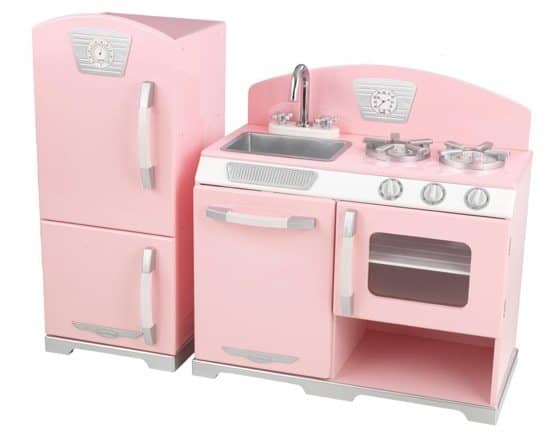 If you need to save some space, the KidKraft Pink Wooden Kitchen is a nice option.
KidKraft Junior Chef's Play Kitchen With Stools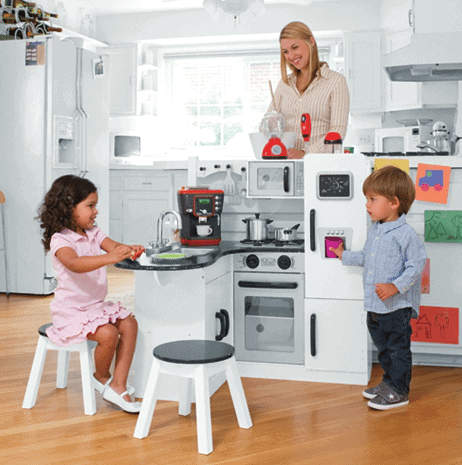 My Creative Cookery Club Kitchen
Little Tikes Cook 'N Grow Kitchen  on Zulily currently for $87  This is certainly a fun twist on the toy kitchens and great to grow as they do.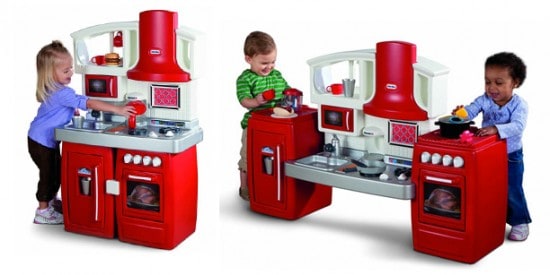 Little Tikes Super Chef Kitchen – this one is a nice more masculine option.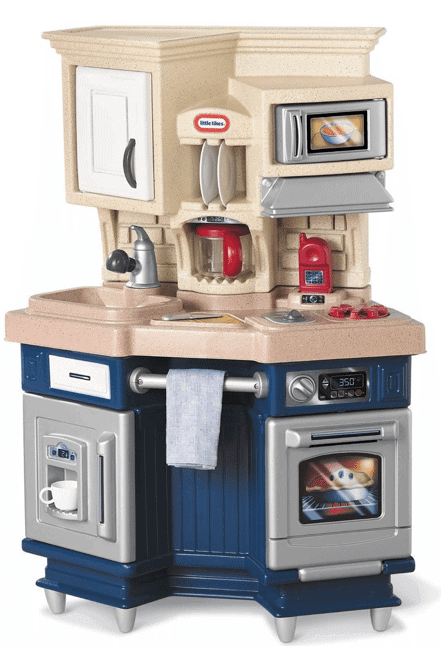 We have a lot of Melissa & Doug products in our house, and it looks like they have a play kitchen as well.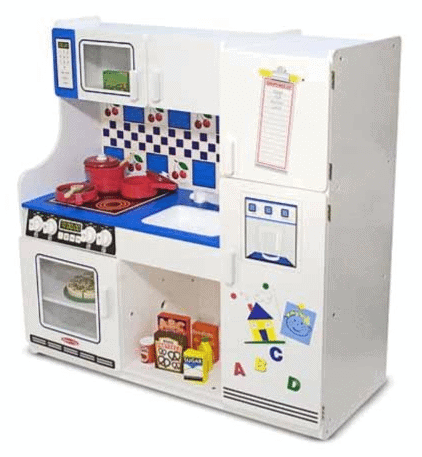 Super cute Step2 50's Diner Kitchen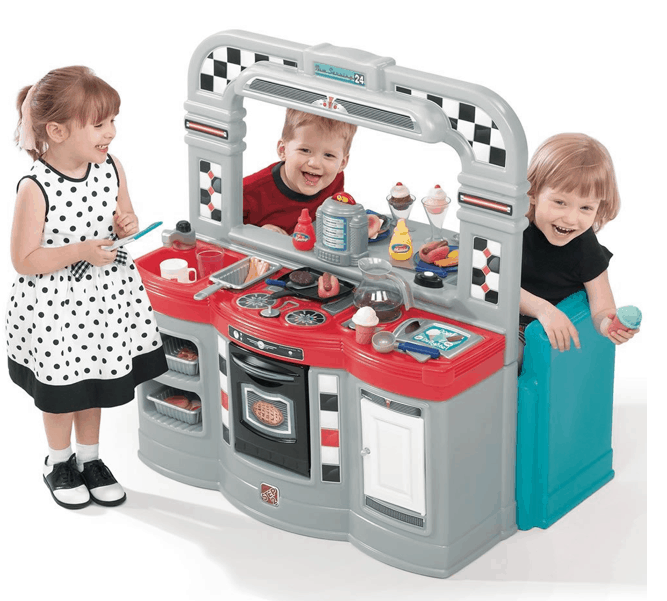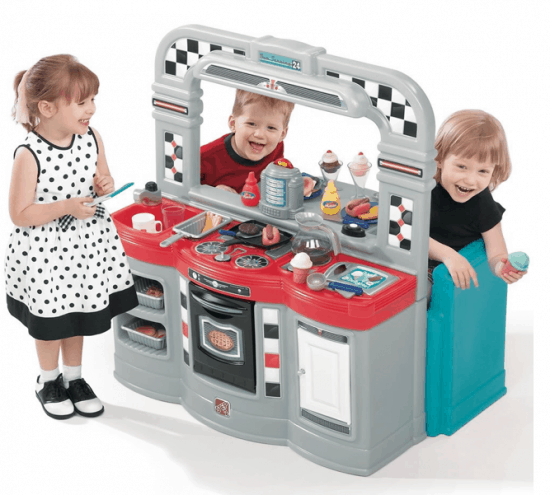 Step2 takes it up a notch with their Grand Walk In Kitchen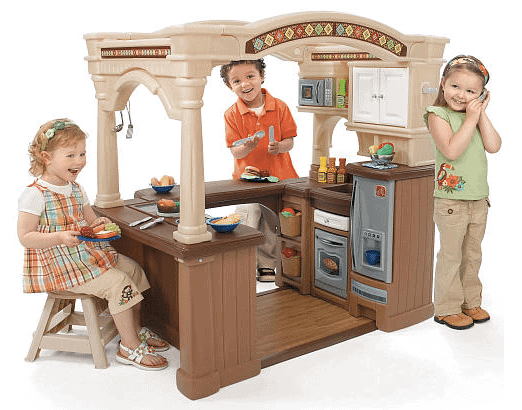 How fun is this – Little Tikes Get Out N Grill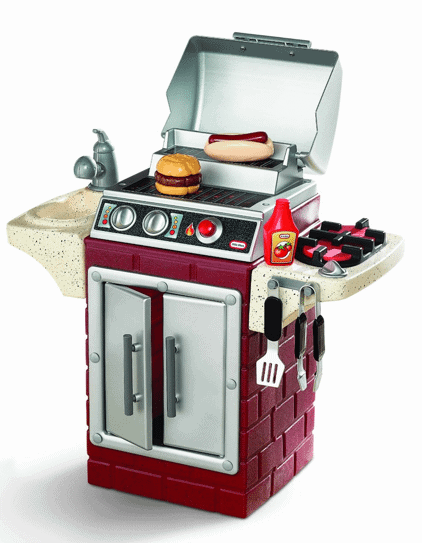 Play Kitchens To Make For Kids – DIY Make Your Own Toy Kitchen Inspiration.  Now let's talk about another direction you can go with a toy kitchen – making one yourself. These have been popping up all over Pinterest. They are so darling and unbelievable creative. You can completely customize everything about them to meet your needs – size, style, color, usage… Unfortunately around our house right now time for projects like this isn't as plentiful as I wish it was (especially in the next few weeks leading up to Christmas) but I love so many of these ideas, they really are incredible. Brace yourself, it's gonna get cute…
I'm head over heels in love with Holly's Play Kitchen over at Rook.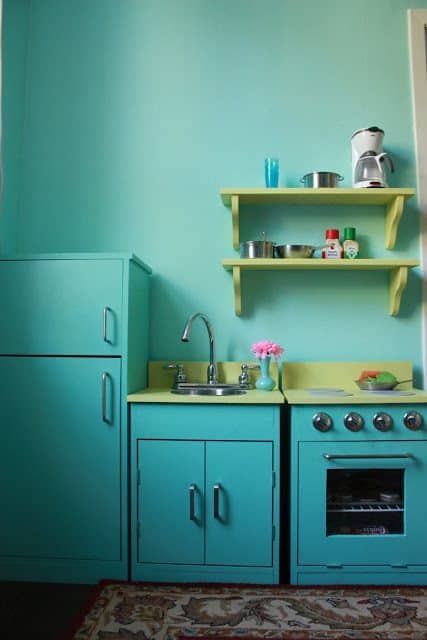 I kind of wish my actual kitchen looked like this darling kitchen over at The Crafting Chicks.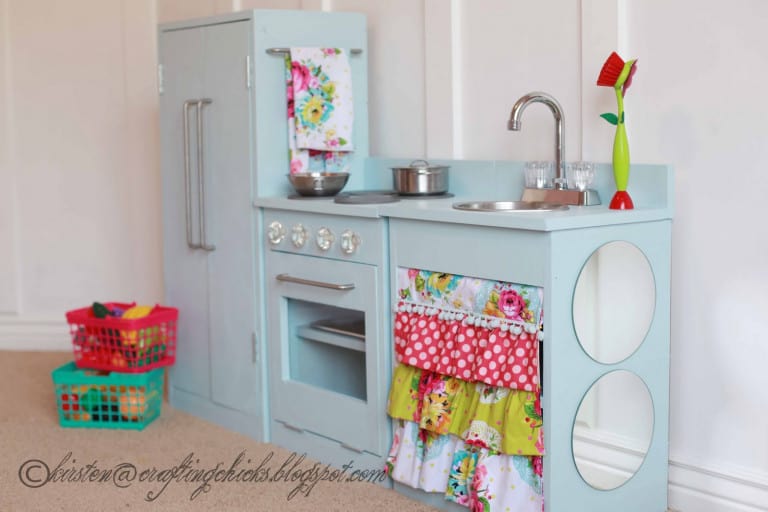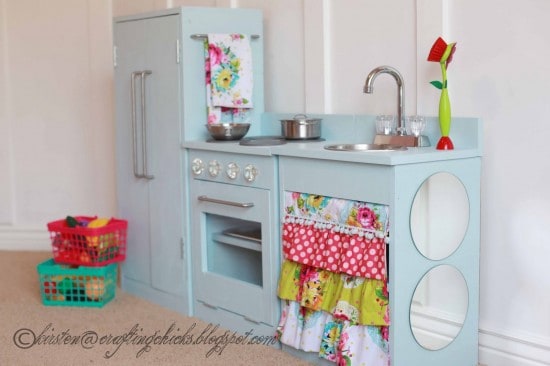 Dwellings By DeVore created a play kitchen from a nightstand. I'm in awe.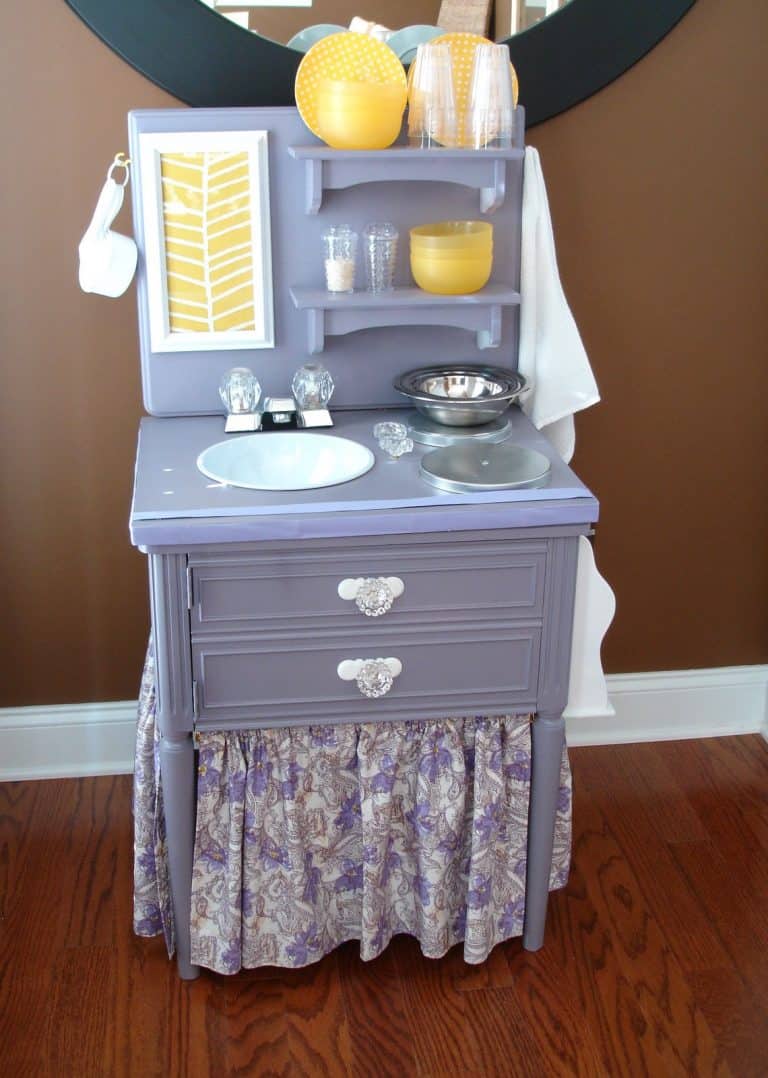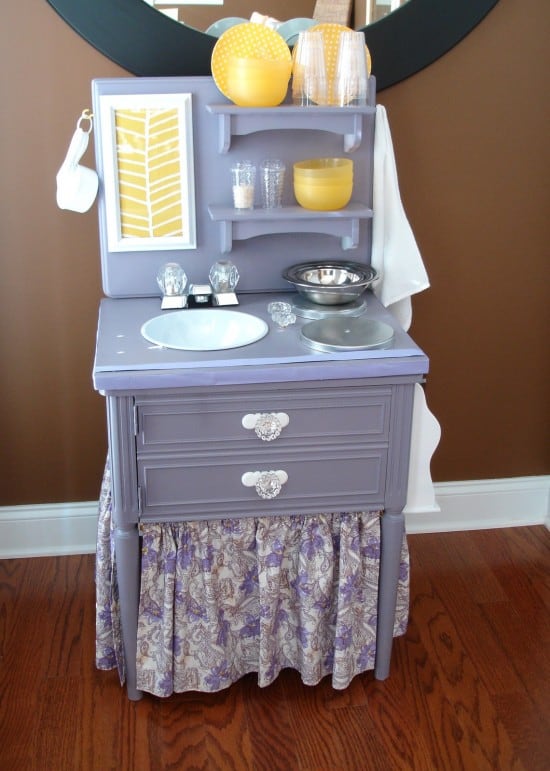 Play Kitchen by Craig And Stacy 2tberrys on Flickr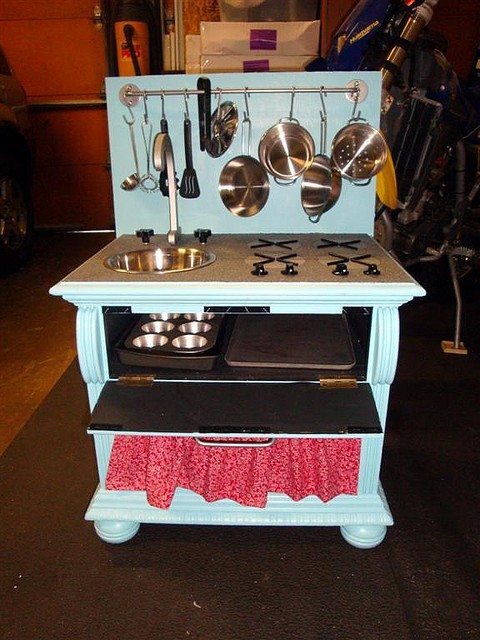 A Place Imagined did a play kitchen makeover – what an awesome idea if you have or come across an old play kitchen or a really great deal on one that might not be quite your style.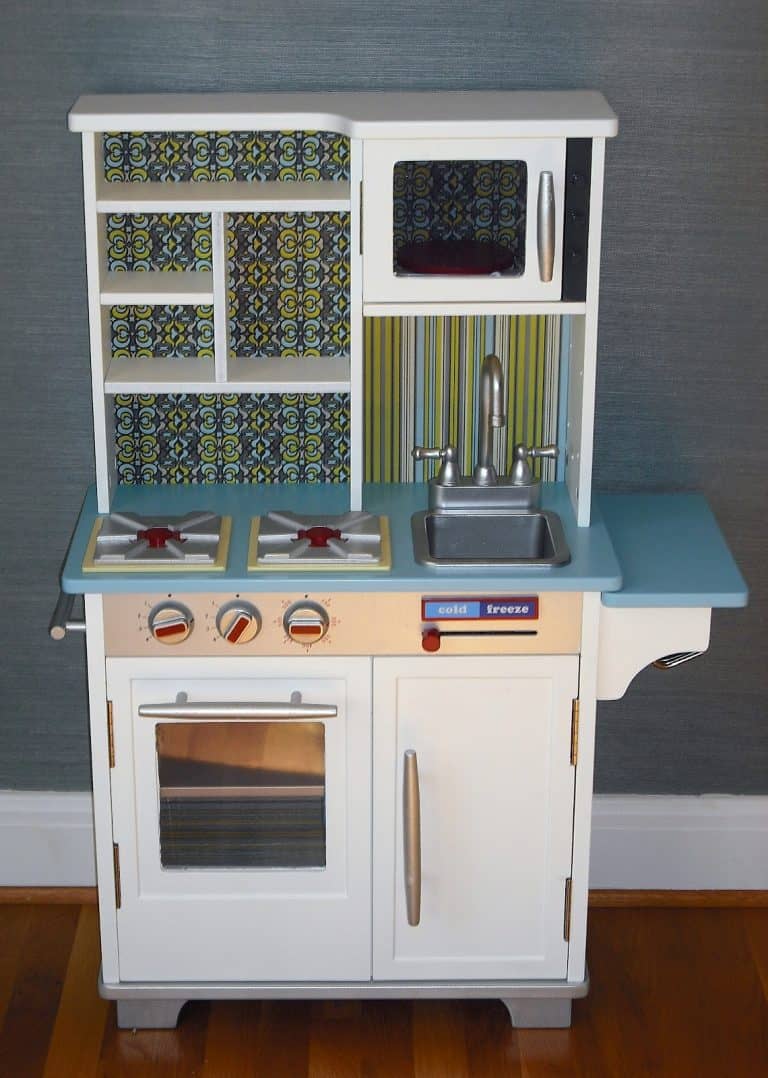 A fabulous Ikea Hack play kitchen over at Ikea Hackers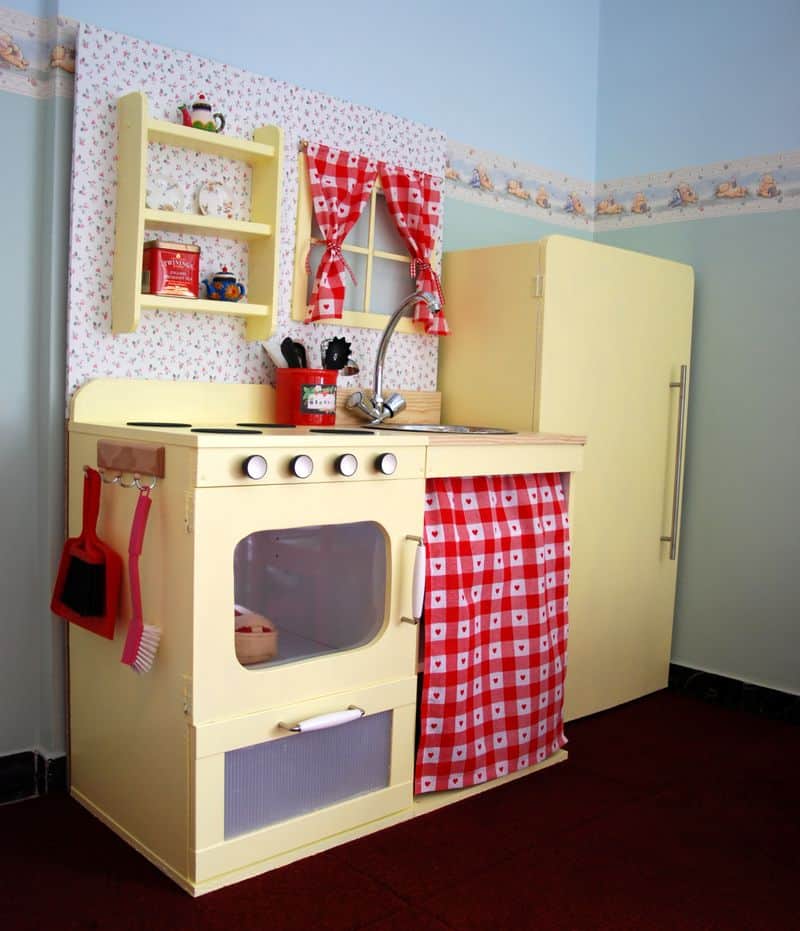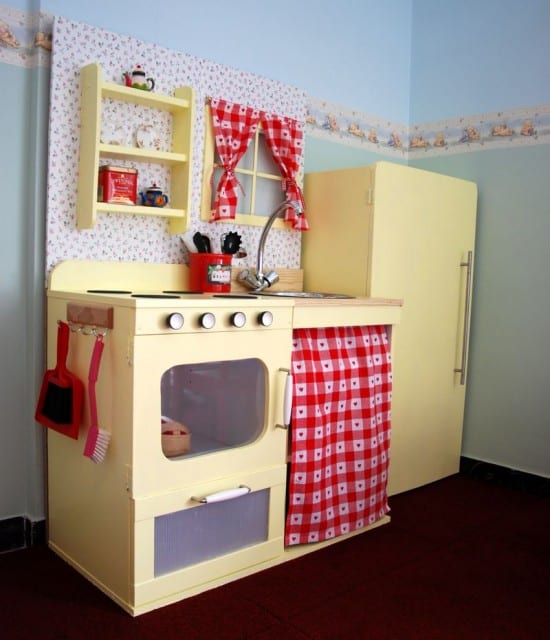 An amazing before and after DIY Kitchen over at Northridge Publishing Create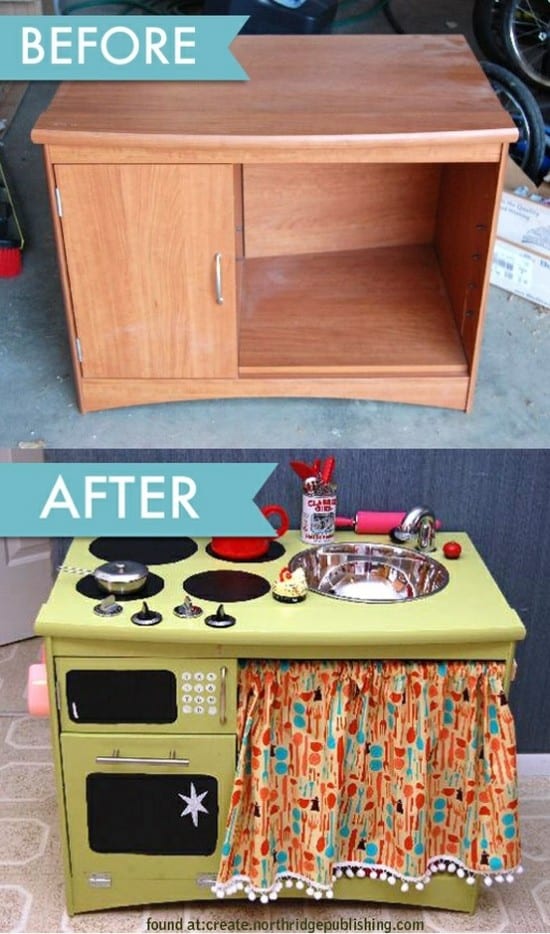 A pink play kitchen with a Tres Chic French theme and a faux chandelier? Shut the front door. Amazing. Over at Twice Lovely.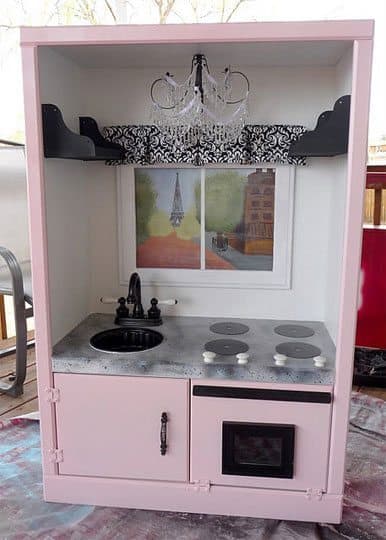 From $10 Goodwill side table to this darling play kitchen over at Happy Hawkins.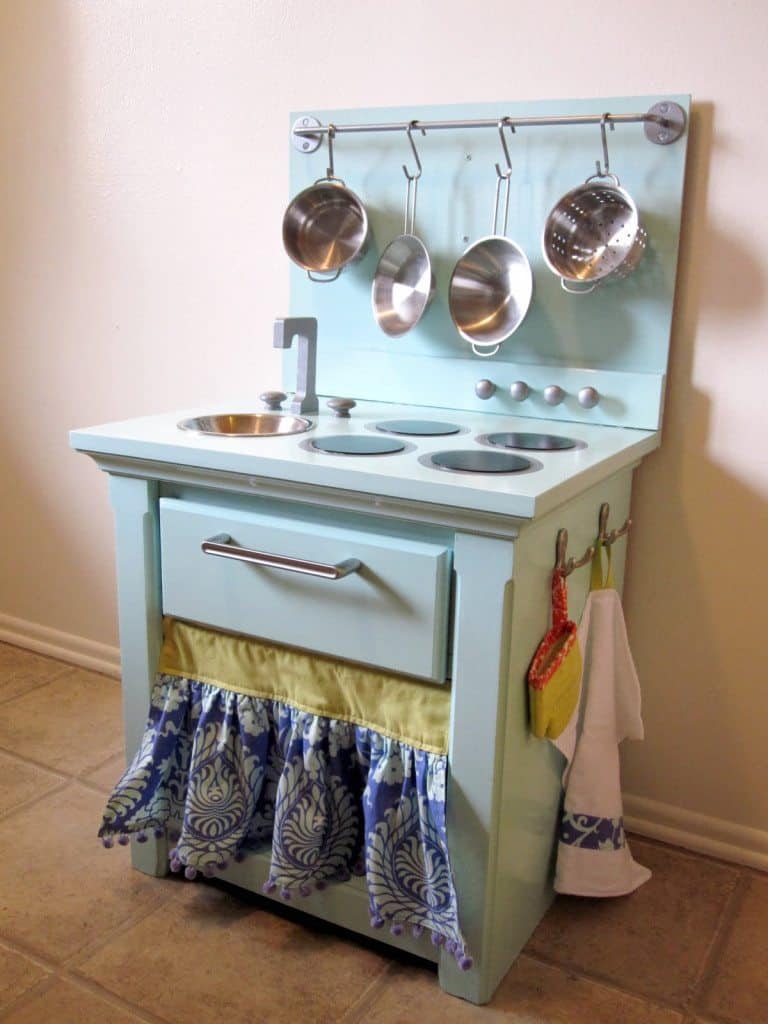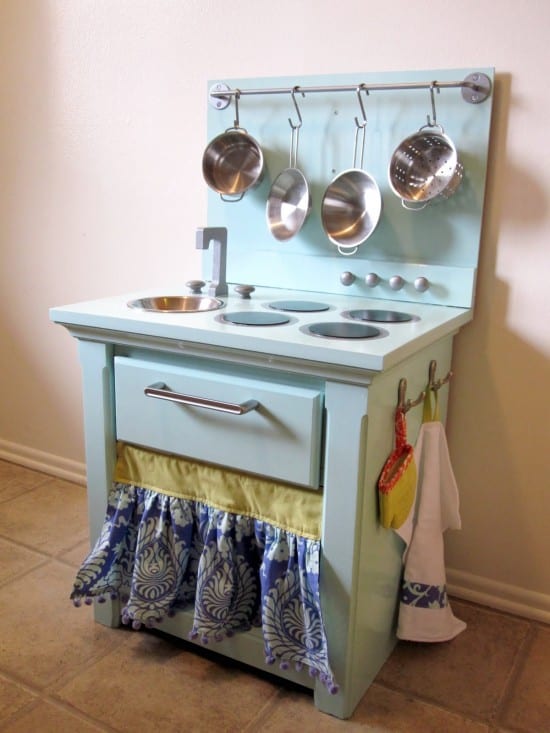 From entertainment center to hot pink and zebra play kitchen over at Stitches And Nails
A Manly Play Kitchen from McBabyBump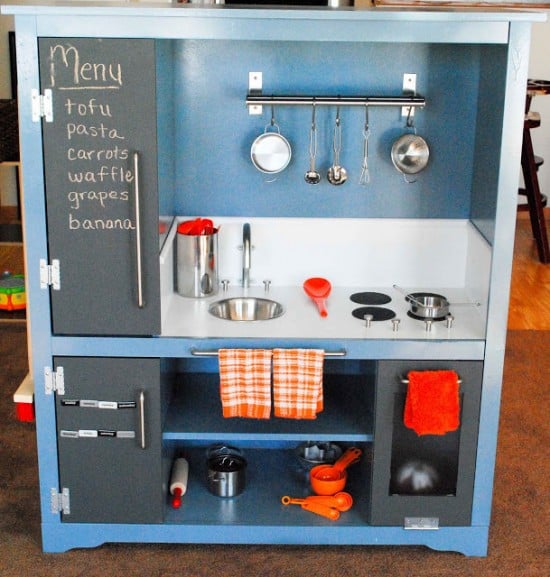 I think that's about all the cuteness I can handle. Now I need to go buy and make about 20 play kitchens – love them all! 🙂
Disclosure – some products do contain affiliate links for which I make a small percentage of the sale of any purchases made (click here to learn more). All items shared however are my personal choice, and the opinions are my own. I have not received any compensation or have any affiliation with the brands shown. I'm sharing items I am looking at for my own family. 🙂