Hi there, I'm Christi from Love From The Oven!  When Kristan asked if I would be willing to show you what was in my purse, I was more than happy to oblige, as I LOVE me some purses.  And some Kristan and Shelly.   Seemed like a fun idea.   I even thought it sounded like a great reason to buy a new purse because I was certain that would be a requirement, but Kristan informed me that buying a new purse was not actually required.  Oh well, I tried.
In all of my excitement, I didn't really stop and think that the contents of my purse just might make me eligible to be on "Hoarders".  Or "Dance Moms".  Or "Dance Moms Who Hoard".    I would have edited the contents a bit but my husband said he would throw me under the bus if I did I'm all about being honest.     So here goes…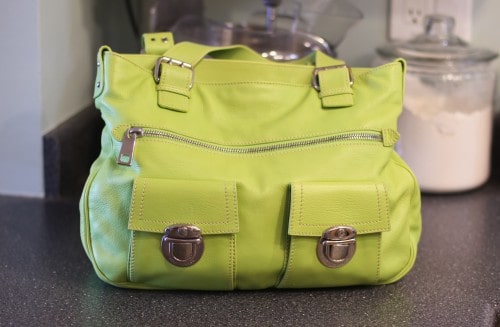 My purses all have one thing in common.  They are gigantic and weigh about the same as my youngest child.  I would probably make chiropractors cry at the weight I tote around on one shoulder.   While I love my neutral purses, I really enjoy color – just in case the bright green color didn't indicate that.   It's kind of a cross between lime and neon green, or for those of you with 80's hairbands in your past, it's Poison green.  I promise it's not autographed by Bret Michaels or anything like that.  Though he does live here in Arizona, so if the opportunity were to present itself…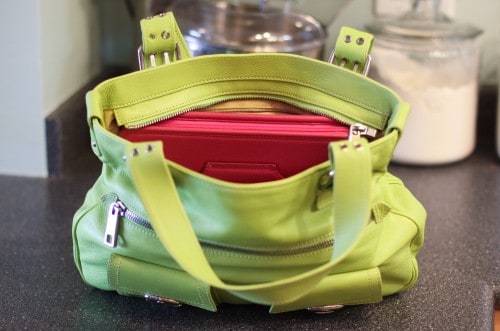 Should we have a look inside?  When I mentioned to my husband that I was going to expose the contents of my purse to people, I told him that I thought I should probably reduce what was in it first.   He disagreed and said that I needed to be honest.    So blame him.    Here we go…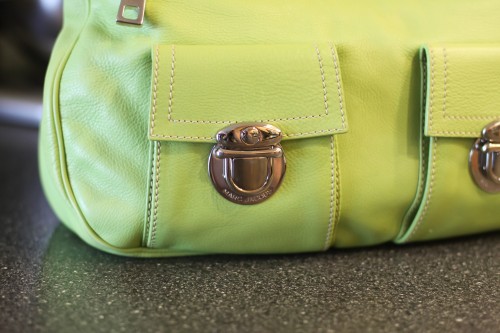 We will start with the front pockets.   I'm obsessed with front pockets.  Giant purses tend to be like black holes.  Or Bermuda Triangles.  Or my junk drawer(s).  Or my daughter's closet.  Stuff just disappears.    So pockets are essential if one wants to find anything in less then 15 minutes.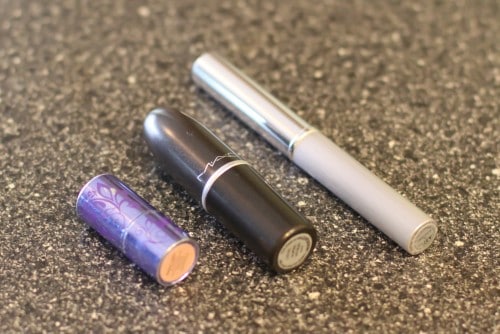 Pocket 1…    Lipstick.   Clinique Black Honey, MAC Sequin and Urban Decay Midnight Cowboy.   That seems pretty normal.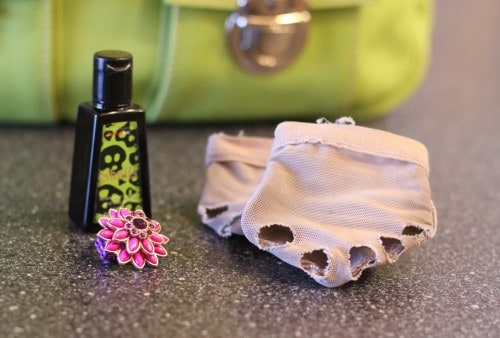 Pocket 2… This may be a wee bit less normal.
Hand Sanitizer in  "Skulls".   While it coordinates nicely with my bag, it's just one of the many (dozen) B&BW Hand Sanitizers I picked up after Halloween.  I can't resist a 66 cent hand sanitizer.
A Ring… I sometimes attempt to wear things like cute rings, but without fail they end up in my purse within an hour of leaving the house.  At least I make a weak attempt to accessorize every now and then.
Dance Paws…  Yeah, this is where it starts to get weird.  These are a pair of my daughter's dance shoes (if one can call tiny scraps of overpriced fabric "shoes").   Having them in my purse serves a few purposes.   It reminds me I need to get her a new pair.   It reminds me that I haven't actually gotten her that new pair.  It allows me to size the new pair should I ever manage to get them (because the size has long since worn off).  And it makes my purse smell like a locker room.   I was tempted to Photoshop an air freshener into my purse, but I'm keeping it real.  And smelly.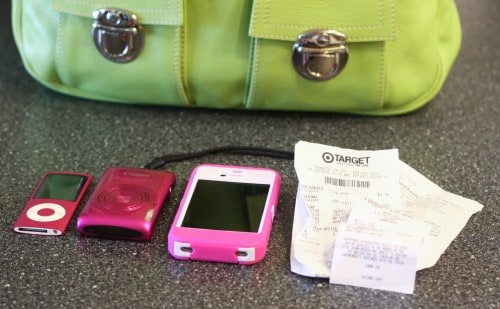 Pocket 3…  Pink Electronics.
My phone, camera and an iPod.  I don't know why the iPod is in there, given the phone is an iPhone and thus negates the need for an iPod.  Clearly I prefer my electronics to be pink.   And some random receipts, which I'm pretty sure are universally required in every purse.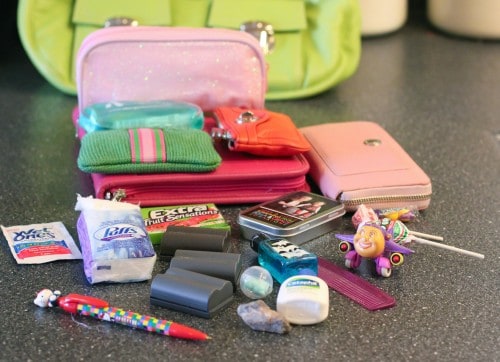 Contents of actual purse…  At first glance it doesn't look so bad.   But let's break it down.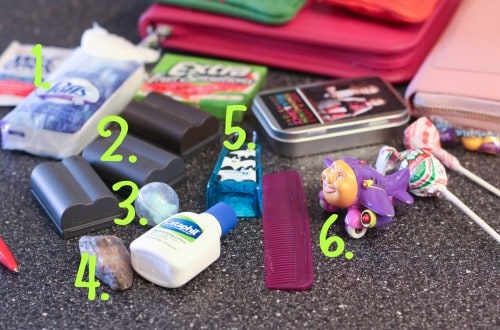 1.  Tissues, hand wipes & gum.
2.  THREE camera batteries.  These aren't for the camera I actually carry in my purse.  And I don't carry the camera that uses them in my purse.  Honestly no clue why they are all there, or if they are charged or not.  I don't need one in there.  Much less three.
3.  A Squinkie I do not recall acquiring.
4.  A rock.  I actually expected more rocks.  Go figure.
5.  More Halloween hand sanitizer.
6.  One of Jay Jay The Jet Plane's friends.  The odd thing here is that it was my eight year old's toy and my one year old has NEVER played with it.  It's appearance in my purse is an odd mystery at best.
There is also candy in there, because I am totally not above bribing my kids with candy.   Well at least the older one, the youngest one doesn't fall for it.  Yet.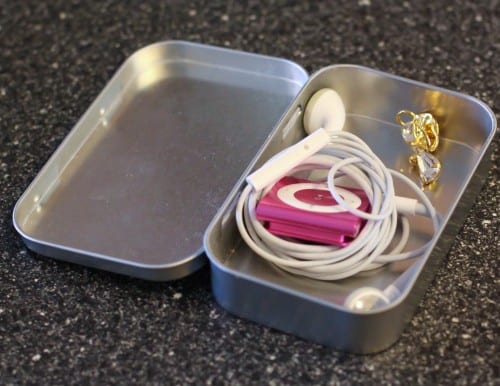 The little tin container holds an iPod shuffle (pink of course) with earbuds and an angel pin.  This would be the third Apple music player in my purse.   Just in case you want to keep count.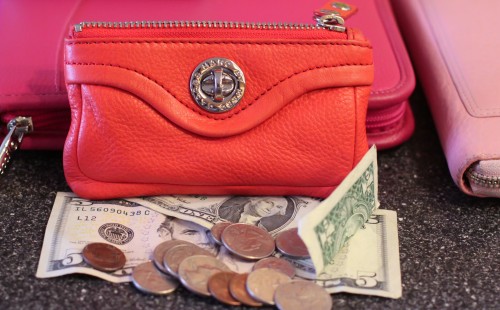 My coin purse with a whopping $6 and change.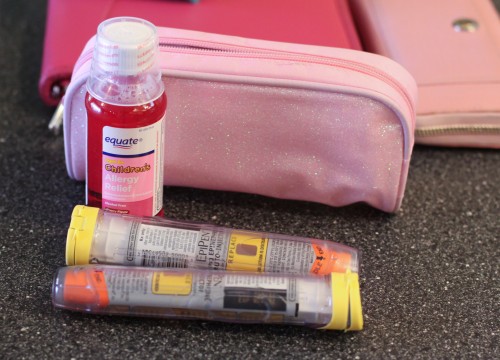 Benadryl and Epi-Pens for the nut allergy kiddo.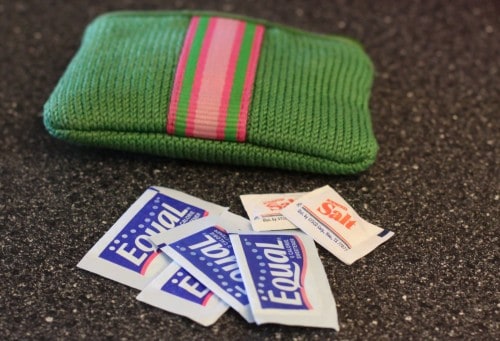 Equal.  And Salt.  I'm kind of a die hard Diet Coke drinker and on the 1% chance that I dine somewhere that doesn't serve Diet Coke, I will order iced tea.  But I don't like Sweet & Low, and it seems like Pepsi & Sweet & Low are BFF's and often found together.  So I keep an emergency stash of Equal with me.   And the salt?  I really have no good explanation.  Let's just pretend we didn't see this photo.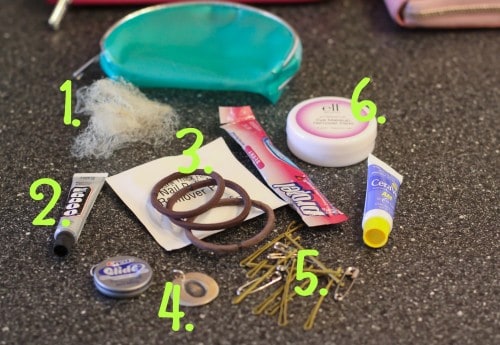 Here comes an odd combination of items that will seem totally normal to anyone who has a daughter who dances…
1.  A hair net for buns.   I promise you this is not a hair ball or fur ball.   Cross my heart.
2.  E-6000 Glue.  If you need a Swarovski Crystal glued onto something in an emergency, I've got you covered.  Though be warned that I may glue myself TO the crystals as well.  I'm still an amateur bling-er.
3.  Nail polish remover pads.   If you ever find yourself backstage at a dance competition, at 6am, and your studio director lifts and eyebrow at you and says… "Your daughter has polish on her toenails. Get it off.  And she's on in 2 songs",  you kind of panic if you don't have anything to remove it with, resulting in you having to CHIP it off with your finger nails.  You become traumatized and start carrying nail polish remover pads with you wherever you go.  True story.
4.  My daughter's fingerprint on a silver charm.  Not sure why it's with these items but it's sweet and makes me all teary eyed.  Or maybe that's from the acetone in the nail polish remover.
5.  Bobby pins.  Safety Pins.  Pins pins pins.
6.  Eye makeup remover pads – because sometimes you just have to get that eye makeup off.  STAT.
Somewhat more normal are the hair ties, dental floss, sunscreen and Propel packet.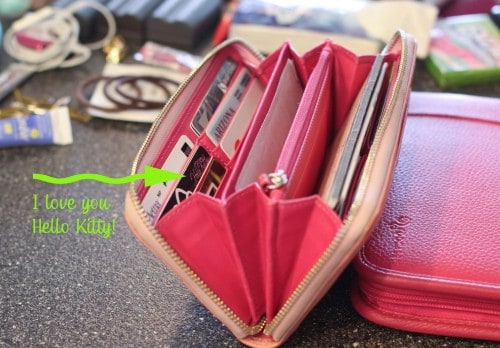 Yeah, there's still more.   My wallet.  Pretty normal.  If you look hard you can see my black Hello Kitty Visa peeking out.  Yes, I have a Hello Kitty Visa.  But in my defense, it has a great interest rate.  And it really keeps my husband from spending money, because nothing is more manly then having to use a Hello Kitty card.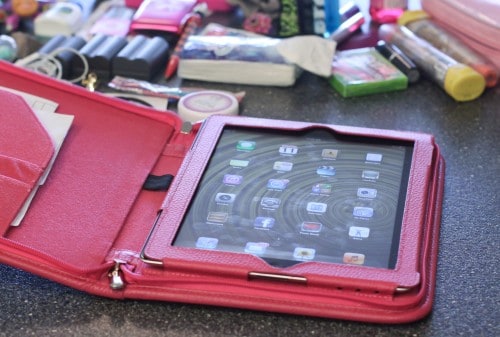 My ipad in my rooCase.  I LOVE this case.   LOVE.  The cover of the iPad velcros in to the folio, letting me safely carry it in the abyss that is my bag.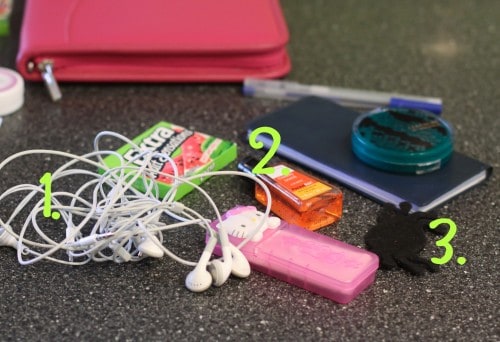 You thought we were done, didn't you?   My purse is like a clown car.   Here is another group of random items that were found in the interior pocket.   There are normal things like a second pack of gum, pens, Hello Kitty band-aids, a check book and Cover Girl powder (after all these years, I still can't find anything to beat that good old Cover Girl Creamy Natural).
Slightly more questionable items include…
1.  THREE pairs of earbuds.   Add that to the ones with the iPod shuffle and there are FOUR pairs.  FOUR.   The best part is, I can't tell you the last time I've used earbuds.  Maybe 2011?    My theory is that they have been reproducing in my purse.  Along with camera batteries.  If only this phenomenon occurred in my coin purse.
2.  Yet more Halloween hand sanitizer.   In case you are wondering, yes, I am getting a bit sick of the pseudo candy corn scent.
3.  A felt spider.  I won't even try to figure out why.   Though it does fit in nicely with the antibacterial Halloween theme I have going on.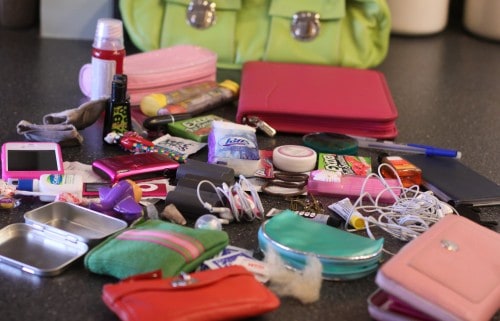 We have finally reached the end!   All of it spread out pretty much takes up the entire countertop.  I'm not sure if I should feel ashamed or proud.    Oddly the two items that weren't in my purse were my keys and sunglasses.  This actually makes sense, as I spend half of my day looking for them.  Maybe I should clear out some camera batteries and ear buds and put them in here.
I hope that you had fun seeing what is in my purse and learning that I hoard camera batteries, pink music players, ear buds and Halloween hand sanitizer.  And that my purse smells like feet.   Good stuff.