I thought it would be fun once a week (or once every few weeks) share some of the things that I'm sweet on, both baking and non baking.   Cute finds, fun stuff, cool gifts, anything goes.   I'd love to hear what you are sweet on as well!   So let's kick it off with our first Saturday Sweet Stuff!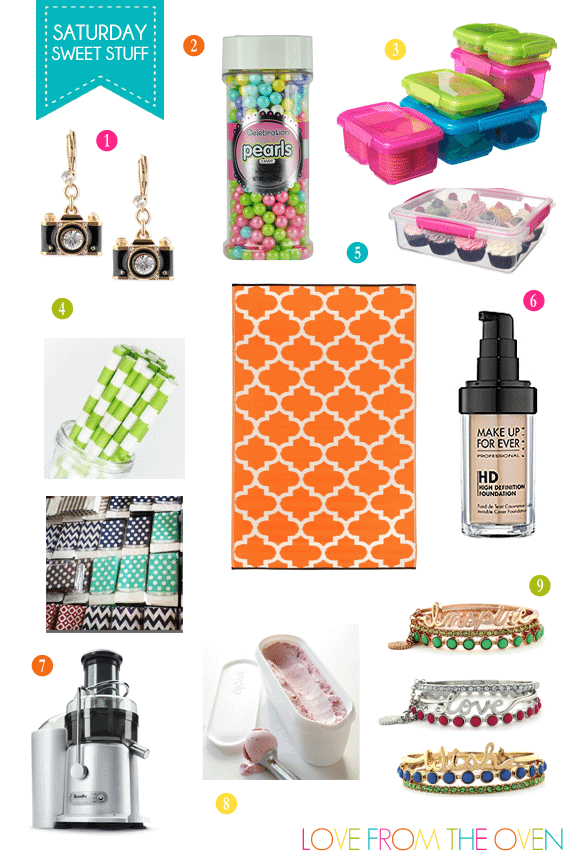 1. Betsey Johnson Camera Earrings – my hubby and daughter gave me a pair of these for my birthday.  So cute!
2. Totally loving Celebration Pearls lately.  Super cute, so many fun ways to use them in baking and decorating and they are, well, pearly!  So fun to add to baking and decorating.  Love!
3. Sistema storage containers.  These are my favorite storage containers.  Well made, sturdy and last.  I use them for food and for toys (things like beads, little magnets, puzzle pieces).  I even use them for dog food (the cereal containers are great for this).  I love the bright fun colors.  Leftovers are more fun in pretty colors.  🙂   I get mine on Zulily but I've also seen them at TJ Maxx.
4. So many great new goodies hitting the Sweets & Treats Boutique shop recently.  I'm so in love with all of the colors and patterns and keep finding fun new uses or them.
5. I adore my Fab Habitat rugs.  We've had one outside for years and only recently did it dawn on me that I could put them inside, and I now have them in my kitchen and dining room.  Affordable, eco friendly, hold up to kids and pets and if you spill something on them you can just take them outside, hose them off and call it good.   Love.
6. Make Up Forever HD Invisible Cover Foundation – most of the time you will not find me wearing foundation.  I don't like the feel, especially when it's 194 degrees in Phoenix (which I'm sure it is).  Recently I've had a few more formal events where my simple Cover Girl powder just wasn't going to cut it, so I turned to this.  Wow – this stuff goes on so light, has great coverage, you don't feel it at all and the ultimate test – no break outs.   For someone who hates foundations, I love this one, and that says a lot.  Plus with lots of great shades, even pale gals like me can find the right color.
7. Breville Juice Fountain Plus – a birthday gift from my Dad (think my brother and sister in law get credit for helping out).   I've been wanting to start juicing for a while.  Don't get me wrong, I don't really have aspirations of walking around enjoying giant glasses of green juice all day, but if I can swig down a glass or two to help pack in some nutrients, then I am on board.
8. I just saw this Tovolo Ice Cream Storage Tub over on Baking Bites this week.  Totally need to get one.  Love the size and shape and it would be perfect for storing all that yummy homemade ice cream.
9. I'm a bit in love with these cute bracelets by Jessica Simpson.  Yes, Jessica Simpson. But they are so cute, I'm loving them.
What are you sweet on lately?
Disclosure – some links in this post are through affiliate programs with Amazon & Zulily.
If you make a purchase through one of the links, I make a few cents.   That said, I only link up items
that I personally use, recommend, love or have on my own personal wish list!
SaveSave