I hope that everyone had a wonderful Fourth Of July! We kept it pretty simple, enjoyed some pool time, had some burgers on the grill, and enjoyed The "Wave Your Flag" cake from Kraft that I made.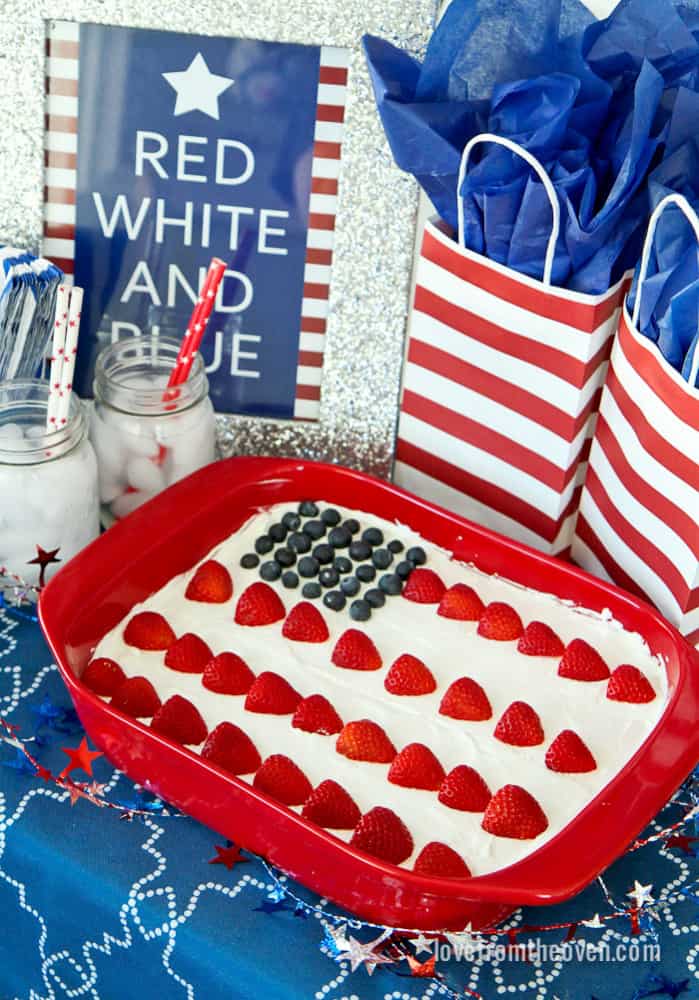 I wanted to share a few tips that I used for serving my Wave Your Flag Cake. This cake can easily be the centerpiece of a festive holiday table, so I didn't need too much to put together a fun table setting. I'm all about keeping things simple and using what you have on hand, and that's what I did when serving this cake. I started with the red pan that I made my cake in and red and white plates to serve it on. I wouldn't say red is my favorite color, but I find it a great color for seasonal items, because you can get quite a bit of use out of them.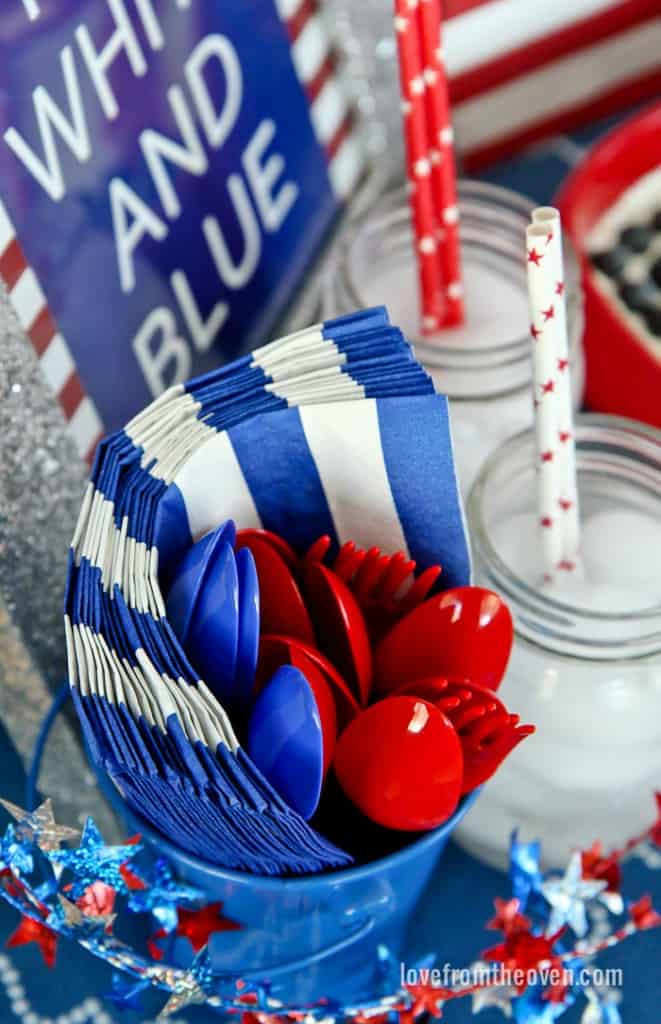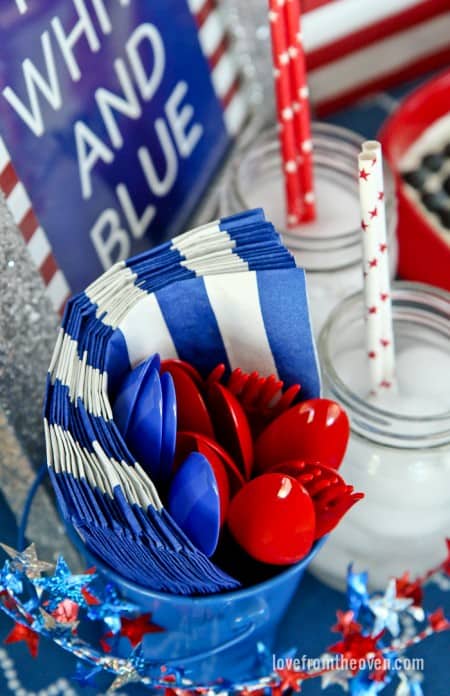 Red works for 4th of July, Thanksgiving (when paired with browns, oranges and yellows) Christmas, Valentine's Day and Memorial Day. It also works well for birthdays. If I'm going to buy something like a colored pan or kitchen accessory that I know I will want to use for holidays, I almost always go for red, you can really get a lot of bang for your buck when you realize how often you can use red!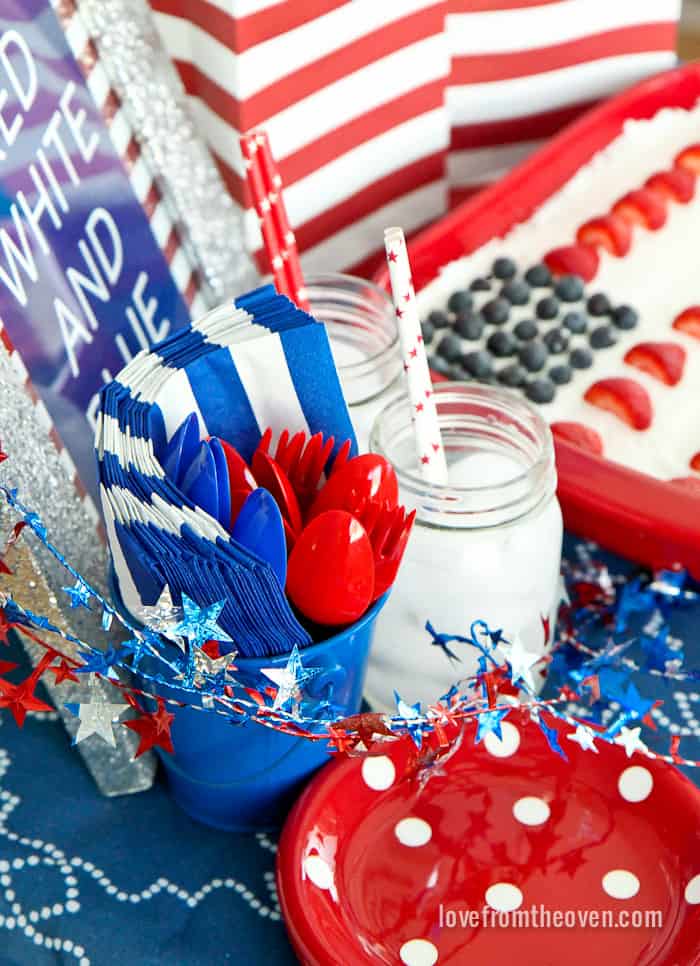 Working with the red pan and plates, I easily added in other colors. A blue tablecloth I already had, a bright blue pail from the dollar store is perfect for holding colorful red, white and blue silverware as well as striped napkins and mason jars become festive drink containers with the addition of some fun straws. I love that you can find fun colorful silverware, napkins and straws at so many stores these days. They can inexpensively add great pops of color to your table.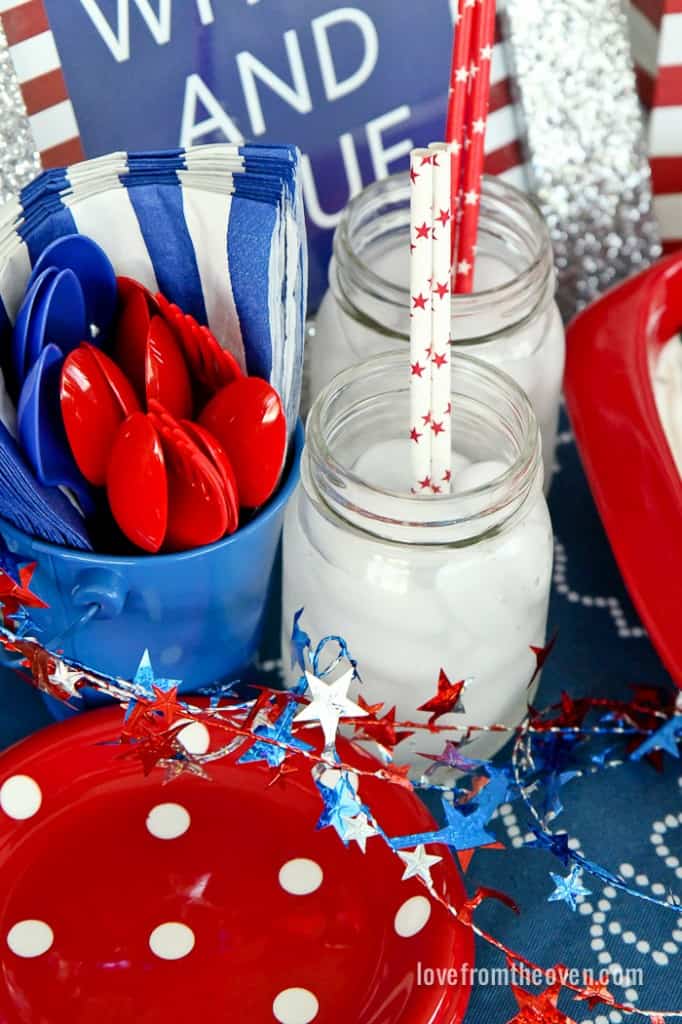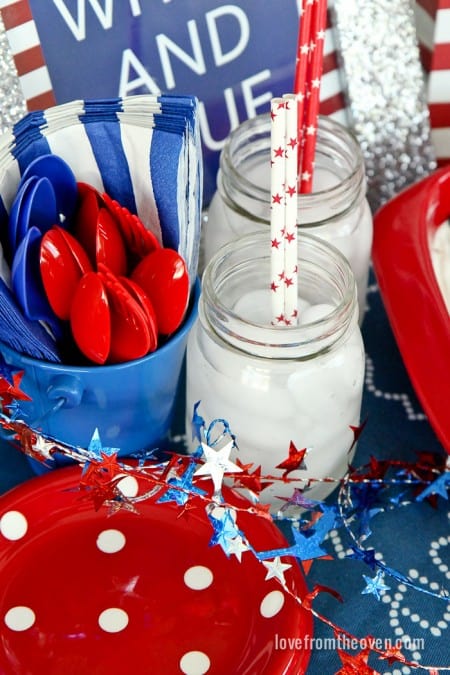 Some red, white and blue star garland, combined with a framed printable, really completed the table. I LOVE using printables to help decorate. I have a few frames that I've picked up on sale, and I am constantly swapping out the prints in them to fit with the holiday or events that are going on. It's such an inexpensive way to decorate.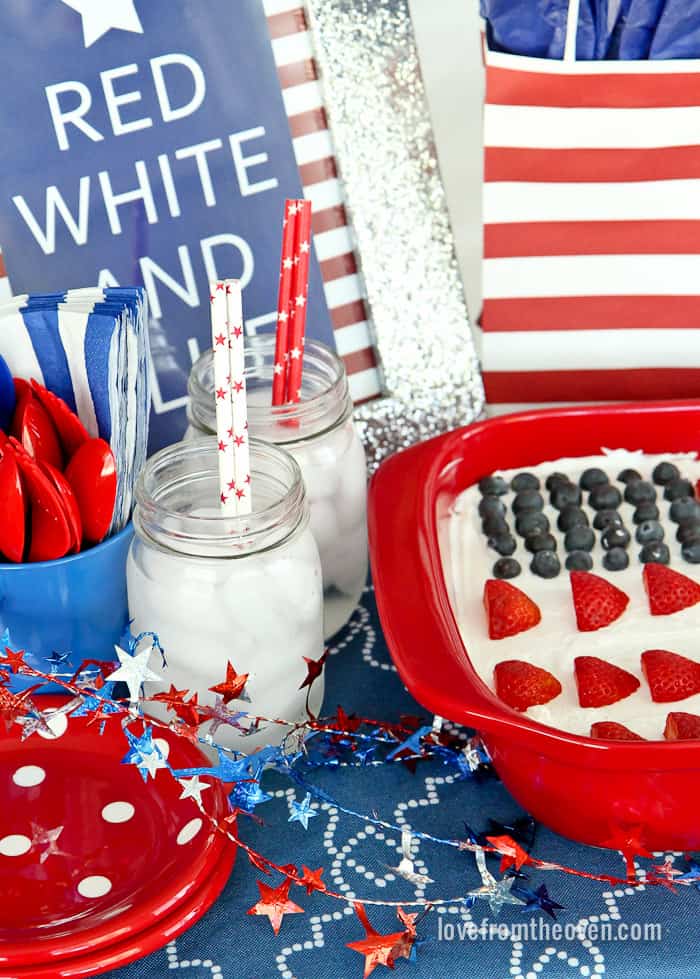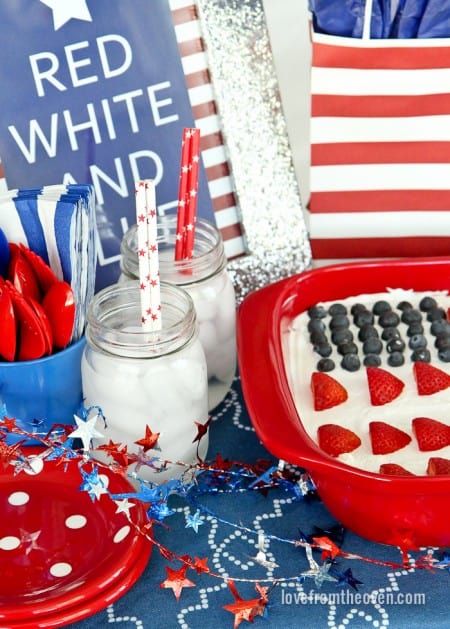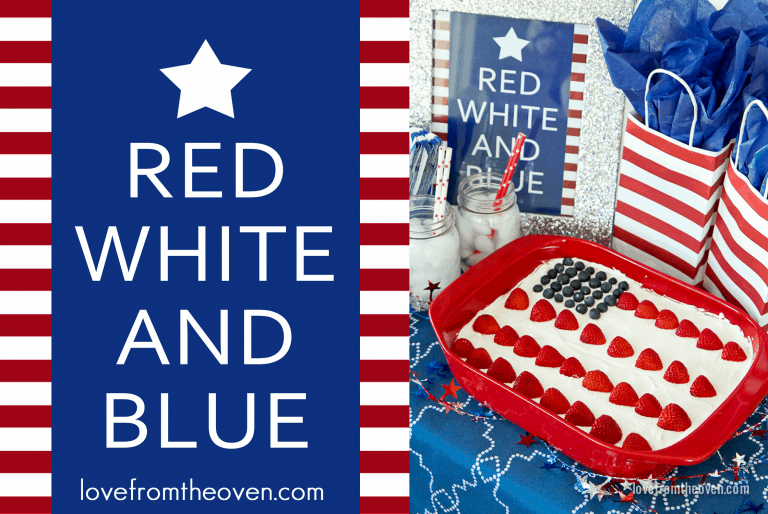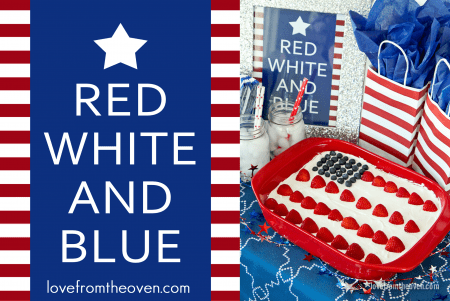 You can head to this post to download a copy of the printable I made.
I had a little empty space on the table to fill, and a few gift bags with some tissue paper fit perfectly. I'm not joking when I say that I just dig through my closets and cupboards to find things to set up a table with!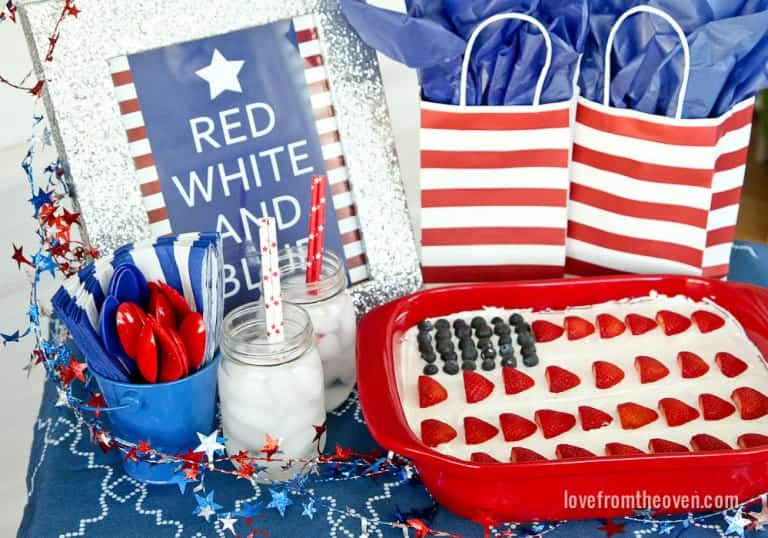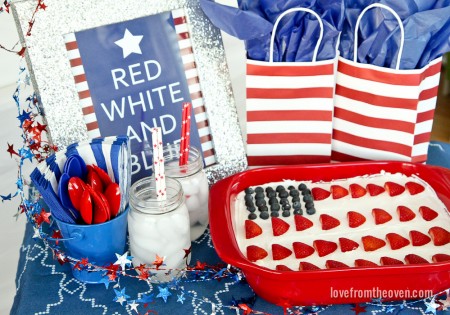 This cake recipe from Kraft really is the star of the show, is so easy to make, no heating up the kitchen and the kids can help decorate it with berries like mine did.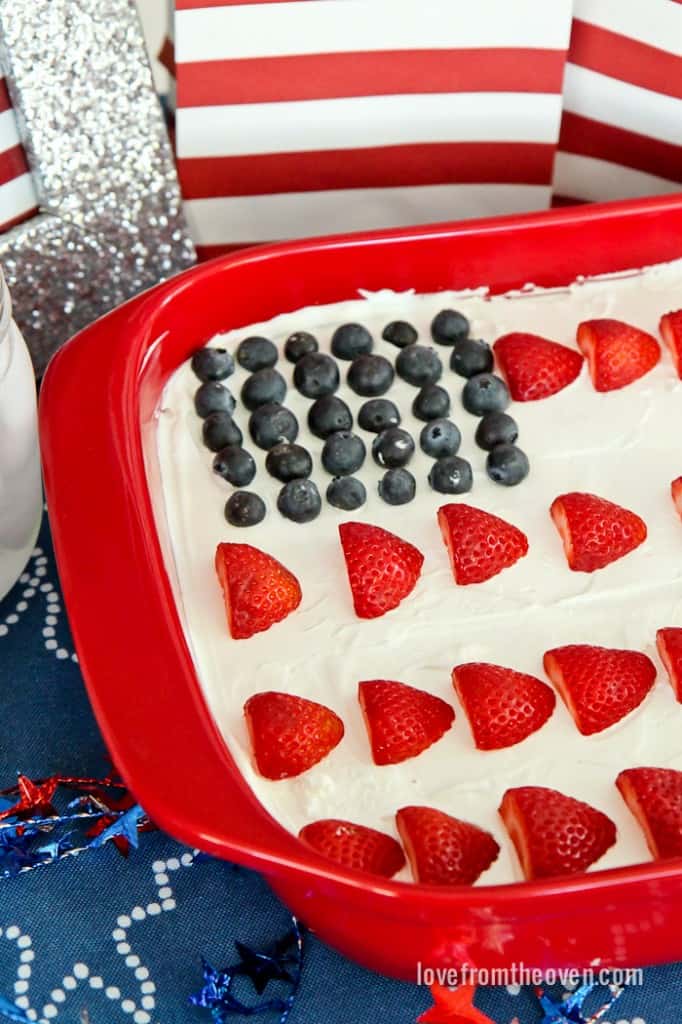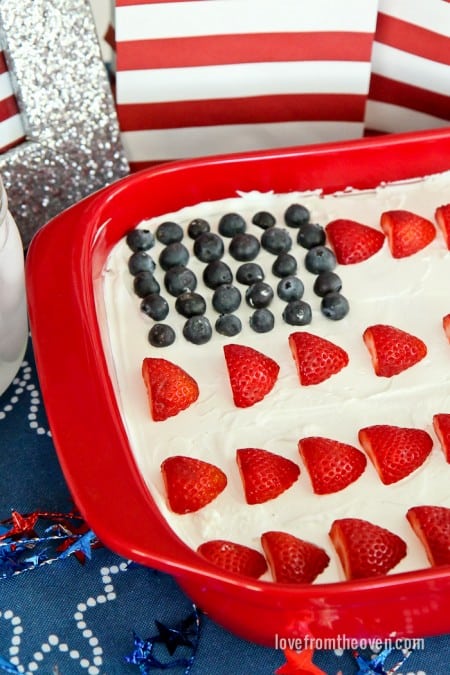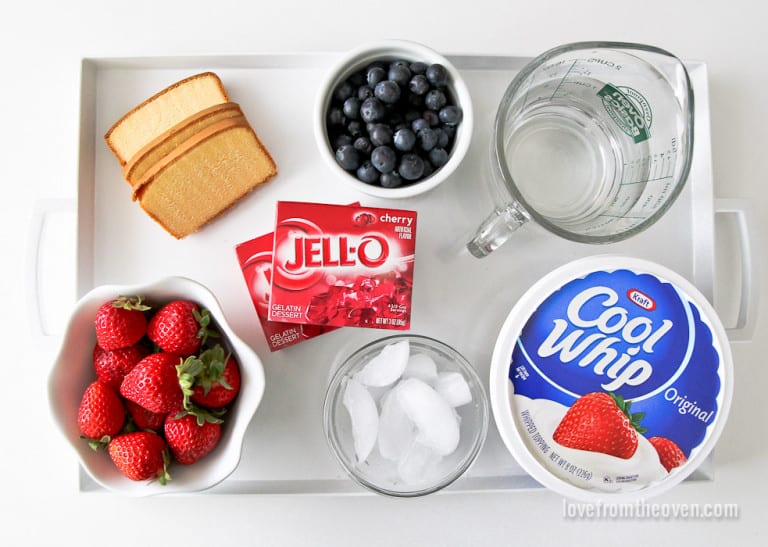 I hope your family had a very Happy 4th Of July! Make sure to Pin or save this Wave Your Flag "Cake" recipe for the next patriotic holiday, or even to serve for friends or family who have or are serving in the armed forces. You could really make this cake any time, and just switch up how you decorate the top with berries. I'm always looking for things to keep the kids busy and entertained in the summer, and this could be a great recipe to make with them, letting them have creative control of the decorating. Enjoy!

Kraft Dessert Recipes are a sure-fire way to sweeten up summer get-togethers.
Disclosure: Compensation was provided by Kraft via Mode Media. The opinions expressed herein are those of the author and are not indicative of the opinions or positions of Kraft.