All summer I have been sharing ways that I am spreading happiness in my life, and spreading a little Nutella in the process!   I hope that you have enjoyed seeing some of the things that I do to spread some happiness with my friends and family, as well as the great recipes I've shared that pair perfectly with Nutella.   I've made Cinnamon Banana Bread, Liege Waffles, Nutella Ice Cream Sundaes, Easy Homemade Pancakes, Chocolate Chip Muffins and Nutella S'mores Paninis.   It has been a delicious summer!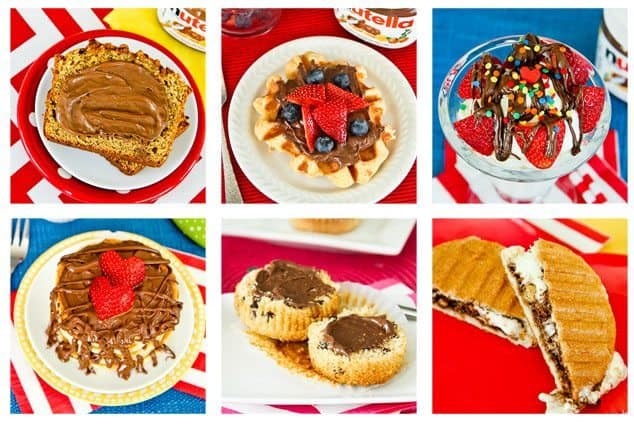 For my final post in this series with Mode Media and Nutella, I have been challenged to share with you how I share my passion with others, how I invite those around me to take part in what I love.  Obviously, my passion is baking, making, creating and sharing food.    The reason I originally started this blog was to share with my friends and family how easy it is to whip up delicious eats and treats, and that it can be really fun.  So often people tell me that they find baking to be intimidating, that they can never get recipes right or that they can't decorate a cake, cupcake or cookie to save their life.    So many delicious recipes are so simple, and my hope each time I share a recipe with my friends, family and you, my readers, is that they will say to themselves, "hey, I can do that!".   Heck, it's the entire basis for my new book, to show you how easily you can create amazing treats in your own kitchen!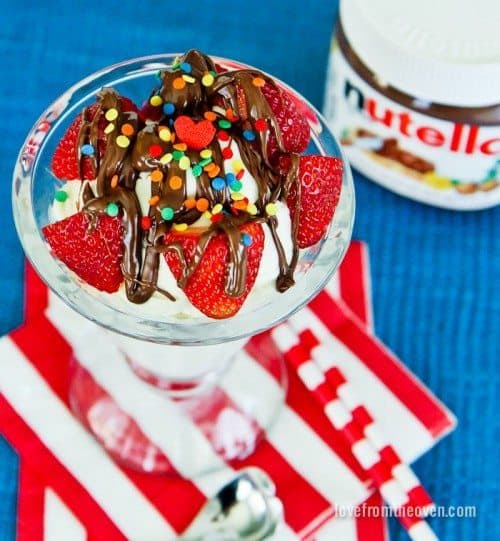 Like this Nutella Ice Cream Sundae.  It looks and tastes delicious, is sure to be a hit, and it could not be simpler.  Ice cream, some fresh fruit, a few sprinkles and a drizzle of Nutella.  That's it!  It truly is a dessert that anyone can make, serve, share and be proud of.   If you've never made anything before, you can make this, and it will be great.  And I LOVE sharing that.  While it's something very simple, I think there is something special about preparing and sharing food with others.  In our crazy, busy, chaotic lives, so many things are becoming automated, digital and quite impersonal, but food, sharing and enjoying food, that's still an experience we can take part in that engages all our senses.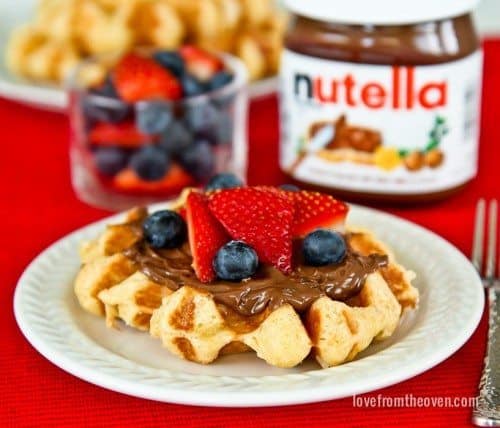 When I'm sharing what I love with people who maybe haven't baked or aren't comfortable baking, I love to break it down and simplify it.  Like these delicious Liege waffles for example.  Sure, making Liege waffles might be a bit intimidating (though I promise, it's easy), so you know what, you don't have to start there.  Start with a waffle mix, or heck, you can find some pretty delicious frozen Belgium waffles at the super market.  Pick some up, toast them, then spend a little time assembling them in a way that feels special, such as topping them with some Nutella and fresh berries.  Sure that frozen waffle isn't quite the same as the homemade Liege waffle, but your friends and family will enjoy the pretty presentation and that you made it for them.  Heck, even if you just make it for yourself, take an extra minute or two and make it special, you deserve it!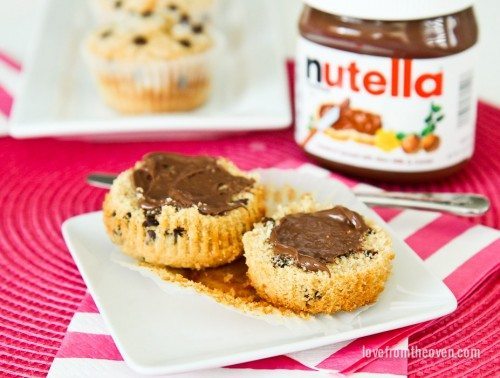 And these muffins.  While muffins really are one of the easiest and most forgiving items to bake, you can always start with a mix, or pick up some fresh muffins at the bakery.  Fill a basket with some muffins, some pretty napkins and a jar of Nutella, and you have a love gift, a perfect pick me up, for a friend, neighbor, teacher or anyone whose day you would like to brighten.  While I love baking from scratch, when I'm encouraging someone to try something new, I think it's completely fine to take baby steps.  The thought really does count.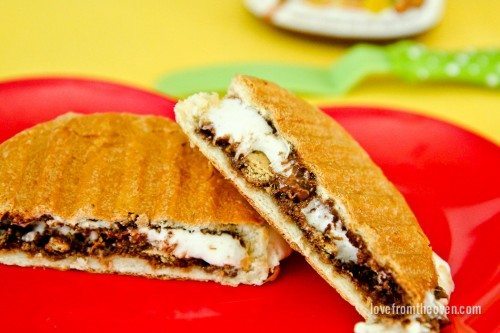 These Nutella S'mores Paninis, I first shared these with a friend when we made a visit to a local food truck caravan.  No baking required on our part, just spending time together, enjoying ourselves and sharing some delicious food.  It's the ultimate in easy, yet still so delicious and so fun.   You can spread some happy through foods in so many ways.    And I hope that I have encouraged you to do so with some of the recipes I have shared in this series with Nutella.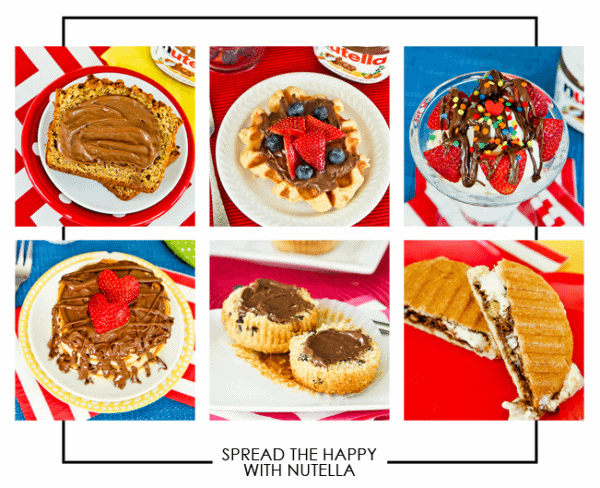 Im excited to share something else what will spread some happy, The Nutella 'Spread The Happy' Sweepstakes. You can submit a photo of your favorite Nutella combo for a chance to win one of 50 prize packages! The sweepstakes runs now through September 1st. Prize packages include:
Nutella Tote Bag
T-Shirts
(1) Mug
(1) Tumbler
(1) Spreader
(2) Coupons For Free Jars Of Nutella
Make sure to head over to the Nutella 'Spread The Happy' Sweepstakes for your chance to enter!
Photo will not be judged. No purchase necessary. Void where prohibited. Open only to legal residents of the 50 U.S. & D.C. who are 18+ as of the date of entry. Sweepstakes starts on 7/28/14 at 12:00 am ET and ends on 9/1/14 at 11:59pm ET. For complete details, including entry requirements and prizes, see Official Rules available at www.nutellausa.tumblr.com.

Nutella® hazelnut spread is a happy start to every day! Pick up a jar of Nutella in the spreads aisle and enjoy it with whole wheat toast, waffles, pancakes, strawberries, bananas and many other foods. Nutella. Spread the Happy™.
Disclosure: Compensation was provided by the makers of Nutella via Mode Media. The opinions expressed herein are those of the author and are not indicative of the opinions or positions of Nutella.