Can we talk for a minute?  About an issue that seems to have many people in the food blogging (and food loving) community up in arms lately?  Recipes & Photos.  Sharing versus stealing.   Photos being posted, reposted, blogged and shared, without proper credit.
Yes, that topic.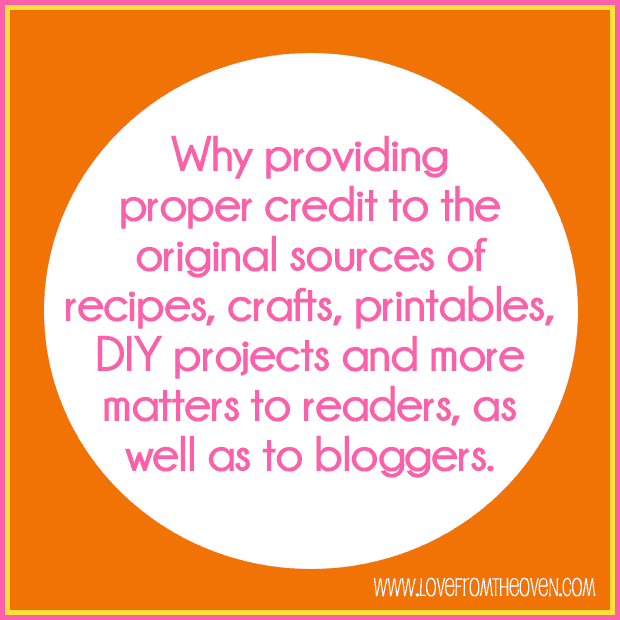 This is a topic that I try and stick my head in the ground and ignore and pretend that it's not there.   Truth be told, I actually make a pretty big effort to not go looking for my own photos on other people's sites.  I don't Google my own recipes or scour Facebook for my photos.  That said, I have the coolest readers around, and they are quick to alert me when they recognize my work elsewhere.  I also am a reader and follower of many food blogs myself, and I sometimes come across work that I know has been taken and not credited.   So even if I try to ignore this topic, I can't.
There have been some amazing posts on the topic, and if you are looking to learn more about it, I would highly recommend the ones I'm linking to below.  They cover everything from copyright laws, to how people share correctly and incorrectly, advice on how to do it right and why it matters (aside from that whole copyright thing), how some bloggers are actually bullied over simply wanting credit for their work, and even a first hand experience of someone who was sued for using a photo that was not hers (yes, it can, and does, happen).
What Every Facebook User Needs To Know
Copyright Issues, And Why They Cause A Lot Of Drama, Mama.
It's All About R-E-S-P-E-C-T And Props.  Mad Props.
Food Bloggers Fight Storm Of Facebook Pages That Are Stealing Their Content
Blogger Beware:  You CAN Get Sued For Using Photos You Don't Own On Your Blog
The Food Blogger's Fight Against Cyber-Bullying
And I highly recommend reading a few posts by Sara over at Saving From Someday.  Sara is a few things…  my friend, a blogger, and an actual honest to goodness real life attorney.   Some of you may have even heard her speak at conferences such as Blissdom, BlogHer or Bloggy Boot Camp.  She knows her stuff when it comes to blogging and the law.
Now let's get back to what I want to talk about today… Why original sources matter and why photos should be properly credited (aside from that whole copyright thing).  This isn't a post about why it matters to bloggers, but why it matters to everyone.   And I have to add a disclaimer that most bloggers LOVE to have their photos shared, correctly.  Love, love, love it!  Not sure how to share "correctly"?  Check out this post, this post and this post.

Wait, where's the actual recipe/craft/printable/project/info at?
Ever see a photo of a recipe on Pinterest, Google Images or Facebook, and think "oh my goodness, I need to make this, like now!".  Or, let's expand it past recipes, say you see a craft, or a printable, or a decorating post with the perfect paint color.   And it's EXACTLY what you are looking for.  Yay!!!  It's awesome!  And you click it.  And then get that "hmm… I don't think this is what I was looking for" feeling.   You just end up on a page with a bigger copy of the photo, but no info, no links, nothing.  And you keep looking and clicking, but you just can't seem to find the recipe, the info, the instructions or that darn paint color name.    It's like you've been internet punked.   Yeah, that.
When photos are shared or reposted, without the original source credited (and linked) it can be a really frustrating experience.  Not just for bloggers, but for readers as well.   Nothing like seeing the perfect recipe, project or printable and not being able to access it.    As someone who has been looking for decorating ideas, paint colors and DIY home projects – I'm running into this over and over.  Pins on Pinterest that just go to pages that are nothing more than a stream of other people's photos, with no content, no info, nada.   It's frustrating.  I want to find that great info, content and instructions, I want to see more by whoever created these great pictures, but I keep coming up with nothing of substance.   🙁   No good.  No good for the person who put the time, effort, work and money into creating what I see and no good to me, the reader, because I can't get the info I'm looking for.  Lose, lose.
I didn't even realize how much great content, additional photos and advice I was missing out on!
Now let's say you see a photo and you click it and you get the copy and pasted version of the recipe.  Well, I guess that's great.  But hold up, maybe it's not.   Do you have any idea what you DON'T see?    Let's use a photo of mine, back before I started watermarking my photos (which by the way, if you can't seem to find an original source, but you see a watermark, search that name!).    This photo has been one that I've found used all over.  On blogs, on Etsy, even being used by professional bakeries.  Without permission or credit.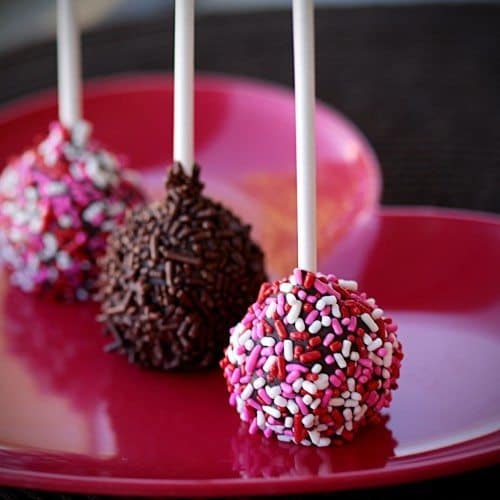 So you see that photo, and maybe you see a recipe.  But I bet if you click this link, you might be surprised at home much you aren't seeing.  If you were looking to make cake pops, that link, for that photo, would give you all kinds of tips, tricks, advice, links, resources, info on melting chocolate and even a video!  It's like Cake Pops 101!  And if you were interested enough to check out the photo in the first place, I will bet that all of that additional information might come in handy or be of some interest to you.   But without the original link and credit, you'd probably never see all of that info.  Kind of sucks, on both sides of the equation.  
If that photo caught your eye enough to click, you might really like the blog that it came from, and find all kinds of content that you would love.  And guess what, if you found yourself on the original post where that photo came from, and you had a question, you could post, comment or email the blogger behind it.  And most of the time, you'll get an answer!   Without the source credited and linked, that's not going to happen.  Both the blogger and the reader lose out.
Hey look, I'm ordering cake pops that Bakerella made!  Oh, wait, this isn't what I ordered…
Now let's discuss another completely improper use of photos (I'll use the word… stolen.  Stolen photos.).   Etsy.   Head over to Etsy and search something like cake pops.  I bet you will see quite a few photos that belong to Bakerella.  Now, I could be wrong, but I'm pretty sure Angie doesn't moonlight under a bunch of different user names filling cake pop orders on Etsy. 
Why should you care?  Well, you might want to spend a few of your hard earned dollars ordering some of those gorgeous cake pops.  And what you get may look nothing like what you were expecting – which were actually Bakerella's cake pops, not the person you were ordering from.   
Because I make a lot of things with PEEPS, I did a quick PEEPS search.   I instantly got this result…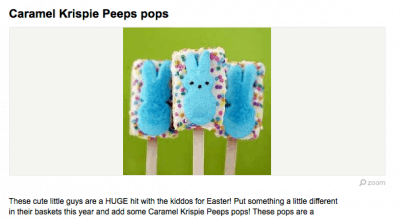 Yeah, those are mine.  But you can pretty much bet your bottom dollar that I'm not filling your order.  Now, maybe you'll end up with something fabulous, but what you are being shown and sold is not what you are getting.   Now if the person selling these had followed my instructions and made some that looked just like mine and took their own photo, well, that's fine.  But using my photo?  Not fine.   In the same Etsy store you can also order some Chocolate Peanut Butter Sandwiches.   They look yummy!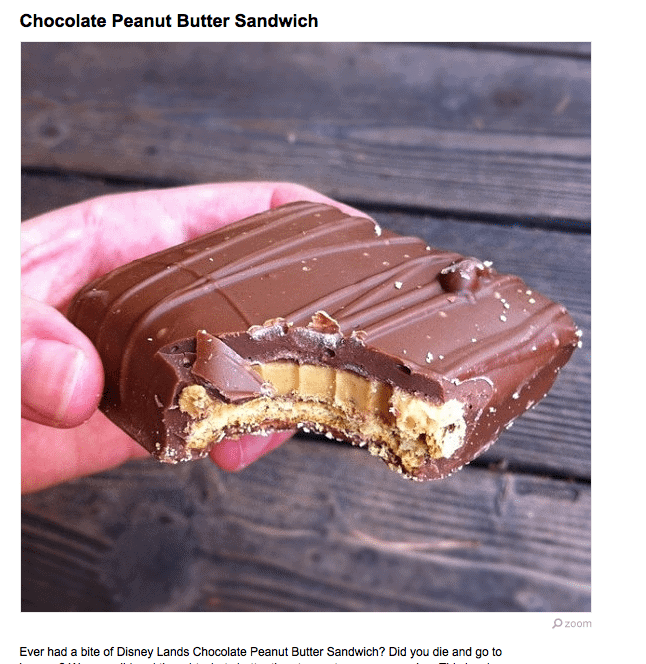 I can't speak for Jenny over at Picky Palate (I recognized her photo instantly) but I'm pretty sure she's not filling that order either.  Heck, that's actually Jenny showing you the ones from Disneyland.  I'm positive that the folks at Pooh's Corner at Disneyland are not filling your Etsy order.  I could go on and on in that Etsy shop, I don't even have to research, I see photos that I recognize immediately from bloggers around the web.
I have contacted people who I have found using my photos to sell baked goods, on everything from Etsy to real brick and mortar bakeries.  I really don't get this.  I feel like it's a really quick way to tarnish your reputation as a business.   I feel like it's a way to lose customers and not convert first time customers into repeat customers.  It's false advertising.  I have often heard the response "well your photos are better then mine" as a way to justify it.   Well, maybe they are.  I did minor in photojournalism at the Walter Cronkite School Of Journalism at ASU.   I've spent most of my life with a camera within reach.  I've invested a lot of time and money into my equipment and training.  And I spend almost as much time photographing my recipes as I do creating and baking them.  So sure, maybe a few of my photos might be better, but that excuse doesn't fly as a reason to take them and try and pass them off as your own.   My daughter can't take someone else's science project because it's "better" and I sure can't drive off in someone's Range Rover because it's better than my Honda.   And to come full circle, you aren't showing your customers YOUR products, and that's wrong.   Be proud of what you do and what you have to offer, show YOUR work.
I often read comments of people saying "why do you care if someone uses your photo?  Just get over it!".  Well, bloggers like myself have many reasons, but how do you feel when given the example above?   Do you care a little bit more now that you are looking at a stolen photo when you are ordering something, paying with your hard earned money, and what you are being shown/sold was not made by the person you are buying from?   As a consumer I'm guessing that you probably think "that's not cool!".  No, it's not.  Not for you the consumer and not for the people who created the photos, and own the copyrights for them.
The internet is a great thing.  It's an amazing way to discover things, and it's incredible when it comes to recipes.   And bloggers who create recipes want you to enjoy them and share their recipes.  Nobody is saying don't share!   People seem to get so mad, and some even downright nasty, when bloggers simply request that our images and recipes are shared correctly and properly credited.  I can't for the life of me understand people getting so mad about that.  I mean if you love recipes, don't you have a little love for the people creating them?   Those beautiful, drool worthy recipes and photos don't create themselves.  And at the end of the day, we, bloggers AND readers, all benefit from the original source being properly credited.    🙂   
So enjoy all of the great recipes out there.  Share them with your friends and family, just make sure to also share where those recipes are from, provide a link to the original post.   That way not only can people discover a new recipe, but they might discover a new blog, a new blogger and lots of new recipes they might love.  And the bloggers who work so hard to create those recipes gain new readers, new people to share their love of baking and cooking with, and the cycle goes in a positive direction.  It's a win win situation.    Happy baking!