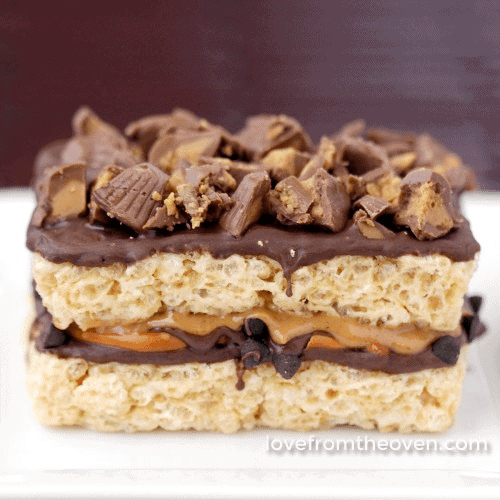 The hardest part of this recipe is just figuring out what to call it! Deluxe Rice Krispy Treats? Gourmet Rice Krispies Treats? Stuffed Rice Crispy Treats? I love Amy Miller's suggestion of lasagna for sugar addicts.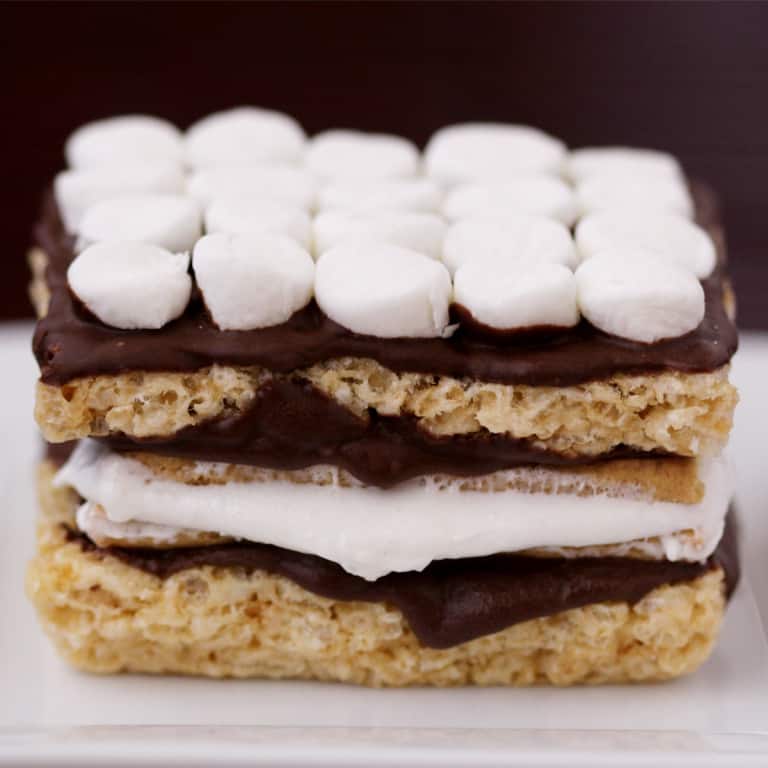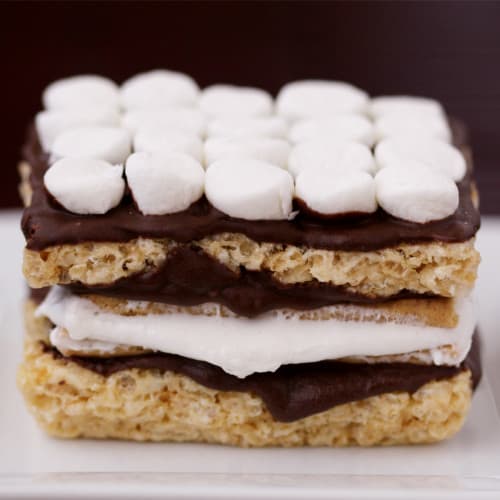 No matter what you want to call them, hot damn are these good. And they are pretty simple to whip up. Shall we? You will want to have rice krispies treats, melting chocolate (I used Wiltons) and what ever you want to fill these up with. I used peanut butter, marshmallows, graham crackers, caramel bits, pretzels and peanut butter cups.
One disclaimer – you could certainly use homemade rice krispies treats. I do prefer them to the pre-made ones, but using the pre-made krispy treats save a bit of time and clean up. So using the pre-made treats, here's how this works. I'll start with the Smores Rice Krispy Treat I made…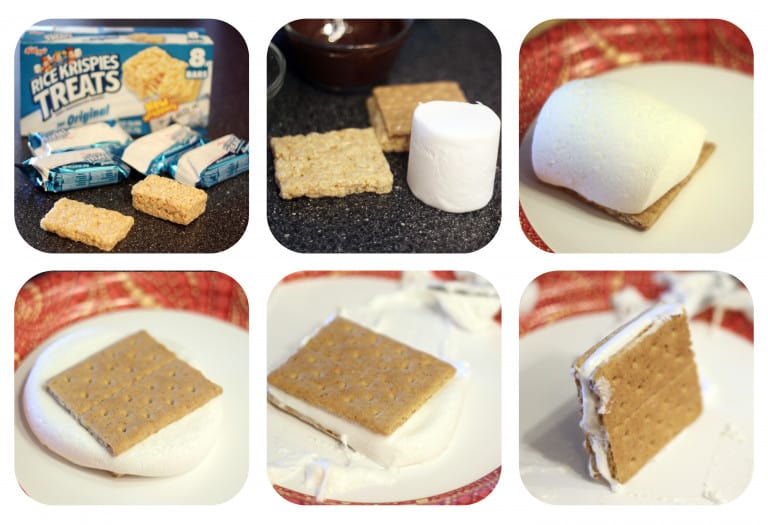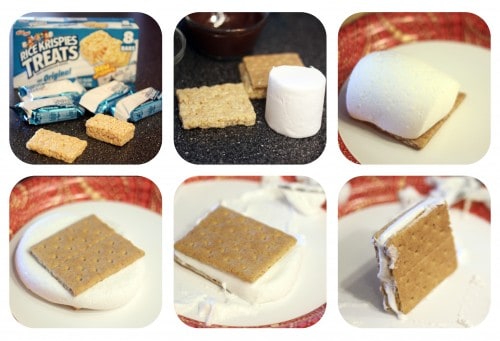 For each treat, I used two rice krispies treats. I smushed them a bit, which you can do by hand or with a rolling pin, to compact them. You could skip this step, but I think it probably helps them hold together nicely. Next I took a giant (and I mean GIANT) marshmallow and cut it in half, putting it on a graham cracker. In retrospect a normal large marshmallow would have probably worked better. I then put the graham cracker, with the marshmallow on it, in to the microwave for a few seconds. It only takes a few seconds for that marshmallow to puff up like nobodies business. Right after pulling it out of the microwave, I put the other graham cracker on top of the marshmallow and smush them together.
I use smush as a technical term often. I wonder if they use it in culinary school?
Because my marshmallow was SO giant, I had to cut off the extra that oozed out the edges. Hot marshmallows aren't a ton of fun to cut, so again, a regular "large" marshmallow is probably your best bet.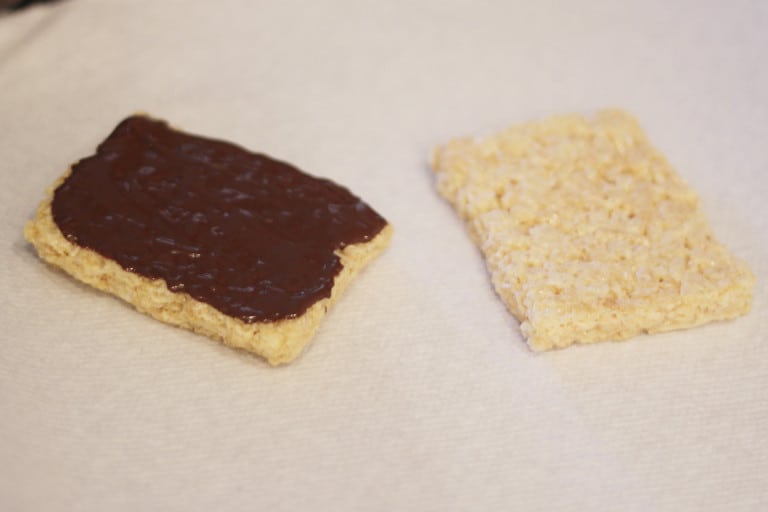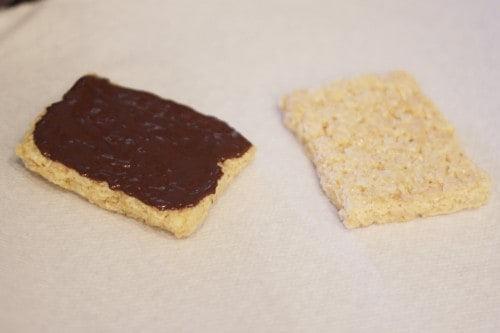 Next, coat one of your krispy treats with your melted chocolate.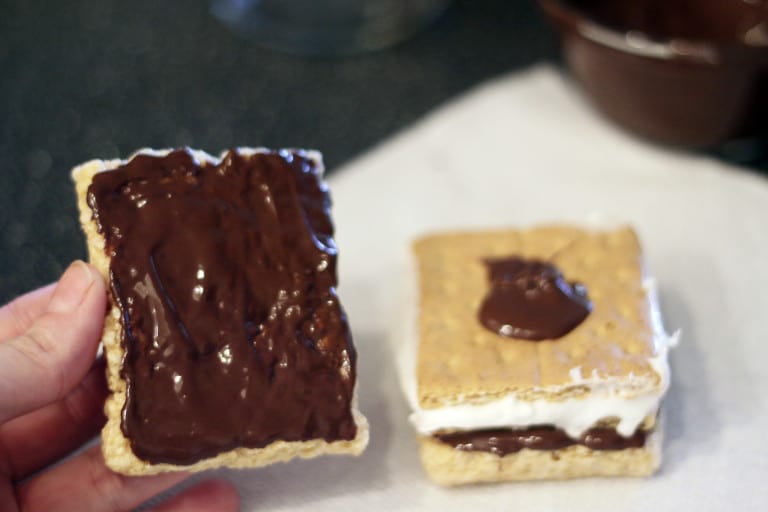 Put your graham cracker marshmallow sandwich on the chocolate coated krispy treat, add some chocolate to the top of the graham crackers, and to the other rice krispy treat, then sandwich them together.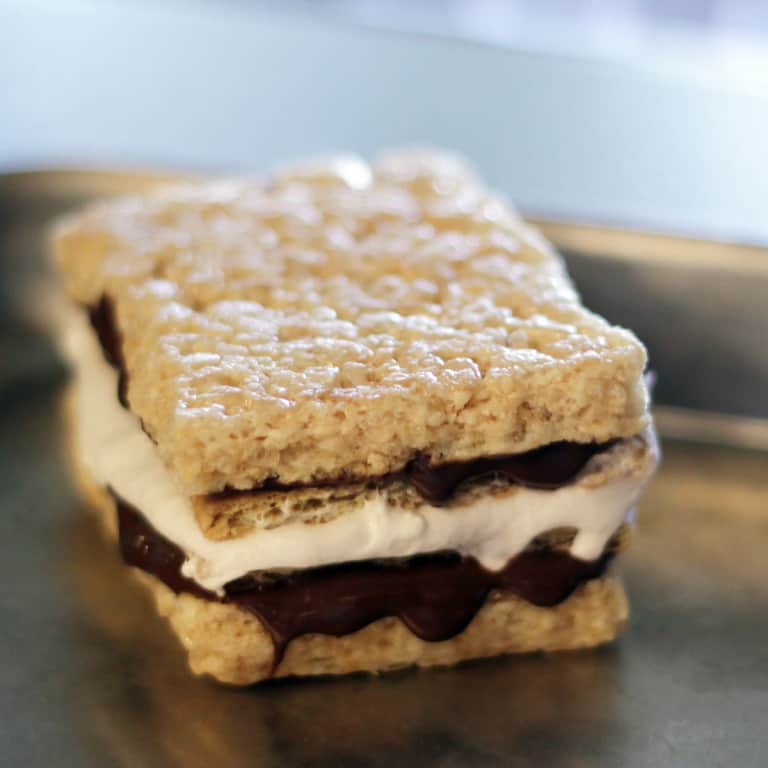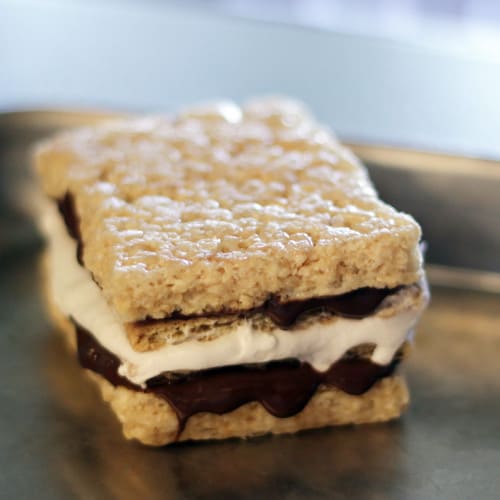 And now you have this deliciousness. Now if you want to push it a bit further, put more chocolate and marshmallows on top.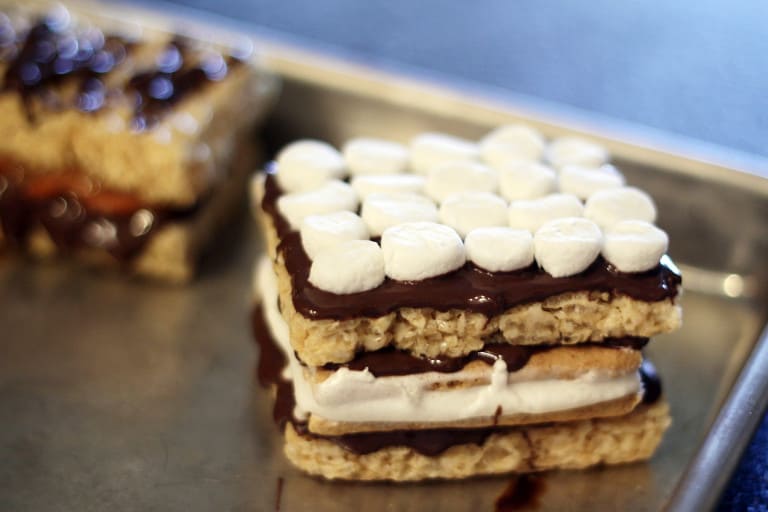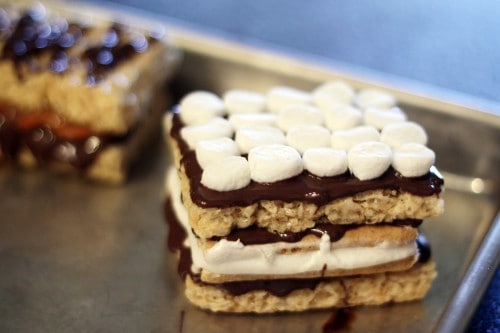 That's what I'm talking about. But one just isn't enough. I also made a caramel chocolate pretzel krispy treat…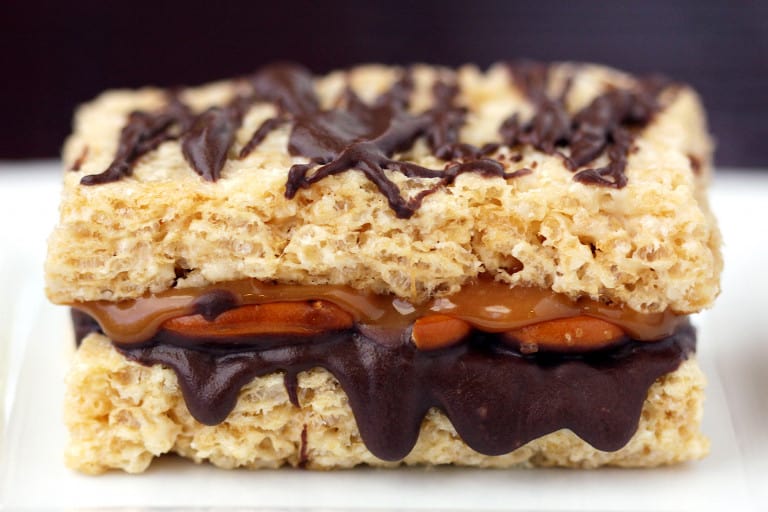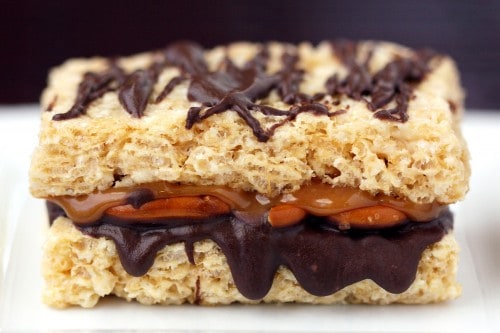 I used Kraft Caramel Bits. I know not everyone has had great success with these. There are no "general" directions on the bag, so I follow the instructions they give to make caramel apples. You need to add water to the bits before you put them in the microwave, and you have to stir like crazy when you get them out. I have never used the caramel squares, so I can't comment on how they would work.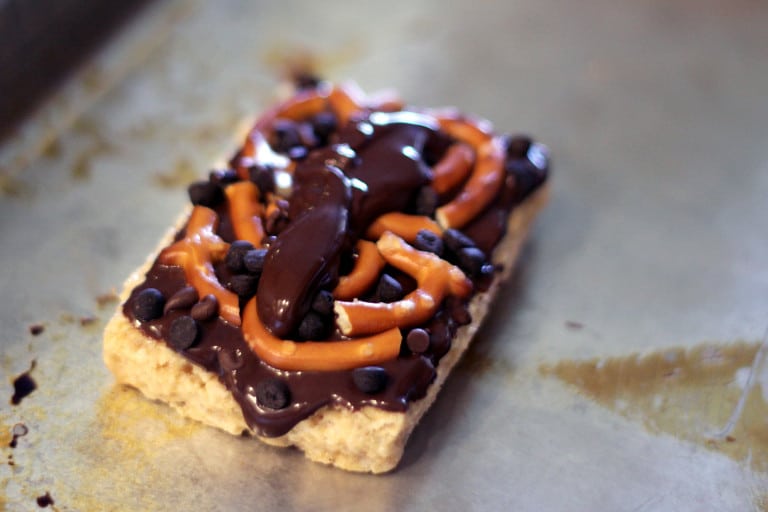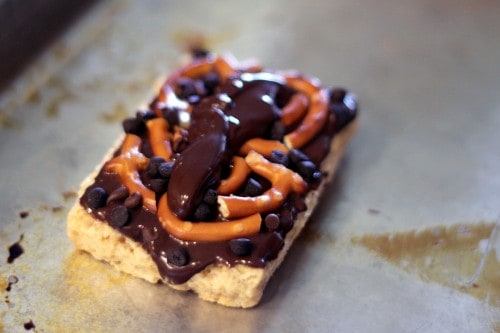 Cover one of your krispy treat with the melting chocolate, pretzels and mini chocolate chips. Then melt your caramel bits…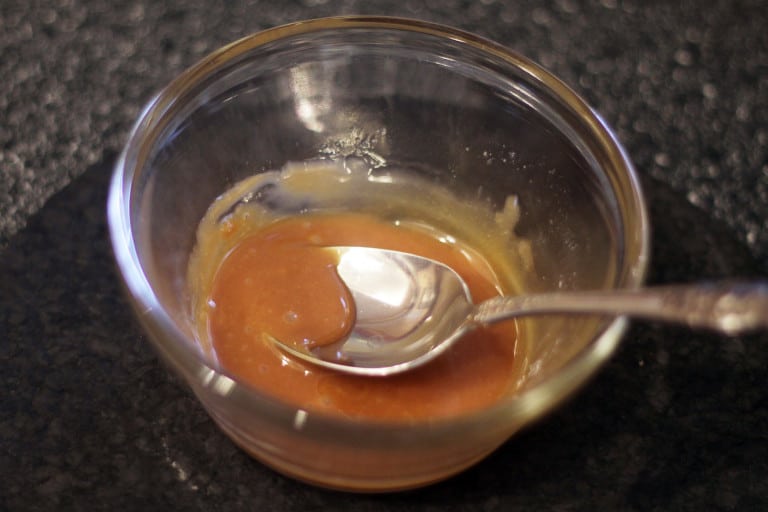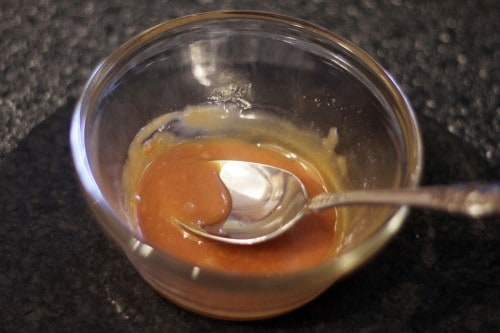 Spread your caramel onto another krispy treat…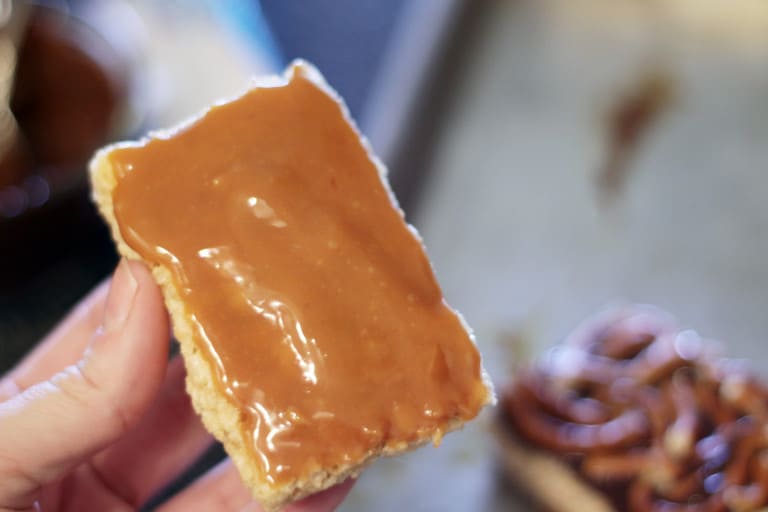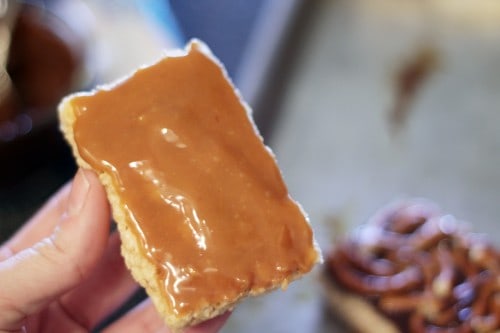 Put this crispy treat on to the other, add a little extra chocolate on top and voila!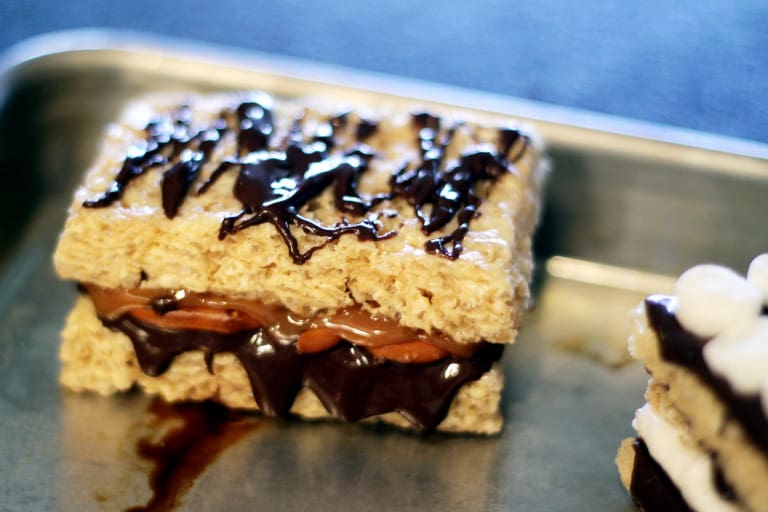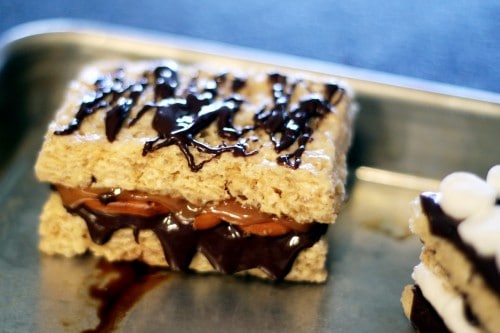 And finally a peanut butter chocolate pretzel krispy treat. This is beyond good.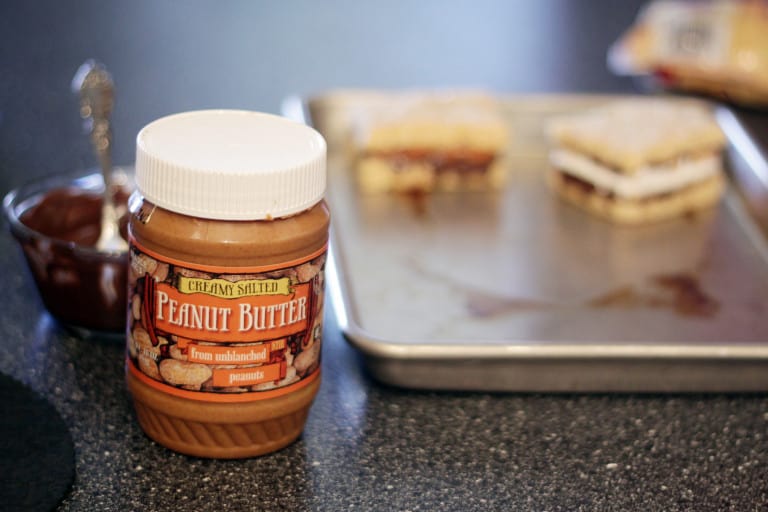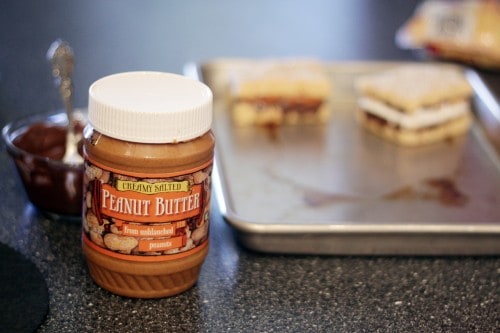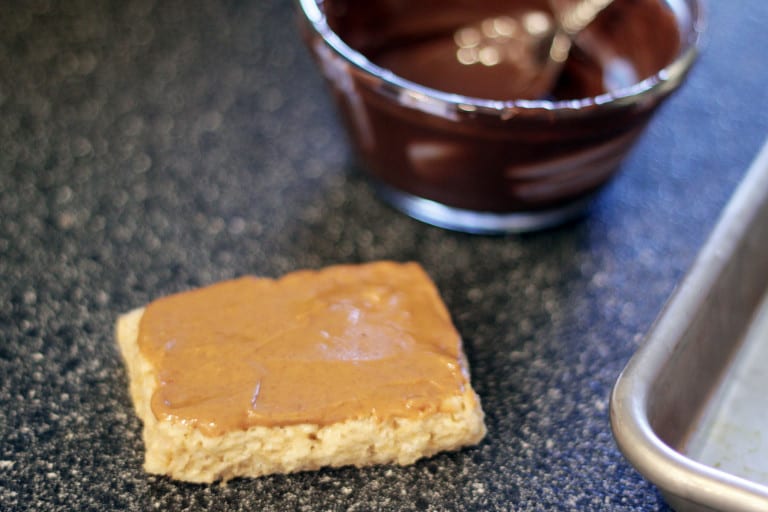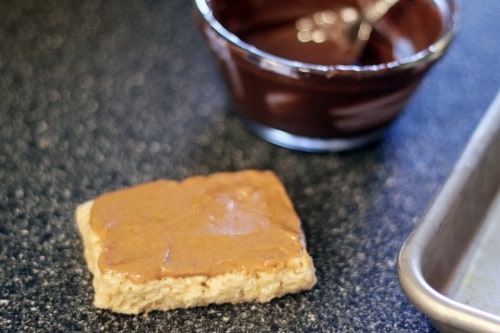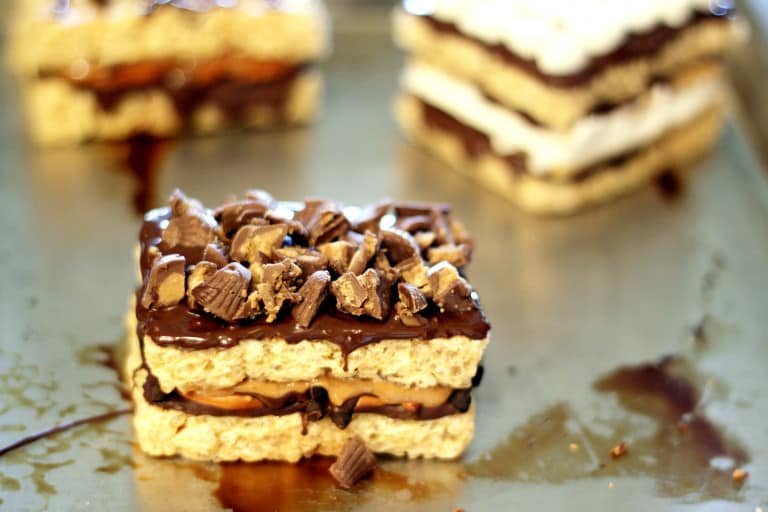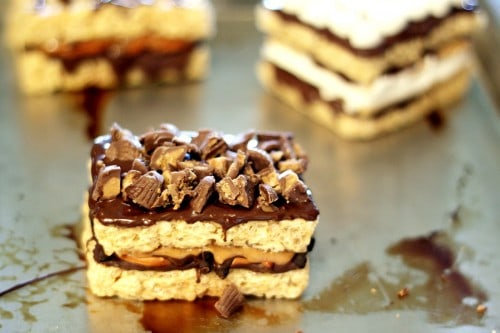 I think the peanut butter chocolate pretzel is my favorite. I have a few more combos using white chocolate to share tomorrow. Really you could use any ingredients you want – there really is no exact recipe, just a general idea that you put your own spin on. What combo would you like to create???