October is National Cookie Month, so when the folks at Tate's Bake Shop contacted me and asked if I would like to sample (and give away!) some of their Whole Wheat Dark Chocolate Chip Cookies, as well as one of their cookbooks, who was I to say no? I mean it is COOKIE MONTH after all, and these aren't just any cookie, these are award winning cookies that have even been voted America's favorite. I kind of had to try them.
Tate's Bake Shop is an award winning bakery in Southampton, NY, and is owned and operated by Kathleen King. Kathleen has been baking since she was 11 years old, when she started selling chocolate chip cookies at her family's farm stand. I was very intrigued by these cookies because they contain two of my favorite things to bake with – whole wheat and dark chocolate. Tate's Whole Wheat Dark Chocolate Chip cookies recently won Gold in the Cookie Category of the 2011 sofi Awards,  presented at the Fancy Food Show (which is apparently like the Oscars of the food industry!). So my expectations were pretty high, I mean we are talking award winning cookies here!
Usually I am a fan of the big, soft, chewy type of cookie. Tate's Whole Wheat Dark Chocolate Chip Cookies are of the thin and crispy variety, so I wasn't sure how I would like them. So I had one. And then I had another. And by the FIFTH cookie, it was clear that they were amazing. I had a sixth, just to be sure (I don't want to recommend a cookie that I don't REALLY love). These cookies are really delicious – buttery, crispy and oh the dark bittersweet chocolate, how I love good dark chocolate. I did decide that in addition to being delicious, they were clearly addictive, and wondered if eating six cookies for breakfast could be justified if I called it "research". I'm going with yes. These cookies somehow manage to be both delicate and extremely rich, a great (though possibly dangerous in my hands) combo. It's no surprise that these chocolate chip cookies have been voted America's Favorite Chocolate Chip cookie by Rachel Ray!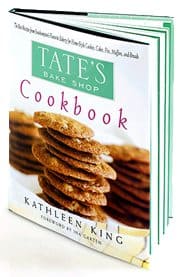 Tate's also sent me a copy of Kathleen's "Tate's Bake Shop Cookbook". This cookbook is full of wonderful, simple recipes and has something for everyone. Some of the recipes that caught my eye were Sour Cream Pound Cake, Oatmeal Scones, Double Peanut Chocolate Cookies, Toffee Pecan Cookies, White Chocolate Brownies, Magic Bars, Sweet Potato Pie, Lemon Cream Cheese Tart, Warm Individual Chocolate Cakes and Coconut Birthday Cake. There are also a number of great healthy alternative recipes such as Multigrain Muffins and Energy Bars. You can preview the cookbook, as well as a few recipes, here.
Much like the cookies I tried, the recipes are all simple, straight forward and timeless. According to Tate's owner Kathleen King, each recipe is designed to "take less time to make than it would to go to a store to buy commercially prepared baked goods". That sounds like a great plan to me.
Tate's Bakeshop offer a GREAT variety of products online:  cookies, squares, pies, breakfast and even gluten free options. They also offer "Your Scholar's Care Packages" – a great bit of motivational encouragement for your favorite student. Love it! Personally I think their Chocolate Chip Cookie Bark might be awfully motivating to me! Cookie bark???? Um, yes please!
Tate's Bake Shop is offering Love From The Oven readers 15% off their entire order through 10/31/11 with the discount code COOKIE. Someone try that cookie bark and let me know how amazing it is!

Tate's Bake Shop would like to give one of my readers their own treats from Tate's Bake Shop! One of my readers will receive three bags of Tate's Bake Shop's delicious Whole Wheat Dark Chocolate Chip Cookies AND a signed copy of Kathleen King's cookbook, The Tate's Bake Shop Cookbook.
So how do you enter to win?
1. Leave a comment to this post and you are entered to win. Easy as that!
Would you like extra chances to win? Here's how you can get four additional chances to win…
2. Follow Love From The Oven on Facebook, and comment on this post that you do.
3. Follow Tate's Bake Shop on Facebook, and comment on this post that you do.
4. Follow Love From The Oven on Twitter, and comment on this post that you do.
5. Follow Tate's Bake Shop on Twitter, and comment on this post that you do.
For FIVE entries, you will leave FIVE separate comments to this post.
The winner will be selected at random on Wednesday, October 19th.
Good luck! And don't forget that Tate's Bake Shop is offering 15% off until 10/31/11 with discount code COOKIE. And if you are near Southampton, you must check Tate's Bake Shop out in person at 43 North Sea Rd, Southampton, NY, 11968. How cute is Tate's???