I'll be honest, more than once (or twice), I've found myself on websites on Thanksgiving day, frantically looking for cooking times, recipes and how to tell if my turkey is done. You always want that big gathering to go off just right, so I thought I would put together some resources for Thanksgiving tips, tricks, advice, help & even hotlines.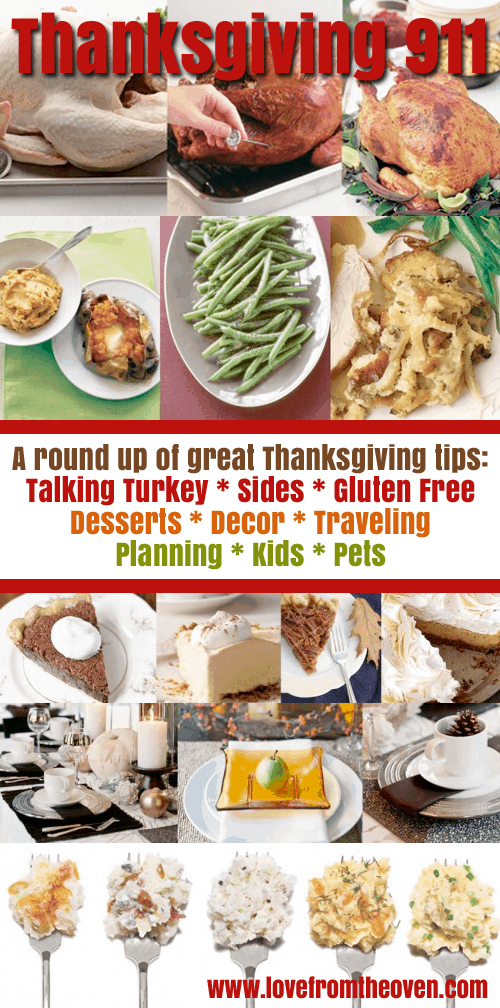 From buying your bird, how to prepare and carve it, the stuff on the sides (both light and gluten free), desserts, wine pairings, tips on getting great photos, traveling tips, suggestions on staying sane, decorating ideas and even tips on keeping the pets safe on Thanksgiving –  hopefully the information here will help you out.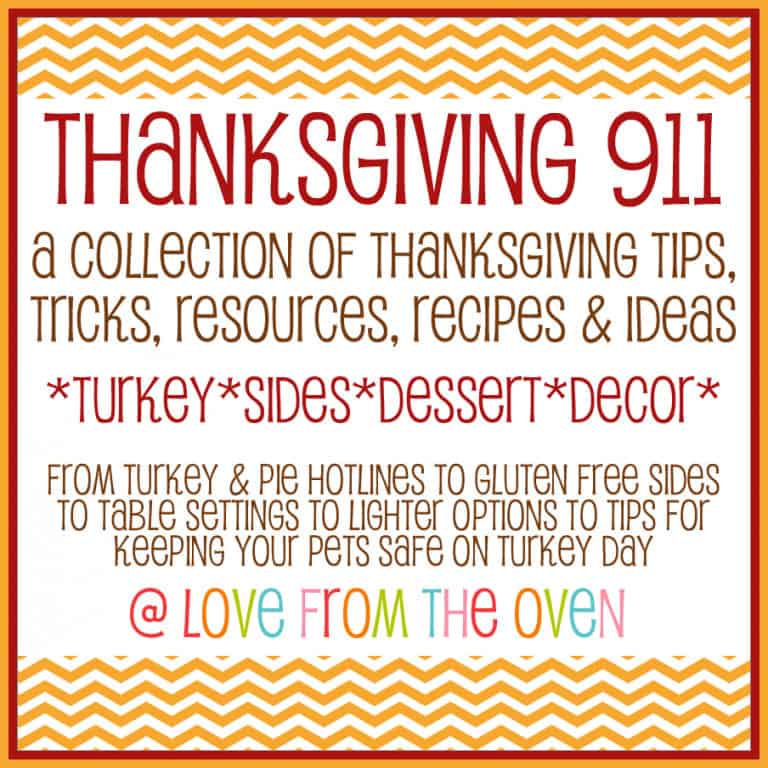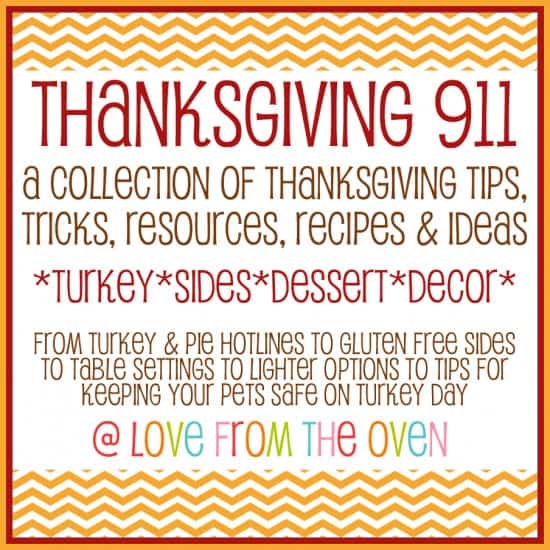 Talking Turkey. The turkey is typically the star of the show. It also for me is one of the most intimidating. I mean cook it too long and it's dry. Don't cook it enough and you poison your family. It's things like that which make me stick to cupcakes! But here are some resources for cooking up the perfect turkey.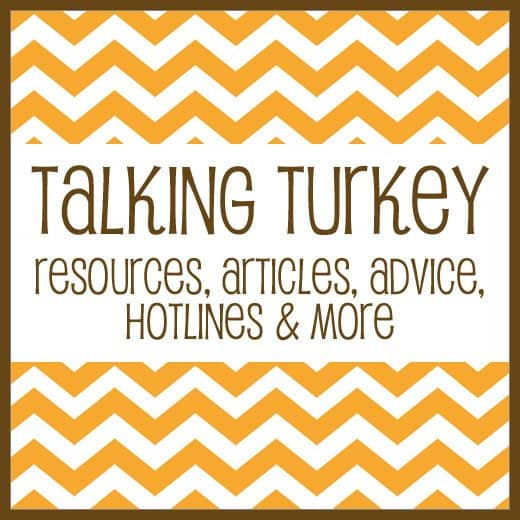 Need some help on cooking your turkey? Here are some great resources…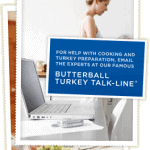 Butterball Turkey Talk-Line – Visit their site or call 1-800-Butterball. They also have a list of frequently asked questions you can check out.   The line is open to residents of the US & Canada and assistance is available in English and Spanish. The Butterball Turkey Talk-Line employs more than 50 professionally trained, college-educated home economists and nutritionists, who respond to more than 100,000 questions each November and December.
Foster Farms has a webpage on preparing turkey, with advice on how to store your fresh turkey, thaw a frozen turkey and how to cook your turkey, be it roasting, grilling, smoking or rotisserie.
Martha Stewart has a variety of Turkey Tips from how to select the right size turkey, how to clean the turkey, picking the right pan, stuffing safety, carving and what to do with leftovers.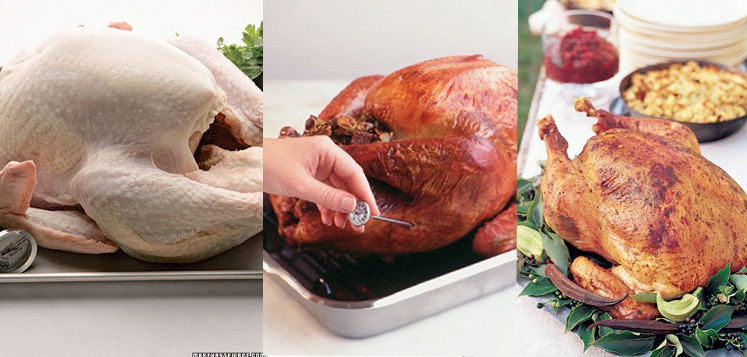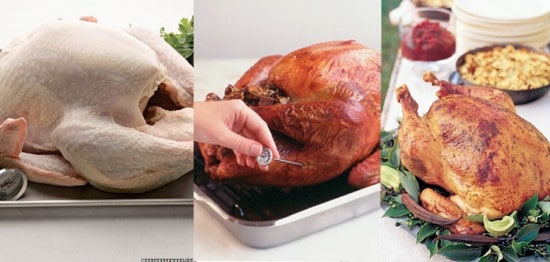 The Washington Post has a nice article on everything from buying to brining.
Good Housekeeping has a wealth of great information. Find out if your turkey is overdone, the best do-ahead gravy recipe, and a reference chart for how much turkey you need.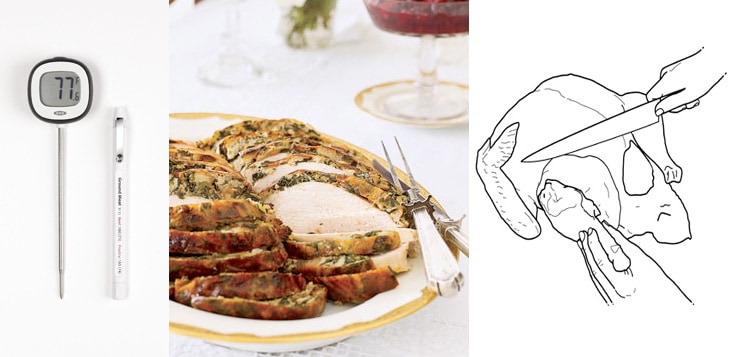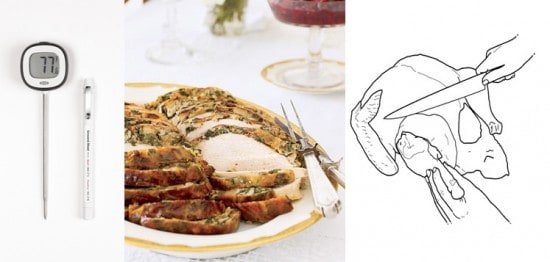 iVillage has 11 top chefs share their Thanksgiving advice.
The staff at The New York Times is answering your questions about all things turkey.
Need advice on turkey carving? Check out Mr. Food Turkey Carving Tips
The National Turkey Federation has tips on almost anything and everything turkey.
The Food Lab at Serious Eats is answering all of your Thanksgiving questions. They've got grilling, reheating, portioning, roasting in parts, brining – you name it!
While turkey may be the star, the stuff on the sides (you know, like stuffing!) matter. Thanksgiving has always been one of my favorite meals just for the fact that it's a "two potato meal". I'm all about that. Here are some resources for your Thanksgiving side dishes.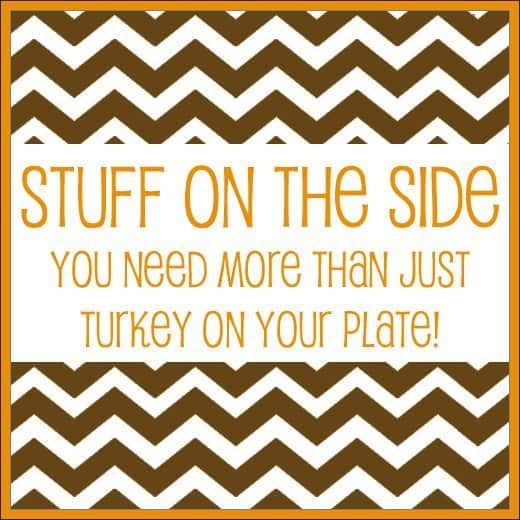 Food Network has put together a collection of 50+ classic Thanksgiving side dish recipes. From Alton's Best Ever Green Bean Casserole to Giada's Roasted Potatoes to Bobby's Mashed Potatoes With Roasted Garlic and Marscapone Cheese, this collection is packed full of delicious options.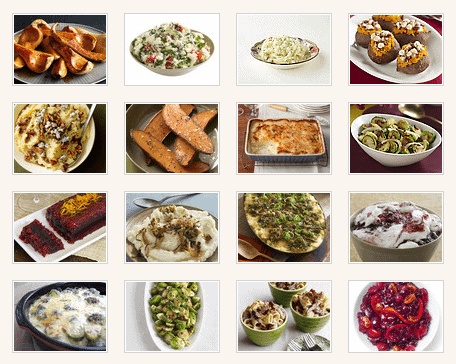 Martha Stewart has put together a collection of the easiest Thanksgiving side dish recipes for you.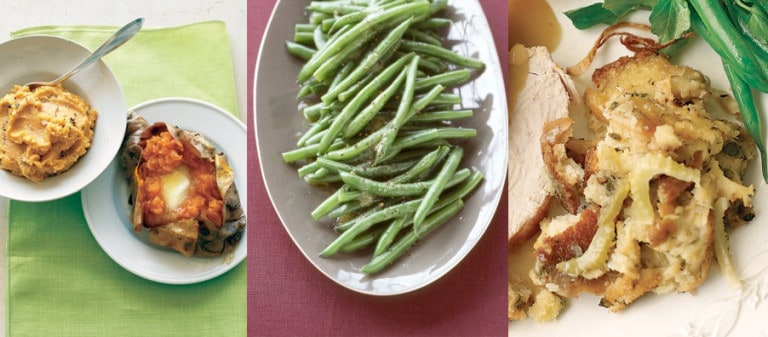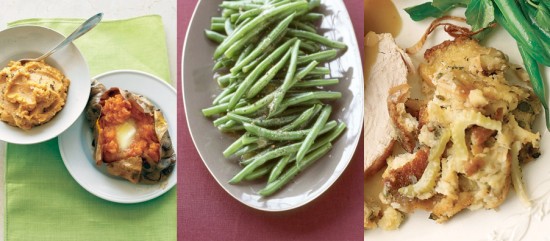 Skinnytaste has a number of great lightened up Thanksgiving side dish recipes for you.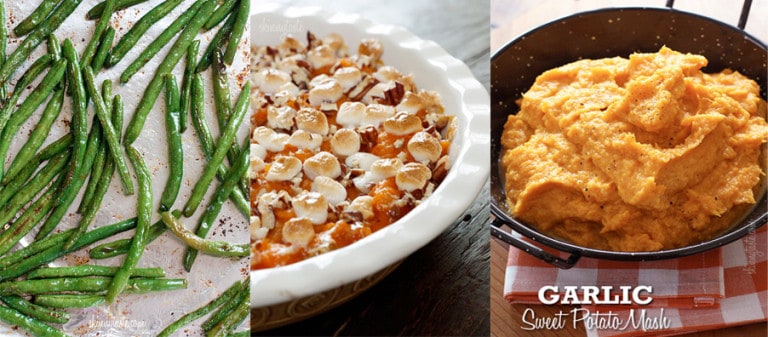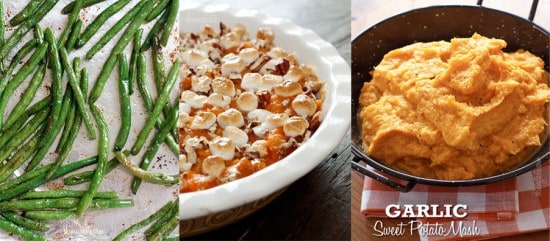 Will you have some guests at your table who have a gluten allergy or Celiac disease? Head over to Gluten Free Goddess and find some great gluten free Thanksgiving side dishes.


Mr. Food has 20 Shortcut Homemade Stuffing Recipes. With recipes like Pretzel Stuffing, Popcorn Stuffing, Mashed Potato Stuffing, Vegetable Harvest Stuffing and Cranberry Nut Stuffing – this is one fabulous collection.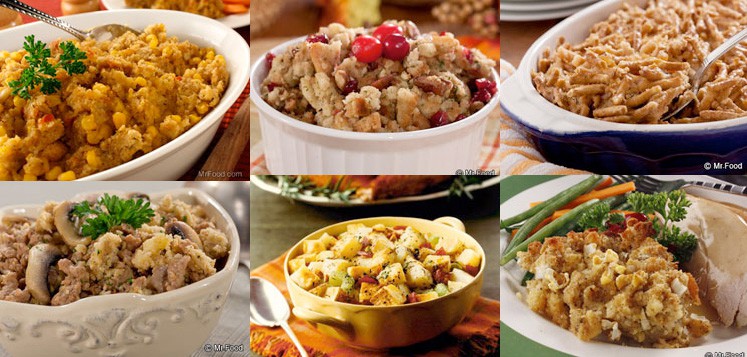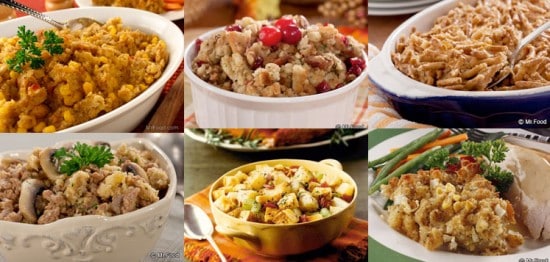 Real Simple has ten different Mashed Potato Recipes to try.


Southern Living has 16 Ways With Sweet Potatoes. For the record I LOVE sweet potatoes. L-O-V-E.


Of course we have to talk desserts, you need the perfect something sweet to complete your Thanksgiving meal.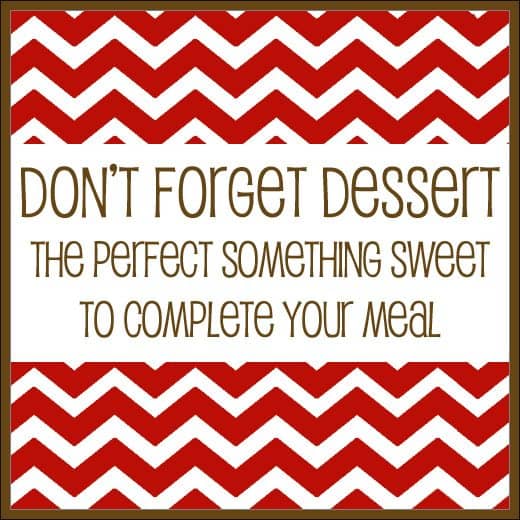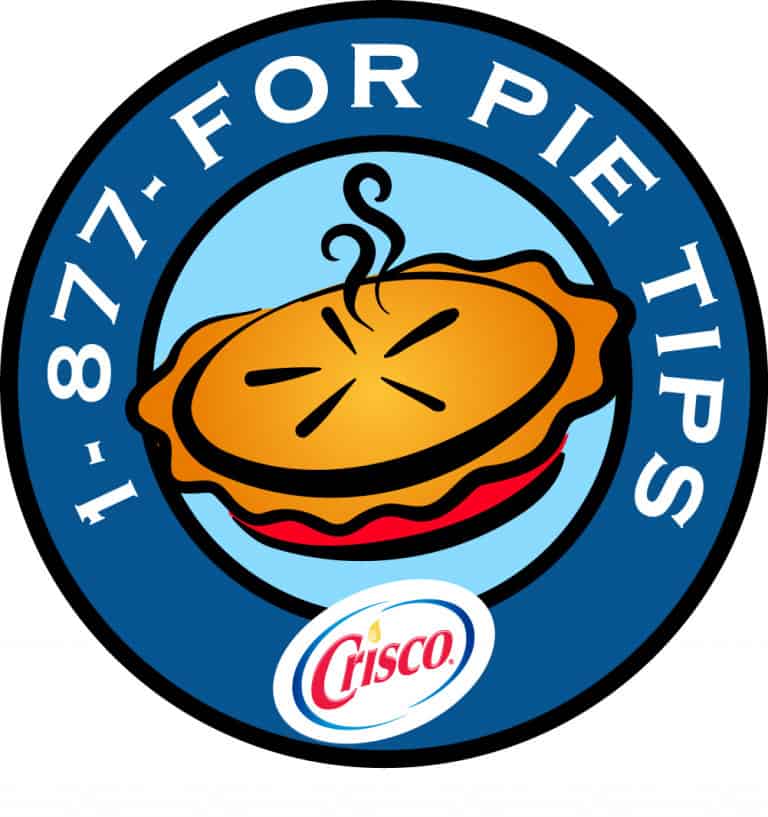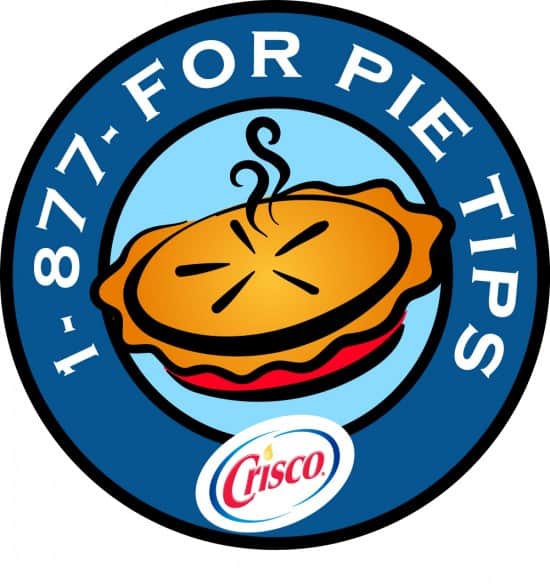 Pie is probably the first dessert that comes to mind. The folks at Crisco are in full swing supporting bakers with the Crisco Pie Hotline. They will be serving up expert pie baking advice, recipes and the latest pie making tips and trends to help achieve pie-baking perfection:
Live pie experts can be reached Monday through Friday (9:00 a.m. to 7:00 p.m. EST) by calling 1-877-FOR-PIE-TIPS (1-877-367-7438).
During the busy holiday season, the hotline offers extended hours (8:00 a.m. to 8:00 p.m. EST) from November 12-21 and (8:00 a.m. to 7:00 p.m. EST) from December 12-21, 2012.
One of my other favorite resources for pie advice is the amazing Ken Haedrich from The Pie Academy. At The Pie Academy you'll find great advice, recipes and videos. Check out the video on how to make this beautiful Floating Top Cranberry, Cherry & Apple Pie.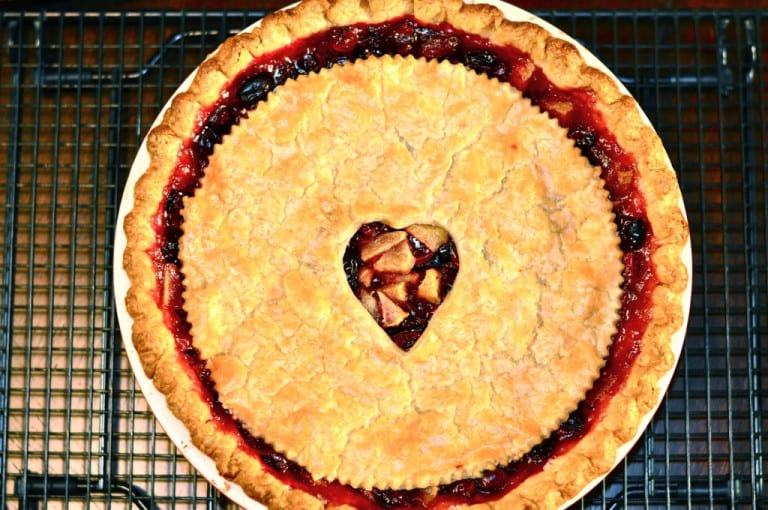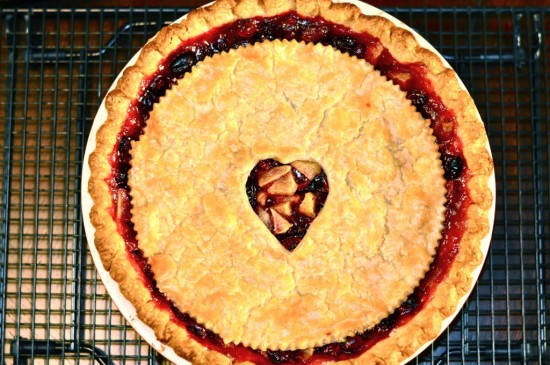 While we are talking pie, you can find over 50 Fantastic Pie Recipes in my Pie Bites From Other Blogs. From Pumpkin all the way back to Peppermint – there are so many great pies here.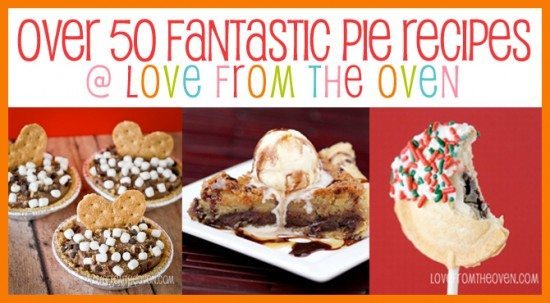 Huffington Post also has a great collection of pie recipes for you.


Sometimes you might need a non pumpkin dessert for Thanksgiving. Check out the Fall Flavors That Aren't Pumpkin Bites From Other Blogs for a lot of non-pumpkin dessert options that are still perfect for Thanksgiving.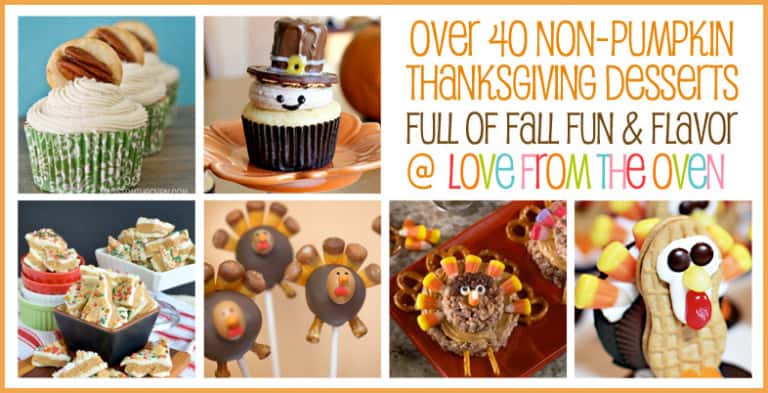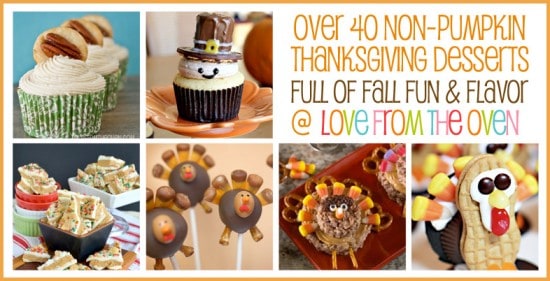 Looking for Thanksgiving Decorating Ideas? Lots of great resources for you!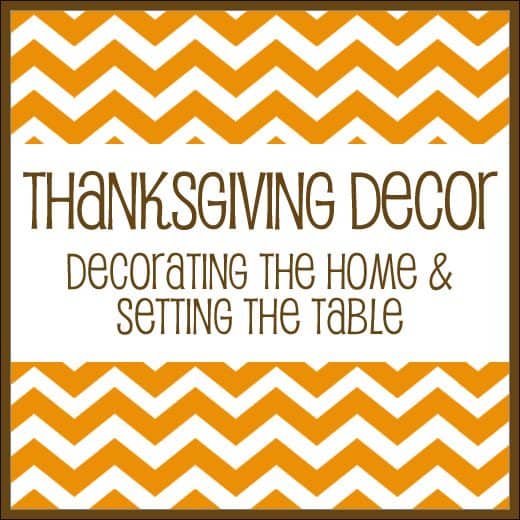 HGTV has easy DIY decorations, stress-less entertaining tips, crowd pleasing recipes and more.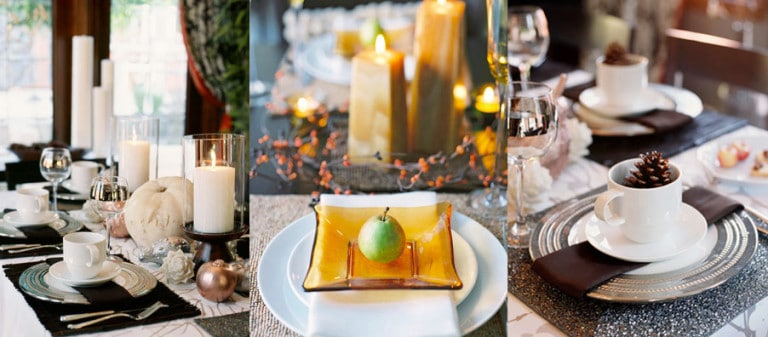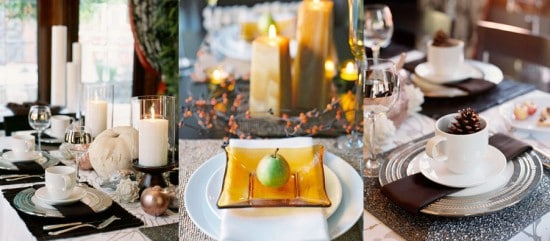 Martha Stewart has some gorgeous Thanksgiving table decorating ideas and inspiration.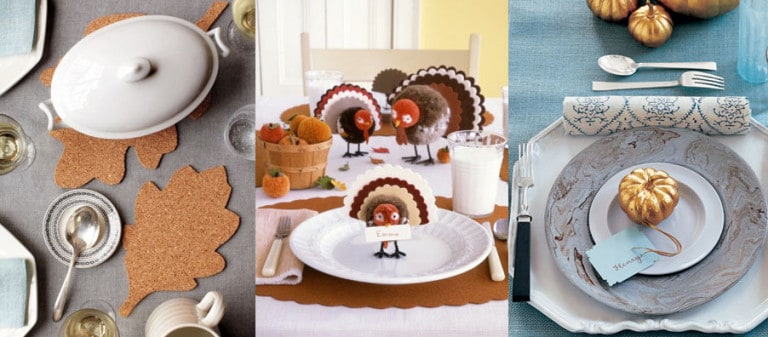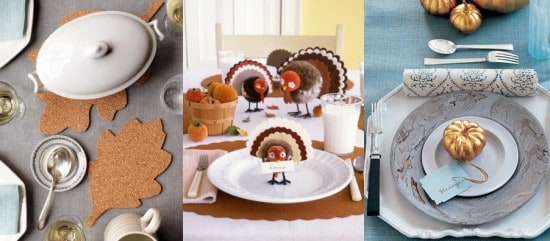 Pottery Barn Kids has some cute ideas and crafts for Thanksgiving for kids and ways to make the kids' table something really special.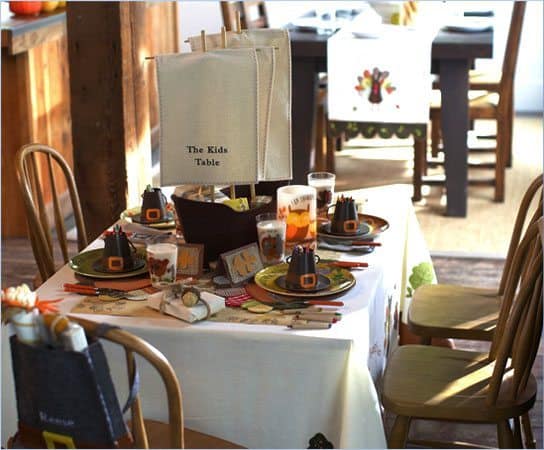 Hostess With The Mostess has many wonderful and creative ideas. Check out her Festive Kids Thanksgiving Table & Craft Ideas…


Her Gorgeous & Rustic Outdoor Thanksgiving Dinner…


And her Modern & Colorful Kid-Friendly Thanksgiving…


Kim over at The Tomkat Studio has an absolutely beautiful free printable kit for Thanksgiving. So pretty!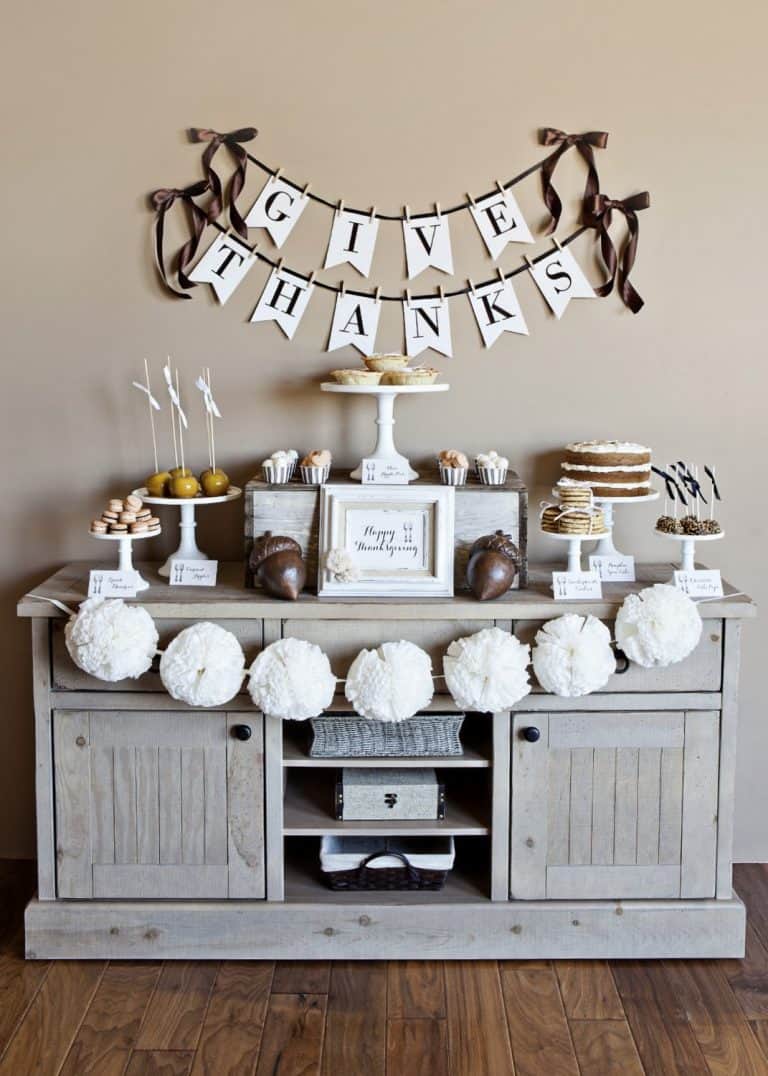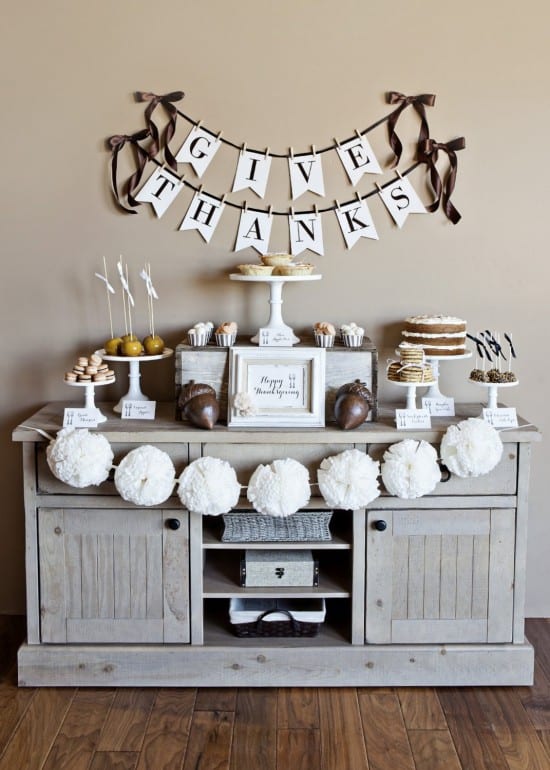 Kim is also, along with some of her friends and fellow bloggers, sharing her favorite Thanksgiving decorating and food ideas over on Pinterest.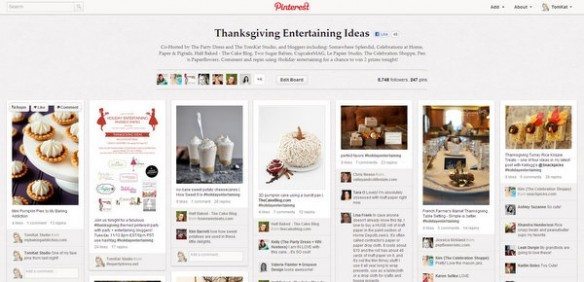 And here are some more great resources on everything from staying sane, picking the right wine (which actually isn't in the same article as staying sane, maybe it should be?), traveling, taking great photos and even keeping kids and pets safe.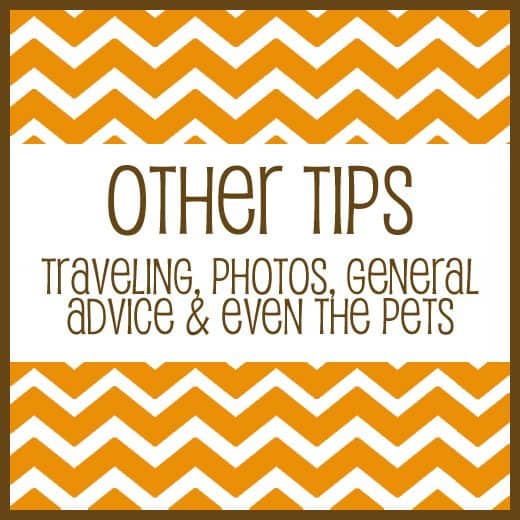 And let's not forget an important one – staying sane through it all! The Stir has 12 Tips for Staying Sane When Hosting A Crowd For Thanksgiving. Mark Bittman also has some great Thanksgiving advice – Chill Out.
For lots of great tips all in one place, head over to Hoosier Homemade and check out their Thanksgiving Countdown, which includes tips for everything from planning your menu to setting a  buffet to cleaning your house.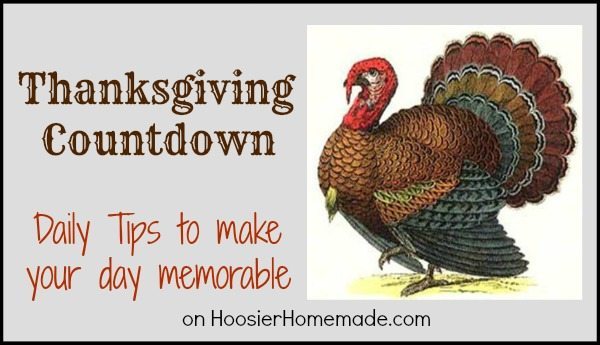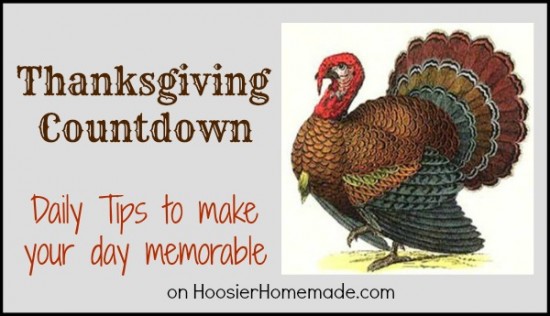 The Heart Link Network has 10 Tips for a Great Thanksgiving.
Emily Post has tips on being the prefect Thanksgiving host or guest.
Save those turkey day memories with pictures! PC World has Five Tips For Great Thanksgiving Photos. Best Family Photography Tips has advice on how to take Thanksgiving photos like a pro. Smartmomedu.com has 1o Ideas for Great Thanksgiving Photos.
Not sure which wine to serve with your Thanksgiving meal? Check out SFGate's advice.
Traveling this Thanksgiving? The Washington Post, The Boston Globe and the Travel Channel all have some words of wisdom. Grayslake Patch has some advice if you are making a trip by car.
Kids helping out in the kitchen? Safe Kids USA Has 10 Tips to Help Keep Kids Safe In The Kitchen.
And last but not least… Thanksgiving & your pets!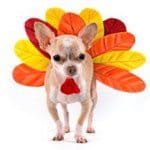 And don't forget your pets! The ASPCA shares Thanksgiving Safety Tips for your pets.  Not sure what is safe to feed your furry friends? What can you put in a Kong to keep them busy during your holiday meal? The ASPCA has all kinds of advice for you.