With Thanksgiving fast approaching, I have to say that I am very thankful for all of the creative recipes and ideas that fabulous bakers and bloggers share. There are so many cute and creative Thanksgiving dessert ideas, and I love finding more of them. I never cease to be amazed by all of the phenomenal creations across the web. So much fun, so much inspiration and so much delicious food. I'm definitely thankful for all of the shared creativity that's out there – and there is plenty in this Thanksgiving Bites From Other Blogs Recipe Collection.
I will start with a few of my own recipes.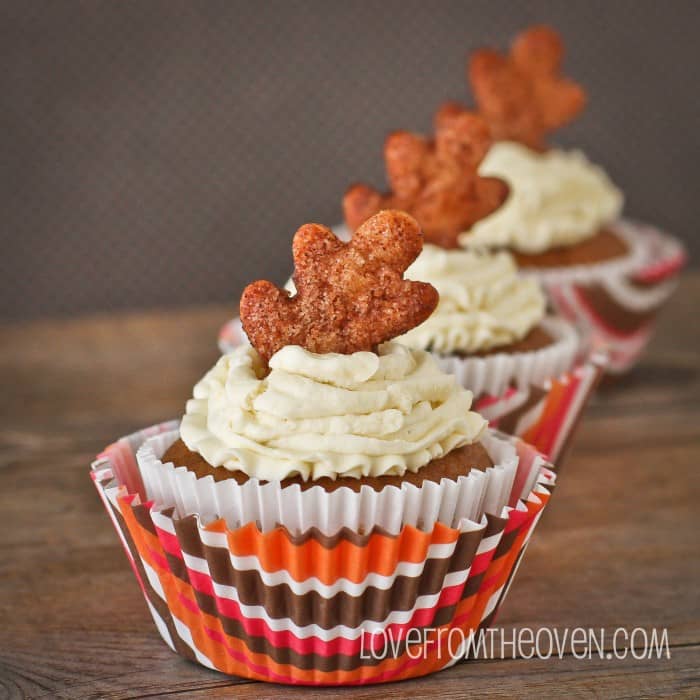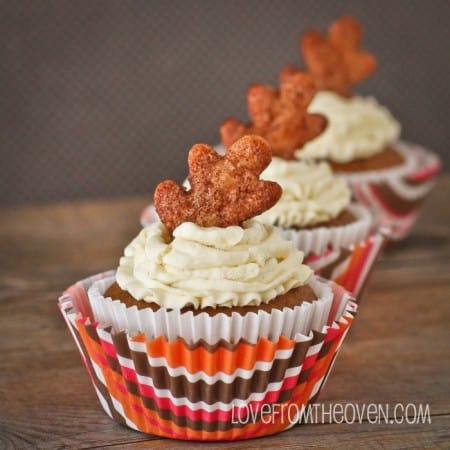 Mini Pumpkin Cheesecakes With Gingersnap Crust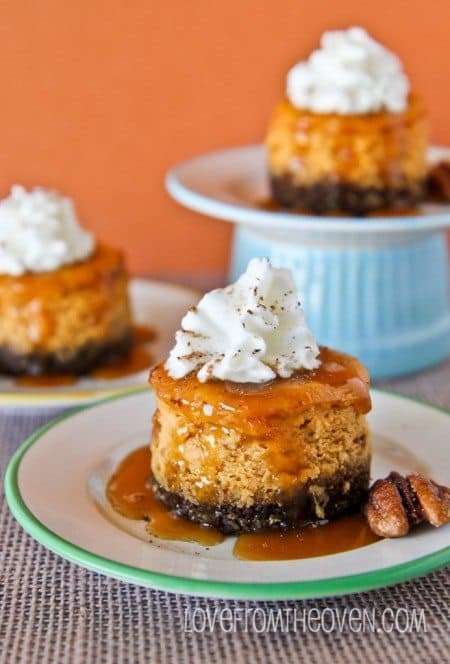 Pumpkin Spice Pie Pops. Cutie Pies!
Check out some of the amazing and creative Thanksgiving dessert recipes that bakers and bloggers around the web have shared. If you are looking for alternatives to pumpkin pie for dessert, they've got you covered…
I Am Thankful Cookies from I Am Baker. I LOVE these!
White Pumpkin Marshmallows by Courtney at Pizzazzerie.
Thanksgiving Brown Sugar Pound Cakes With Bailey's Irish Cream Frosting From I Heart Baking.
Pilgrim Cupcakes From Tonya Staab.
Pumpkin Toffee Chip And Rolo Chunk Cookies From Picky Palate.
Pumpkin Praline Trifle From Bakers Royale.
Iced Pumpkin Coffee Cake By Sally's Baking Addiction
Autumn Delight Cake From Sweetapolita.
Mini Chocolate Pumpkin Bundt Cakes by The Chic Table
Turkey Cookies From Hi Cookery.
Turkey Cake Pops From Bakerella.
Thanksgiving Turkey Cookie Pop From Heather Ann Melzer.
Cinnamon Roll Pumpkin Vanilla Sheet Cake From Picky Palate.
Pumpkin Spice Ice Cream From Lawfully Wedded Wife.
Pumpkin Blondies From Sunny Side Up In San Diego.
Edible Pilgrim Hats From Family Corner.
Pumpkin Tartlets From These Peas Are Hollow.
Pumpkin Cupcakes With Dark Chocolate Frosting by Sally's Baking Addiction
Pumpkin Pie Candy Cups from In Katrina's Kitchen

Thanksgiving Caramel Pretzel Trees by 1 Fine Cookie
Thanksgiving Cookies From Roots & Wings Co.
Pumpkin Fudge From Recipe Girl.
Pumpkin Pie Sugar Cookies From Created By Diane.
Cookie Turkey Place Cards From BHG.
Pumpkin Layer Dessert From Shaken Together.
Pumpkin Cream Cheese Truffles From Erin's Food Files.
Pumpkin Pie Pancakes From Crepes of Wrath.
Thanksgiving Cupcakes From Hoosier Homemade.
Pilgrim Hat Cupcakes From Hoosier Homemade.
Thanksgiving Turkey Cupcakes From Jacki's Bento Blog.
Thanksgiving Teepee Cupcakes From These Are A Few Of My Favorite Things.
Pumpkin Whoopie Pies From Diamonds For Dessert.
Mini Bourbon Pumpkin Cheesecakes From Dessarts.
Pumpkin Dump Cake From Cookies And Cups.
Pumpkin Cheesecake And Gingersnap Pecan Crust With Maple Caramel Sauce from Let Them Eat Cake And Ice Cream.
Layered Pumpkin Pie In A Jar From A Farmgirl's Dabbles.
While this is more savory than sweet, I simply had to share it. Thanksgiving Turkey Cake found at Chow. It's crazy genius! And totally reminds me of the "English Trifle" episode from Friends. "What's not to like? Custard? Good. Jam? Good. Meat? Gooooood."
For even more recipes, check out the Pumpkin Bites From Other Blogs recipe collection!