Are you looking for the perfect summer menu?  Something fun to serve this weekend or at your next bar-b-que?   The Chew is serving up summer!    All summer-long, ABC's The Chew is your one-stop shop for everything food. From grilling and outdoor entertaining to road trips and picnics, The Chew is dishing out the most sizzling, mouth-watering meals to satisfy your summer cravings!
Check out this great summer meal full of great, and affordable,flavors using the grill. Michael's cooking up grilled chicken, Daphne's making a grilled veggie and cantaloupe summer salad and Carla's serving up minted watermelon and cucumber punch. Sounds like a fabulous meal for parties, the weekend or any night that you want to break out the grill and bring on the flavor.
I like Michal's tips on keeping your grilled chicken moist and juicy.   That's always a challenge for me, so I'm excited to try out his tips.    The cantaloupe and vegetable salad sounds like such an awesome summer salad and so packed full of grilled veggies.
I love how affordable the meal is as well. You can't beat those prices, for such a great meal.     I just got a juicer so I'm excited to try Carla's cucumber and watermelon juice.  It sounds like a fabulous (and simple) starter juice to try.  And how fun to use frozen cucumbers for the ice!  That is brilliant!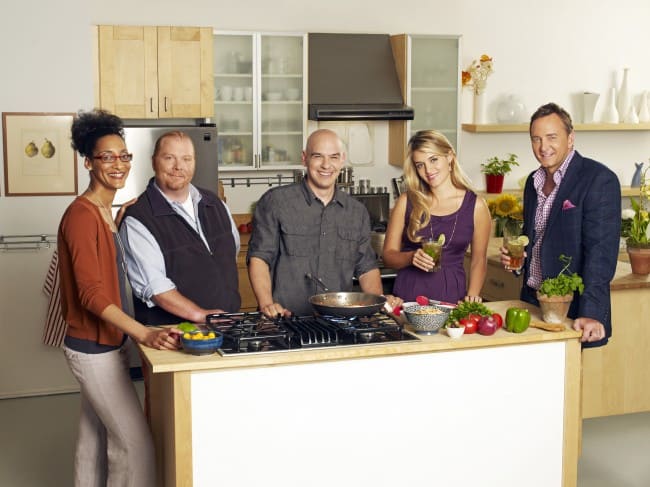 You can even catch full length episodes of The Chew on their Hulu page.   Check out this great episode where  The Chew shares some amazing no bake desserts that will keep you cool this summer; plus, Amy Grant and Allison Fishman Task swing by!    I love a no bake dessert, especially when they are affordable as these extra value Friday ones are!
If you are wanting to keep up with The Chew on social media, here are some of the places that you can find and follow along…

The Chew celebrates and explores life through food – from cooking to food trends, restaurants, holidays and more all aimed at making life better, fuller and more fun. Featuring celebrity chefs Mario Batali, Michael Symon, and Carla Hall, lifestyle expert Clinton Kelly and fresh face of healthy living Daphne Oz, "The Chew" is a leap forward into a delicious new kind of talk show.
Watch The Chew Weekdays at 1e|12p|c on ABC!
Disclosure: Compensation was provided by ABC via Glam Media. The opinions expressed herein are those of the author and are not indicative of the opinions or positions of ABC.